---
FRANCE
Prado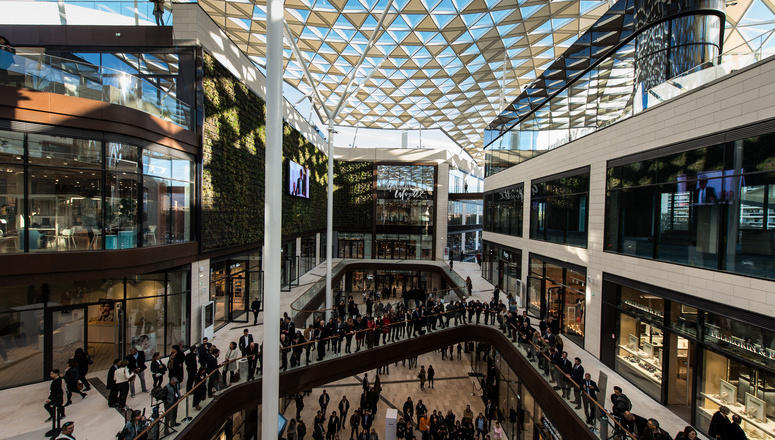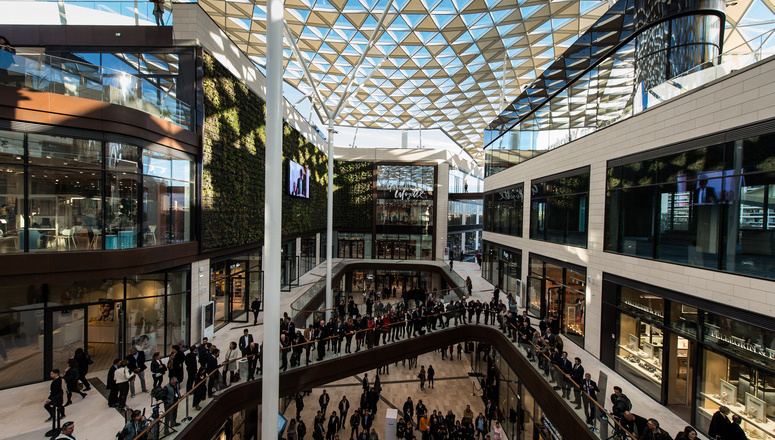 At the end of March, the new Prado, developed jointly by Klépierre and Montecristo Capital, opened in Marseille.
The shopping center comprises 23,000 sq m of GLA and 50 retail units. Located near the Prado roundabout, Velodrome sports stadium, and Chanot Parc des Expositions exhibition center, the mall is served by multiple forms of public transportation and is connected to the highway network.
The contemporary and audacious nature of the design and architecture make it distinctive. Inspired by 19th century Italian covered galleries and designed by architectural firms Benoy and Rogeon to resemble a commercial street, this new shopping venue is covered by a canopy composed of 1,750 glass panels. It rests on a monumental mesh structure that appears to be suspended in the air. A work of art, the canopy constitutes a screen for the "mistral" wind and allows light in while protecting visitors from the sun.
Klépierre's Executive Board Chairman Jean-Marc Jestin commented: "Prado illustrates the full range of our expertise and our vision of the new generation of shopping malls, as expressed in our tag line: Shop. Meet. Connect. At all of our malls, we help brands adapt to changing retail trends and provide them with fantastic showcases for their products and concepts. More than shopping, we offer visitors unique and entertaining places to meet and share experiences."
---
UNITED KINGDOM
Axiom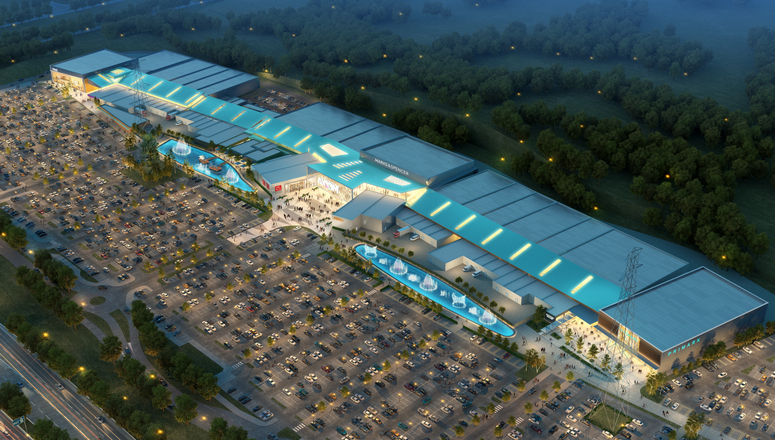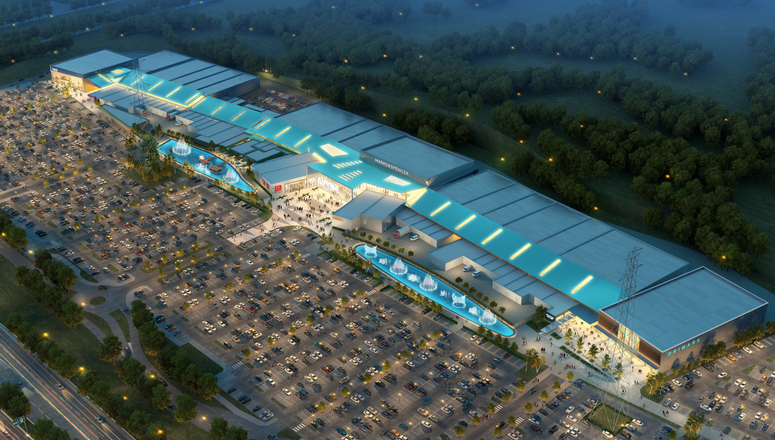 Chapman Taylor reported that plans have been unveiled for the 55,700 sq m Axiom shopping and entertainment development near Castleford in West Yorkshire.
The project will allow for an ever-evolving mix of retail and leisure offerings, creating an unmatched day out for the entire region. Axiom will be the largest out-of-town shopping center in England so far this century, according to Chapman Taylor. It is accessible directly from the M62, and it is one mile from the A1 and eight miles from the M1. 2.2 million people live within a 30-minute drive, with Leeds and Doncaster under 20 minutes away.
The mall will count 75 units, including names such as M&S, Next, Primark, and Boots, complemented by the adjacent Designer Outlet called "Junction 32" and an Xscape leisure and entertainment area, one of only six in the United Kingdom. The scheme is flexibly designed to allow for an ever-evolving mix of retail and leisure. The 106-acre development's large catchment area is why Axiom has been predicted by retail analysts CACI to become a top 30 retail destination for the country.
With 1 km of frontage onto the M62, Axiom will be a landmark for the 90,000 vehicles that pass every day. The scheme will be served by 3,000 smart parking spaces. Chapman Taylor's London and Manchester studios are acting as lead architect on behalf of the developers Lateral Property Group and Highgrove Group plc. With planning permission already in place, construction will commence in 2018, with a target of 2021 for full opening.
---
BELGIUM
Les Bastions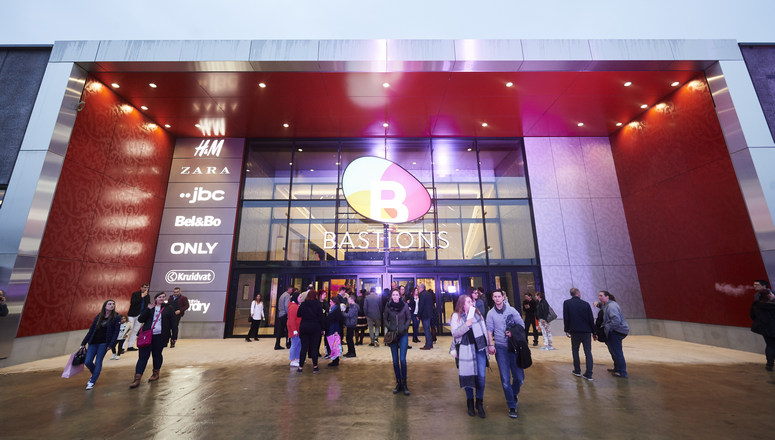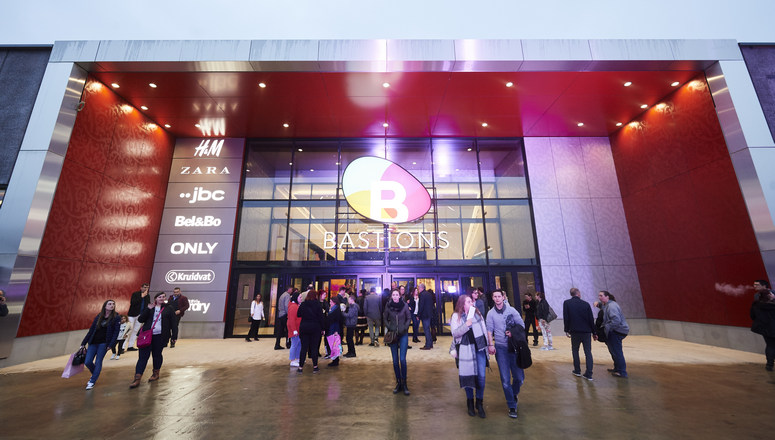 On April 12, 2018, Wereldhave had a reason to celebrate. The renovated and expanded shopping center Les Bastions in Tournai, in the Belgian region of Wallonia, opened its doors to the public.
Examples of brands with new retail units include Zara, Bershka, Superdry, JBC, and JD Sports. A large number of existing tenants, such as Delhaize, C&A, and H&M, also took the opportunity to renovate their stores or to realize new concepts.
The first results and reactions have been positive and Wereldhave is, therefore, delighted that this center is already contributing to the operational result. This opening signifies the final part of a project that lasted over three years and adds approximately 25,000 sq m of retail space, creating value to the company's retail portfolio on both the architectural and commercial levels.
With a total surface of more than 40,000 sq m of leasable area, Les Bastions is now one of the leading commercial attractions in Wallonia.
---
GERMANY
Hansa Center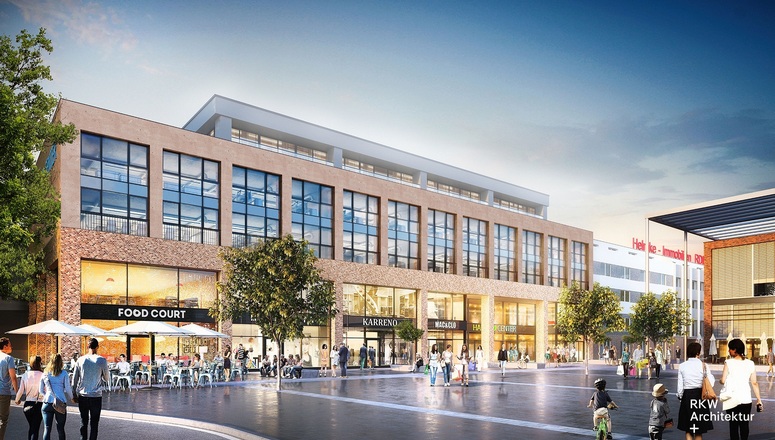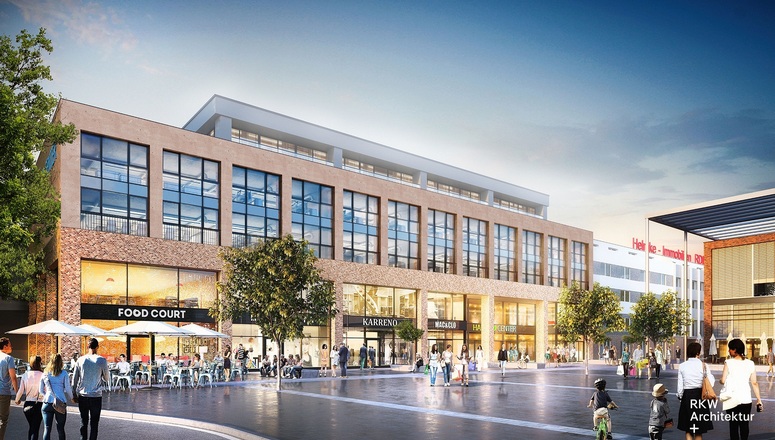 On the exterior facade of the Hansa Center in Bottrop, none of the upcoming renovation work for the future shopping center in the heart of the city can be seen. All the action is behind the scenes:
The investors of the Cosimo Investment Group GmbH are in the midst of the crucial planning phase, together with their partners. When the currently vacant 16,000 sq m of rental space is occupied again, the Hansa Center will provide a varied shopping experience.
This will complement the existing shopping, service, and catering facilities and further revitalize the city center. According to the developers, a city mall can promote positive inner-city development if it succeeds in integrating it into the downtown area and in establishing a permanent network with the "local community".
In the heart of the city, the newly designed shopping center will offer an appealing mix of shops and a high quality of stay via an adjoining food market. This goal is also supported through the interior design. Steel, glass, and brick elements, materials used in the Ruhr area, generate an identity-creating atmosphere.
---
POLAND
Janki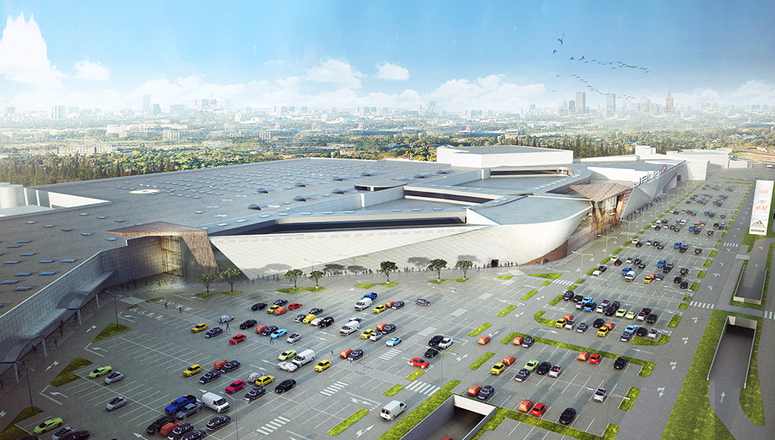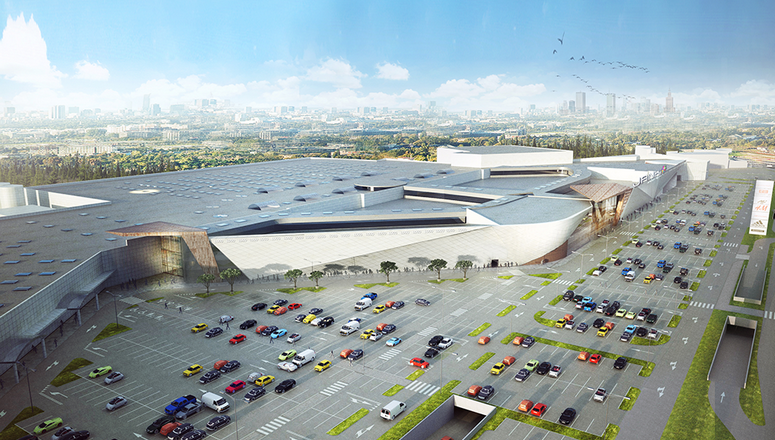 Once complete, the approximately €65 million extension of Janki shopping center in Warsaw will add 21,000 sq m of retail space to the existing mall, creating a 94,000 sq m prime retail destination in Poland.
New occupiers include KappAhl, New Yorker Inditex group (Zara, Pull&Bear, Stradivarius, Bershka, Oysho), LPP group (Reserved, Mohito, Cropp, House, Sinsay), Etno Café, Starbucks, Pizza Hut, Etam, Deichmann, Rossmann, CCC, Martes Sport, Intimissimi, Calzedonia, Carpisa, Yamamay, Denique, Zieleniak, Świat Książki, Toys Box, Time Station, Nubalo, Lego, and 4F. The existing center is anchored by an Auchan hypermarket and is already home to other major retailers including H&M, C&A, and Go Sport.
Following completion of the extension, Janki will also include approximately 20 electric car charging stations. As one of Poland's first shopping centers, Janki opened in 1999 and has maintained a strong occupancy level ever since. Completion of the extension project is expected prior to Easter 2019 and will be run in two separate phases.
Marta Grabska, Retail Leasing Manager, Poland, Cromwell Property Group, commented: "We are pleased with the leasing achievement so far. We only have one medium-size, approximately 800 sq m unit left, along with a few units that are under 250 sq m, which we would like to lease to local tenants."
---
AUSTRIA
Murpark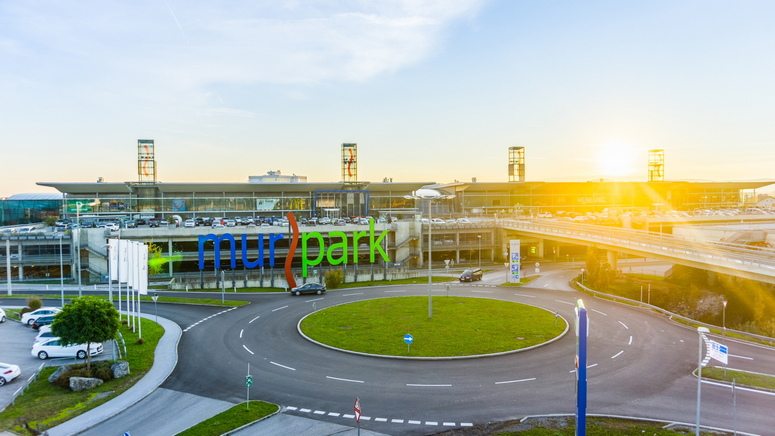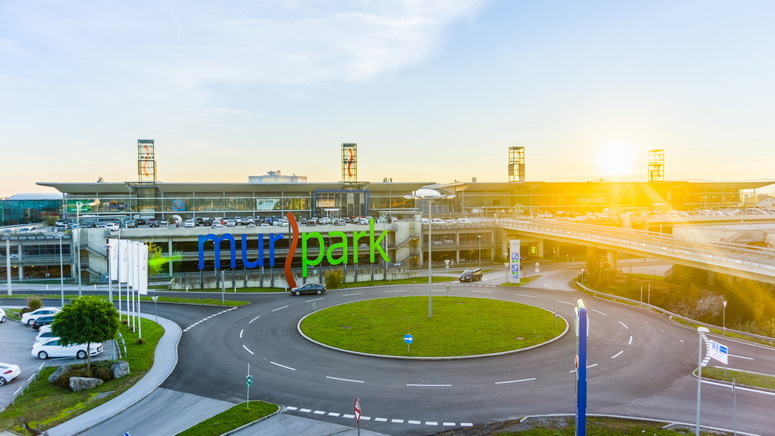 The expansion of Murpark is scheduled to open in summer of 2018. Over 30 million euros has been invested by operator SES in the expansion of space at the site.
The center in Graz-Liebenau is bigger, has refined its branch mix, and is once again in line with the international trend. Eighteen additional shops will be added – in total, the Murpark will count 90 retail units covering 43,000 square meters.
Focus will be placed on new gastronomy concepts, further strengthening of fashion competence, and special ranges in the jewelry, drugstore, and services segments. In Styria, two shops will be launched for the first time: Okaïdi and Dunkin' Donuts.
SES Managing Director Marcus Wild is convinced: "Above all, the upmarket, diverse range of restaurants will give the location additional added value. In addition, "The gastronomy share of almost 10 percent in Murpark corresponds to the latest international trends and ensures that shopping in style becomes even more of an experience."
---
SERBIA
Stop Shop Požarevac and Vršac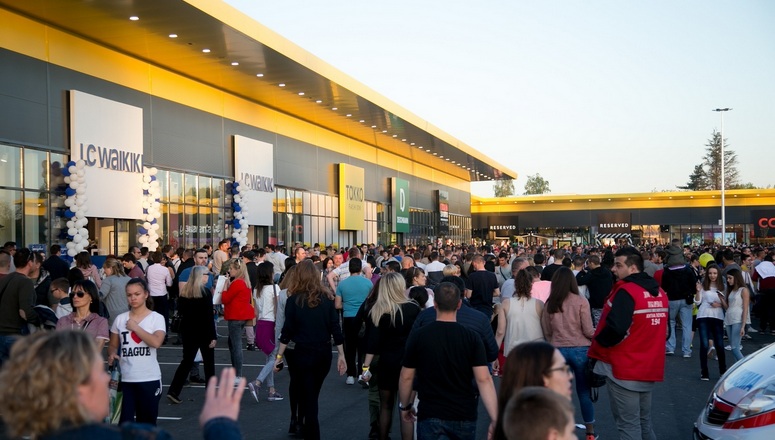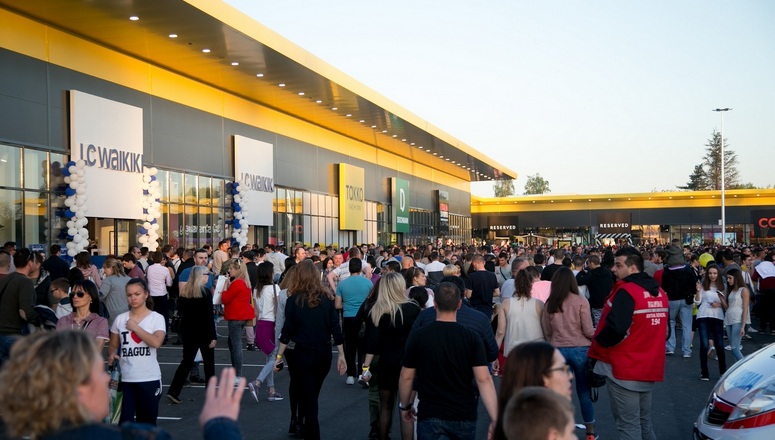 Immofinanz has opened two additional Stop Shop retail parks.
Its portfolio comprises 72 locations with approximately 500,000 sq m of leasable space in eight countries. The two new properties are located in the Serbian cities of Požarevac (7,200 sq m) and Vršac (8,250 sq m). Both have an occupancy rate of 100%. Tenants include LC Waikiki, Reserved, Sinsay, CCC, Deichmann, and DM.
"Our Stop Shops are friendly and practical retail parks with good transport connections, plenty of parking spaces, and good value for money. Our tenants welcome the standardized shopping format, which represents high and reliable quality," said Dietmar Reindl, COO of Immofinanz.
The 72 Stop Shops are located in Austria, Slovakia, Hungary, the Czech Republic, Poland, Slovenia, Serbia, and Romania. The occupancy rate at the end of December was 97.9%. After its market entry in Serbia in 2015, Immofinanz now operates six Stop Shops in the country. An additional location in Sremska Mitrovica is scheduled to open in 2019. Further projects are in the pipeline.
---
UKRAINE
Rive Gauche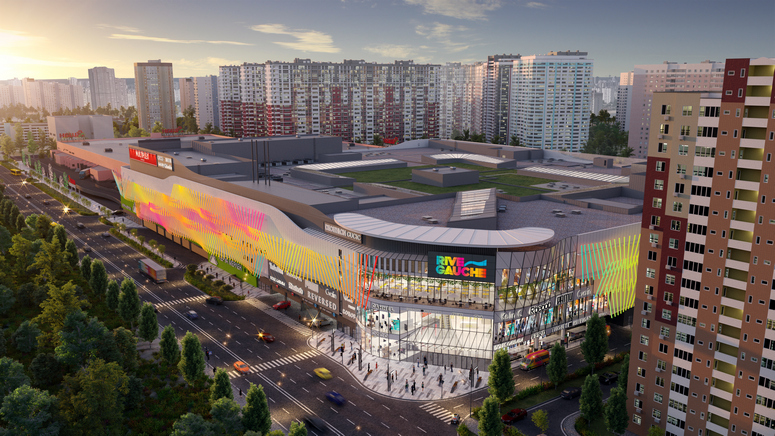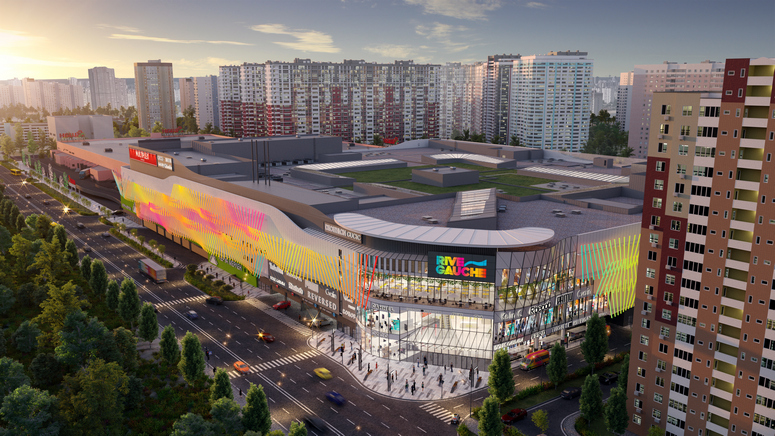 Rive Gauche is a shopping center project in the Ukrainian capital, Kiev.
It is intended to become a showcase of 40 years of experience of Immochan and a pioneer of the company's development strategy. Its commercial program will create a platform to welcome new brands and provide the best services.
Figures: The mall will include approximately 180 shops, including 15 anchor tenants, as well as 2,500 parking spaces and cover an area of 72,000 sq m GLA. Location: Rive Gauche is located on Zdolbunivska Street in Darnytskyi, which is the administrative district of Kyiv. As a result, it is surrounded by a fast-growing residential area, with good transport connections to the downtown area.
The immediate catchment area includes approximately 80,000 people who are within two minutes of the main entrance. Immochan expects approximately 13 million visitors per year.
---
Sign up for our ACROSS Newsletter. Subscribe to ACROSS Magazine.