AL KOUT MALL, KUWAIT
The new shopping center is part of the larger Al Kout development in the Ahmadi Governorate.
When completed, it will offer six different experiences including hospitality, shopping, marina, a fishing wharf, leisure, and entertainment. It has signed major key and anchor tenants such as H&M, Zara, GAP, Victoria's Secret, Sephora, Massimo Dutti, Banana Republic, Jack Wills, COS, Mamas & Papas, Mothercare, and several others, as well as F&B brands like Vapiano, PF Chang's, TGI Fridays etc., but leasing for the 260 units for Al Kout Mall is ongoing with huge interest from several leading international and regional players. The redevelopment and expansion of the existing mall and its transformation into Souq Al Kout will also bring the scheme's total retail space to over 100,000 sq m, making it a super-regional mall and the largest mixed-use waterfront project in southern Kuwait. Managed and operated by GLA Management, a professional mall management firm, the remaining retail space is currently under negotiation with other popular brands. Christian Wistrom, General Manager – Leasing at GLA Management, said: "We are absolutely delighted that the project has received so much interest and we anticipate that it will be fully leased well before the opening of the mall in October 2017.
CITYON.ZHENGZHOU, CHINA
Taubman Asia recently announced an impressive collection of contemporary retailers set to open at CityOn.Zhengzhou in Henan province in central China.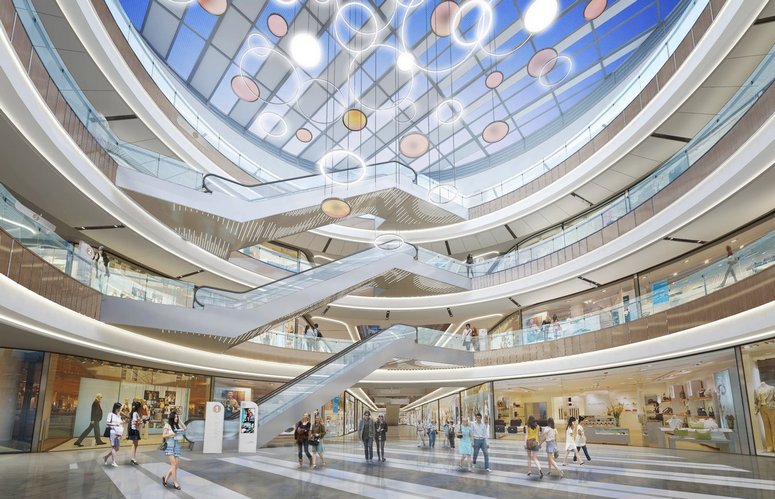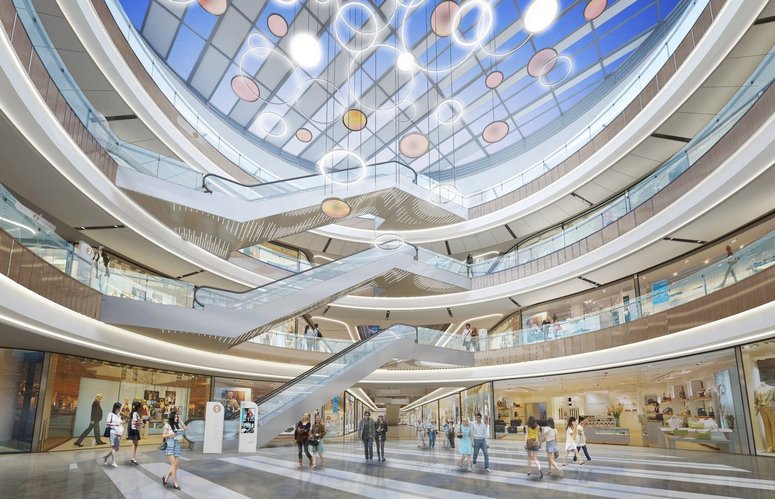 When it opens on March 16, 2017, the mall will be 100% leased and 90% occupied, with nearly 200 stores and restaurants. Located in the heart of Zhengdong New District, the six-level, 94,000-sq-m shopping and dining destination will offer a curated mix of domestic, international, and lifestyle brands from fast fashion to accessible luxury, anchored by a four-level Wangfujing department store.
"We are thrilled to see our second China project coming to life in Zhengzhou," said René Tremblay, president of Taubman Asia. "This project will contribute value to all Taubman shareholders as the Company realizes the value of its investment in Asia over the past several years. We are proud to unveil this unprecedented lineup of stores and restaurants."
Food lovers will be delighted by the variety of local, regional, and international cuisine at all price points and in both sit-down and quick-serve restaurant formats. The center will also include several family-friendly experiential, educational, and entertainment offerings.
"We are glad to be working with Taubman to bring a modern and contemporary shopping experience to the local community at the iconic CityOn.Zhengzhou. Meanwhile, we are bringing a significant investment, job opportunities, economic activities and a neighborhood-friendly project to Zhengdong New District," commented Yi Liu, chairman of Wangfujing Group Co., Ltd.
JAHAN MALL, IRAN
Jahan Mall, which will be located in central Mashhad, consists of a 420,000 sq m shopping mall, a hotel, offices, luxury residences, and 330,000 sq m of support facilities and underground parking.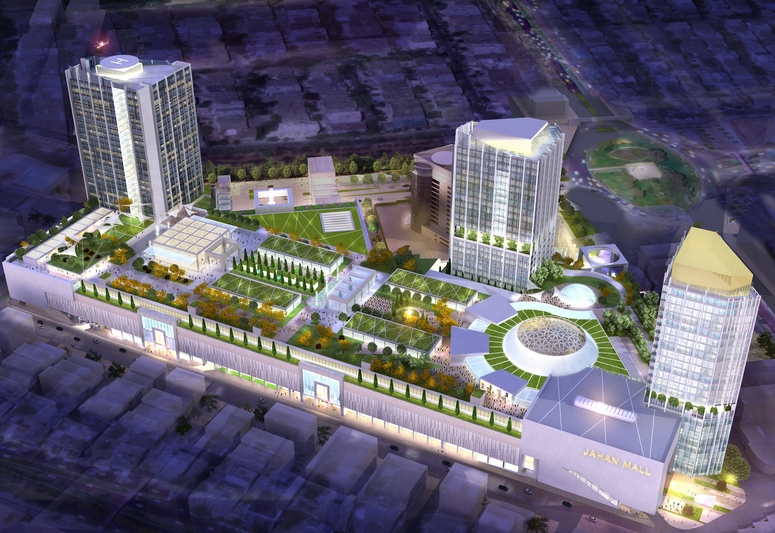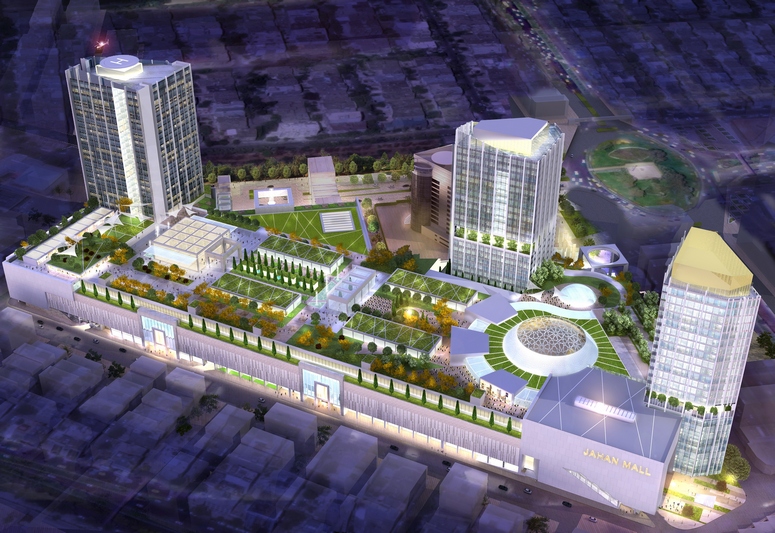 Mashhad is Iran's second-largest city. It is located in Razavi-Chorasan province and is home to around 2.5 million people. Chapman Taylor is responsible for Jahan Mall's design concept.
It involves creating a new public square in the heart of the new Central Business District, as well as a new City Garden on top of the mall that includes several innovative shading elements to protect visitors from the sun.
The aim is to provide Mashhad with a high-quality commercial development that will enrich the lives of the local community, the broader Mashhad population, and the many pilgrims and other visitors to the city.
GINZA SIX, JAPAN
The "Ginza 6-chome District 10 Category 1 Urban Redevelopment Project," which is currently under development with a target completion date at the end of January 2017, has decided on the facility name "Ginza Six."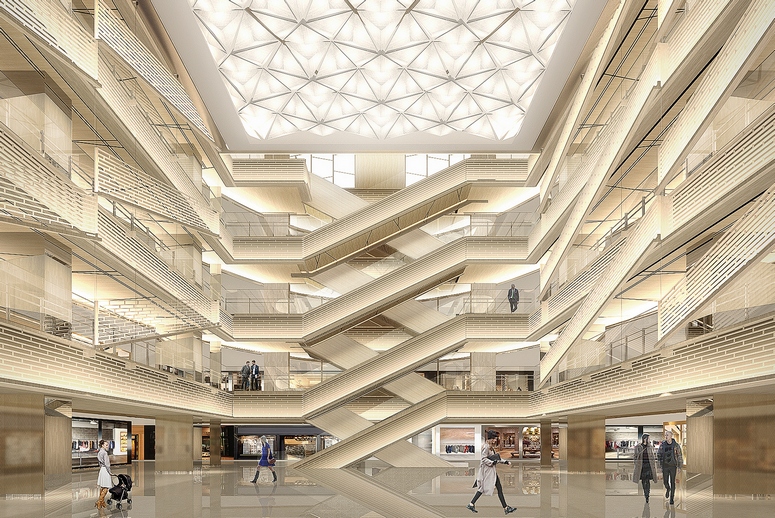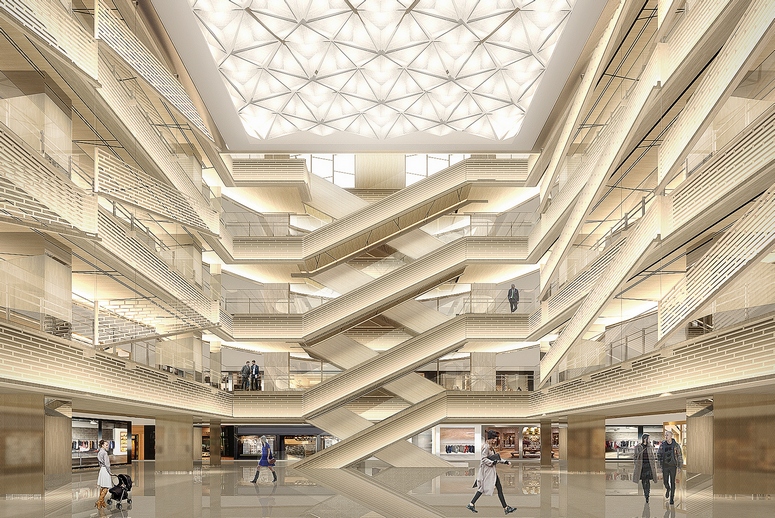 In addition, it has decided on an opening date: April 20, 2017. As an area of concentrated commercial activity that incorporates cutting-edge innovation while also continuing Japan's great tradition and history, Tokyo's Ginza area is a symbol of the country.
"Ginza Six," whose approximately 47,000 sq m of space make it the largest retail facility in the Ginza area, will be born right in the center of this one-of-a-kind neighborhood. It's not just about replacing the Matsuzakaya Ginza department store: It will create a commercial space on an epic scale by redeveloping two blocks, including the surrounding area, bringing together a wide range of 241 brands.
With a full length (frontage) of approximately 115 m facing Chuo-dori, which is Ginza's symbolic main avenue, there are large two- to five–story flagship stores for six luxury brands whose distinctive façades create a new face for the neighborhood.