BELGRADE PLAZA, SERBIA
The mall will be an addition to the Serbian capital and its neighboring municipalities, as well as the first modern-style shopping and entertainment center in the Palilula district.
The project is located between two streets, Višnjička Street and Uralska Street. The former is the main road in this part of the city and provides two pedestrian entrances to the mall and car access to parking around the back. The latter offers pedestrian access directly to the upper floor of the shopping center and a spacious open green parking area.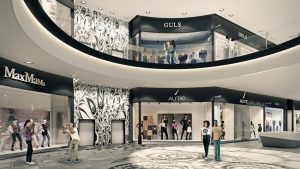 Belgrade Plaza will consist of two levels of retail and one level of dining, leisure, and entertainment. Apart from a strong fashion mix and a supermarket, it will be an entertainment spot in the area, with an 8-screen cinema, a children's playground, and a restaurant and food court area with breathtaking views of the Danube River. There will be three levels of underground parking, as well as outdoor parking, providing a total of approximately 800 parking spaces. The shopping center is currently in advanced stages of the construction and leasing processes.
Among the project's other anchor tenants are H&M, Cineplexx, IDEA, Dexy Co, Sportvision, Lindex, McDonalds, KFC, Sephora, Cortefiel Group, and many other well-known retailers. The opening is planned for the first hald of 2017. Plaza Centers is responsible for the project.
AUPARK (HRADEC KRALOVE), CZECH REPUBLIC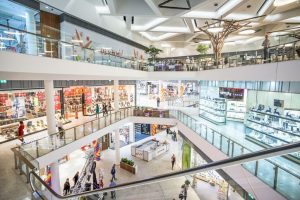 The Pan-European developer HB Reavis has opened the Czech Republic's first Aupark in Hradec Kralove.
The shopping center brings 120 stores, new international brands, and various service and entertainment units to the city.
The 21,000-sq-m mall is characterized by its modern design and clear layout. Quality materials such as wood, glass, and stone, as well as natural light permeating the scheme, have been used to provide a special customer experience.
The shopping center will also offer a spacious food court for up to 300 people with several new restaurants and many top brands such as H&M, New Yorker, Terranova, CCC, Reno shoes, Sportisimo, Euronics DM drogerie, and Billa. Aupark in Hradec Kralove also brings a number of completely new brands such as 4F, Celio, Ecco, Gas jeans, Le Premier, My food market, and Superdry.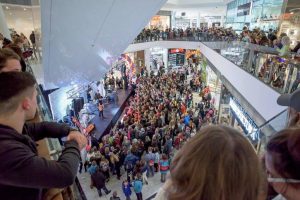 Located on the U Koruny site, the mall will be accessible from Hradec Kralove's main high street, allowing visibility and accessibility for 18,000 passing cars each day. To accommodate them, it is designed with a large-capacity garage with 1,100 parking spots. What's more, over 42,000 people use the adjacent bus terminal and train station daily, ensuring significant footfall exposure and vibrancy. The wider area will also benefit from the fact that the shopping center will act as natural endpoint on Gocarova Street.
The city of Hradec Kralove is the Czech Republic's third-largest urban cluster and lies an hour's drive to the east of Prague. The city has long had one of the highest standards of living in the country and benefits from good transportation infrastructure and civic amenities. In spite of this, Hradec Kralove currently has the lowest saturation of retail space among the country's large cities, with approximately 750 sq m per 1,000 inhabitants.
VIVO! KROSNO, POLAND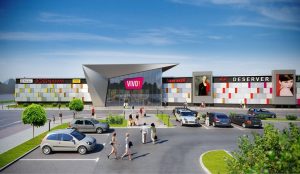 Immofinanz is building another of its Vivo! branded shopping centers in the Polish city of Krosno. Construction will soon begin.
The mall will have a lettable area of approximately 21,000 sq m and offer more than 60 stores. Pre-letting is off to a successful start: confirmed tenants include H&M, Media Markt, and Helios Cinema. The total investment costs are around €34 million. The opening is planned for the fourth quarter of 2017.
The object in Krosno brings the number of Vivo! shopping centers in Poland to three. Vivo! is Immofinanz's shopping center brand. They are designed for cities with a catchment area of at least 200,000 inhabitants. The malls are usually built with one story, have high recognition value, and are therefore ideal for further growth. The first Vivo! shopping centers opened in Poland in 2014 and 2015.
In addition, the company is currently working on rolling out the brand in Romania. All four shopping centers located there are being rebranded.
CITY PARK GRAZ, AUSTRIA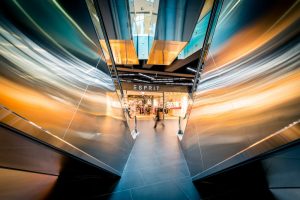 JHP has been working on the refurbishment of one of Spar European Shopping Centers' (SES) shopping centers, City Park Graz.
The object opened in 1971 and is home to around 100 Stores. Having been commissioned in 2012, JHP's challenge was to eliminate the inefficiencies in City Park's customer journeys and the building's configuration and to revitalize the mall with a new and modern look. The work included the general overhaul of City Park's look and feel, its building master planning, customer journey planning, way-finding, and the installation of new escalators, storefronts, entrances, and facades.
By relocating City Park's escalators, JHP optimized the shopping center's customer circulation and made sure visitors could directly access Panoramaplatz and the rooftop gardens from each floor. The design agency redesigned Panoramaplatz, which is now City Park's main food and events area, featuring numerous dining options, an event space including a stage and seating, and an impressive glass dome ceiling.
JHP turned the mall's rooftop into a garden to enhance customers' experience and to encourage them to rest, socialize, and use the catering facilities provided. City Park's lower ground level has been converted to a young fashion area to attract a younger, more fashion-conscious crowd. This was achieved by stocking the floor with crowd-pulling brands, such as H&M and Zara, and by adjusting the floor's look, feel, and lightning. The revitalized City Park Graz was set to open just in time for the big Christmas rush.
VERANDA, ROMANIA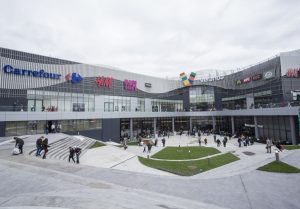 Veranda, the newest shopping center in Bucharest, registered over 150,000 visitors in its opening weekend. The project was inaugurated on October 27, 2016, after an investment of €60 million.
"We were very much involved in delivering a modern and complementary project in the area as to better serve the community in Obor. Our project is a neighborhood mall, built for the 430,000 people who live just a few minutes away from the project, but also for the citizens from Bucharest who constantly come to Obor to benefit from the commercial options they could always find here. Along with the grand opening, we provided visitors with 1,200 new parking spaces available for cars that previously had to park on the streets. We also had a large number of pedestrians arriving via transport located nearby," said Andrei Pogonaru, Veranda's developer.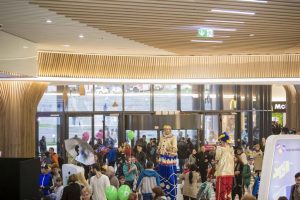 The shopping center is served by 16 public transport lines and the Obor metro station, which is located less than 400 meters away from the mall. Veranda spreads over 30,000 sq m and offers visitors a unique, 15,000-sq-m esplanade, the largest space for spending free time in the district.
The shopping center includes several premieres, such as the opening of the first Tati store in Romania and the only Carrefour hypermarket in this area of Bucharest, which comes with a new concept. Regarding the fashion segment, the offer is complemented by brands such as H&M, C&A, CCC, LC Waikiki, Deichmann, Pepco, and Salamander. Other tenants include Sephora, Gerovital, Yves Rocher, dm, and Kitchen Shop.
The food court is being placed on the ground floor and includes restaurants such as KFC, Oro Toro, Mesopotamia, McDonald's, Salad Box, and Sushi Terra. Veranda also hosts the area's first Starbucks.
STANICA NIVY, SLOVAKIA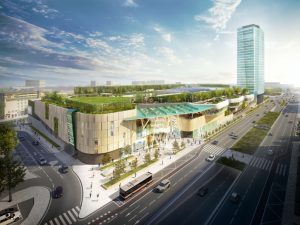 Stanica Nivy is a mixed-use project in the very heart of Bratislava that will comprise a supra-regional shopping center, A-class office space, a bus station of international significance, and a modern marketplace, totaling approximately 133,000 sq m.
The design prepared by Benoy will include a green zone with community gardens on the roof. The scheme, scheduled for completion in 2019, will replace the old bus station at Mlynské Nivy and is bound to become the new gateway to Bratislava, with a fully-integrated bus station, providing comfort and services to as many as 200,000 travelers from more than 300 towns and cities in Slovakia and abroad every day.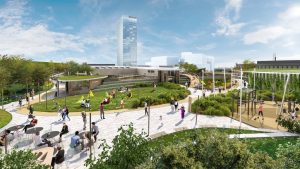 Features of the new shopping mall include: a green roof with urban gardens, a running track, and comprehensive amenities for relaxation and sport. The green roof, which will cover an area equal to two football pitches, has been designed by sustainability the experts at BDP. Its inclusion will multiply the location's green spaces and improve the quality of air in the entire neighborhood. It is anticipated that it will relieve the surroundings during the hot summer weather and reduce noise.
The bus station itself will be located underground with its own microclimate. Stanica Nivy will also offer a fresh food market with quality seasonal goods and home-made products. Along with a wide offer of restaurants, fast food places, cafés, and quality food stands, it will become a sought-after foodie destination with the potential to create an important tourist attraction in Bratislava.
PRINCES QUAY, UNITED KINGDOM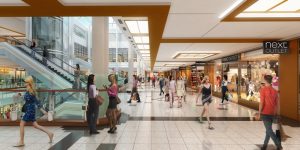 Princes Quay, the 28,000-sq-mall in the heart of Hull, is to undergo a remodeling and repositioning project.
The £20-million (€24-million) investment will produce a new urban center concept, combining the existing cinema, shopping, and food and beverage offer with a new outlet mall and new restaurants, taking advantage of the center's attractive, waterfront setting.
The project has been created and is now being delivered by the fund managers Seven Dials and Realm, which are acting as asset and development managers. It is the first time in the UK that outlet retailing has been combined under one roof with full-price retailing. The strategic repositioning project will introduce 24 new fashion brands spanning 4,700-sq-m on a new outlet deck within the scheme. In addition, it will establish a new waterfront dining hub on the Harbour Deck with space for seven additional restaurant and cafe units across 1,600 sq m.
55% of the new outlet mall has already been pre-let and Next will anchor the new mall with a new 1,000-sq-m store. Princes Quay already boasts an extensive full-price retail offer comprising a number of fashion brands including Primark, Topshop, and River Island, alongside a 10-screen Vue Cinema and a 900-space parking garage. In addition to the largescale remodeling work underway, the center will see a number of additional improvements, including new lighting, signage, and wayfinding.
MAREMÀ, ITALY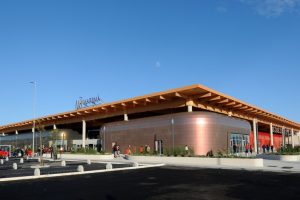 The Maremà shopping center, for which Immobiliare Grande Distribuzione (IGD) is responsible, recently celebrated its grand opening in Grosseto.
The scheme promises to be an important point of reference for shopping, with a mall that covers a GLA of 17,110 sq m, comprised of 44 shops and seven midsize internal stores. There is also an Ipercoop with a 4,200-sq-m sales area inside. There will also be five midsize external stores, an Enercoop-brand gas station, and a parking lot with 3,000 parking spots.
Maremà will provide the Maremma region with both an unprecedented space and a meeting place where visitors can spend their leisure time shopping, socializing, and enjoying special experiences, such as the more than 1,500 sq m dedicated to restaurants featuring local specialties—such as il Bistrot with Tuscan cuisine, Acqua e Farina, Fish Express, Wave Bar, Alice Pizza, Fruit Bar Chiquita, La Piadineria, Sushi One, America Graffiti.
Visitors will find a vast range of merchandise and premiere brands dedicated to meeting the shopping needs of the whole family: Inditex Group (Zara, Stradivarius, Bershka, Pull&Bear), Decathlon, Piazza Italia, Calzedonia, Intimissimi, Librerie Coop, Douglas, Kiko Make Up, Alcott Premium, and others. The midsize stores will house other important brands like OVS, Euronics, Scarpamondo, Andreini Giocattoli, and Arcaplanet.
Great attention was paid to the environmental impact and choices were made to reduce the center's energy consumption, like the installation of solar panels on the roof, the use of LED lighting both indoors and outdoors and of highly energy efficient and next-generation materials (including natural ones), as well as storage tanks for gathering rainwater to be used inside and stations for charging electric cars. The center is easy to reach from the historic heart of Grosseto by bicycle thanks to a new bike path.
GALERIA METROPOLIA, POLAND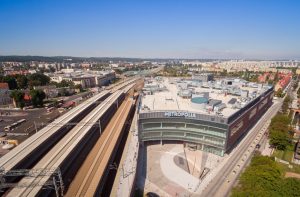 Galeria Metropolia in Gdańsk-Wrzeszcz was officially opened at the end of October. Przedsiębiorstwo Budowlane Górski is the investor of the shopping center, while Cushman & Wakefield is responsible for its commercialization.
The grand opening spanned two days and featured many attractions, including performances by artists, athletes, and leading stars. Galeria Metropolia is one of Tricity's best-connected malls. It is located near an interchange station and offers direct access to the Gdańsk-Wrzeszcz railway station (PKP, SKM, PKM) from three different levels.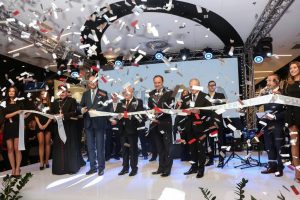 Customers arriving by train can also enter the shopping center through a special tunnel connecting it with the new PKP railway platform.
Galeria Metropolia provides 34,000 sq m spread over its four levels in more than 100 retail and service stores and 720 parking spaces. Its tenants include such brands as Monnari, Lara Fabio, Apart, Sports Direct, Stokki and Stokki Home, Puma, J&Joy, Media Expert, KiK and Pepco.
The food court comprises Burger King, Subway, Pizza Hut, Smak na Tak, Grand Kebab, and Pierogarnia. A special 2,500 sq m zone has been arranged on level +1 for furniture and homeware retailers such as Vinotti, Vox, Abra, Witeks, and Swarzędz Home.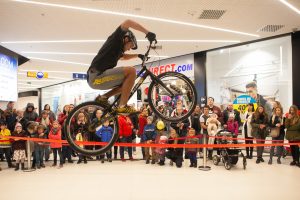 Galeria Metropolia also offers a wide range of entertainment and leisure options, including a seven-screen Helios cinema, a play area for children, and a modern Tone Zone fitness center with more than 1,700 sq m.
The scheme is part of a phased complex by Przedsiębiorstwo Budowlane Górski, developed by the special purpose vehicle Centrum Hevelius. The complex comprises a 126-room Focus hotel, which opened in spring; a conference center; the Browar Gdański housing estate, with more than 1,000 apartments under construction; and 20,000 sq m of service and entertainment space in Browar Kulturalny.
DAS ZIEL, GERMANY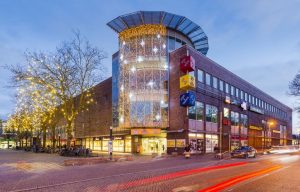 It's time to refurbish Das Ziel, which is located in a central, inner-city location in Hennigsdorf in Berlin's catchment area and benefits from a direct connection to the capital's S-Bahn (commuter rail) network.
Extensive reconstruction and modernization work is currently being carried out on the district center, which was built in 1996. The work is being carried out in sections. A first section was completed in August 2016, with a further construction phase being completed in March 2017.
Everything is due to be complete in June 2017, including the provision of 260 parking spaces. On reopening, a number of renowned tenants like Kaufland, dm-drogerie markt, Deichmann, and Clever Fit will provide a broad range of services extending from basic supplies, textiles, and footwear, to further retail formats and services.
The pre-letting rate is currently already at 99%. KGAL took over Das Ziel at the beginning of December. The seller was G. I. Limited Partners B.V., a Barings Real Estate Advisers fund, which had previously operated under the name Cornerstone Real Estate Advisers.
"The vibrant metropolis of Berlin, with its radiant power felt throughout the surrounding area, is regarded as a hotspot for future-oriented investments. We are delighted to be able to position ourselves advantageously in a competitive market once again," explained André Zücker, Managing Director of KGAL.