---
British Land
Darren Richards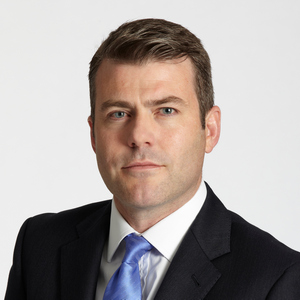 British Land recently announced senior leadership changes, with Tim Roberts and Charlie Maudsley stepping down as Executive Directors and Board Members, effective March 31, 2019. Both will remain with British Land for a period of time to ensure an effective transition. The company has also announced the appointment of Darren Richards (photo) as Head of Real Estate.
Richards joined in 2005 and has been on the Executive Committee since 2014. He has held several leadership roles across teams, including Investment and Retail. In his new role, he will assume responsibility for leading a single Real Estate Asset Management and Leasing team across both Offices and Retail. Richards will remain a member of the Executive Committee and will report to the Chief Executive.
As part of these leadership changes, Sally Jones, who joined in 2010 and has been on the Executive Committee since 2015, will take on an expanded role that includes Investment and Strategy as well as data and insights and the Group's Smart technology initiatives. Emma Cariaga, Head of Operations, Canada Water, and David Lockyer, Head of Broadgate Campus, will join the Executive Committee.
---
Cushman & Wakefield
Michał Ulasiński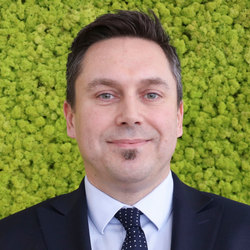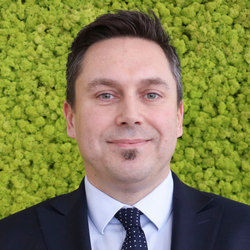 Architect Michał Ulasiński joined Cushman & Wakefield in early January 2019. He will lead the recently established Design & Build team. Ulasiński is a specialist in designing retail, service, healthcare, office, and residential buildings.
He has 18 years of experience in design and construction management, coordination, and oversight. Ulasiński gained experience at Hochtief Poland in Gdansk as Design Coordinator and Head of the Tenant Coordinator Team, at Acteeum Central Europe in Warsaw as Master Consultant of Architecture & Tenant Coordinator, and, most recently, at Unibail-Rodamco-Westfield in Warsaw as Project Manager. He graduated with a degree in architecture from the Gdansk University of Technology.
"Joining Cushman & Wakefield's D&B team is another step in my career. I will have an opportunity to work for one of the top real estate firms, and I hope to contribute to its further growth. Delivery of comprehensive services for a very diverse client base will be both a challenge and a great experience for me," said Ulasiński.
---
Demire AG
Tim Brückner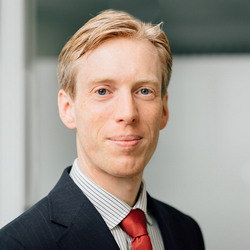 The Supervisory Board of Demire DEMIRE Deutsche Mittelstand Real Estate AG has appointed Tim Brückner as an additional member of the company's Management Board, with responsibility for Finance.
The 41-year-old took over his duties on February 1, 2019. The M.A. (Banking & Finance) banker has many years of experience in the banking and real estate investment sector. Brückner started his career in corporate finance and mergers & acquisitions in various positions, including at ING BHF-Bank in Frankfurt and HSBC Bank in London.
From August 2007 to March 2012, he held a management position in Mergers & Acquisitions at international investment bank Rothschild, with a focus on the real estate sector. His most recent position was with Corpus Sireo Real Estate from May 2012 to January 2019, where he served, among others, as Managing Director of the Luxembourg subsidiary.
Alexander Goepfert, Chairman of the Supervisory Board of Demire AG, commented: "We are delighted that we have been able to successfully fill the Management Board position for the finance division within such a short period of time. With Tim Brückner as Chief Financial Officer, alongside CEO Ingo Hartlief, we have gained an experienced and proven financial expert who will seamlessly continue the implementation of our growth strategy."
---
Grosvenor Liverpool Fund
Julie Woods-Moss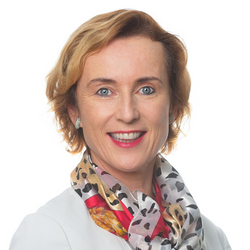 The Grosvenor Liverpool Fund, which owns and manages Liverpool ONE, has appointed Julie Woods-Moss as Non-Executive Director to the Fund Board, effective January 1, 2019.
Woods-Moss brings expertise in digital disruption, strategy and innovation, and business development to the Board, to help guide the Liverpool ONE team through the next phase of growth following a successful 10 years.
She is the former President and Chief Marketing & Innovation Officer at TATA Communications Limited and was responsible for all marketing activities and communications.
Woods-Moss was also a Member of the Advisory Board for the Tata group brand, sits on the Big Data Advisory Board of The Boston Consulting Group, and, in 2012, was recognized by Women of Inspiration & Enterprise as a member of the Global Power 50.
More recently, Forbes ranked her the 16th most influential CMO in the world, and, in November 2018, she was recognized as one of the top 50 women in the UK tech sector.
Alison Clegg, Director Asset Management, Grosvenor Europe, said: "We are delighted to welcome Julie to the Grosvenor Liverpool Fund Board. Her expertise, especially in technology and innovation, will be essential in the coming years as the retail landscape becomes more challenging. Her insight will help guide Liverpool ONE through its next phase of growth following a successful first decade."
---
Hahn AG
Jörn Burghardt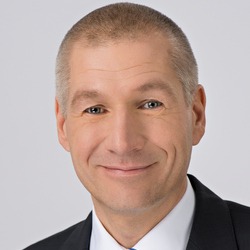 Jörn Burghardt has been appointed to the Executive Board of Hahn-Immobilien-Beteiligungs AG, effective January 1, 2019.
In his new position, the 49-year-old will be responsible for fund and real estate management as well as central functions. Other members of the Executive Board include Michael Hahn, Chairman of the Executive Board, and Thomas Kuhlmann. Burghardt joined the Hahn Group in 2009.
As Managing Director of Hahn Fonds und Asset Management GmbH, he has been in charge of fund, asset, and property management since then. He is also the Managing Director of subsidiary DeWert Deutsche Wertinvestment GmbH. Between 1998 and 2009, he served as an authorized signatory and Head of Real Estate/Equity Investments at Zürich Vertriebs GmbH.
Michael Hahn was very pleased with the reinforcement of the Management Board: "Jörn Burghardt has already played a significant role in the success of the Hahn Group in recent years. His appointment to the Executive Board will enable the Group to further benefit from his expertise."
---
Kintyre
Khaled Thomas Shukri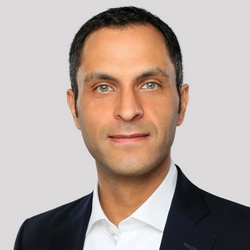 Through the founding of Kintyre DS GmbH, Kintyre Investments GmbH has reaffirmed its commitment to becoming the market leader and driving force within the digital transformation of the real estate industry.
The new company, with its headquarters in Frankfurt and additional employees in Berlin, is a wholly-owned subsidiary of parent company Kintyre Investments GmbH.
Khaled Thomas Shukri (photo) and Ingo Lösche have assumed management positions within Kintyre DS. Shukri is responsible for strategic partnerships, and Lösche is responsible for process and system development. Additional employees will be hired during the first quarter of 2019.
Kintyre DS will focus on the further development of existing digital transformation innovations as well as the research and development necessary for future projects. In order to promote, support, and expand the digital transformation of real estate, the new company will enter into strategic partnerships with selected technology companies. A pipeline of potential partners already exists and will be further developed by Kintyre DS during 2019.
---
Klépierre
Marie Caniac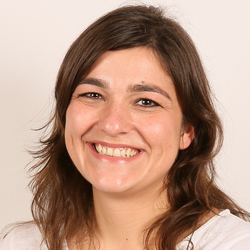 Klépierre has announced the appointment of Marie Caniac as Group Head of Leasing. She succeeds Louis Bonelli, who was recently appointed CEO of Steen & Strøm, in which Klépierre holds a controlling stake. Caniac began her career in 2008 as a leasing manager in charge of the French mall portfolio of Unibail-Rodamco.
She joined Klépierre in 2013 as a portfolio manager, and one year later, she was promoted to the position of Deputy Head of Leasing. In January 2016, Caniac began her role as Head of Leasing & Asset Management at Klépierre Netherlands. She holds a Master's degree in Law and Tax Management from EDHEC Business School.
As Group Head of Leasing, she reports to Klépierre Chief Operating Officer Beñat Ortega. Her new responsibilities notably include managing Klépierre's relationships with key international retailers and identifying opportunities for new partnerships, coordinating and optimizing best practices in leasing across the company's European teams and partners.
"Marie has an intimate understanding of our customers all over Europe and knows all about putting retail first in our operational strategy. I am convinced that she will be successful in her new role," commented Ortega.
---
Nuveen
Alexander Prout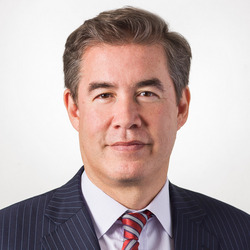 Nuveen appointed Alexander Prout as Head of its International Advisory Services team. He reports to Margo Cook, President of Nuveen Advisory Services.
"We continue to grow our distribution capabilities in key regions outside of the U.S., including Europe, Asia Pacific, Canada, and Latin America, to meet client demand for our expanding investment capabilities. Alex will work closely with our diverse client base to deepen our existing relationships as well as build new relationships by delivering our insights and solutions to help investors meet their goals," said Cook.
Prout will lead a team of more than 30 global distribution professionals based in the United Kingdom, Australia, Hong Kong, Canada, and the United States. He most recently served as Head of Asia Pacific for Deutsche Asset Management (DWS), where he was responsible for the firm's business platform in the region.
Prior to DWS, he focused on global distribution efforts for Morgan Stanley, Invesco, and Merrill Lynch. He joined the firm on February 12, 2019 and succeeds John Panagakis, who is leaving Nuveen to pursue other opportunities.
---
Revo
Tim Vallance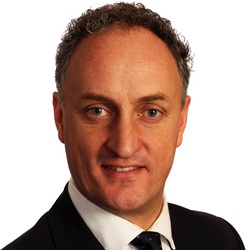 Revo has announced that Tim Vallance, Head of Retail and Leisure at JLL, has been elected as Revo Junior Vice President, becoming President from 2021.
Vallance is a retail investment expert with over 25 years of experience advising funds, REITs, private equity firms, and corporations, and he leads a team of UK retail and leisure experts at JLL, delivering expert advice and thought leadership, with a global perspective.
He oversees core areas of business, including shopping centers, high street, retail parks, leisure parks, grocery, food, beverage, catering, hospitality, research, and consultancy. Vallance will serve as Junior Vice President under the current President, Mark Robinson, for 12 months, with Landsec's Ailish Christian-West becoming president in 2020.
Ed Cooke, Chief Executive of Revo, said: "Tim is a proven leader in our sector, with a wealth of knowledge, expertise, and extensive experience across the retail and leisure markets, both in and out of town. He is a trusted and intelligent advisor, advising a broad range of clients. Tim is well placed to take the leadership of Revo forward in 2021 and continue our work in uniting government, local authorities, owners, and occupiers to ensure the future health of our urban environments."
---
Tattersall Lorenz
Rebekka Rauen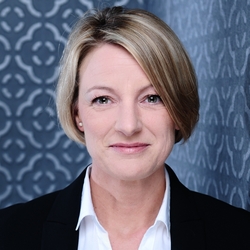 Tattersall Lorenz, an owner-managed medium-sized property management company based in Berlin, has appointed Rebekka Rauen as its branch manager for the Rhine-Main region.
Based in Frankfurt, the practiced real estate expert will head up the company's offices there and in Dusseldorf, with a total of 32 staff. In this function, the 41-year-old professional will also be the first point of contact for Tattersall Lorenz clients in the region.
Prior to her move, Rauen managed DIM Property Value's Frankfurt and Stuttgart offices. Previously, she had spent nine years at Patrizia Germany, most recently as Associate Director Property Management. Her career has also included working for Alt & Kelber and Nassauische Heimstätte.
Susanne Tattersall, Managing Partner of Tattersall Lorenz, commented: "In Rebekka Rauen, we are gaining an experienced manager, who has been working in the real estate industry for around 15 years. Her wide-ranging expertise in property management will make her a particularly valuable asset for us."
---
Warburg-HIH Invest
Carsten Demmler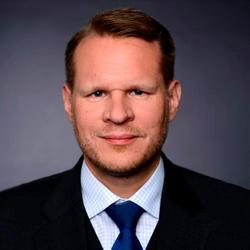 Carsten Demmler joins Warburg-HIH Invest as the Head of Capital Management. In this position, the 43-year-old will focus on the distribution of strategy funds, individual solutions, and other services related to institutional real estate investments.
Born in Berlin, he comes from Nord/LB, where he served as Head of Sales from July 2013, responsible for the sale of capital market and capital market-related products to institutional clients. Demmler has more than 20 years of professional experience in banking and has been active in the sale of capital market-related products for 17 years. He began his career at Landesbank Berlin. This was followed by positions at Bankgesellschaft Berlin, HSH Nordbank, and Erste Group Bank.
"Through Carsten Demmler, we have gained a leader who, in addition to decades of experience in the capital markets, also has the human resources and team development skills required for the new position," said Felix Gold, Managing Director of Warburg-HIH Invest. He added: "With his support, we will be able to meet our demand for an individual approach to institutional clients more effectively."
---
Wereldhave
Dirk Anbeek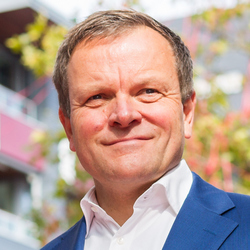 The Board of Directors of the Statutory Manager of Wereldhave Belgium has announced the departure, effective March 1, 2019, of Dirk Anbeek (photo), co-Managing Director and co-Effective Leader of the Company.
Since 2016, he and Kasper Deforche have fulfilled the functions of co-Managing Director and co-Effective Leader.
Management of the Company's activities will continue to be handled by Deforche, via the execution of his unaltered functions, together with the Board of Directors, which, following the departure of Anbeek, will consist of Dirk Goeminne (President – Independent Director), Ann Claes (Independent Director), Brigitte Boone (Independent Director), and Deforche.
.
.
---