By Ortaç Özortaç – Director, Retail at JLL Turkey
The macroeconomic figures show the damage from the pandemic, while recovery steps are also visible. Let's examine the actual indicators, which might be considered unusual.
The first indicator is Economic Growth.
Following 1.8% growth in 2020, Turkey GDP continued to recover strongly by 21.7% in Q2, up from the 7.2% expansion in Q1, boosted by both domestic demand and exports. Along with steady recovery signals, GDP growth forecasts have been revised and mainly concentrated around 9% growth in 2021.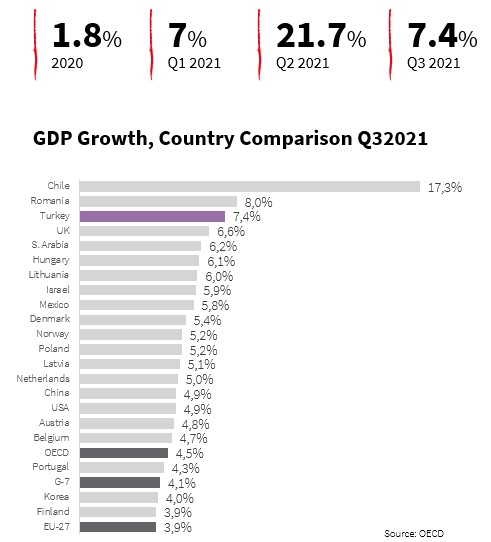 The manufacturing PMI (Purchasing Managers Index) prepared by Istanbul Chamber of Industry was recorded at 52 in November, above 50 for six consecutive months and still signaling a solid improvement in business conditions for manufacturers.
New business volumes were strengthened by a further rise in new export orders. The Istanbul Chamber of Industry indicated that manufacturers also raised their purchasing activity in line with higher output requirements. Moreover, the rate of increase in pre-production inventories was the fastest since the end of 2017, amid some reports of safety-stock building to guard against ongoing supply-chain disruption.
On the other hand, Foreign Direct Investment Inflows (FDI) to Turkey is as follows: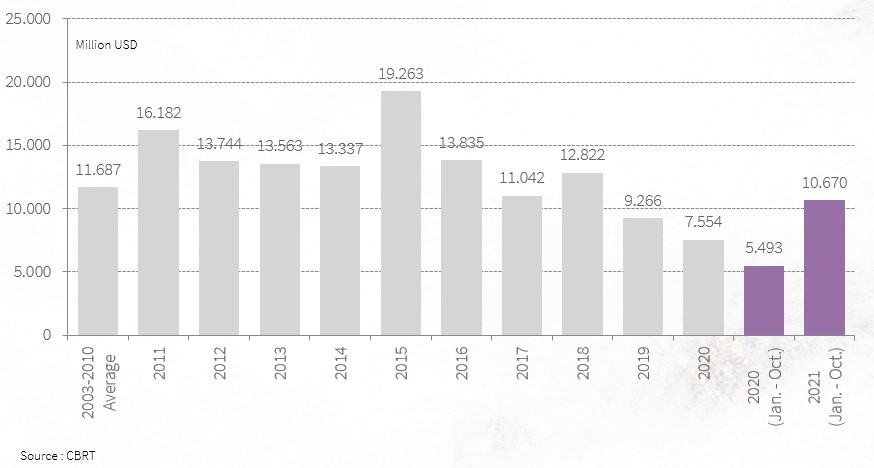 The FDI decreased to $7.5 billion in 2020 due to uncertain conditions towards the end of 2021 ($10.67 billion as of Oct. 2021). With a 94% increase, the Turkish retail market performed better than expected.
It is a fact that the Turkish retail industry generated a significant share in the above statistics. MENA (Middle East & North Africa) institutional investors have focused on touristic and retail real estate assets during this period. Some of the major transactions that have taken place are:
Qatar Investment Authority's acquisition of limited share of Istinye Park Shopping Center, one of the trophy assets across the country, and disposal of Palladium Atasehir Shopping Center to Ak Asset Management Co.
We expect that investment deals will further grow in numbers for prime projects and for the projects in need of general refurbishments and redevelopment opportunities.
Last but not least is the Retail Confidence Index.
It is obvious that the retailer confidence has rebounded by 122 as in November, 2021 caused by the effect of the current stock level of goods, and the sales expectations of retailers.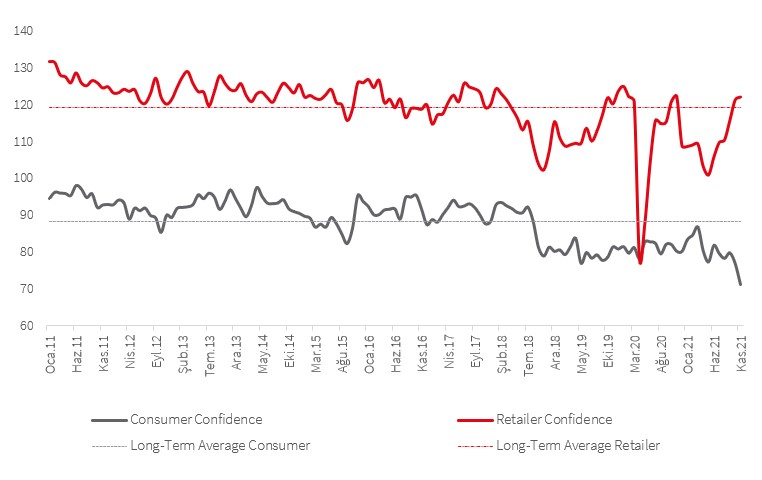 Consumers confidence remains lower than expected. Despite an observed increase in the consumption tendency of consumers, the perception of the current economic state and positive expectations for the future continued to decline.
The projection for 2022 is mainly focused on sustaining the growth on GDP, targeting 4% as a minimum; the main drivers are assumed, such as population, household spending, and export volumes.
According to Oxford Economics, the projected retail sales growth in Turkey significantly outpaces some mature European markets, such as Italy, UK, Germany, France, and Russia, between 2021 and 2023. Thanks to the growing population, nearly one third of the consumer profile has changed into individuals who are aged below 21 years, they prefer spending rather than saving, always chasing the 'new'.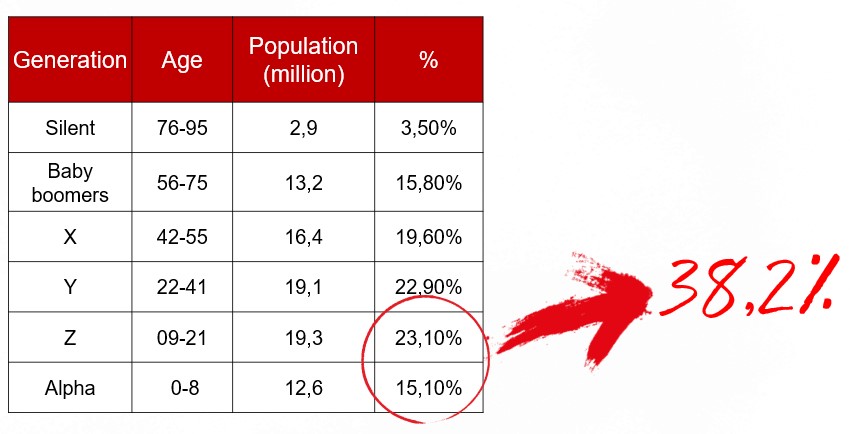 Retail growth
Despite the macroeconomic indicators, the Turkish retail and real estate market is vibrant. With a slow start of the year with lockdowns and activity restrictions, the vaccine rollout and the decreasing number of COVID cases have led us to a recovery path. We have started to see signs of increased activity emerging from both, occupiers and investors, starting with the beginning of June when the restrictions were eased and the economy was revived.
The Shopping Center pipeline:
The existing shopping center supply in Turkey reached the level of 13.7 million sq m in 445 shopping centers, in addition to three shopping center openings amounting a total of 100,000 sq m gross of leasable area (GLA) as in Q3 2021.
Istanbul hosts the majority of the supply with a share of 37% and was followed by Ankara and Izmir with their shares of 13% and 5%, respectively. Currently, there are approximately 1.2m sq m GLA in 37 centers under construction, adding up to approximately 14.9 million sq m supply by the end of 2024.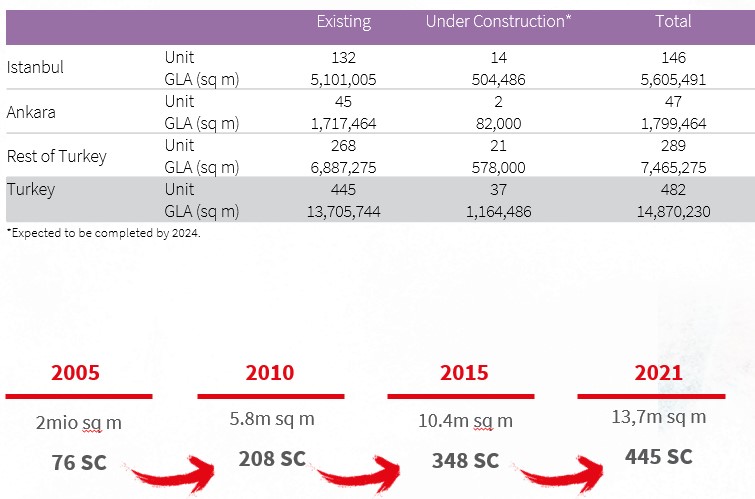 The investors whose projects were completed in the pandemic period have been previously waiting for a revival sign in the leasing demand, but they have decided not to wait any longer for openings and new supply entries to the market, accelerated by the end of Q3 2021.
In line with this development, a $1.7 billion investment, Galataport Istanbul has finally been opened with nearly 90% occupancy. The Peninsula Hotel is projected to be opened in Q3 2022, Istanbul Modern Arts Museum and Mimar Sinan Sculpture Museum precede in Q2 2022. The cruise port is also actively welcoming guests from various world-famous cruise line operators.
Retail Density
Compared to other European countries, in terms of the GLA per 1,000 capita, which is the key criterion to measure the market density, Turkey remains at the lower end of the ranking. As in Q3 2021, Turkey's GLA (Gross Leasable Area) per 1,000 inhabitants is 164 sq m, which is noticeably below the EU average of 235 sq m.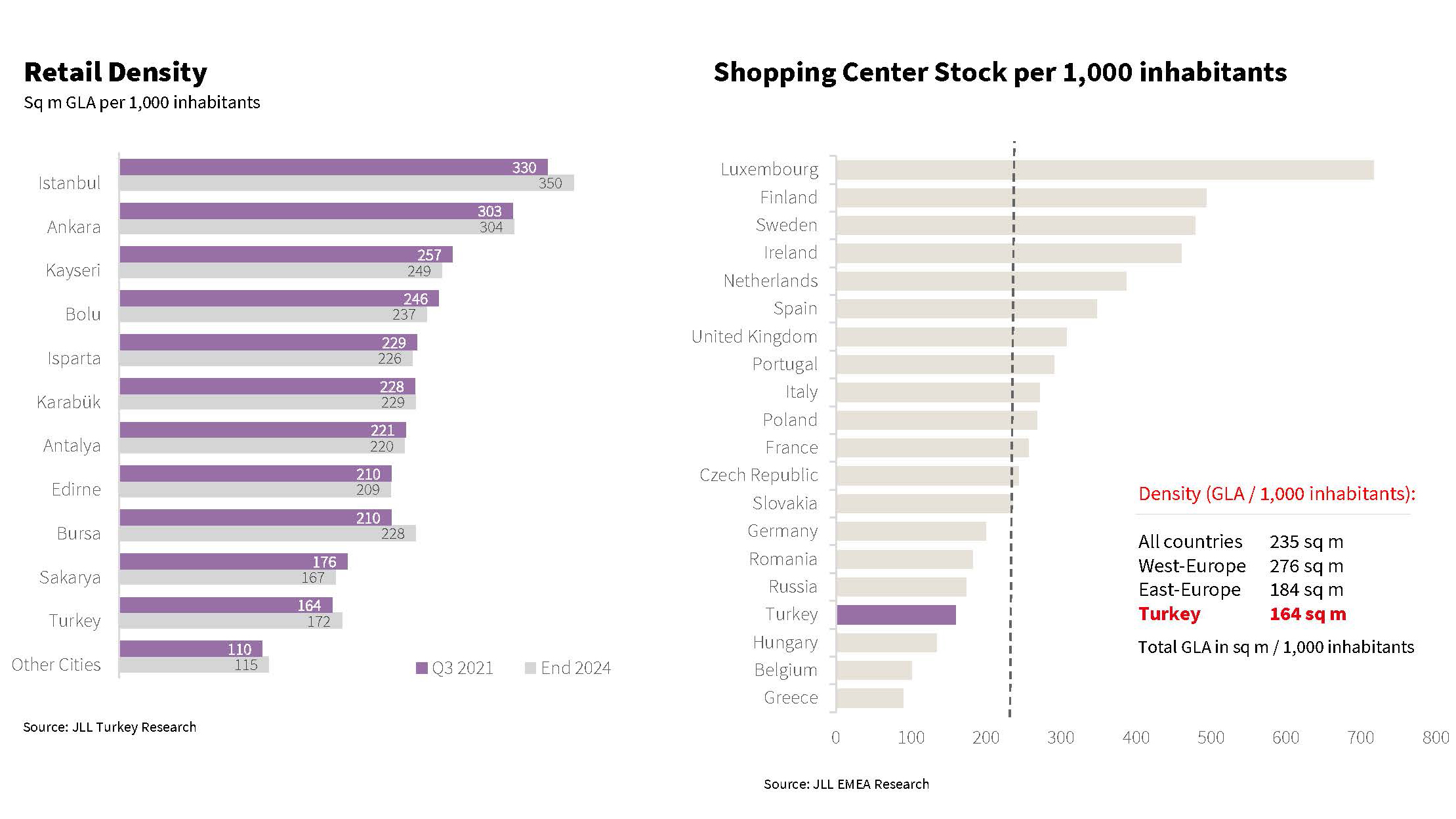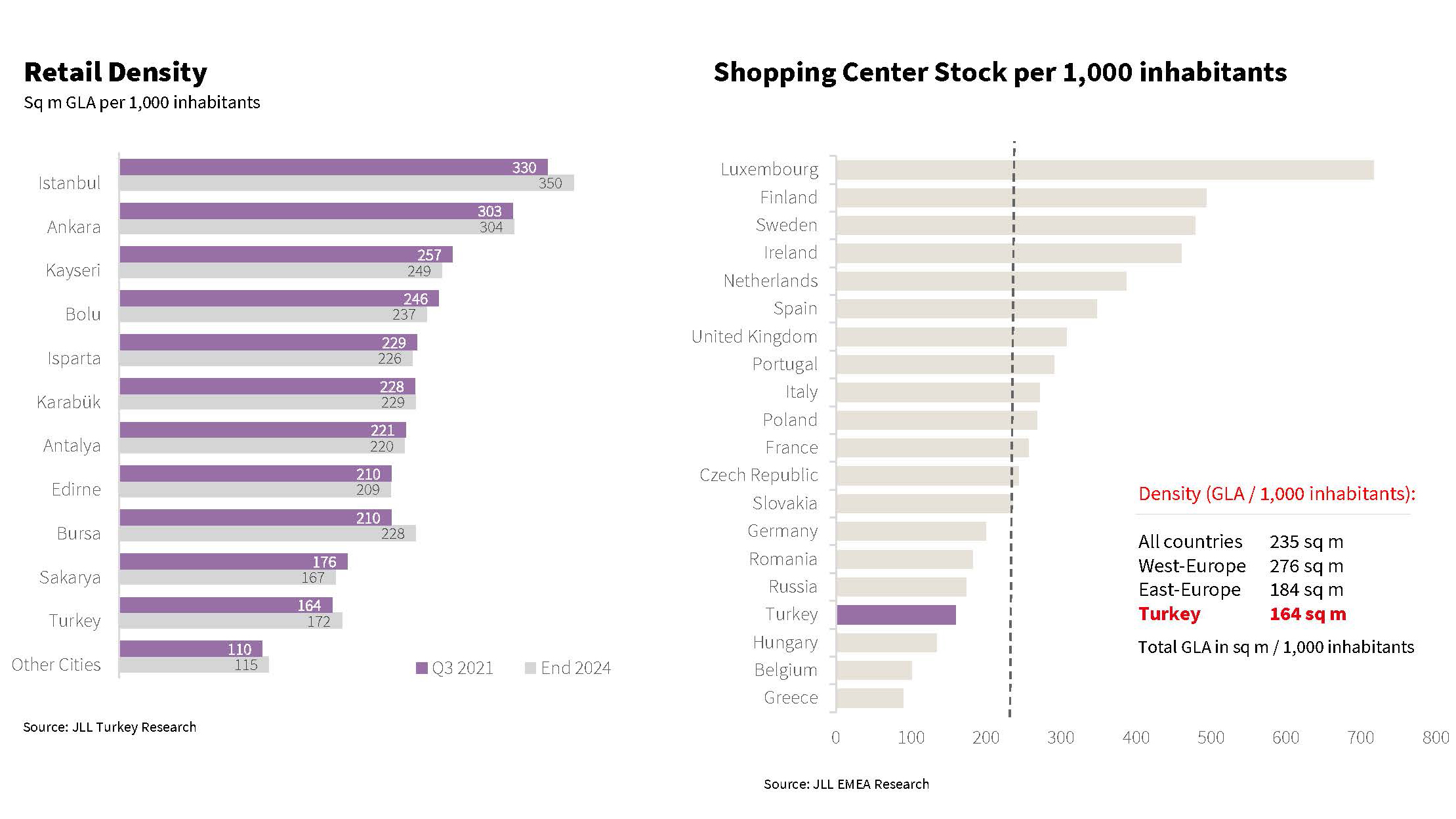 It is easy to recognize that even after the exclusion of Istanbul and other saturated cities, there is still a huge gap for new retail destination developments, where the important factor is to decide the right location.
Currently, there are no shopping centers in 14 cities, and 25 cities have shopping destinations where the total GLA is under 20,000 sq m.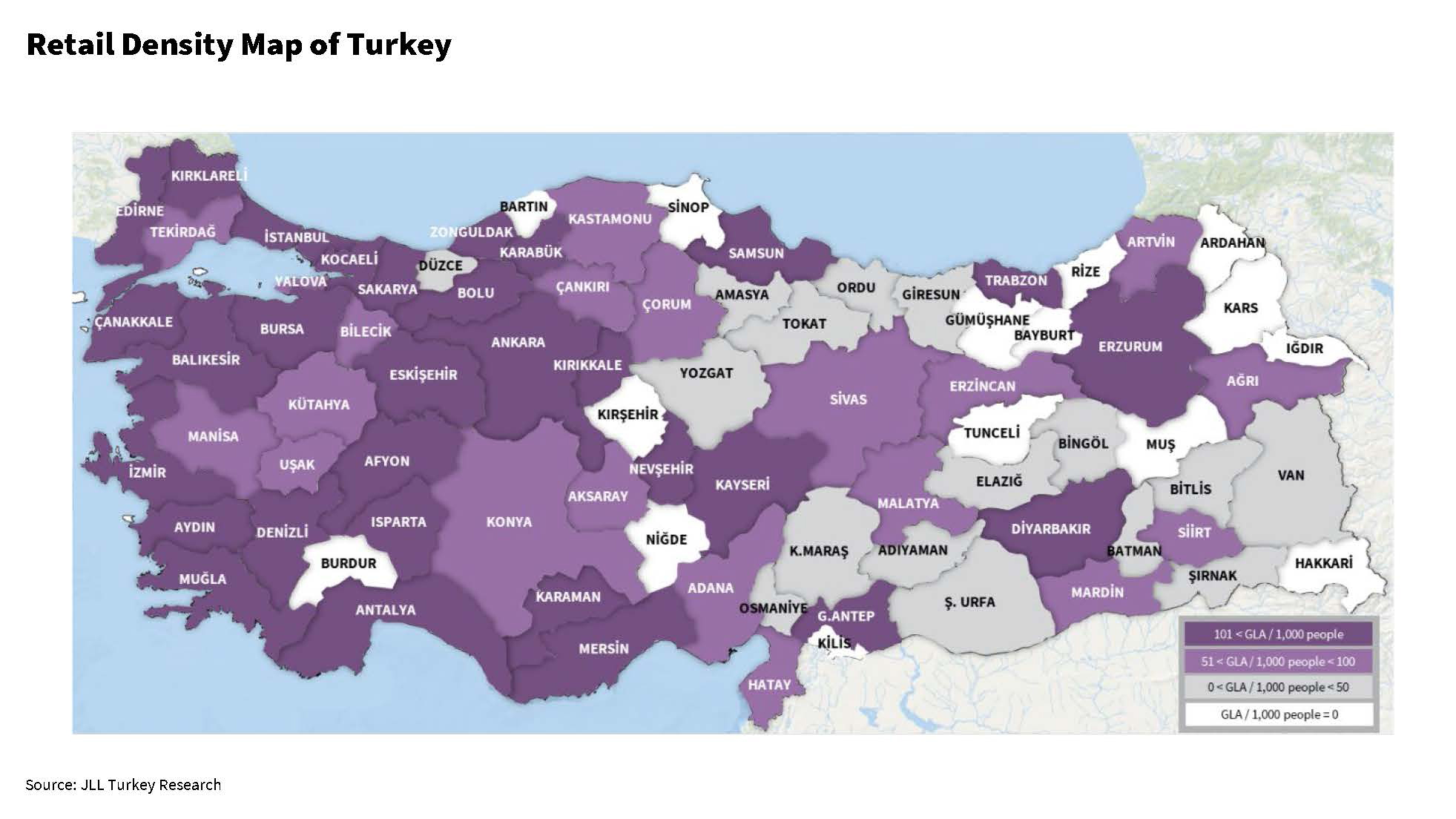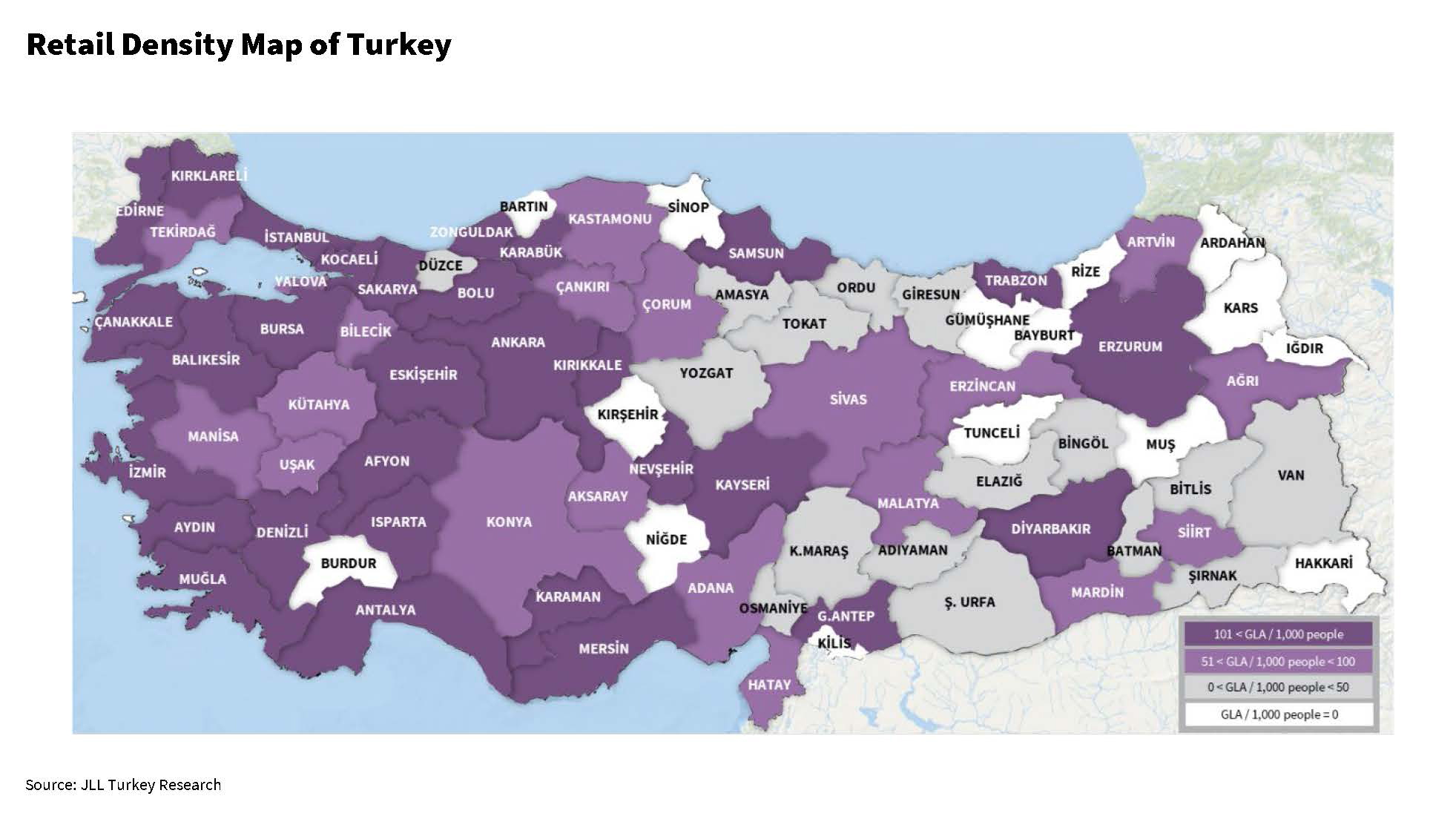 Apart from the size of the projects, the location, functionality, and service offerings of the destinations have become the main differentiating factor. Within this context, JLL Turkey's main focus for 2022 is projects where organized retail struggles to find room to enter and develop meeting points in secondary cities.
Retail: Demands and Openings in 2021
With a real upward activity in July, a particularly high demand for retail spaces was noticeable. A strong bounce back of the main drivers of retail was visible in the stabilization of turnover figures in most of the retailers at shopping centers. Most of them have returned to pre-pandemic levels, while some well positioned assets even surpassed their pre-pandemic levels, and retailer demand for leasing was boosted due to this positive climate.
Prime rents on both, EUR and Turkish Lira basis, rose 7.1% and recorded at 75 EUR and 750 TRY per sq m, respectively. In this context, several major international retailers are looking to grow their physical store footprint, as shown in the examples below.
While MediaMarkt and Decathlon are still looking to open new stores. Apple has launched its third store with nearly 900 sq m, including a "Today at Apple" concept, at Bağdat Street, which is one of the main high streets in Istanbul.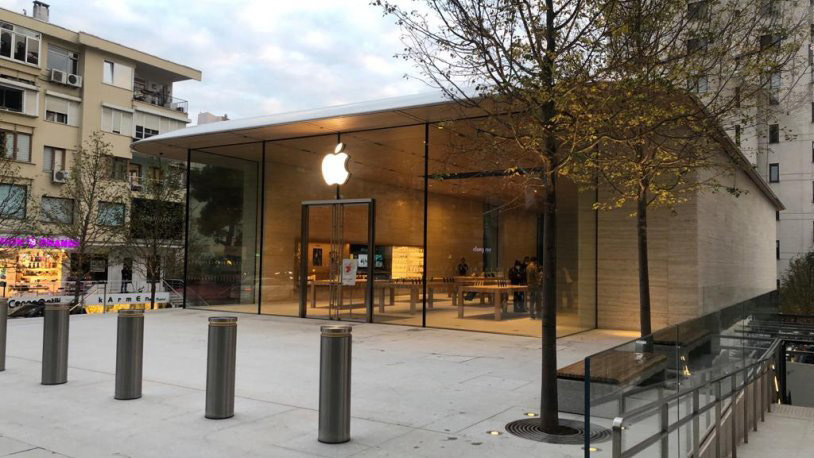 Increased consumer appetite to socialize again is also fueling the expansion activity among entertainment, including restaurant operators across all price points. Leasing activity continues to pick up. Albeit retailer demand remains focused on securing quality and retail space in and around major cities, which are on track to see a fast-paced recovery in economic activity and benefit from either large catchments or high levels of affluence.
Hupa Lupa Concept Entertainment Center, located in Metropol Istanbul, covers approximately 6,000 sq m and targets to host 1,2 million visitors in 2022. The company combines family entertainment with gastronomy offerings and museums; such as the Nasa Space Museum.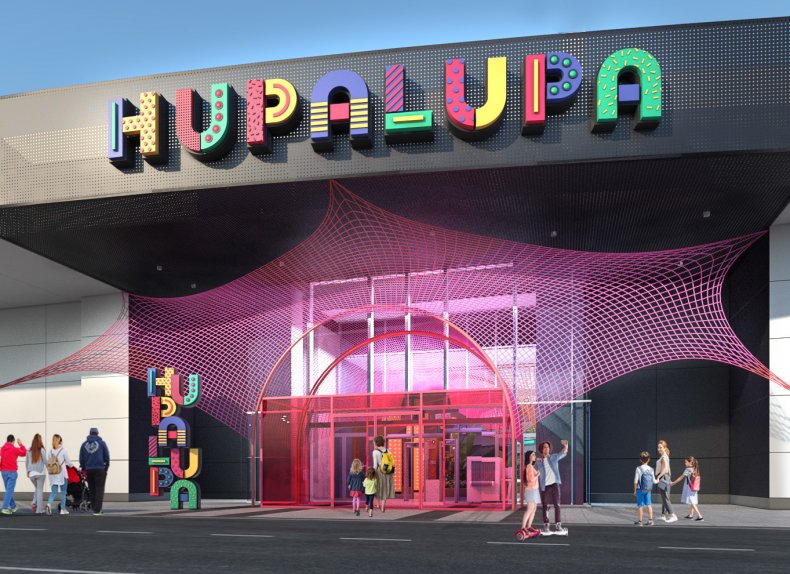 Hafız Mustafa, a 100-year-old traditional confectioner, opened in Galataport with his newly developed concept where table service is available.
Boyner, a Turkish department store operator, opened a brand-new experience center with enormous digital screens, social activity hubs, and experience features in Bağdat Street.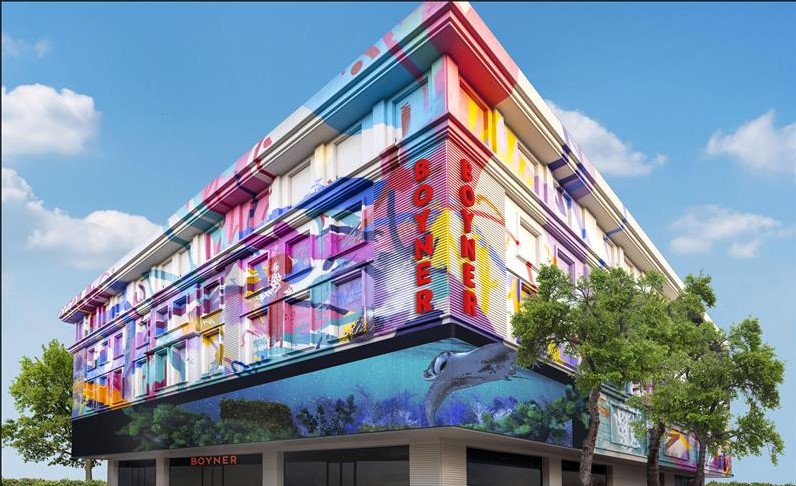 Nike opened a new age flagship store in Istiklal Street with many exciting features. The company revitalized a theater hall next to the store, where a social community hub became the meeting point for Nike app users.
Malaysian DIY operator, Mr. DIY, entered the Turkish market and already opened three stores. The goal is to expand the store portfolio up to 400 in two years, with an investment volume of $40 million.
With 50 new store openings all round Turkey in 2021, Kentucky Fried Chicken reached 190 + stores in 37 cities, upsizing the turnovers by 130% compared to 2019.
Similarly, the Camper company is active in the market since 2000, reaching 24 stores, ranking third place in terms of number of stores in the EU market, and it is planning to develop a manufacturing plant in Turkey until 2023.
This confident climate within the Turkish retail market has propelled emerging e-commerce businesses and 'beyond the date' concepts from national retailers. Under this climate new international players, and the evolving marketing strategies of retail destinations are the building blocks of a vibrant 2022.