ACROSS: THE TRIUMPHAL MARCH OF OUTLET CENTERS CONTINUES UNABATED. IN WHICH EUROPEAN COUNTRIES IS THE MARKET ALREADY SATURATED AND IN WHICH IS THERE STILL SOME POTENTIAL LEFT?
BARBARA TOPOLSKA: Over the past two years, we have seen a growing interest in the European outlet sector. There are more investors, developers, and asset managers willing to expand in this segment. Analyses conducted by Neinver, a company which has been operating in the outlet market for twenty years, indicate that Europe is highly varied in terms of the saturation rate, with the outlet concept being best developed in Great Britain and Italy. When we take a look at the map, it becomes clear that Germany offers the biggest opportunities because the outlet sector's growth has been hampered by legal constraints. Moving further east, we can see some development potential in Central and Eastern Europe as well. It is worth noting that even countries with relatively high saturation rates still offer some room for new projects. Any such investment would require a comprehensive analysis of the catchment area, the purchasing power of local residents, and tourism potential, however.Over the upcoming years, Neinver intends to focus on further geographical diversification, while at the same time aiming to bolster its position in the markets in which it currently operates. That is why new projects are underway in Spain, the Netherlands, Germany, and France. Finding prospective growth markets is definitely not enough. We need to examine their nature – the possibility to run investment processes (legal aspects), the approach of retail operators towards these markets (expansion plans of local and inter-national brands), consumer habits, and the leasing policy of experienced players (radius clause). That final factor undoubtedly needs to be discussed by the industry leaders as it might lead to significant limitations in the sector's growth.
ACROSS: WHAT CRITERIA DETERMINE THE SUCCESS OF EUROPEAN OUTLET CENTERS NOWADAYS?
TOPOLSKA: An outlet mall's success, or lack thereof, depends on the range of products and services, which can turn a center into an appealing local shopping destination or even one that is visited by foreigners and thus becomes a veritable tourist attraction. As an economic slowdown strikes Western Europe, consumers try to make smart choices – they do not want to give up purchasing their favorite brands but wish to do that at lower prices. A visit to an outlet center is often an all-day excursion. It is very important for customers to be able to get to a mall quickly, find attractive products (preferably premium brands), enjoy a broad selection of food, and simply have a relaxing time. To sum up, an outlet center has
to be a convenient place that makes shopping a real pleasure. This is the basic reason behind the popularity of the term "shopping experience," which should perhaps be renamed "customer visiting experience."
ACROSS: HOW DO NEINVER'S OUTLET CENTERS DIFFER FROM THE SCHEMES OF ITS COMPETITORS IN EUROPE?
TOPOLSKA: Our main differentiation is probably our knowledge and expertise of the entire property cycle together with our long-term relationship with our projects and partners. These ensure that Neinver is recognized as a strategic partner for developing and managing outlet projects in Europe. Furthermore, it is an honor for us to be recognized by the top international brands as the second-most-trusted outlet manager, according to the ecostra-Magdus 2013 survey. Both achievements are the result of Neinver's capacity for asset managment, innovation – including openness to new solutions and technologies – and a commitment to all our stakeholders. These values make our projects remarkable in this sector.
ACROSS: WHAT TENANTS ARE YOUR MOST IMPORTANT?
TOPOLSKA: We work to offer both international and local key brands with the aim of satisfying as much client demand as possible. We currently work together with 1,000 key brands and each of our tenants is as important as any other. We continue to work with international and local operators who are well aware of the principles upon which outlet centers operate. We also turn to new brands that seek growth opportunities. Right now, we are focusing on the development of The Style Outlets chain in Europe and upscaling the product range of our centers by establishing cooperation with premium brands. Our latest additions are the well-known brands Michael Kors and Abercrombie & Fitch, which have recently joined The Style Outlets portfolio in the centers in Germany and Portugal.
ACROSS: ARE THERE NEW TRENDS CONCERNING THE ARCHITECTURE OF OUTLET CENTERS? CATCHWORD: VILLAGE STYLE.
TOPOLSKA: Indeed: Over the past few years, developers and outlet operators have turned towards the "village style," i.e. strip center. The Style Outlets concept has gone a step further, though. We do not just build open-air center – we have enhanced that model by developing open "villages" that draw upon the traditions, history, and architecture of the place in which they are built. This is why our projects blend so well into their surroundings, becoming a complementary piece of the region or even a way to promote it. Our new project, Amsterdam The Style Outlets, which is emerging in the post-industrial area commonly referred to as the "Sugar City," is a perfect example of this approach. It is a strip mall, but the key element of its architectural design lies in the history and landscape of the area – the sugar factory that used to operate there in the early 20th century. Dutch architectural style and canals surround the mall. This is the direction we wish to take with the outlet concept. Our centers are supposed to be unique international shopping destinations that also play an important role for local communities that always have a chance to judge first.
ACROSS: IN WERL (GERMANY), NEINVER DECIDED ON THE EARLY INVOLVEMENT OF THE PUBLIC AND AUTHORITIES IN THE PLANNED PROJECT. IS THIS THE FIRST TIME IN YOUR COMPANY HISTORY? WHAT ROLE DOES THE PUBLIC PLAY IN THE APPROVAL PROCEDURE NOWADAYS?
TOPOLSKA: Each new project that is implemented in mature and stable retail markets requires an individual approach. In Werl, we are going to develop Germany's second The Style Outlets (following Zweibrucken). In Germany, the outlet concept is not as popular as in Great Britain, for example. The whole process thus has a better result when the local community and authorities are involved. At a very early stage, we begin talks about the manner in which The Style Outlets is going to contribute to the local environment. We consider various options to make the mall blend into the regional landscape and turn it into a place that further boosts the appeal of an already popular area like that in Werl. "Social involvement" has become a characteristic of Neinver throughout Europe in which we pay more attention to sustainable development and social engagement. This is a perfectly natural process, which Neinver has treated as a standard for years. We need to keep in mind that our operations in Europe actually started picking up pace in 2000. While entering new markets and looking for the best locations for our projects, we started by analyzing the needs and expectations of the closest surroundings.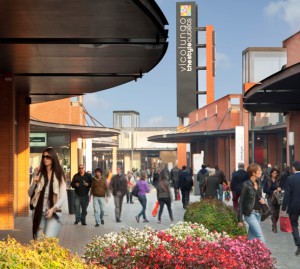 According to the ecostra-Magdus 2013 survey, Neinver is recognized by the top international brands as the second-most-trusted outlet manager. IMAGE: NEINVER
ACROSS: IN APRIL 2014, NEINVER TOOK OVER 100% OF ITS JOINT VENTURE WITH MAB DEVELOPMENT. WHAT WAS THE REASON BEHIND THIS STEP?
TOPOLSKA: Neinver signed a joint venture with MAB Development in 2010 to cooperate in the development of factory outlet centers in France and Germany. At the time, we thought we were establishing a long-term cooperation. Rabo Real Estate Group's official announcement in May 2013 that it was selling off its commercial real estate development activities changed the situation completely and we decided to go ahead with the acquisition of 100% of the joint venture. The purchase is also in line with the company's strategy of becoming the leading outlet operator in Europe's key growth markets, such as France, Germany, and the Netherlands.
ACROSS: IN EUROPE, MORE AND MORE SHOPPING CENTERS ARE DEVELOPED IN (INNER) CITIES – NOT ON GREENFIELD SITES. WILL THIS TENDENCY ALSO REACH FOCS?
TOPOLSKA: European retail is indeed going back to city centers or – in case of Western Europe's most mature markets – it is being carefully nurtured, especially on main shopping streets. In Central and Eastern Europe, high street retail is not very popular. Shopping centers located in city centers are visited by loads of customers, though. From the very start, the outlet concept entailed a location outside of cities so as not to compete directly against retailers operating there, including local entrepreneurs. I strongly support this idea and think we should stick to it. Outlet centers are a great opportunity for smaller towns that offer good transport links and have interesting history or traditions. Given their appealing range of brands and products, FOCs can contribute to the growth of a given location by attracting new tourists – both local and inter-national ones. They have the power to form interesting tourist destinations and promote them. In my opinion, this is the right way for the outlet segment to take.