Only for a short time (until 30.11.2020): Read the latest issue FOR FREE!

Just enter the subscription code:

across420
Redeem your subscription code up to and including November 30, 2020 and enjoy the new ePaper for free for fifteen days after you redeemed your code.
click here for more information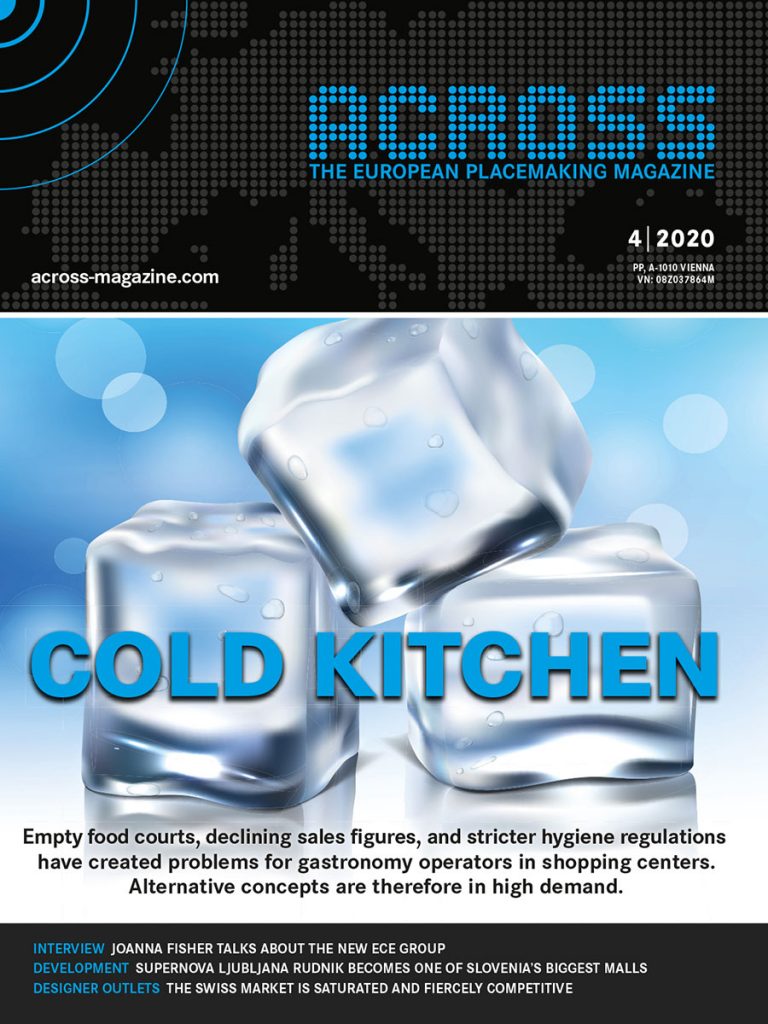 When we developed this latest issue of ACROSS (4/2020), we planned to do a cover story about the recovery curve during as well as of the Covid-19 crisis. It was supposed to say that the pandemic is more or less under control and how the economy and therefore the placemaking industry gradually finds its way out of this crisis. The dramatic increase of infections all over Europe, which resulted in restrictions and variations of lockdowns, thwarted this plan.
Instead, we take a closer look at food and beverage providers, who are particularly affected by the Covid-19 crisis. As you know, restaurant areas have been expanded massively in European retail properties throughout the last decade, from approximately five to 15 percent and more. After all, they were hailed as a ray of hope for the industry when combined with entertainment facilities, to compete with online retail. Innovative gastronomy and leisure concepts were supposed to increase the quality of stay and therefore make the mall the place to be. This approach may now backfire, as we have to keep our distance from people and particularly avoid gatherings in general. We asked what this means in practice and how the players could potentially make a virtue out of this necessity, since the food & beverage sector is still very much alive and kicking. It will definitely come back from this, and dining will continue to be a trend. Read our cover story to learn which opportunities are currently in play for the further development of exciting concepts.
We also report on the newly organized ECE Group in our latest issue. Joanna Fisher, who will manage the business segment ECE Marketplaces as its CEO, talks in her interview about current challenges and further strategies.
I hope our latest issue will be an informative and profitable read for you.
Stay healthy!
Yours sincerely,
Reinhard Winiwarter, Publisher ACROSS Magazine
---
Top-quality industry information is very important, especially in challenging times. Therefore, ACROSS will further expand its reporting, particularly in the online sector. You will find our publication dates for 2020/21 here. Benefit from our strong presence to further improve the positioning of your company.