ACROSS: YOUR BUSINESS CUSTOMIZES SHOPS, STORES, AND MERCHANDISE WORLDS. WHAT DOES THAT MEAN, EXACTLY? WHAT SERVICE PORTFOLIO DO YOU OFFER YOUR CUSTOMERS?
MARKUS SCHWITZKE: It is our philosophy to provide our customers – brands, dealers, and even shopping centers – the full range of services from brand story development, to corporate identity, appearance, architectural concept, and actual implementation. For example, we're supporting the first Uniqlo stores in Berlin and the recently opened stores in France and Belgium. In general, we try to set ourselves up so that we meet the needs of our clients' costumers.
ACROSS: YOU RECENTLY COMPLETED YOUR WORK ON THE SHOPPING CENTER PALAIS VEST IN RECKLINGHAUSEN, GERMANY. WHAT STORY DO YOU TELL THERE?
SCHWITZKE: Unlike many architects who plan retail properties, we come from the side that actually develops brands. We always place the customer at the center and ask ourselves what his expectations are. What are his requirements for the property? We don't think overly functionally or from an investor perspective. We are concerned with the experience, with creating a destination with a clear profile and thus a unique position. All this must in turn be clearly communicated, and we are not afraid to work with clichés. We thus deal with positive and con-temporary interpretations of clichés at Palais Vest.
ACROSS: WHAT DOES THAT MEAN?
RICHARD WÖRÖSCH: At this point we have to mention that we came to the project relatively late. That was when it was still called "Recklinghausen Arcaden," because all mfi malls were called "arcaden" at that time. We wanted to get away from that when it changed owners (Note: to Unibail-Rodamco). We ensure that a shopping center is a local brand that radiates locally. We therefore developed a new concept with a link to the region. "Vest" is a medieval word for episcopal government districts. The term "Vest" is deeply rooted in Recklinghausen. There is a Vest savings bank, a Vest country hall, and a Vest radio station. Palais Vest is located in the city center on the edge of the old town. It's an interesting location because the core of the old town is surrounded by a ring road. This ring road in turn draws on the history of Recklinghausen. There is a Herzogswall, a Kaiserwall, etc. with beautiful medieval buildings. We decided to incorporate that into the concept as well – hence the name "Palais."
SCHWITZKE: The fact that the project had already been in development for four years when we came on board is particularly interesting. From December 2013 to the opening in September 2014, we turned the entire mall around, so to speak. It was challenging and exciting. We accomplished that without delay so that the opening date was kept.
ACROSS: WHAT CLICHÉS DO YOU PLAY WITH AT PALAIS VEST?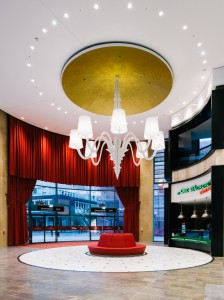 SCHWITZKE: We were guided by the term "Palais." We structured the shopping center, defined the various areas, and ensured a strong visual atmosphere accordingly. The food court, for example, is called the "Orangerie," because everyone has a picture in mind for that and makes a positive asso-ciation. We worked with third-party lighting and food court designers for that project. The entrance is called the "vestibule." It features a huge chandelier and an over-sized, illuminated, red curtain that is visible from outside. It is a welcome gesture. The two halls with escalators are called the "Green Salon" and the "Hall of Mirrors." The latter features a work of art by Julius Popp – an installation with mirrored surfaces that can be moved via touchscreen. There are also trim-like LED light strips on the ceiling.
WÖRÖSCH: We focused on the main locations in the mall in Recklinghausen. These were the three halls plus the food court. We worked there with architectural means. The floor had already been ordered. We laid it differently and supplemented it with large marble carpets, as we had to adapt to the existing situation.
ACROSS: IF YOU ARE INVOLVED IN PROJECTS FROM THE BEGINNING, DO YOU REACT TO THE MARKET DURING THE DEVELOPMENT? DO YOU CONSTANTLY CHANGE YOUR CONCEPT?
WÖRÖSCH: We have to. Take the Pasing Arcaden in Munich, where the building shell and subfloors were already finished when mfi decided that the glass facade shouldn't extend through the whole mall because it wouldn't provide the proper atmosphere. This brought the whole project to a standstill. You can't implement a development that has gone on for 15 years without adaptations. You have to readjust things because the market changes incredibly fast. This is a big challenge. We recommend all shopping center developers to check regularly that their concept is still correct before the opening. In order to secure funding, tenants must be lined up in advance. Nevertheless, developers must constantly ask whether the tenants and brands still fit. To be fully let, come what may, is not a sensible strategy.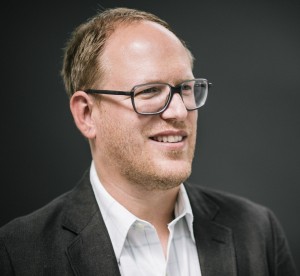 "What I do is tell success stories." As managing partner, Markus Schwitzke is responsible for Schwitzke Graphics GmbH.
ACROSS: YOU SAY IT IS IMPORTANT TO CREATE NOT A MALL, BUT A FAVORITE PLACE WITH EXPERIENCE CHARACTER. YOU RELY ON EXAGGERATED CLICHÉS TO DO THIS. DO YOU CREATE ART WORLDS?
SCHWITZKE: I lived in Dubai for five years where I established one of our branch offices. Personally, I'm not a fan of creating "Disneyland" malls. That would not work here. There are some "Disney Malls" in Dubai – and in the Arab world in general – and the US. There are now international standards for a friendly, open atmosphere at shopping centers, however. This is a consensus in the industry. The success of Palais Vest is in turn based not on its clichés, but on the fact that customers are surprised that the shopping center offers more than the average. If I had visited the "Recklinghausen Arcaden" as a customer, I would have had no expectations of the mall. My expectations would still not have been surpassed, however. On the other hand, if I hear "Palais Vest," I might be a bit confused as a customer. When I arrive there, I'm surprised because the mall has an atmosphere totally different from the structurally weak region in and around Recklinghausen. As a customer, I feel that my sense, that shopping should be fun, is being taken seriously. That's what makes it successful. The retailers have now realized this as well. They were initially skeptical. Their sales figures are where they want them to be. There's now been a run on the center. Every space has been let. This is also due to the touch of "international shopping" with which Palais Vest scores points, although it remains pleasant and manageable.
WÖRÖSCH: But we don't just stand for "nice." After all, we have been in the retail business for 26 years and come from the brand side. For a quarter of a century, we were therefore on the other side of the table, where we often thought: "Man, why won't you move?" If we wanted to create interesting facades, they said this was not possible due to various advertising and material specifications. We have now resolved that. In Recklinghausen, too. We gave the brands there the opportunity to design their facades.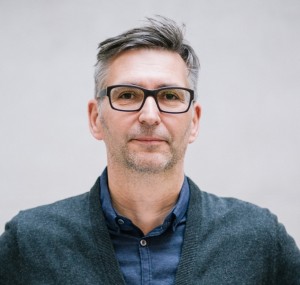 "We are insiders for our customers. Period." Richard Wörösch is an interior designer and General Manager of Schwitzke & Partner. The company has won numerous titles and awards, from Store of the Year (HDI) to the international RLI Interior Excellence Award.
ACROSS: YOU SAID THAT THE RETAILERS WERE INITIALLY SKEPTICAL. HOW SO? WHERE DOES ONE BEST START WITH COMMUNICATION IN SUCH A SITUATION?
WÖRÖSCH: Around Recklinghausen, CentrO is located in the south in Oberhausen, Essen has Limbecker Platz, Bochum is home to Ruhr Park, and there are numerous shopping opportunities in Dortmund. The retailers' reservations regarding Palais Vest related to the competition around that location. So what did we do? We developed a tenant facade concept that offered the retailers free space, for example. We also developed guidelines in dialogue with them and subsequently discussed facades with each merchant individually. From our experience in Dubai, we know that there is such a thing as a design-control zone, which sometimes extends up to three meters into the stores. This is not possible on this scale in Germany, so we agreed to one and a half meters – the window area, in other words. We can raise shops to a certain level thanks to this design control zone. Palais Vest thus came to a much more interesting mall design. We took on creative tenant coordination.
ACROSS: IS THIS A PROCESS THAT RETAILERS MUST FIRST LEARN?
SCHWITZKE: Yes, many retailers had to learn that. They were very grateful because they realized that their brands were given the opportunity to present themselves appropriately in the mall. Our goal was a triple-win situation: first, the mall should be recognizable as a brand. Second, the retail brands must be visible as well. Third, due to the interaction between the first and second aspects, customers will stay in the center longer.
ACROSS: ISN'T THERE A DANGER THAT THE RETAIL BRAND MIGHT BE LOST WITHIN THE BRAND OF THE MALL?
SCHWITZKE: This risk exists for some projects, in very neutral malls with glass facades where all the brands are the same and have equally large logos, for example. Many brands go under in such an environment. The other extreme is a "Disneyland": if you build a "fake" something that is so strong that individual brands disappear. In our concepts, it's all about different zones – i.e. destinations – that connect with the brands. We hold back creatively in areas where it's about the tenants. This approach favors new tenants bringing fresh air into the center. The design is reminiscent of an established downtown area, where customers intuitively enter shops without the need for additional guidance.
ACROSS: SO ARE LUXURY SHOPPING CENTER CONCEPTS SPILLING OVER INTO "TRADITIONAL" MALLS IN EUROPE, AS IS ALREADY THE CASE IN THE MIDDLE EAST?
WÖRÖSCH: That may well be, as you can see with various retail brands. Zara, for example, is chasing Armani. At the same time, that mass supplier is indulging its customers with the luxury of large spaces. And in a volume market! This trend will extend into shopping malls. As we know from the Middle East, storytelling is immensely important because you need a USP other than a few well-known brands. This is in turn related to the fact that the internet is now a competitor. No shopping center operator can rely on just being a landlord anymore.
SCHWITZKE: Luxury brands, which must by necessity create value, are always pioneers in storytelling. After all, they have to explain to customers why their product is better than a standard product. Other brands in other segments – including discounters –are imitating this now. Successful brands rely on more than their (low) price. Similarly, shopping center operators explain that they also provide added value, that they are more than just landlords who keep the lighting and air conditioning running. They know that they have to provide frequency. They have to connect with the region, for example by hosting events, expanding dining options, and providing specific services. For this, operators need to position themselves; they need to tell a story.