By Jonathan A. Calverley
In order for a project to be well implemented, an overriding goal is essential. Working towards a target, which is perceived as a particular point in the future, sets everyone involved in motion. In the course of the daily drive forward, motivation, confidence, and the right partners are key. In that respect, the overall goal is determined by the sum of the competence and the enthusiasm of the group in whose company one finds oneself. That is applicable to every aspect of life. Professionally speaking: The constructive and networked interaction among colleagues is essential in terms of being able to develop one's own skills, experience, and creativity at the highest level.
The goal of our group of companies is to create unique construction projects, particularly in times such as these, in which the asset classes of the real estate industry are being forced to move ever closer together in order to meet the demand for and the trend towards mixed-use properties. We are developing a variety of different houses and neighborhoods that all have one thing in common: the sustainable enhancement of public space combined with an optimistic view of the future. As a result, we are also breaking new ground in the partnerships with our retail and gastronomy users by harnessing the strength of our personal network to win over the most exciting and sought-after minds and concepts as new partners and to support them in their development processes.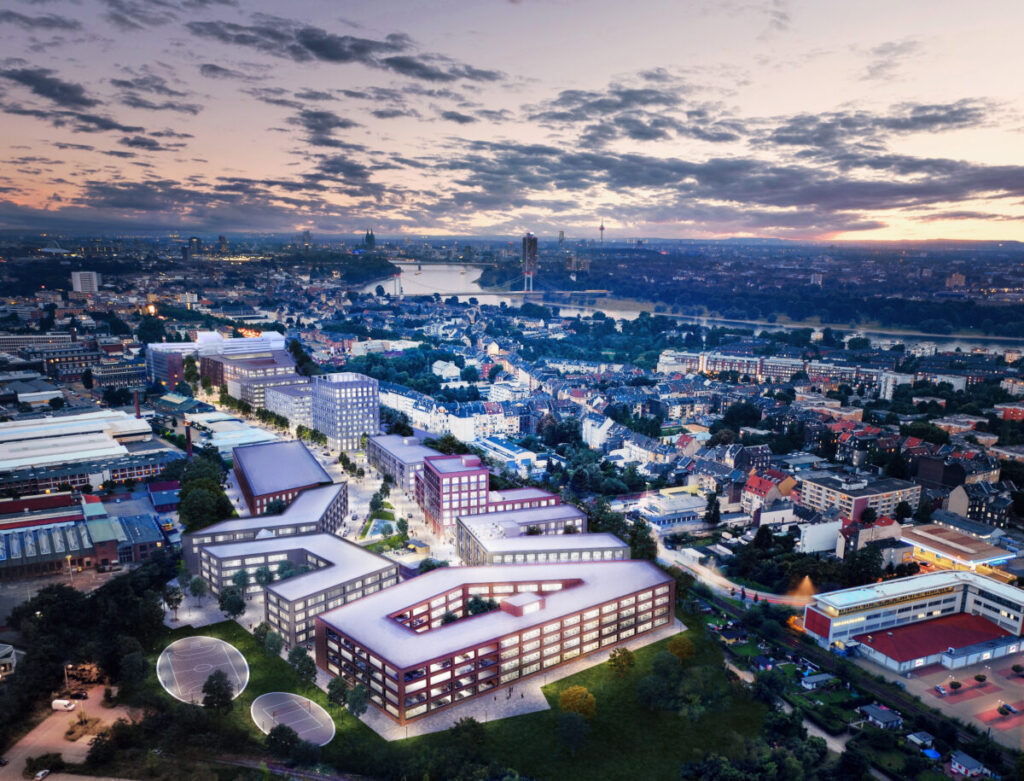 One such example can be found in the Alte Wall project in Hamburg. The historically significant street lay dormant for decades until we successfully transformed it into a vibrant attraction for the city. The important thing in that case was to create a socially relevant and attractive public space. Today, Alte Wall is home to finely curated, symbiotic communities of lively restaurants, wonderful art and culture, and high-end fashion and furnishing worlds that create identity via their interplay. At the core of it all was the authentic, sustainable development of real estate projects that offered positive added value to all of the stakeholders in that particularly complex context. The main objective, above all other goals, implementation steps, and activities, was customer satisfaction.
Interdisciplinary Exchange as the Starting Point of Solid Value Creation
As a team, we strive to achieve solid value creation together. For us, that involves always aligning our professional activities with vision, responsibility, and, above all, passion for shaping all of our lives in a sustainable way. That requires a great deal of consistent commitment and energy, as well as the ability to think outside the box. What does that mean in concrete terms, though?
Such processes work best when there is regular exchange between the various disciplines: Management, Human Resources, Corporate Development, Fund Management, Project Management, Asset Management, Property Management, Investment Management, Transaction Management, ESG, Innovation, Research, and Marketing. The guiding principle here is trusting, open communication with one another. The aim is to absorb as much valuable information and knowledge as possible from day-to-day business in order to develop an overall understanding – the much-cited big picture – and to constantly reflect on what we have learned.
The decisive factor in this context lies in the basic understanding that there is infinite potential, a multitude of challenges, and, at the same time, considerable risks to be assessed in almost every area of our work. Decisions, therefore, can only be made with a clear conscience once the knowledge level is as optimal as possible and trust in each other as well as mutual support among all areas of competence are assured. As a result, regular meetings are held both at management level and within the wider circle in order to determine a common path. In addition, extraordinary rounds of talks are held when situations such as the impact of the COVID-19 pandemic or the crisis in Ukraine call for immediate action and pragmatism or when users need to be helped in an unbureaucratic and effective manner.
Internal Adaptation to the Rapidly Changing Retail Market
Such exchanges regularly take place throughout the company as well, and important updates are presented in the form of town hall meetings. In the last two years, for example, interdisciplinary teams have been formed in order to enable us to respond to the rapidly changing retail market in a special way and to allow us to meet the new demands that have been placed on us, as landlords and developers, as quickly as possible. The paradigm shift led to the significant reorganization of both our leasing processes and our leasing strategy, which meant that old, established structures had to be abandoned.
The only way that we have been able to appropriately implement the various requirements is through very close cooperation within the teams – especially the technical and commercial departments. Virtually no department or specialist is capable of making a difference when working alone. Effective collaboration is the only way to make things work. Nowadays, it is not enough to simply build a shell and hand over the key. Instead, the entire structure and its periphery must be tailored to the tenant.
With the future in mind, a rental space must remain versatile and usable for many years to come. In essence, each building must be conceived, constructed, and configured like a neighborhood. In addition to internal efforts, the qualitative improvement of the urban environment through, for example, "Business Improvement Districts" also helps in this respect. Therefore, the concept of the city center as well more in-depth networking with surrounding investors and project developers will also be issues in the future. The full-scale cooperation of all stakeholders is necessary in order to make our city centers and the retail sector more attractive and resilient.
Every employee of the company contributes, via his/her professional and human values as well as his/her tremendous loyalty to the company, to helping Art-Invest reach its milestones and progress further. Genuine mutual appreciation not only ensures stability and a healthy mood among employees, but it also serves as the fuel for dynamism, excellence, and a healthy corporate culture. Our thoughts always revolve around where we can develop as service providers, as managers, and as a company. What is next? Our long-term goal is to be among the best in the market; we are also intent on constantly raising our level of ambition, pushing boundaries, and being a driving force. As stated at the onset, this objective marks the starting point of every movement made within the company and forms the basis of operational excellence.