It has been known for some time that the Signa Group wants to open a KaDeWe on Mariahilfer Straße, one of Vienna's most popular shopping miles. A furniture store has to move to realize this plan. The Austrian real estate group recently presented the first details: The Office for Metropolitan Architecture (O.M.A.), founded by Pritzker Prize winner Rem Koolhaas, was the winner of the architecture competition for the project. A modern version of a traditional department store with a mix of shops, restaurants and hotel facilities and public will be constructed. This should become a strong signal for the future of bricks-and-mortar retail trade. Construction starts in 2021, its completion is scheduled for autumn 2023.
One could say: so far, so conventional. One feature, however, will particularly distinguish Vienna's KaDeWe–its rooftop, as visitors will have access to upscale restaurants and a roof park with a view of the city. This area spanning around 1,000 sq m is planned as a non-consumption-oriented public area and will be accessible outside of the stores' and restaurants' opening hours. It will become a park landscape that accommodates a solid stock of trees, and not just some lonely green twigs. This rooftop garden will have a pleasant microclimate during summer. According to the architects of O.M.A., temperatures could be up to five to seven degrees centigrade cooler there. Christoph Stadlhuber, CEO of Signa Real Estate Austria, said, "We are delighted with the reestablishment of this traditional department store on one of Vienna's most interesting and exciting squares. We are convinced that the project will generate additional impulses in the district as well as the city and will be seen as a unique landmark."
KaDeWe Vienna is supposed to be completed by autumn 2023, with an approximately 1,000-sq m rooftop garden. Credit: O.M.A. Office for Metropolitan Architecture
Not just in warmer climates
Another rooftop garden on a retail or mixed-use property is under construction not far from Austria's capital, in the Slovakian city of Bratislava. This is HB Reavis' Nivy Station with its approximately 70,000 sq m of GLA (see also the interview with René Popik, CEO of HB Reavis Slovakia). The opening is scheduled for autumn 2020.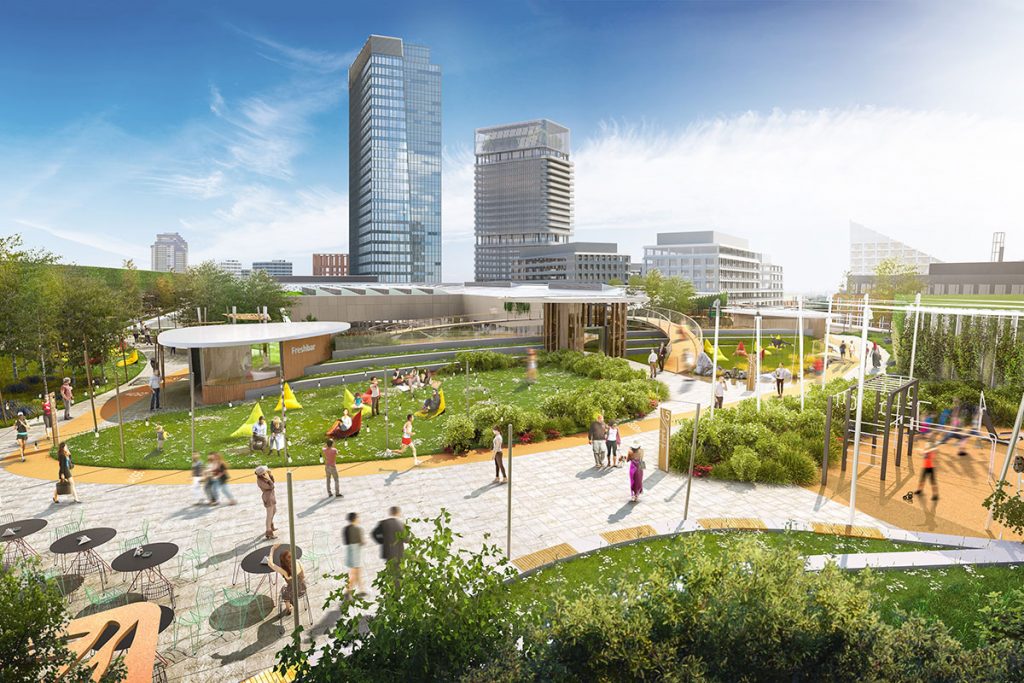 One of the project's special features is its green roof. It will be a place for leisure activities like pétanque, and will include a bouldering wall and BBQ spots. People can work and meet in a green environment, which will also attract visitors who normally don't go to shopping centers. The trees in the outdoor area, which will remain accessible after business hours, will be brought in from the Netherlands. With this open space Nivy Station is responding to the development that today's customers do more than just shop at malls, as they are rather looking for "places to be". These are inextricably linked to culinary experiences and leisure activities.
Any way you look at it, the fact remains that more and more European shopping centers are getting equipped with diversely used rooftop areas. And this not just happening in the continent's hotter, southern countries, but also in Central and Eastern Europe, like at Vienna's KaDeWe and Bratislava's Nivy Station. Even Scandinavia is in on this trend. Emporia, which was opened in October 2012 by Klépierre in Sweden's Malmö, is a good example. Its rooftop park is designed as a bit of cultivated nature. Its vegetation (sedum, prairie grass, and trees) and its sun-facing, wind-sheltered patios are accessible from both inside and outside the building. The hills that provide protection from the wind are hiding the mechanical facilities.
Emporia created a public space in Sweden's Malmö by creating a rooftop garden landscape. The hills provide protection from the wind. Credit: Klépierre
Shopping centers have been opening up on their sides towards the outdoors for quite some time, with terraces for restaurants and ground-level forecourts for markets or retailers to be used as expanded sales areas. Contrary to the trends of only a few years ago, shopping centers are no longer developed, built and operated as self-contained cubes. Existing properties, which were built in this "dark" time, have already been refurbished accordingly. Now, for the next step, everybody is looking to the top. Now and in the future, more and more rooftops will be developed as additional leisure areas. After all, shopping centers need to introduce them as new attractions, not least because of the competition from the online retail sector.
Long live sports!
Aleja's Activity Roof wants to establish itself as one of those attractions. Aleja is an SES Spar European Shopping Centers' mall, which is scheduled to open in the Slovenian capital Ljubljana in spring 2020.The mentioned Activity Roof, which is true to the "running over the city's rooftops" motto, will offer on a total area of 6,200 sq m for sports and leisure facilities. It will include a volleyball and basketball court, a football field, a fitness park, a running track, and an outdoor playground. A pump track circuit for bikers–the latest sports trend–will be located immediately in front of the Aleja.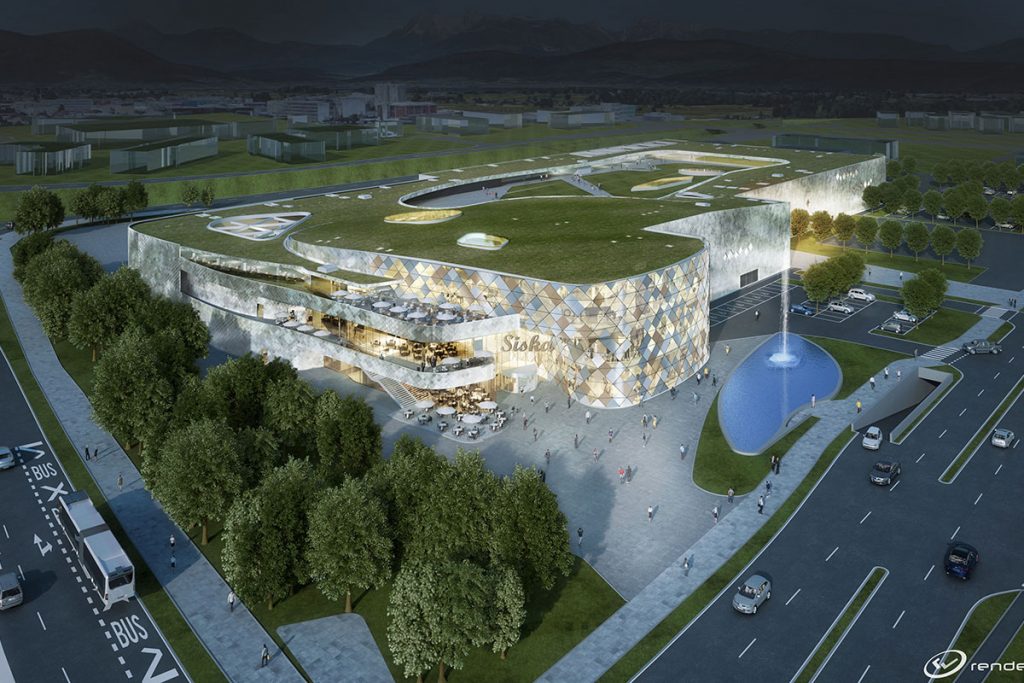 Sports facilities are therefore to become the attractions. This is promising concept for metropolitan areas. Another key argument for the above-mentioned examples of new rooftops on European shopping centers is the "green factor". The design of ecological spaces and environments on rooftops has become a field of interest for the commercial management of malls. There is no denying that large amounts of greenery installations improve visual values and create different perceptions of public spaces. Roofs with plants are also perceived as more cheerful, pleasant, and inviting. Greenery complements and strengthens architectural design and reduces the visitor's feeling of being overwhelmed by concrete. They increase the quality of stay.
Urban farm near Paris
However, it has to be remembered that the idea is to create spaces, or microclimates, that are similar to the ones that the plants chosen for the projects would normally find in their own habitats. Therefore, access to light must exist and plants should be able to be protected from sudden temperature changes. Simply put, conditions must be provided in which plants can grow. This, undoubtedly, presents challenges, like the installation of greenery in a "kitchen-like" food court zone, but it is worth the effort. Speaking of kitchens: rooftops of shopping centers also contribute to the culinary offer, like at the So Ouest. This is a property by Unibail-Rodamco-Westfield, northwest of Paris, where they established a 600-sq m urban farm in June 2018. There, vegetables, fruits, and plants are produced via vertical agriculture, without herbicides, pesticides, or fertilizers, in accordance with permaculture principles. The products are subsequently sold directly to customers, inside a dedicated pop-up store within the mall.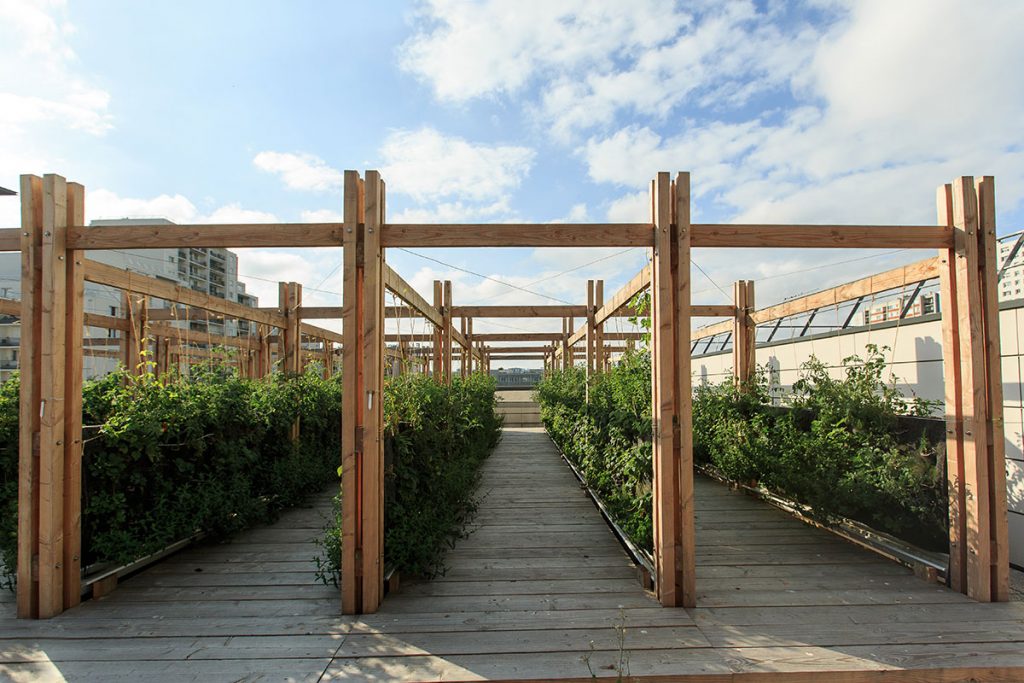 This is a great new outlook for customers and consumers. Whether this conquest of rooftops will ultimately pay off will naturally depend on the respective project. Time will tell.