Complexity and a very individualized approach to the needs of individual groups of customers are key for HB Reavis, the developer of the project – and the new zone. ACROSS talked to the CEO of its Slovak branch, René Popik, about the challenges that building such a project during a pandemic brings.
ACROSS: The opening of Nivy Station has been postponed to the end of summer 2021. What were the reasons behind that decision?
RENÉ POPIK: While the current situation has affected the lives and businesses of everyone in unexpected ways, the retail sector has been hit exceptionally hard and on a global level. We have been in close discussions with our tenants since the very beginning, and we had initially planned to open Nivy Station in spring 2021. We would have been able to meet that deadline, but after further discussion and as a result of the ongoing corona crisis, we have decided that postponing the opening until the end of summer 2021 would be the best option for our retail tenants. Opening the new facilities at a later date will give them more time to recover. It is a pragmatic solution that works best for all the stakeholders involved.
ACROSS: Can you be more specific with regard to the reasons?
POPIK: Roughly 250 shops will be located at Nivy Station, and most of them are in the process of developing their spaces by means of international networks comprised of their own studios, architects, and designers. These global brands have stores all over the world, and their teams do not usually come from Slovakia. As a result, even the coordination of the development of their spaces has been difficult in recent months, given all the constraints.
The process of developing an operation takes seven to nine months on average. Another factor to be considered in the fashion industry is planning: The entire supply chain is very complex and planning is done one year in advance. Chains will also consolidate their existing operations in the upcoming months, so an opening date in spring would have been relatively tight. Disruptions in the Asia-Europe supply chain have presented yet another challenge.
Thanks to the postponement, there is enough time for retailers to close this year without suffering any further pressure, to focus on consolidation and coordination within their chains, and to set up new operations from January onward.
ACROSS: Has the decision had an impact on your business strategy?
POPIK: HB Reavis' business strategy with regard to the Nivy Station project is in line with what is happening in the retail market, both locally and globally. As a responsible manager, we always try to reflect on any changes in customer or tenant behavior. Finding the most suitable date for the opening of the project, taking into account the current uncertain situation, has given our future business partners time to carry out their internal consolidation.
The behavior of the customer of the future is a question that will be answered in the upcoming months, when the retail market will essentially reach the point at which it was prior to the closure and slowdown of the economy. We believe that such a strategy is a correct and responsible manner in which to look after our shareholders and our business partners.
ACROSS: Does that mean all of the coronavirus-related complications have passed and that the latest opening date is the final one?
POPIK: As long as there are no exceptional circumstances that undermine the entire European economy, we do not see any reason why we would not be able to adhere to that date. Yes, the crisis is ongoing, but we have been able to capitalize on it. The extra time has really played into our hands because we have been able to further develop the center in ways that will enable us to better respond to new challenges, such as those posed by the coronavirus. Therefore, the end of next summer will be an ideal time to open a shopping center – especially a future-proof one.
ACROSS: What do you mean by "future-proof"?
POPIK: We see this new situation as an opportunity. Postponing the opening date has also given us greater room for transformation, especially with regard to the connection of the project to the online environment – in particular, to retail. For instance, we have managed to create the space to implement appropriate solutions and processes directly into the project in order to deliver customers a next-generation center.
We will also use this postponement to test the project under new conditions and to adapt it to the new, more stringent hygiene standards. For example, we intend to install as many contactless areas as possible at the entrances as well as in other areas, to establish security protocols, and to define the processes to be used as part of possible "pandemic measures" in the future. This is an opportunity to introduce a new generation of solutions to the market. Simply put, we are planning a project that will not only stand the test of time, but will also be capable of meeting new hygiene standards and the digital future that lies ahead.
ACROSS: Are brands still enthusiastic about expansion?
POPIK: Despite this difficult period, our cooperation with our partners has deepened, and, at present, about three quarters of the center has been leased to tenants. The quality level of the Nivy Station project has also been proven – none of our partners have withdrawn from the project. We even succeeded in signing several interesting fashion segment contracts during the lockdown period. These are not local players, but international networks.
ACROSS: What brands can we expect to see at Nivy Station?
POPIK: The largest tenants at Nivy Station are brands owned by the Inditex Group, which will offer seven brands across an area of more than 7,000 square meters, including two concepts that are completely new to the Slovak market – Zara Home and Oysho. Most of the Inditex concepts – Zara, Zara Home, Oysho, Bershka, Stradivarius, Massimo Dutti and Pull & Bear – will be located in the same area. A fashion chain from Polish group LPP, which is well-known and extremely popular in the Slovak market, is another major tenant. It will offer its entire portfolio – Reserved, Cropp, House, Mohito and Sinsay – and will occupy the largest amount of space, a total of nearly 6,000 square meters, and the flagship Reserved brand will be presented as a 2-story concept. Younger customers will enjoy shopping at New Yorker, and recent additions include Levi's and Fjällräven.
Nivy station is the first project in Bratislava that will feature two large supermarkets. Lidl, a major player, is one of them. Yeme, the other well-known gastronomic concept, is set to open its first gluten-free bakery within its unique premises. Fast food options will include Regal Burger, a local chain, and McDonalds. Gastronomic facilities will also be expanded in Slovakia by means of Mondieu, a café, and Soho, a restaurant offering a variety of Asian cuisine.
Alza, one of the largest online retailers, will also be present. Customer comfort will be at an even higher level than before thanks to the popular Alza Drive. Martinus, the most frequented bookstore, will feature an integrated café. Those are just a few examples, and there are many more.
ACROSS: What do you consider to be Nivy Station's strongest selling point?
POPIK: Our strength, without a doubt, is the overall mix of functions that we offer: the bus station, the many shopping facilities, and the strong gastronomic concept, which is directly connected to a green roof the size of two soccer fields. The green roof, a year-round outdoor destination, will offer people the opportunity to play sports, work, or relax within a pleasant green environment. Thanks to the atrium, people will be able to enjoy their lunches on the green lawn or on picnic blankets on sunny days, without any problems. The combination of the culinary experience with many other leisure activities is definitely one of the strongest features of Nivy Station.
ACROSS: What is the current status of work at Nivy Station?
POPIK: All of the steel structures have been completed, of which there are now more than 4,000 tons. The building is close to being closed, the skylights, thanks to which the rooms will be filled with natural light, have been finished, and the roof cladding has been completed. We are working on the construction of rest areas on the roof. All ventilation devices have already been installed, and the internal partitions have also been nearly completed in the interior space. We are currently laying floors in the corridors and installing ceilings and glass railings.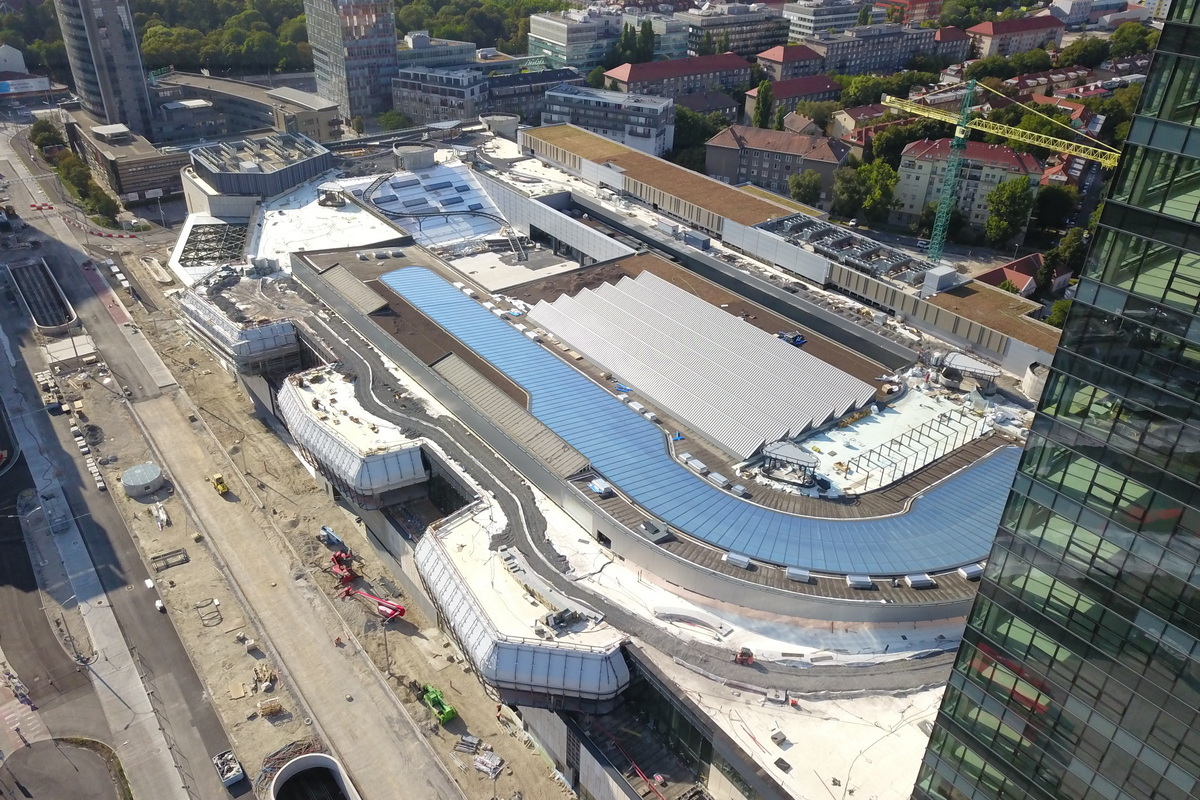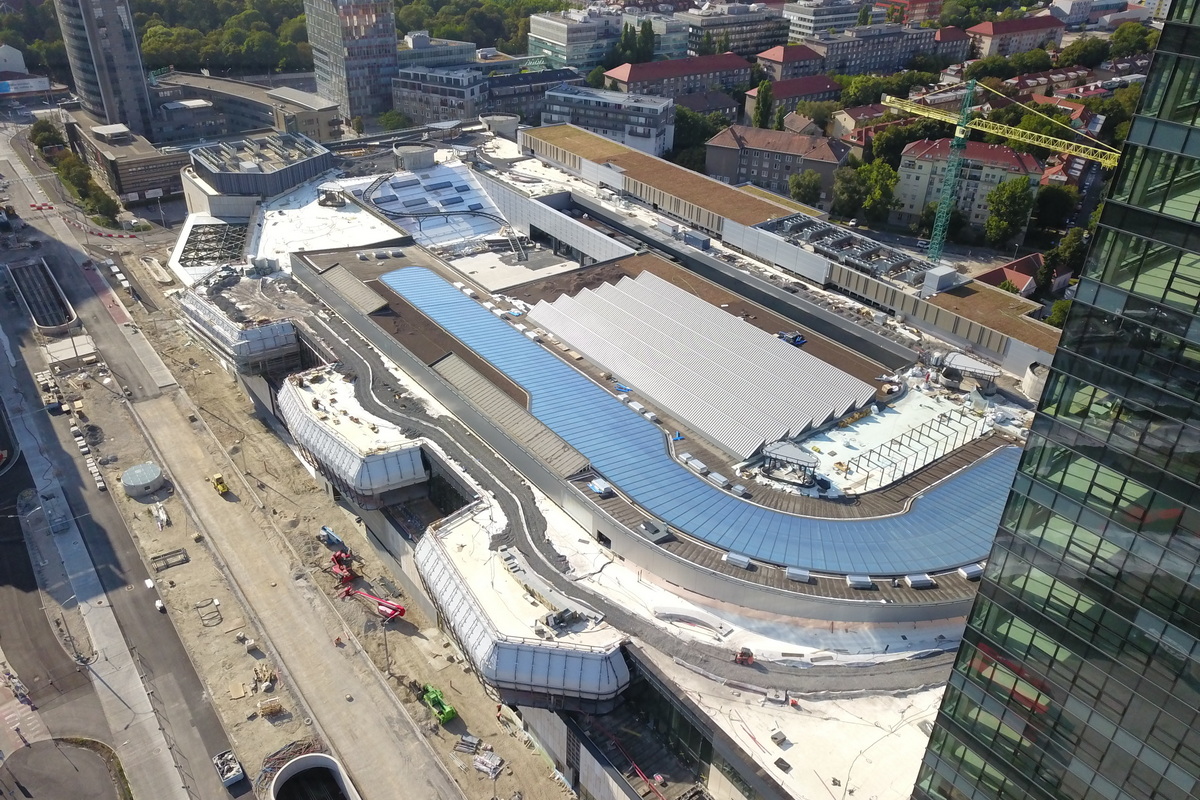 ACROSS: You are building a completely new zone, Nové Nivy, in the former brownfield area. What other projects are located the zone?
POPIK: Work has been carried out as "normal" for weeks now. We are approaching the finishing line with a broad-scale, complete reconstruction of Mlynské Nivy Street, where we will be looking for solutions, in the autumn of this year and in cooperation with the Bratislava City Council, to provide maximum access by road for public transport, cars, pedestrians, and cyclists. We completed the Nivy Tower at the beginning of this year. In spite of the complicated situation, the first tenants, which include the finance company Capco and the IT company Resco, with the co-working center HubHub and the flexible office solutions Qubes, have already begun to enjoy their new, high-tech premises.
ACROSS: What are your next plans?
POPIK: We are continuing to work on preparations for other projects. We have a total of 7.3 billion euros in projects planned across the European market, which corresponds to an area of approximately 1.2 million sq m. In Bratislava alone, the total volume is 515,000 sq m, which is equivalent to a total value of around 1.7 billion euros. A great deal of work still lies ahead of us.