The Nivy Center is the latest HB Reavis group project in the capital of Slovakia, Bratislava. The development group has delivered an elaborate multifunctional project to Bratislava's wider center. Under one roof, visitors will be able to find a new bus station, shopping opportunities that include several unique brands, and a green roof for leisure activities. ACROSS spoke with Ján Harom, Nivy Center Property Director, about the architecture, range of services and functions, and anticipated footfall.
ACROSS: What makes the Nivy Center's location so promising?
JÁN HAROM: The Nivy Center is situated in one of Bratislava's most dynamic locations, namely on the threshold of the Old Town in the Nivy part. This unique locality is also confirmed by the fact that in recent years, several administrative centers have been attracted to Nivy – including the headquarters of multinational companies, as well as innovative start-ups in tech hubs. Additionally, an extensive residential zone is also being built there. Thanks to our investments in the adjacent boulevard, traffic flow in this crucial city artery has also improved.
ACROSS: What changes have the center experienced in recent years?
HAROM: Nivy was just a brown-field site until a few years ago, similar to the London Docklands before its transformation. Bratislava's residents are already referring to Nivy as "downtown" or even "Manhattan". Further large residential and administrative projects are also in the completion or preparation phase. They include HB Reavis projects, which operates in London and also constructed the EU's tallest building – Warsaw's Varso Tower.
ACROSS: Did other markets play a role in the planning stage?
HAROM: Experience from foreign markets certainly helped us get a better overview of the Nové Nivy zone, which includes the center. To be sure, we entrusted the center's architectural design to the British studio Benoy. I am confident that the coming months will show that this was the right approach, and will bring shopping and especially leisure time to this new center of city life. Last year, the Nové Nivy zone received the BREEAM Communities Excellent certificate as a TOP global project.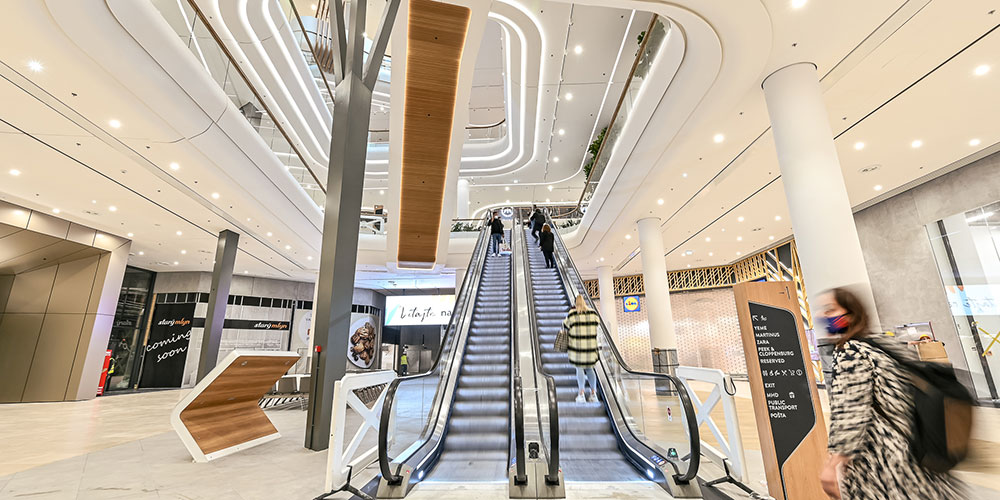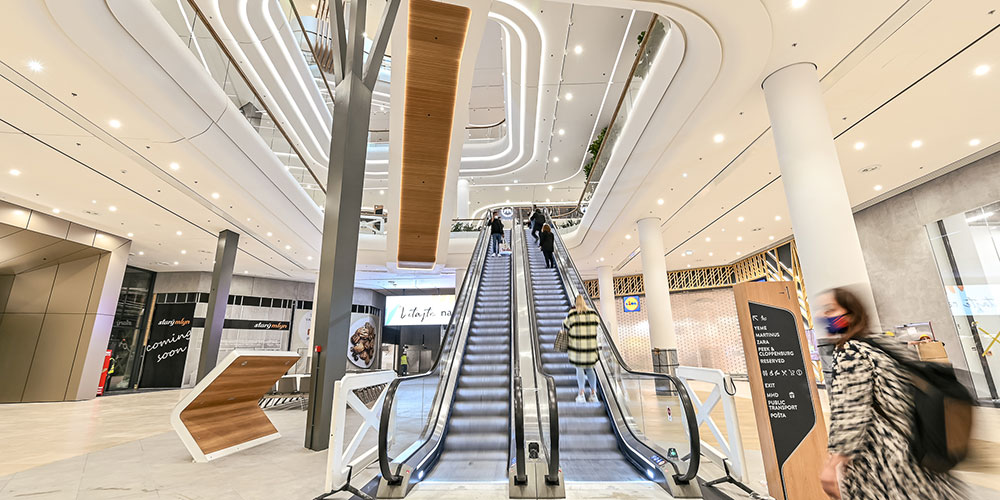 ACROSS: Aside from shopping, what other functions define the center?
HAROM: It also includes a modern airport-style bus station. This is for inter-city transport, and it also acts as a gateway for international connections and as a destination for connections from nearby Vienna International Airport. In addition, a comprehensive gastronomic zone and a farmers' market offering local products – an increasingly popular lifestyle option in Slovakia – are located on site. The 12,000-square-meter green roof features a jogging track, sports area, and two modern playgrounds for children, which enable visitors to spend their free time at the center – in addition to shopping.
ACROSS: What about the retail range?
HAROM: The multinational clothing company Inditex is set to open its full brand range across 10% of Nivy's total commercial area. The seven Inditex brands also include two newcomers to the Slovak market: Oysho and Zara Home. Polish fashion group LPP is bringing all of its concepts, including flagship brand Reserved, a two-level store housed within the center. Springfield, Cortefiel, and Women's Secret – a couple of which are newcomers to Slovakia – from the leading European fashion retailer Tendam, will operate one multi-brand space with separate entrances for each of the three brands.
ACROSS: What figures do you anticipate in terms of footfall?
HAROM: We expect to see 55,000 daily visitors. That number is realistic as the bus station alone counts around 20,000 daily users. We expect to see tens of thousands of visitors from the previously mentioned local admin centers, as well as from the Nivy Center residential catchment area. In addition, since we are also located on a key transport route and a public transport hub in Bratislava, we are confident that we will also attract visitors from the wider city area. On its opening day, Nivy had 57,000 visitors.