Following the example of Madrid and Stockholm, the shift towards better public toilets has continued, specifically at Knokke-Heist in Bruges, Belgium as well as at a second major real estate development in Stockholm. Concretely speaking, the Gallerian Shopping Center, which opened its doors in the heart of the Swedish capital in 1976, has followed suit. Both locations have entered into partnerships with Dutch company One Hundred Restrooms. The brand offers a new approach to public restrooms, promoting health and well-being and developing solutions that reflect the new public demand for the highest standards of hygiene.
The opening of the new locations is the next step for One Hundred in its quest to expand its development program throughout Europe, thereby introducing innovative concepts to the restroom offer. Launched and tested in both difficult and high traffic locations for over a year, with proven results in both Spain and Sweden, the company is now ready to expand via multiple partner channels. "This is just the beginning of our European rollout. The increase in locations shows that our concept is the most innovative solution on the market. Dozens of new locations are planned for 2020 and 2021," says Bram Gleichman, who is responsible for Business Development.
Equipped with High-tech Tools
One Hundred offers premium paid public restrooms at high traffic locations, such as shopping malls, train stations, and gas stations. The concept is divided into different zones to create a feeling of hygiene and well-being throughout the entire restroom experience. Each location is fully equipped with high-tech tools, such as water flow meters, digital motivational mirrors, connected dispensers, and smart payment systems. Strategic partners Essity, Roca, and Diversey – leaders in their sector – have contributed to the hygiene, sustainability, and innovation of the concept.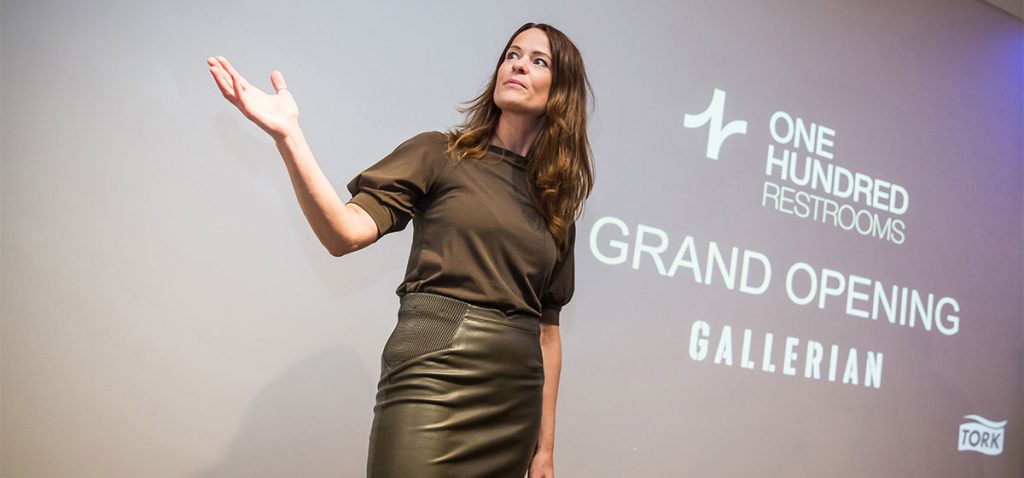 Marielle Romeijn, Co-founder and Chief Brand Officer, comments: "Nowadays, the general public often has to accept what is available, with varying degrees of choice in the services offered. This is an area in which brand values play a key role in setting a consistent standard, exceeding expectations, and creating memories, stories, and relationships with the name posted above the door." One Hundred strives to deliver an experience for people and their families, who now expect more than just a toilet facility. Operational excellence is key, but the people and systems behind the scenes are just as important when it comes to ensuring a high standard of service day in and day out.