The small town of Parndorf in the Austrian Burgenland, which is home to approximately 4,800 inhabitants, is by no means an irrelevant location in the middle of nowhere. This is primarily due to the presence of McArthurGlen Designer Outlet Parndorf, which recorded 6.1 million visitors last year – an all-time record. However, Parndorf Fashion Outlet and Pado Shoppingpark Parndorf have also attracted a large number of visitors. The new Frunpark retail park is currently under construction.
Yet another visitor magnet is expected to open in the small town during the second quarter of 2021: Outdoor Center Parndorf. The project area spans approximately 32,000 sq m. It includes 12,000 sq m of retail space, a 2,000-square-meter safety training center that features a firing range, a 1,000-square-meter event area, experience zones, such as the "Natural Living Room", an indoor pond, a selection of restaurants, and a parking garage. In addition to Austrian and international industry leaders from the hunting, leisure, sports, and culinary sectors, regional operators and specialists will serve as the main contributors in order to give the project a special flair. It will provide as an ideal complement to the existing retail conurbation and will appeal to international customers.
"A Good Bicycle Cannot Be Bought Online"
Gottfried Haas and his company, OZE – Outdoor Zentrum Errichtungs GmbH & Co KG, are responsible for the project. He explains the motivation behind his plans: "An outdoor center, which is standard in the USA, exists neither in Austria nor in the surrounding area. However, the American facilities generally focus on weapons and shooting. We, on the other hand, will place more emphasis on outdoor sports and leisure time at Outlet Center Parndorf." The architecture, which features ceiling heights of up to 15 meters, will provide the right atmosphere and will encourage people to engage in activities and well-being.
Naturally, the shopping options, which will be in the medium to upper price range of the full-price segment, will also be attractive. The area will be comprised of specialist retailers, such as mountaineering and fishing shops, as well as established international outdoor brands. "Therefore, we will offer sports equipment such as riding saddles and golf clubs. We want to save our customers the hassle of visiting 10 different specialist shops in Vienna. They will be able to find what they are looking for at one of our locations. Traveling long distances and constantly searching for parking spaces will be a thing of the past for them," Haas emphasizes. He also points out that Outdoor Center Parndorf intends to specialize in bicycles. This is partly due to the fact that people cannot buy a quality bicycle that is configured to their personal needs online.
Generation of Synergies for Retailers
Likewise, a high-quality rifle cannot be purchased on the Internet. Anthony Crow of Colliers International, who runs the leasing business together with Patrick Homm of Otto Immobilien, adds: "The retailers at Outdoor Center Parndorf anticipate substantial synergies. After all, anyone who purchases a rifle at the center will probably require the necessary equipment. Customers will then have the opportunity to shoot their rifles at Austria's most modern firing range. If necessary, a Leica rifle scope can be used, which customers can also purchase on site." The catchment area is comprised of 10.5 million people, of whom about 5,000 are hunters, which is good news for us. In general, according to Crow, the outdoor center concept reflects the future of retail. The current trend is moving towards well-staged mono-brand stores that are embedded in environments that are driven by emotions and themes.
With regard to emotions: Gottfried Haas has made it his business to excite visitors. Ideally, they should spend two to three days in Parndorf. They should visit Outdoor Center Parndorf, McArthurGlen Outlet Center, other shopping facilities, as well as gastronomic and leisure establishments, such as Cineplexx cinema, and they should enjoy the time that they spend there.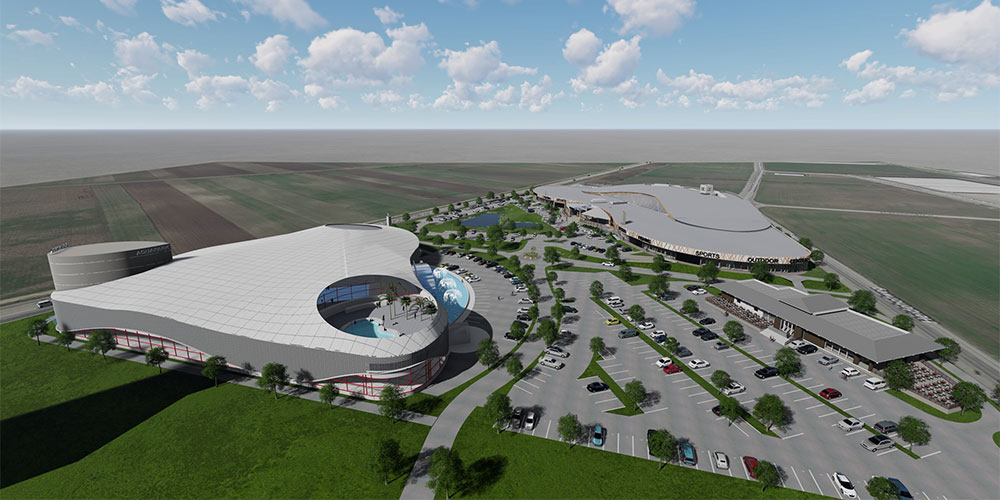 Water Fun Park under Development
To that end, Haas intends to build a water fun park during the second expansion phase. Boasting a ceiling height of up to 12 meters, the park will score points with "treats" such as artificial waves, spectacular slides, and stand-up paddling opportunities. A spa area and a quiet zone including a pool will be available for those who prefer a less noisy atmosphere. Negotiations regarding interior design are currently underway with potential operators. At the very minimum, the shell of the water fun park will be completed by the time Outdoor Center Parndorf opens. As previously mentioned, the opening is scheduled for the second quarter of 2021.
Anthony Crow of Colliers International (left) runs the leasing business of Outdoor Center Parndorf together with Patrick Homm of Otto Immobilien. Credit: Colliers & Otto Immobilien