As one of the leading real estate companies in the Southeast European region, MPC Properties has greatly contributed to the promotion and popularization of green construction for the past 10 years. That fact can be seen in the buildings the company has in its portfolio, which have obtained the most important world certificates. UŠĆE Shopping Center is one of the first and largest certified shopping centers in the Balkan region and in Europe. Their Navigator Business complex has been awarded the prestigious LEED Gold Certificate, while the business building UŠĆE Tower Two was designed and built in accordance with the BREEAM standards. Placing the well-being of its tenants and visitors in the foreground, MPC Properties is also the first company in Serbia that has been awarded the most prestigious "WELL Health-Safety" Certificate, for a portfolio of eight business and retail facilities, by the International WELL Building Institute (IWBI).
MPC'S Green Strategy
In order to implement its green strategy, MPC Properties has developed and plans to further develop a number of green projects.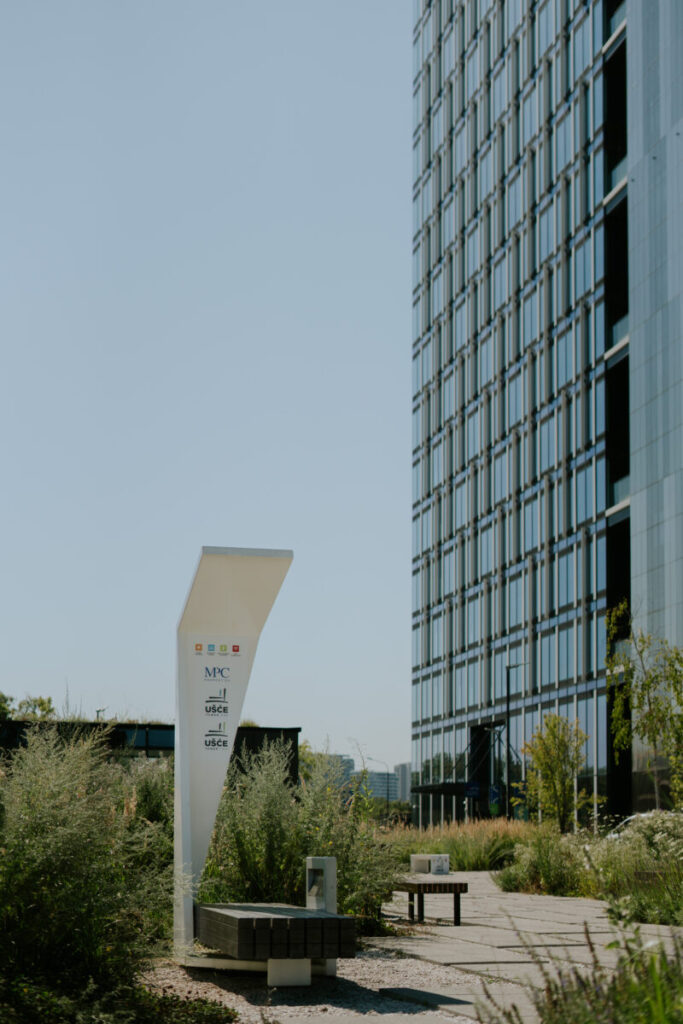 There are currently 400 sq m of solar power panels, which provide 50 kW of power, located on the roof of the UŠĆE Shopping Center, the leading shopping center in the Balkan region. The energy generated is currently being used to charge electric vehicles in the parking garage. There is a plan for the installation of additional solar panels across an area of 1,600 sq m, boasting a power supply of 311kW. MPC Properties plans to install additional solar panels on the roofs of its other shopping centers, amounting to 4,300 kW of power in total, with their annual generation of power amounting to roughly 4,921,355 kWh. With that power, it will be possible to provide electricity for 900 households. If we assume that the average number of members per household is 2.5, we can conclude that the solar power panels on the roofs of MPC Properties shopping centers will be able to provide a power supply to a settlement of 2,250 residents.
Promoting Green Transportation
MPC Properties promotes alternative means of transportation by supporting the use of green vehicles and providing drivers of electric cars, bicycles, and scooters with adequate parking stations that include chargers. That provides comfort and the necessary infrastructure for the users while promoting an eco-friendly lifestyle that indirectly affects the health of the whole community. There is a total of 400 bicycle parking spaces throughout the entire MPC Properties network of business facilities and shopping centers, which contributes to cleaner air and a healthier lifestyle. In addition, MPC assets have 46 chargers for electric cars, as well as 12 parking stations for electric bicycles and scooters across their portfolio.
Maxence Liagre, the CEO of MPC Properties, stated: "By using our innovative and integrated approach to business, our mission is to implement solutions that will upgrade and improve the lives of people who use and visit our properties. We are pioneers in the market when it comes to implementing the ESG strategy in the real estate industry. In the coming period, we will pay special attention to inspiring our business partners, employees, and users about our facilities through company projects to join this globally important issue. Our dedication to the well-being of the community can be seen through the numerous certificates we have gained, of which I would like to single out the "WELL Health-Safety" Portfolio Certificate that we have been awarded by the International WELL Building Institute (IWBI)."
Dedication to Recycling
MPC Properties pays great attention to recycling and, as such, recycles 312 tons of cardboard and 12 tons of glass every year. The company also converts about 480 m3 of organic matter into valuable fertilizer. MPC plans to purchase food composting machines for waste that have a capacity of up to 274 kg/day, for their UŠĆE complex.
Sustainable Green Roof Gardens
Sustainable green roof gardens within the MPC Properties portfolio provide a healthy environment and a perfect place for tenants and visitors to relax. The roof gardens contribute to cleaner air, while supporting biodiversity and a healthier ecosystem in general.
MPC currently owns a green roof on top of its Navigator Business Center 1, and it is planning to install a green roof covering an area of 800 sq m on the roof of the UŠĆE Shopping Center, which will include an urban vegetable garden that will be irrigated with rainwater.
Urban Beekeeping
Beehives were simultaneously introduced to the MPC assets along with the installation of green roofs. A total of five beehives have been installed on the roof of the UŠĆE Shopping Center, and seven beehives have been installed on the roofs of UŠĆE Business Centers 1 and 2 as well as the Navigator Business complex. Bees are among the most crucial members of our ecosystem, responsible for pollinating plants that play a significant part in our food supply. They help control erosion and increase oxygen levels while mitigating carbon dioxide.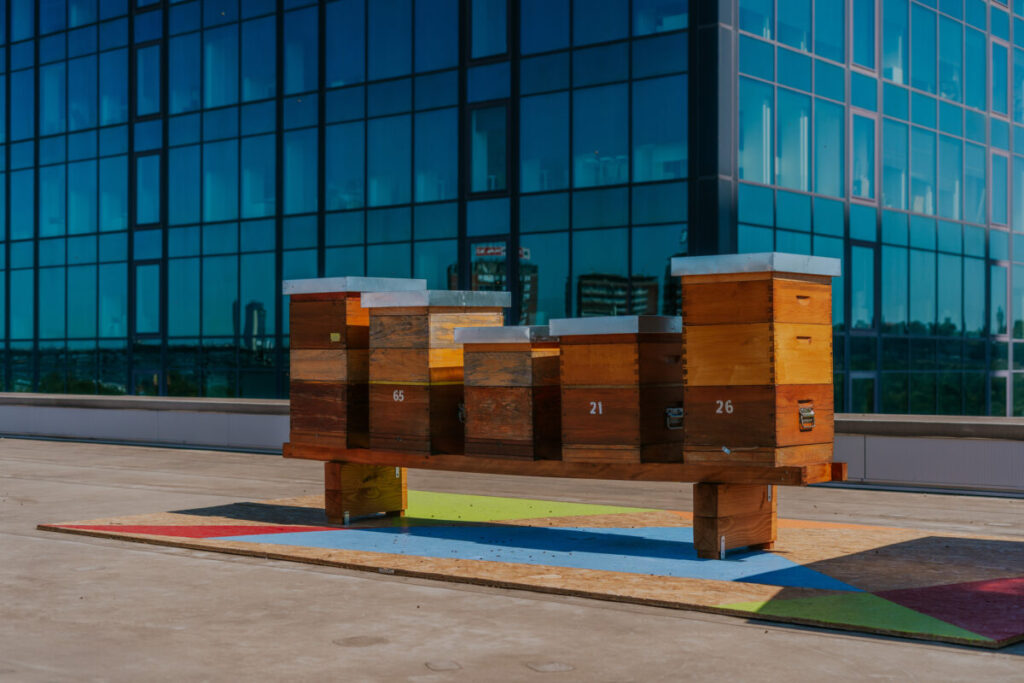 In autumn 2022, for the first time, MPC Properties organized a series of honey harvesting events at their UŠĆE Shopping Center, Navigator Business Center 2, and office complex UŠĆE Towers assets, where beehives have been positioned. During those events, MPC Properties brought their business communities, their employees as well as their children, and the UŠĆE Shopping Center visitors together. Many of them had the opportunity to see and experience honey production live, learn how bees are organized through educational workshops, and taste fresh honey produced be MPC beehives. At the end of the process, the company collected a total of 130 kg of the honey produced by the bees from MPC Properties beehives.
Supporting the Community
In addition to its dedication to green projects, MPC Properties is also focused on creating destinations that provide unique experiences for its users. The focus is on building strong communities around the company's shopping centers and office buildings, through several socially responsible initiatives and marketing activities, which encourage inclusion, foster diversity, promote loyalty programs, and, in general, care for the community.
Jovana Cvetković, Development, TO, and Innovations Director of MPC Properties, stated: "The shopping center industry is lively and keeps changing. The reason for that is due to our customers' expectations, which are very demanding and constantly changing. Nowadays, every customer expects to see something new and to have a different experience every time they visit a shopping center. Therefore, in cooperation with our brands, we must intensively work on enhancing the customer shopping experience and making sure that customers are offered something new. Shopping centers and brands can no longer rely on traditional ways of selling, but must come up with innovative solutions that the customers will find amusing. To the highest possible extent, customer involvement in the purchasing process should be ensured. In order to achieve that, it is necessary to offer additional benefits to consumers. To that end, we have decided to launch Tvoj Centar (Your Center), a new mobile loyalty app, which has revolutionized how people shop in Belgrade. It practically links all of our shopping malls – UŠĆE Shopping Center, BEO Shopping Center, Mercator Center, and Delta City, and allows our customers to earn points for shopping, which they can further use for discounts and gifts. The app also keeps shoppers informed about the latest news and events taking place at the centers as well as the lifestyle trends, while simultaneously providing them with opportunities to win prizes in numerous competitions. The Tvoj Centar app was launched in mid-November 2021, and it has already been downloaded approximately 50,000 times and has executed more than 25,000 reward redemptions."