By Jule Sophie Leu
Malls have long since ceased being solely about shopping, the mere running of errands. People who go to modern shopping centers are also interested in taking leisurely strolls around the various stores, meeting friends, having coffee, and spending their free time in a pleasant ambiance. Store and café operators attach great importance to the attractive design of their sales areas and spaces, because they want to ensure that visitors are eager to come inside, stay for a while, and return once again. In that respect, good lighting is absolutely essential. Given the fact that employees as well as visitors spend long periods of time inside shopping centers, an adequate level of natural lighting is particularly important. Glaring lighting systems and strong contrasts between light and dark should be avoided because, in order to ensure that people feel comfortable in a given space, the various brightness levels of all incoming light must be in balance with each other. Modern lighting concepts that efficiently incorporate natural light allow for the creation of pleasant atmospheres that invite people to stay, while simultaneously conserving energy, thereby reducing operating costs.
Reduced Energy Consumption As a Result of Intelligent Lighting Solutions
Malls are designed as large, self-contained shopping and experience areas in which visitors are expected to stay for long periods, do their shopping, and spend their time. The effective use of sunlight as a free source of illumination and its deliberate incorporation into the planning process is a win-win situation for all concerned.
Various zones that provide different amounts of natural light can be defined based on a comprehensive analysis of available natural light. During the day, artificial lighting can be dispensed with in those areas that receive sufficient amounts of natural light. In areas with insufficient amounts of natural light, appropriate levels of artificial lighting can be provided to ensure pleasant levels of brightness throughout an entire mall. Intelligent control systems are capable of adjusting the lighting throughout the course of the day as well as to the season and weather conditions. On bright summer days, much less artificial light is needed than during the dark autumn and winter months. Notable cost savings can be achieved via the additional use of energy-efficient, long-lasting light sources.
Soothing Lighting That Invites People to Stay
Visitors and workers also benefit from the targeted use of artificial lighting that is based on conscientious natural light-based planning. Well-regulated visual spaces can be created through the careful coordination of luminance levels, the avoidance of glare caused by excessive luminance levels, and the compensation of excessive or insufficient levels of natural light. Stores can take center stage, boosting their visibility as well as their visual merchandising. Most importantly, by considering the lighting levels of stores and shopping centers together, both store and center operators can benefit as the quality of stay can be enhanced and energy can be saved. If attention is paid to the right mix of diffuse and direct lighting within shopping centers, brilliantly-lit atmospheres that create pleasant ambiances can be achieved.
Properly planned lighting creates effectively sculpted light that specifically draws the attention of visitors to the highlights of the mall, emphasizes features, and creates pleasant environments. Lighting used to support wayfinding helps people navigate their way through malls. Soft lighting can also be used in special lounge areas to invite visitors to take a relaxing break.
Harmonizing Expansion Projects
Older shopping centers that are being upgraded via new expansion projects have also become more attractive thanks to the foresight of professional lighting designers. Major differences in the provision of natural light may exist between older buildings and new expansions, as well as within individual parts of a building, which can be compensated for via the targeted use of artificial lighting.

With the help of intelligent artificial lighting solutions, zones that lack natural light are still able to provide visitors and employees with lighting that is appropriate for the time of day and supports their biological rhythms. As a result of efficient planning, automatic control systems can adjust the color and intensity of the light to the time of day, thereby ensuring that people who spend long periods of time inside malls do not lose track of the time of day, even when there are no windows. The right lighting design can create smooth transitions from older structures to new buildings, allowing for harmonious overall appearances that still let various parts of each building have their own flair.
The Perfect Lighting for Every Center
In contrast to retail parks, which are primarily designed to meet the demand for goods, most shopping centers today have long since ceased serving as places solely devoted to the shopping experience. Retail parks usually thrive on the magnetic appeal of a few specialized retailers that offer significant product range depth. Large food discounters, hypermarkets, and drugstores are supplemented by DIY stores, furniture stores, and other suppliers of non-seasonal consumer goods. While more and more attention is being paid to high-quality furnishings in new buildings, requirements in terms of ambiance and quality of stay are nowhere near as high as at modern shopping centers. Lighting can also be designed to be correspondingly functional. While all attention should be focused on the merchandise, customers' eyes should not be blinded or strained. Due to the fact that the length of stay at retail parks is shorter, natural light-dependent control of the lighting helps ensure that employees, in particular, remain healthy and productive in the long term.
Shopping centers, on the other hand, are becoming increasingly larger, multi-faceted worlds of experience that serve as their own little villages within cities and, as such, have become more and more popular as meeting places. In addition to a wide selection of retailers and concept stores, cozy cafés and restaurants as well as a diverse range of options for entertainment and leisure time activities, such as cinemas, fitness studios, and bowling centers, can be found. As a result, differentiated lighting schemes are required to create feel-good atmospheres that invite people to stay.
Design of the External Appearance and Integration into the Surroundings
The external appearance of a shopping center can also be deliberately planned and designed. Depending on its size, a site can be carefully and subtly integrated into the surrounding urban space, or it can tastefully stand out in the splendor of its own identity, as is the case with the new Outletcity Metzingen development in Baden-Württemberg (Germany). The lighting design team of Andres + Partner have created a suitable illumination concept for the location that takes into account the aesthetic impact of the area, including in the evening and at night, while still considering the eye of the beholder.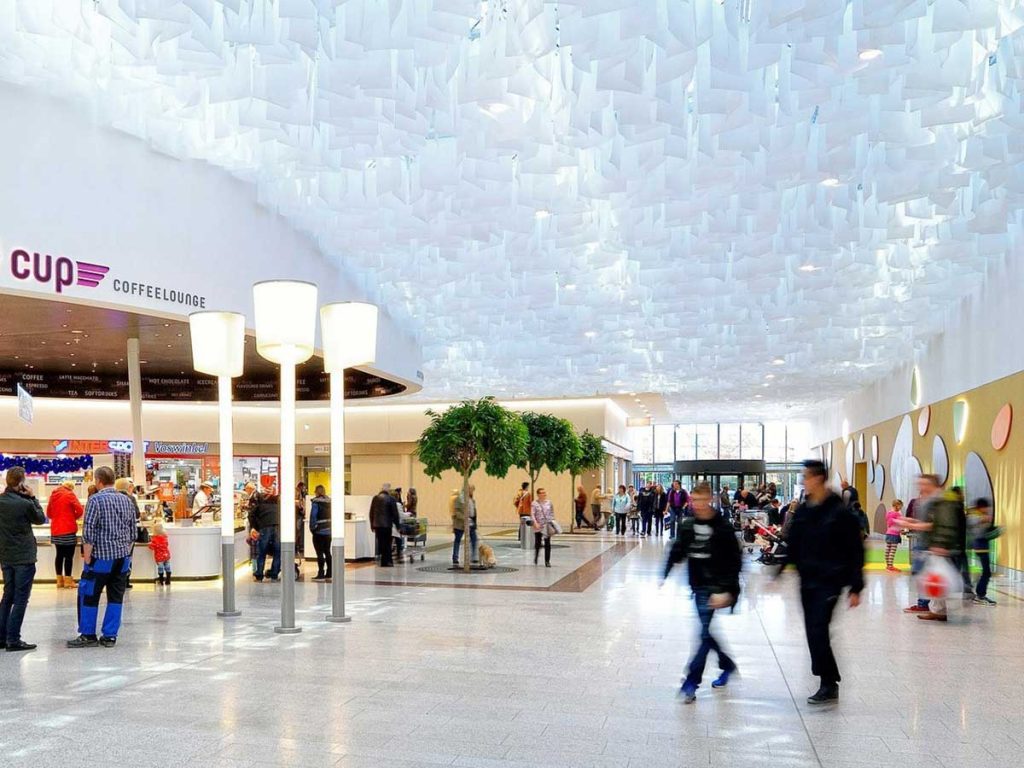 When luminance levels are controlled and regulated, not only is energy consumption reduced, but disturbing light emissions that affect both people and wildlife can also be minimized. The issue is also worth considering when it comes to shopping centers that are remotely located, as excessively bright lighting can stand out in stark contrast to the darkness, causing irritation to migratory birds and other wildlife in the surrounding countryside. In addition, professional lighting design ensures compliance with the required limit values specified in the German Federal Immission Control Act (BImschG).
If all relevant aspects are taken into account during the course of natural and artificial lighting planning, attractive shopping and experience oases can be created that do not generate more operating costs for store and mall operators than is truly necessary. After all, less light usually results in better lighting – even at shopping centers.