By Michelle Buxton
However, the business world has taken a longer time to catch up. The real estate sector has finally woken up to the fact that they need to be looking at how technology can deliver efficiencies and support their everyday business. PropTech, PlaceTech, RetailTech, whatever you like to call it, technology is here to deliver increased net operating income (NOI) and return on investment (ROI).
Owners of shopping centers, and other real estate, are starting to realize that their relationships with retailers are much more than power struggles to maximize on revenues for both parties. The rapid change in the way we sell in physical space really emphasizes the need to work more closely together to deliver what the future customer wants.
One of the great benefits of technology, therefore, is in the power to enhance and build these relationships and the flow of information we get from that. Communication makes a team stronger and your shopping center team includes the manager, operations, security, suppliers, and, most importantly, your retailers.
Our proptech platforms Mallcomm (for shopping centers) and Raven (for offices and mixed use) give landlords the ability to own the end-user relationships, driving asset value through increased NOI in many different ways. Tenants and their staff members care deeply about their at-work experience. Raven, for example, gives the occupier a remote control to their property, with the software integrated into the relationship and experience of the physical space.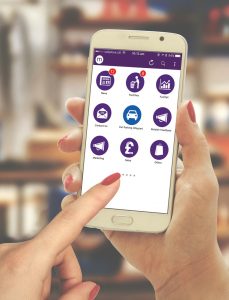 Your tenants are a captive community of customers. Mallcomm creates community with the ability to share news, retailer-to-retailer offers, and vacancies. It brings everyone involved in the running of a shopping center together to provide a better experience for the end customer.
Moreover, through technology, we are unblocking a value of data that will serve as a revenue enhancement for properties and a platform to take tenant involvement and understanding to a new level. Landlords can gain an understanding of client demographics, tenant staff interests, occupancy trends, etc. The value of that data vs the nominal cost of collecting it will lead to more informed decision making and increased NOI.
Enhanced communication through technology gives landlords much more control over operations and critical communications, making them more responsive and efficient. Mallcomm allows retailers to report operational issues, such as maintenance or cleaning, and allows for these to be instantly put into action by the center teams.
This helps to make the quality of the overall environment, as well as working and shopping experience, a better one, but also drives efficiencies. Therefore, we see that tenant engagement, community, experience, operations management, and data mining can all be delivered through technology, and even via one platform, like Mallcomm or Raven.
Sign up for our ACROSS Newsletter. Subscribe to ACROSS Magazine.