MAPIC—The International Retail Property Market will take place this year from November 16 to 18. The industry once again embarks on its pilgrimage to Cannes in southern France. 
On a tour through the halls of the Palais des Festival, we will learn, among other things, what the new retail spaces in the European and global retail real estate industry look like in detail and what they are capable of. As always, a number of projects will be in the spotlight at MAPIC.
One example is the Mall of the Netherlands, with its 117,000 sq m of GLA, which Unibail-Rodamco is opening in 2019. Another is the retail park Viadorée developed by Groupe Duval in Anse-Pommiers, France.
Especially noteworthy is the family-oriented DeltaPo Family Destination Outlet in Occhiobello, Italy, which the Arcotecnica Group is presenting in Cannes. Last but not least are the non-European projects Mazar Markaz in Afghanistan and Zenata in Casablanca.
Discernable industry trends
As diverse as the projects presented at Mapic are, they clearly represent current industry trends, like the increasing importance of leisure, entertainment, and gastronomy. The spaces devoted to these purposes are growing, along with the quality of the respective offers. Furthermore, it is also apparent that there is no way around the unification of bricks-and-mortar and online retail.
Shopping centers are on their way to becoming true e-commerce participants through increasingly sophisticated websites, onsite digital interfaces with consumers, and mobile communications to shoppers within the mall and beyond its boundaries. In this context, the millennials are coming into focus as a target group.
Shopping centers will provide a more customized, personalized appeal to attract and engage younger customers. There will be a heightened level of coordination between developers and retailers in creating a seamlessly attractive environment.
In addition—somewhat behind the scenes—developer-retailer collaboration is accelerating. In the coming years, a new paradigm will evolve for landlord-tenant collaboration, involving sharing data and technology. Speaking of technology: Robots are becoming ever more common in malls.
This is a trend that—no surprise—is arriving in Europe from Asia. The service robots lead people to wherever they want to go in the scheme. They can also, for example, establish a video link to center's information desk in case customers require a human contact after all.
Retail thus finds itself in the middle of a revolution once more. The projects presented on the Côte d'Azur are a reflection of this exciting transformation.
Funan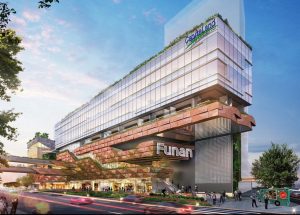 Funan is located in the heart of Singapore's Civic & Cultural District, surrounded by top museums, monuments and art institutions. It is within walking distance from the City Hall subway interchange, which serves two main train lines, and the Clarke Quay subway station near the bustling riverside entertainment precinct.
As a new paradigm for living, working, and playing in Singapore's city center, Funan offers a synergistic combination of retail, office, and serviced residence components that is designed to appeal to tech- and socially-savvy consumers with a millennial mindset. The scheme's centerpiece is the retail component, which has 30,100 sq m of NLA.
Funan will be positioned at the cutting-edge of smart shopping technology and will focus on integrating online-to-offline shopping experiences, such as providing the CBD's first drive-through click-and-collect and hands-free shopping service. Sustainability will feature prominently and Funan will be Singapore's first commercial building to allow cycling through the building, with a large area set aside for urban farming and food gardens.
Opening at the end of 2019, it aims to be a platform to inspire retail innovation, with a strong focus on enabling consumers to enjoy myriad experiences in line with their interests.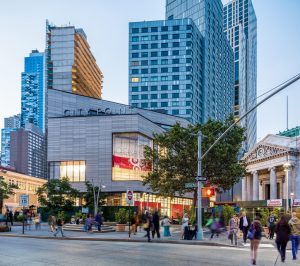 Set to open Fall 2016, City Point is a 170,000-sq-m mixed-use development of new construction, including retail, residential, entertainment, and office space, in Brooklyn.
The mall is anchored by a Century 21 department store, Target, Trader Joe's, an Alamo Drafthouse cinema, and DeKalb market hall. DeKalb market hall will include 40 of the best of New York's food purveyors, creating an inviting gathering place for the entire borough.
City Point is a transformative, mixed-use project with an iconic design that will anchor the thriving academic, residential, and commercial communities in Downtown Brooklyn. It is owned and being developed by Acadia Realty Trust, one of the shopping center industry's top performing REITs, and Washington Square Partners.
Brent Cross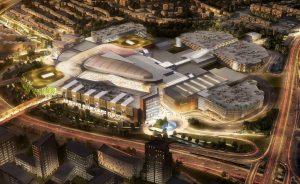 The extension of Brent Cross shopping center will transform London's retail landscape.
Hammerson is heading up the project. The vision is to create a new London Shopping Quarter that reinvents the future of retail excellence.
It will provide three department stores, full-line major flagship stores, over 200 shops, and a new dining level and leisure facilities that will include a new multiplex cinema. The opening is planned for 2021/2022.
intu Costa del Sol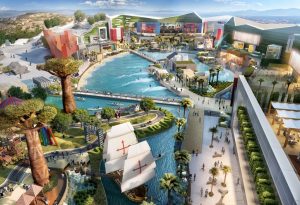 intu is due to start onsite in Torremolinos (Malaga), Spain, shortly on its exciting new-concept supraregional resort at intu Costa del Sol. It plans to build a 237,000-sq-m resort from the ground up.
The new development will target the nearly 4 million residents and more than 10 million annual tourists to the region and provide a world-class destination.
intu Costa del Sol will feature 10,000 parking spaces and be ideally located in one of Spain's top catchments, drawing together the very best in retail, place-making, and leisure. 29 million visitors are expected per year. The opening is planned for 2020.
Kabul Markaz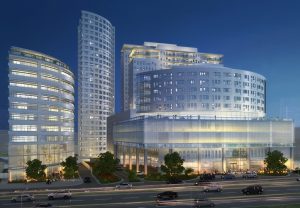 Kabul Markaz is a US$100 million (€89 million) development located in the center of an upper/middle-class community in Kabul, Afghanistan.
Once completed, the development will include three towers, one providing 25 floors of luxury apartments and penthouses, the second offering cozy family apartments, and the third will be a commercial office building.
An international-standard 100-room luxury hotel will be situated on top of the shopping center, allowing convenient access to a secure mall of around 18,500 sq m, which will include a wide range of retail unit sizes as well as a cinema, food court, kids zone, and four levels of underground parking.
The project is currently under construction and when complete will boast the tallest building in the country. The opening is planned for spring 2018.
39 Community Centers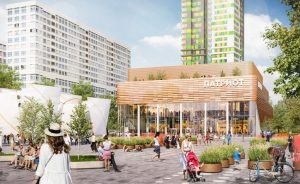 ADG Group is an urban developer with a mission to meet the changing demands of modern society in Moscow. By 2018, the company will have a network of 39 community centers across the city's residential areas. Each has an individual architectural style even as it delivers on the concept of the project as a whole.
Every center will be a multi-functional space providing a wide range of consumer outlets, entertainment, and essential services, including social, cultural, and educational facilities. They are designed to serve the interests of locals at affordable prices. Partners will gain access to the largest consumer insight panel available and an efficient sales ecosystem making use of targeted marketing initiatives, including a digital platform, to increase footfall, dwell time, and visiting frequency. The online platform will receive and share data to benefit both residents and businesses.
A coverage of 2.5 million Muscovites within a 15-minute walk puts the project more in touch with, and closer to, customers than anyone else. As its portfolio grows to make ADG Group Moscow's largest commercial real estate owner (by number of objects) and a top-3 cinema chain, the project will stay focused on bringing a sense of community to local districts.
Dream Island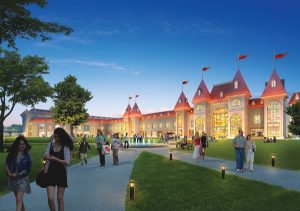 The flagship of the new project by Regions Group is the Dream Island indoor theme park in Moscow. The park is designed to give visitors the opportunity to plunge into the fascinating atmosphere of famous animation blockbusters with maximum comfort, take a ride on the attractions, and enjoy fun-packed activities for the entire family.
Regions Group has already secured licensing agreements with IMPS to set up a Smurfs Zone, with Viacom International Media Networks (VIMN) for a Teenage Mutant Ninja Turtles-themed land, and with Sony Pictures Animation for a "Hotel Transylvania" zone. The island of dreamers and adventure seekers is not limited to an amusement park alone.
On a territory of 90 hectares, the islanders can take a walk and engage in sporting activities in a vast landscaped park, visit the entertainment center with a movie theatre, restaurants, cafes, and shops, and listen to music in the concert hall on the bank of the Moscow River. Dream Island park aims to become Moscow's hallmark and the tourist center for Russia. The Government of Moscow has included the project in the city development program.
The Grand Opening of Dream Island is scheduled for the first quarter of 2018. The unique location of the park, next to the Moscow River and surrounded by a stunning landscape and original themed interior spaces, will create a true recreation destination for local families and tourists, year round.
Zenata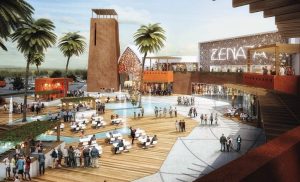 Zenata shopping center is a €100-million investment located in Mohammedia in Casablanca, which is being developed by Sonae Sierra in a partnership with Marjane, Al Futtaim, and Société d'Amenagement de Zenata (Groupe CDG).
Zenata will have 85,000 sq m of GLA with 250 shops served by approximately 3,650 parking spaces. The center will have 18 anchor shops, including Ikea and Marjane hypermarket. Adjacent to highway A3, which connects Rabat to Casablanca, the mall will serve over 5.9 million inhabitants in its catchment area.
The first phase of the project—opened in March 2016—was the first Ikea store in Morocco. The second phase, comprising the shopping center, will open in 2019. Zenata will create 4,500 direct jobs for the local community in a fast-growing district with modern facilities such as a university, a hospital, a TGV station, hotels, residential units, an exhibition center, and a business district.
carrésénart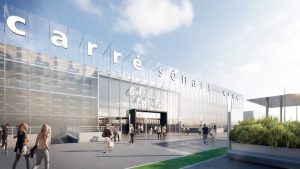 In just 10 years, carrésénart in Lieusaint has become the shopping and leisure destination in the south part of the Ile de France region. It has an exceptional catchment area of 2.9 million people within an hour's drive, a varied commercial offering including leading international brands, and exceptional hospitality and service as the first shopping center in the Unibail-Rodamco portfolio to be awarded the 4-star label in 2012.
By investing €230 million in the extension and the renewal of carrésénart, the company has committed to further strengthening the attractiveness of the mall, which already draws about 15 million visits per year. The 30,500-sq-m extension, with 1,000 additional parking spaces, is scheduled for opening in autumn 2017. At the same time, the existing center is being refurbished and the renowned architect Jean-Paul Viguier has taken up the new challenge of complementing the existing mall into a seamless commercial loop, ideal for the customer journey.
The new commercial offering will include the leading department store Galeries Lafayette in a 6,000-sq-m retail space. It also represents 65 new brands for a diverse and affordable shopping offer. Finally, carrésénart will provide a catering offer embodied by the Dining Plaza. The lively 5,600-sq-m space will host 14 restaurants and two snack kiosks.
Italik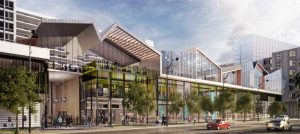 Italik is the winner of "Reinventing Paris," a competition launched by the Paris City Council in 2014. It will create a mixed-use retail, cultural, and events destination.
It will bring a creative and fresh retail mix, social and educational facilities with a nursery and a 1,100-sq-m rooftop vegetable garden, and an innovative restaurant offer and an outstanding events venue.
Hammerson is responsible for the project. Italik measures 7,000 sq m of GLA and will open in 2018.
Central Boulevards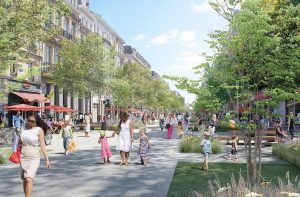 The new Central Boulevards commercial district is emerging in the heart of Brussels. Its goal is to enhance the city's allure and that of the newly shaped pedestrian zone. Stretching between two emblematic locations—Bourse Square and De Brouckère Square—in the very heart of Brussels, Anspach Boulevard has been transformed into a pedestrian zone.
Rue Neuve is in the process of being renovated, and both main roads display distinct commercial centers and projects that include City2, The Mint, Crystal City, and Beer Temple.
The purpose is to optimize the city's appeal and to become a unique location adapted to families by offering commercial concepts unprecedented in Belgium with a strong cultural presence and concept stores and impulse purchase brands relating to culture, film, games, and fun. The opening is planned for 2018.
Jardín Plaza Cúcuta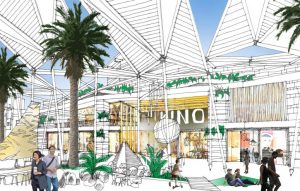 Jardín Plaza Cúcuta will not only be the first open-air mall in the Colombian city, but also will be the biggest retail destination in Cúcuta, featuring 43,000 sq m of GLA. Developed jointly by Sonae Sierra and Central Control, its opening is scheduled for 2017.
With a selection of local, national, and international brands, the center will present a unique tenant mix. It will have 150 shops, including a hypermarket, cinemas, casino, and a playground. The F&B offer will include 30 restaurants and various kiosks. In addition, visitors will enjoy 2,300 parking spaces, wifi access throughout the shopping center, 24-hour security, and a permanent information point.
Jardín Plaza Cúcuta is located in one of Colombia's fastest-growing cities, with economic growth above the national average. The project is located near the border with Venezuela in an area that is seeing a number of major housing developments targeting medium- and high-income residents.
Its design and architecture will be one of the mall's main attractions. Vegetation, fountains, and its design will help to protect it from wind and heat and to produce efficient, open, and modern architecture.
Viadorée

Conceived by Groupe Duval, Viadorée is a 14,000-sq-m retail park in Anse-Pommiers, France, dedicated to home improvement, household and personal equipment, culture, sport, and leisure situated at the heart of a multi-use hub alongside the departmental road, offering visibility from the A6 highway.
The layout is made up of a 3,500-sq-m home improvement warehouse, five multi-store Units between 500 and 2,000 sq m, and a complementary building housing two 600-sq-m restaurants with terraces and drive-thru facilities, two MSUs of 860 and 1,000 sq m, and 360 parking spaces.
With accessibility by all forms of transport, green roofs, solar panels providing hot water to the restaurants, rainwater harvesting, and widespread use of natural materials, the project will make a major environmental statement. The opening is planned for 2018.
DeltaPo Family Destination Outlet
DeltaPo Family Destination Outlet in Occhiobello is the first project in Italy designed and managed to focus on families and on domestic and international tourists. The location is unique, right on the River Po at the entrance to the Unesco-protected Po Delta Park.
The merchandizing mix takes advantage of this positioning, mixing the usual retail (fashion, design, sports apparel, and other accessories) at a premium level with specific shops dedicated to nature lovers (trekking, bikes, etc.). There is also a strong presence of food and beverage and entertainment areas with a playground and interactive museum as well a big events program focusing on four streams: family, nature, culture, and planet women.
The strong connection with the territory gives DeltaPo Family Destination Outlet another important plus: more than 6.5 million tourist visits per year, which dramatically expands the catchment area. A number of DeltaPo Embassies have been established in Europe and worldwide to raise the scheme's profile among visitors from abroad.
Mall of the Netherlands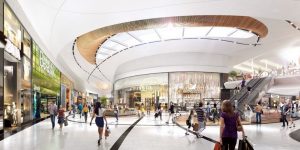 Currently called Leidsenhage, The Mall of the Netherlands will go through an important extension and renovation with a budget of more than €470m, increasing its GLA from 74,000 sq m to over 117,000 sq m with 250 stores, restaurants, and leisure. The inauguration is scheduled for 2019.
The scheme benefits from a great location in the economic heart of the Netherlands in Leidschendam, with 6.1 million inhabitants within 60 minutes. It offers 4,000 free parking spaces as well as excellent access by public transport.
The Mall of the Netherlands will include the best of Unibail-Rodamco know-how: the 4-Star program, which welcomes visitors with a range of innovative services that improve the customer experience, and the Dining Experience, a concept that offers a collection of the best restaurateurs and new international food brands.
Iconic shop fronts up to 7.5 meters in height will enrich the customer experience. Furthermore, Fresh! will provide an extensive market of gourmet food specialties. The Designer Gallery will deliver a cluster of high-end fashion as well as young designer brands—a destination on its own.
Mazar Markaz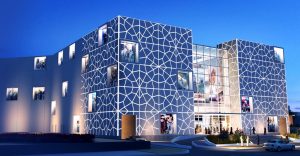 The development consists of a mall, office, and residential buildings. The mall contains retail units, a cinema complex, food court, bowling alley, kids zone, supermarket, traditional bazar, mosque, medical center and an underground car park.
The 36,500-sq-m GLA shopping center and its 644 parking spaces is currently under construction and will be the largest mall in Afghanistan upon completion. It is set to open in spring 2017.
intu Broadmarsh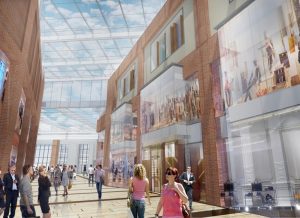 intu has developed plans for intu Broadmarsh in Nottingham that will improve the whole city. The project will see the creation of a remodeled shopping center for customers to shop, eat, relax, and socialize throughout the day and evening.
The design will improve connectivity to and from the city with clearly defined routes through the center and a new southern gateway into Nottingham. The approved work forms part of a £150-million (€170 million) investment by intu and Nottingham City Council in the Broadmarsh area, including refurbishment of the car park and bus station and public realm improvements.
The project will bring new retail brands, restaurants and leisure activities, including a multi-screen cinema and new restaurants—giving lots more reasons for customers to come more often and stay longer. The 42,000-sq-m GLA mall is set to open in 2019.
Les Montagnes Ouest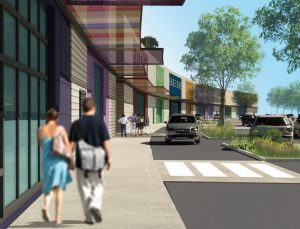 Groupe Duval is carrying out the extension to the Les Montagnes Ouest retail park in Champniers. Its first phase was delivered last March and it benefits from a strategic location at the northern gateway to the Angoulême conurbation, at the crossroads of the RN10 (Bordeaux/Poitiers) and RN141 (La Rochelle/Limoges) highways.
With an area of 13,488 sq m, the extension will be delivered in mid-2018. It will be dedicated to household and personal equipment and to cultural and sporting/leisure brands.
Among the brands already signed up are Chaussea, Stokomani, Intersport, But, Cultura, GiFi, Fête ci Fête ça, Maison du Monde, Boulanger, Gémo, and Ixina. Les Montagnes Ouest is the retail element of the wider ZAC Montagnes Ouest, which is playing a major role in the economic development of the region.
ESP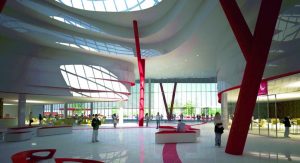 Thanks to its location and catchment area in Ravenna, the ESP center is among the most successful of IGD's shopping centers in central Italy.
For this reason, the company has focused on its expansion: The total GLA is set to increase from 47,000 sq m to 66,000 sq m, with MSUs increasing from 6 to 16, standard units rising from 47 to 85, and parking spaces growing from 2,450 to 3,550.
The extension is expected to open in the second half of 2017.
The Avenues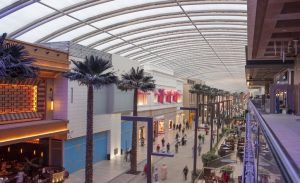 Since it first opened in 2007, The Avenues in Al Rai Industrial has continuously developed and enhanced the shopping experience in Kuwait. The Avenues has set new benchmarks and standards throughout the industry.
The scheme is considered to be one of the largest malls in the world with more than 800 stores spread over seven districts: 1st Avenue, 2nd Avenue, Grand Avenue, Prestige, the Mall, Soku, and The Souk.
The fourth phase of the consumption temple is set to open in the first quarter of 2018.