Located in the city of Loulé, MAR Shopping Algarve extends over two floors and is the largest retail destination in southern Portugal. It is the first in the country to combine an enclosed shopping center, an outdoor leisure area, and a designer outlet.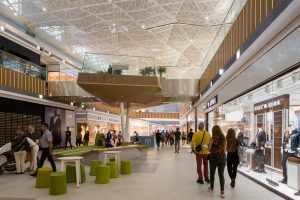 Easily and quickly accessible to anyone from anywhere in the region of the Algarve, it offers the neighboring 280,000 residents and frequent tourists a place where they can feel at home, bring their families, and spend time with their friends.
The opening day started with the ribbon-cutting ceremony created by children from the region, who also took part in the grand opening. The week continued in the same local spirit as daily activities and performances with a local touch were held in the center for visitors of all ages.
Visitors enjoyed performances by local dance students and observed how baskets and pottery are created in a traditional Algarvian way. The center also hosted magicians and offered face paintings for the youngest participants.
"It is very rewarding to be part of this project where we want to be not only a shopping destination, but also a meeting place relevant to the people of Algarve and the local community. In addition to a unique commercial offer, we are preparing initiatives for all ages, so MAR Shopping will be a place where everyone finds what they need and feels great", said Herman Gewert, Centre Manager at MAR Shopping Algarve.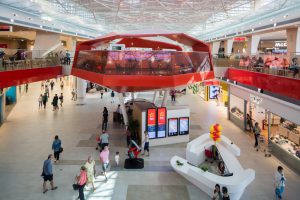 Anchored by a 24,000 sq m IKEA store, the only one in the region, MAR Shopping Algarve's 110 shops offer everything from home furnishings, fashion and accessories to electronics, a supermarket, and a cinema.
The strong line-up includes Primark, H&M, OVS, and the Inditex family of brands, to name a few. The center also features an inviting food & beverage area with both indoor and outdoor seating.
Customers in the outdoor area not only have the opportunity to enjoy the warm Algarve sun, but also the great view of the extensive 8,000 sq m leisure area, with water fountains, esplanades and open spaces for children to play.
Many of the MAR Shopping Algarve's activities will take place in this area, creating an opportunity for both friends and families to spend time together and enjoy themselves.
Open-air designer outlet village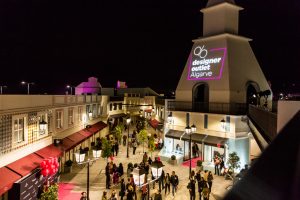 The Designer Outlet Algarve was opened on November 23 and is managed by ROS Retail Outlet Shopping. It is a joint venture between IKEA Centres and the Mutschler Group.
The outlet perfectly complements MAR Shopping Algarve's line-up and leisure area and is set in a beautiful 13,000 sq m open-air space with a unique architectural design inspired by traditional Algarvian villages.
As the region's only designer outlet, it attracts people from the surrounding area as well as domestic and foreign tourists.
The outlet's 60 shops offer visitors a mix of fashion brands at discounts up to 70% off the recommended retail prices all year around. In combination with the events also to be held here Designer Outlet Algarve will attract visitors well beyond the region's warm summer months.
A total investment of 200 million euros and has brought the project of 82,000 sq m to life, including MAR Shopping Algarve, the IKEA Store and the Designer Outlet Algarve. Furthermore, it has provided the region with a total of 3,000 direct jobs.
---
About IKEA Centres
IKEA Centres is part of IKEA Group. IKEA has more than 40 years of experience in creating successful shopping centers. Today the company hosts and serves more than 460 million visitors each year.
Customers grow as IKEA Centres grow, both in quantity and quality, as continue to grow from 45 locations in 15 countries today to more than 70 locations by 2025, and constantly strives to improve the services and the customer experience.
The tenants and other partners also grow and evolve and continue the journey together with 1,600 brands operating 7,000 shops.
The IKEA Vision "to create a better everyday life for the many people" will always guide the company. It is the people who bring this extraordinary vision closer to reality every day.
---
Follow ACROSS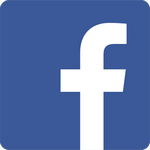 Share this article