One of the few major new developments in the European retail property market is Westfield Mall of the Netherlands, developed by Unibail-Rodamco-Westfield (URW). The shopping center will be located in the Randstad area, located just 5 km from The Hague, 50 km from Amsterdam, and 60 km from Utrecht. It will feature 280 stores, restaurants, and leisure outlets over 117,000 sq m. A major deal with Inditex has recently been announced: Zara, Bershka, Pull & Bear, and Stradivarius are set to open flagship stores. Bart van Twillert, Country Manager for the Netherlands at URW, explained: "We are pleased to announce four new Inditex stores for Westfield Mall of the Netherlands. The destination is perfectly placed in the Randstad area, giving retailers the opportunity to thrive at a flagship destination never seen before in the Netherlands. Westfield Mall of the Netherlands serves as one of many examples of how Inditex continues to be a sought-after anchor tenant. This is true in spite of the low rental rates paid by the Spanish fashion company.
Just who exactly does Inditex owe its success to? Amancio Ortega Gaona clearly deserves to be credited. The 83-year-old businessman founded Zara in 1975 via the opening of a store in A Coruña in Galicia. In 1985, he consolidated his activities in the textile sector under the Inditex name. The foundation of the company, which was intended to stir up the international retail and commercial real estate industry, was made official. Three years later, Ortega began a rapid international expansion, opening a Zara branch in Porto, Portugal, followed by New York in 1989 and Paris in 1990. Through strategic communication and marketing, Zara has established itself as a lifestyle brand, with international recognition, despite its low pricing. The brand is known for its high-quality materials and modern styles.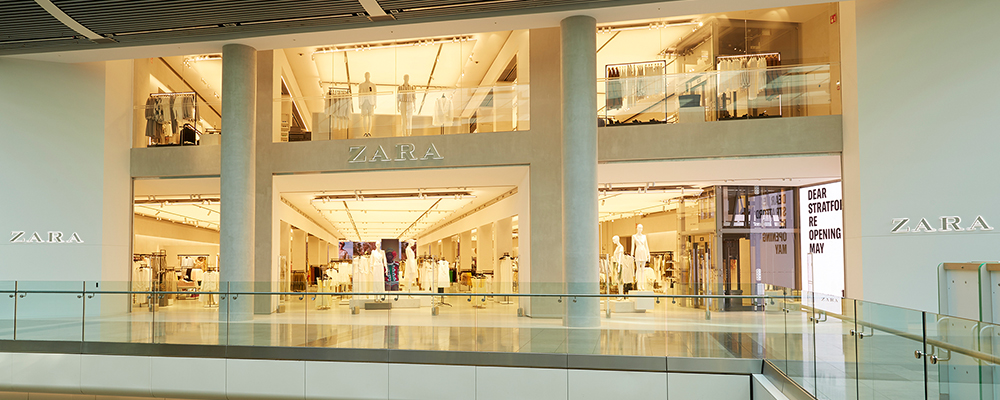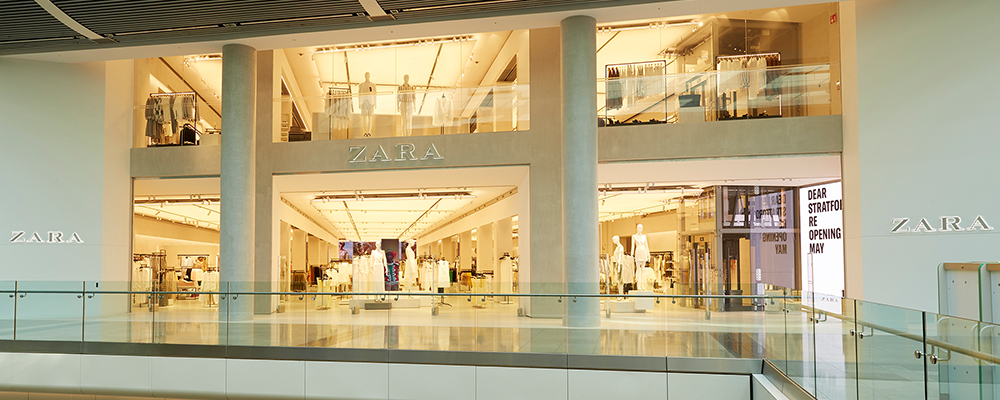 Approximately 174,000 Employees
Things have steadily progressed: In 1991, Ortega expanded Inditex by creating the Pull & Bear brand and by acquiring a 65% share in Massimo Dutti, which increased to 100% by 1996. This was followed by the creation of the Bershka brand and the acquisition of Stradivarius. Eventually, in 2000, the company relocated its headquarters to Arteixo, located near A Coruña. In 2001, underwear chain Oysho was founded, and on 23 May 2001, the company went public. The Zara Home subsidiary opened its first stores in 2003 and launched the Group's first online store in 2007. The 2000th Inditex store opened its doors in Hong Kong in 2004. It is currently active in 56 countries. In 2008, subsidiary Uterqüe, which exclusively offers accessories, was launched.
Inditex currently operates 7,420 stores in 202 markets and employs approximately 174,000 people. The company has recently published its latest financial figures: The Group's net sales increased by 7.5% in the first nine months of 2019 – from February 1 to October 31 – to €19.82 billion, underpinned by growth across all brands and regions. Gross profit grew by 8%, reflecting a gross margin of 58.2%.
No Interviews
Since 2011, Pablo Isla has been Chairman and CEO of the Inditex Group. Amancio Ortega Gaona is still an active Member of the Board. With assets estimated by the German "Vermögen Magazin" at 68.14 billion euros, he is widely regarded as the richest European. His level of wealth compares to those of Warren Buffet and Mark Zuckerberg. His fortune even approaches that of Bill Gates and that of Jeff Bezos .
While Amancio Ortega Gaona is a Member of the Board, there are hardly any photos of him as he lives in seclusion with his second wife, Flora Pérez Marcote. He does not give any interviews. Clearly, his wealth does not appear to have gone to his head. The Spaniard has remained true to himself. He is not fond of suits and ties. Therefore, he does not wear them. Ortega also supports social institutions for mentally handicapped children, such as the Spanish "Padeia" organization, which is run by his first wife. In 2001, he founded the "Amancio Ortega Foundation" to promote research, science, and education. His entrepreneurial success as well as his sustainable business decisions during times of upheaval in the retail industry have prompted the members of the ACROSS Advisory Board and the editorial team to name Ortega "Man of the Year".
About the ACROSS Person of the Year
Amancio Ortega Gaona is the third "Person of the Year" chosen by "ACROSS – The European Retail Real Estate and Placemaking". The title goes to great figures who have left their marks on the industry and continue to do so. Ortega's predecessors include Jonathan Doughty, Global Head of Food Service, Leisure, and Placemaking at ECE, "Man of the Year 2017", and Founder of Signa Holding, René Benko, "Man of the Year 2018".