ACROSS: Please paint us a short company portrait of WhiteWater.
GRANT POJE: WhiteWater is the leading global designer and manufacturer of waterpark products and family attractions for world-class clients. We not only specialize in waterslides, but also in multi-level water play structures, wave-generating equipment, FlowRider® stationary surfing machines, harnessed attractions, interactive play, and water rides. We are dedicated to providing wow-experiences to our clients and their guests by delivering projects on time, on budget, and to the highest quality and safety standards.
Our industry-leading innovation is driven by a team of over 600 extremely talented employees in 21 offices around the world working together to complete over 5,000 projects since 1980. Recently, WhiteWater was awarded a Best Managed Companies designation for its excellence in management and business practices.
ACROSS: How would you describe the current situation of the global market for waterparks in general?
POJE: The global market for waterparks is extremely strong. According to a recent report done by TEA, the overall growth in 2014 was nearly 3% for the top 20 largest waterparks. As such, WhiteWater has experienced tremendous growth over the last decade. Our growth has been across the globe, but our fastest growing market over the last five years has been Asia and China in particular. The Asian continent has a large and growing middle class increasingly meeting the income threshold necessary for themed entertainment to be viable. The Middle East is also seeing a comeback, with a number of large developments planned or under construction there.
In Europe, we are seeing increasing demand as the economy improves. Europe is a mature market for waterparks, but we have a number of large projects in our pipeline, illustrating that the market is rebounding. WhiteWater opened its first "fusion" slide in Europe this year. A fusion slide is a waterslide that combines two iconic elements, creating a truly unique ride. This slide, installed in Switzerland, combines a constrictor and a rattler ride.
ACROSS: WhiteWater intends to focus more on the shopping center industry. Why, and what is the status of this plan?
POJE: As mentioned, Europe is a mature market for waterparks. It is therefore important for us to broaden our scope beyond our traditional customer base. We feel that the shopping center market is a good market to develop for WhiteWater. With our breadth of products, from slides, to products for family entertainment centers, to a wide range of FlowRider surf simulators, we can offer a number of solutions to this market. All of these solutions help shopping centers drive attendance, increase length of stay of customers, and increase per capita spend.
As WhiteWater has built most of the largest waterparks in the world, we focus on design first and products second. Getting the design right increases the chance of success of any of these types of developments. 2015 is the first year that WhiteWater will attend a retail and property development show in Europe. We have attended similar shows in North America, with great results, so we are excited about the potential at this show.
ACROSS: In what European countries does WhiteWater hope to build waterparks in shopping centers?
POJE: We feel that there could be strong demand across a number of countries. Typically, we look closely at the regional level when developing our retail strategy. We see strong potential in cities where the floor space per capita is low – indicating that the area is relatively underserviced with respect to retail space – and retail sales growth is high. Combining these two statistics helps to define our regional strategy. Countries like Germany, Turkey, and the UK tend to rank high on these statistics and thus are focus areas for us.
ACROSS: Why are recreational facilities like waterparks in shopping centers becoming more and more important?
POJE: Adding recreational facilities is a strong strategic approach for shopping centers for a number of reasons. First, it creates a destination for consumers. Rather than either going to the mall or the waterpark on the weekend, both can be combined into a single destination. Additionally, once a family is at the mall, the mall needs to appeal to a broad demographic with respect to activities for the family. Offering an attraction like a waterpark, family entertainment center, or FlowRider in a mall can increase the length of time consumers stay at a shopping center. In waterparks, the longer people stay, the higher the per capita spend. We feel the same model applies to shopping centers.
At a micro level, if mom wants to shop, then the kids and dad can go to the waterpark or go try out the FlowRider. Combining iconic attractions through good design and unique products creates a destination that everyone wants to go to because there's something for everyone.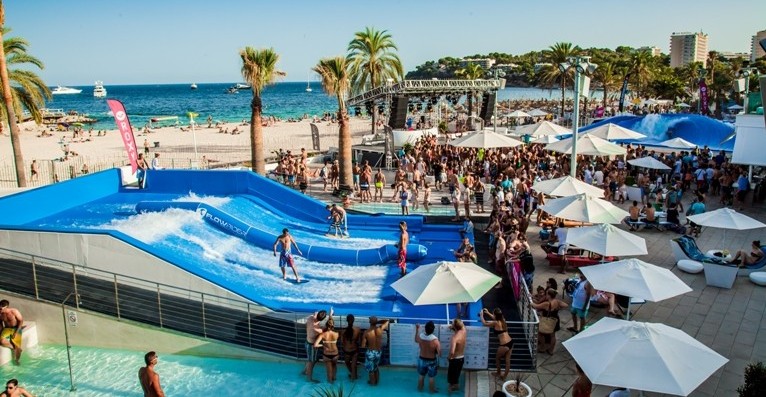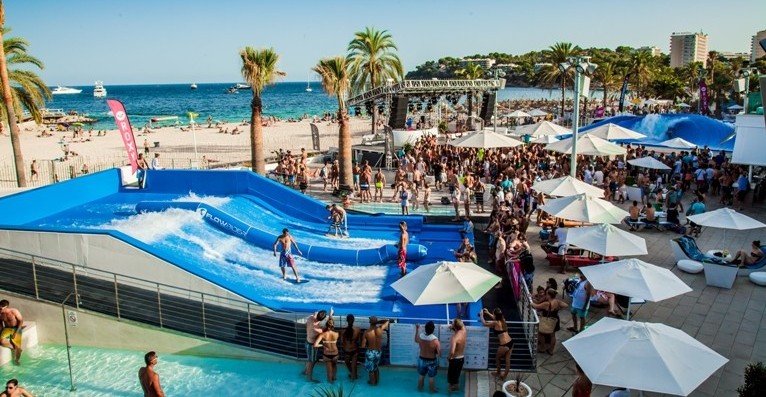 ACROSS: Why is shopping and having fun in a waterpark a good combination?
POJE: From personal experience, as a father of two small children, trying to get the family to go to a shopping mall only works when there is something to keep the kids entertained. Like almost every other child, my kids love waterparks. If everything else was the same, and we had the option to go to a shopping center with a waterpark, or to one without, hands down we would go to the one with a waterpark. When there is a variety of activities to keep the kids happy, I can not only keep my children at the mall longer but also have them be willing to travel longer to get there.
ACROSS: Which requirements must a European shopping center fulfill in order to be interesting for WhiteWater as a site for one of its waterparks? Conversely, what are exclusion criteria?
POJE: Globally, WhiteWater has over 25 installations of products in shopping centers. There are really no exclusion criteria other than available space. Generally, it is easier to integrate a waterpark into a greenfield space, but we can also work with existing structures. WhiteWater has an experienced waterpark design team who can execute unique designs in compact spaces. Generally, as long as there is a minimum of about 5,000 sq m of available indoor space, then we can create an amazing waterpark.
ACROSS: Who is your target group in European shopping centers?
POJE: We are focused on two general areas: new and existing shopping centers. We are working with a number of mall developers and operators, typically focused on the design phase, in order to allocate space within the mall during master planning. We have been able to come up with some very unique and innovative designs that maximize the use of compact spaces for our clients. We look forward to opening our first European shopping center waterpark very soon.