The LDO Edit – which features additional, time-limited discounts on top of the outlet centre's existing 70% discount on RRP on selected items – is the UK's first click-and-reserve outlet shopping platform.  
The new initiative is the latest in a series of firsts and innovations by London Designer Outlet aimed at creating a unique and special experience for the centre's guests. The leading fashion and lifestyle outlet centre was the first in the UK to welcome brands like Champion, the first outlet in London to sign PUMA and Police, and it recently opened the doors of the first standalone NICCE store. These firsts also include technology used to improve the physical shopping experience. Alongside The LDO Edit, London Designer Outlet was the first shopping centre to offer Dropit, the app-based, store-to-door delivery service, and has recently launched Coniq, a customer engagement and loyalty platform.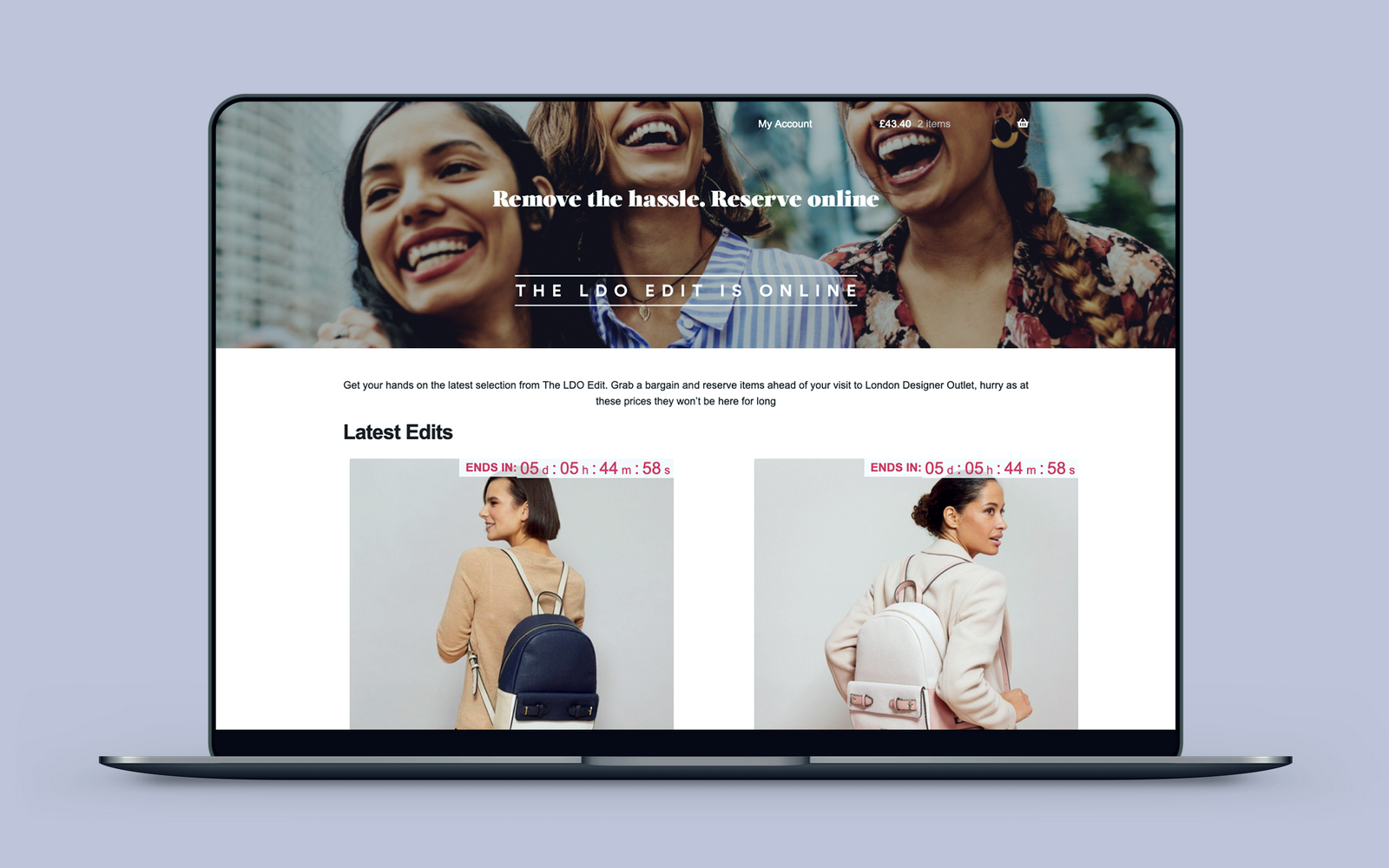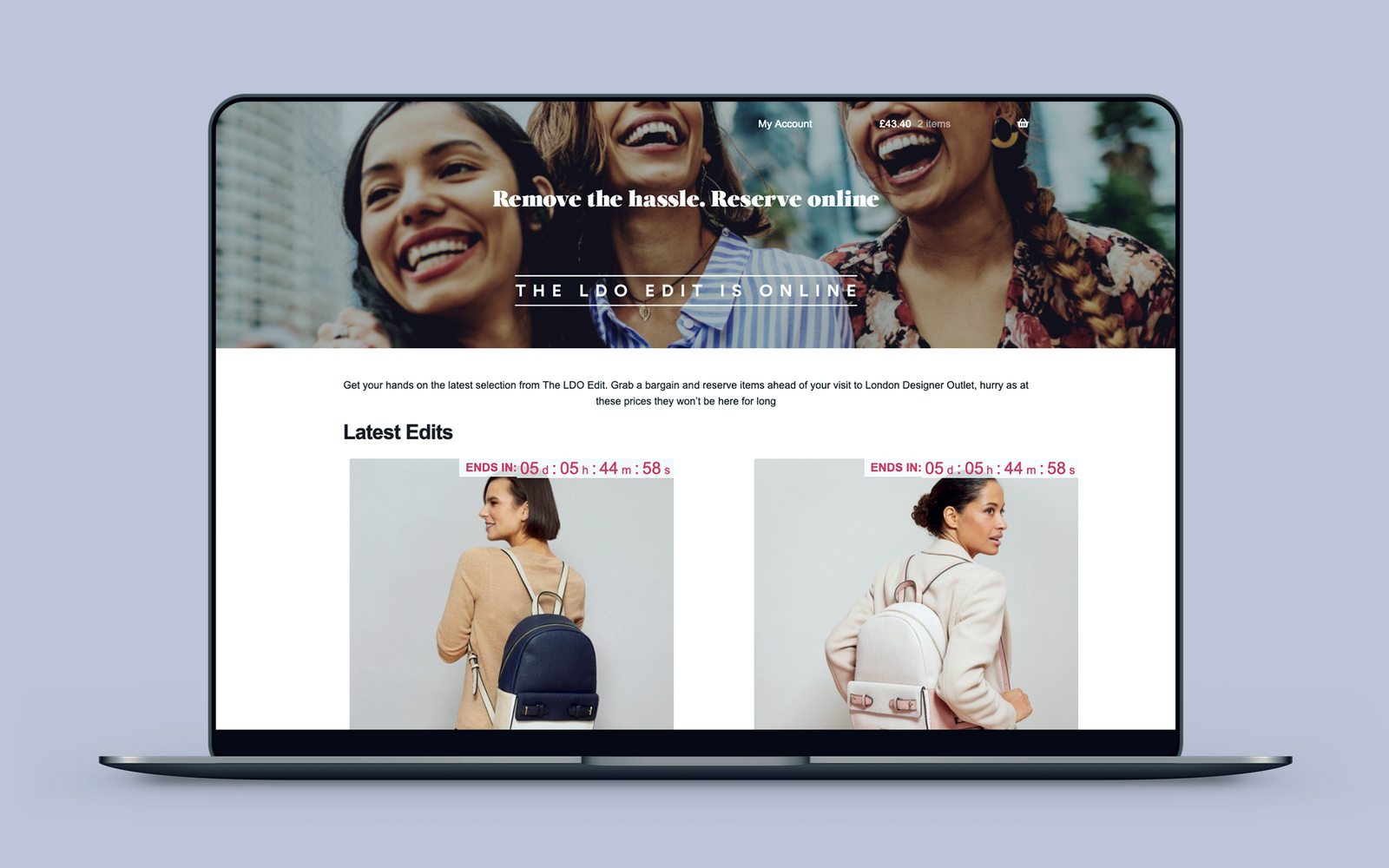 Just as the fashion world is increasingly debuting the season's must-haves online, including at this year's London Fashion Week, so too will some of London Designer Outlet's aspirational and desirable brands, who can now showcase their goods on a digital catwalk. The online platform will kick off with a curated collection so guests, from the comfort of their sofas, can find items from top fashion and lifestyle brands, reserving their choices for collection and payment in-store within two days.  
Dan Parr, Vice President of research and data specialists CACI, said: "The LDO Edit takes away the uncertainty of purchases and, for the first time, allows the shopper to browse in their own environment before they make the commitment to buy, putting browsing power back into the consumers' hands. Outlet shopping is frequently regarded as a speculative experience; outlet brands are thought of as offering limited ranges, sizes and colours and, historically, specific products aren't available online. This creates the excitement of discovery, but also means there are a lot of unknowns for shoppers who may want more certainty from their shopping visit."  
The online platform will benefit guests and retailers alike. For guests, it provides a means to make better use of their time, especially amongst those who are wary of public spaces due to coronavirus. 
The LDO Edit links to the rest of the London Designer Outlet website, further helping guests plan their visits to see the other premium fashion, lifestyle, and athleisure names include Guess, Kurt Geiger, NICCE, Police, Levi's, Replay, Lee & Wrangler, Lindt, The Body Shop, Puma, Adidas Outlet, plus the restaurants, bars and cafés.  
Retailers benefit from further value-added initiatives that benefit all stores and restaurants. A 2020 global Metapack study found 41% of people say they've bought something else when picking up pre-ordered items. This adds to the existing key trading metrics at London Designer Outlet since the post-lockdown reopening of retail in mid-June. Footfall rose +40%, month-on-month, comparing August with July, with sales increasing by +31%, month-on-month, across the same period. These results reflected the growing confidence of customers to return to physical shopping following the coronavirus lockdown.  
Sue Shepherd, Realm's General Manager at London Designer Outlet, said: "Nothing beats the physical retail experience for discovering hidden gems and enjoying a day out. Footfall at the London Designer Outlet since we reopened shows that people want to visit our brands and we've worked tirelessly to ensure that they can feel safe while doing so. 
The LDO Edit will help give our shoppers the confidence to visit while knowing they've found an amazing deal – before they've even set foot in-store. The LDO Edit brings together the best of online and in-store shopping to create a memorable experience for the people who visit us."  
London Designer Outlet is managed by Realm, the UK's specialist outlet operator, and is part of Wembley Park, the multi-billion pound transformation by Quintain surrounding the world-famous National Stadium. Projected to attract over 20 million visitors a year, Wembley Park will benefit from £328m annual retail spend by 2027, putting it ahead of London districts such as Camden, Victoria and Ealing Broadway.