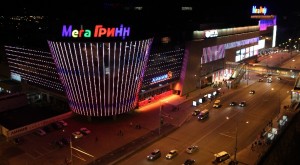 Many people associate the name "Kursk" with the sinking of the eponymous nuclear submarine on August 12, 2000. Kursk is also a city with 415,000 residents in central Russia, however, in which the Grinn Corporation recently opened the first phase of its mixed-use project MegaGrinn. The 230,000-sq-m scheme with nine floors, located on Karl Marx Street, includes a shopping mall with 60,000 Sq. m of GLA, an amusement park, sports facilities, an 116-room hotel, a business center, and a parking garage. The rest of the project should be open by September. The construction work started in 2013. According to the Russian press, investment costs are to come to approximately €190 million.

The Grinn Corporation, based in Kursk, designed and built MegaGrinn with several highlights: There is a six-level aboveground parking garage with 300 spaces at each floor, which allows visitors to enter directly onto the desired floor. This is superior to underground parking because visitors need not waste time driving underground only to have to climb back up again to shop. There is also a flyover with the escalators across Karl Marx Street linking the mall to public transport. The flyover enters onto the second floor of the mall, making it feel more like the first floor and making the third floor more attractive for retail space. Speaking of the third floor: It houses a bowling club, a nine-screen cinema, cafe "Shocoladnitsa," and a huge restaurant-brewery that produce a flow of visitors to the retail spaces.

Main anchor tenant: Hypermarket "Liniya"
60% of the leasable area is under the control of the Grinn Corporation, including the main shopping anchor hypermarket "Liniya" and almost all of the entertainment and leisure, fitness, hotel, and business center space. This fact allowed the mall floor plan to be developed with a maximum of coordination and to pursue common advertising campaigns and events. The interactive multimedia illumination of the facades with dynamic images projected onto the whole building at night is a definite head-turner in this regard.