ACROSS: Etele Plaza in Budapest will be completed in Q4 2019. What is the project's current status and what makes it outstanding?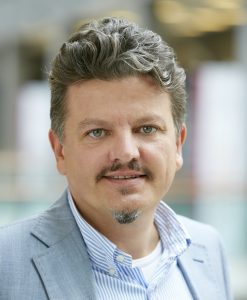 TIBOR TATÁR: Etele Plaza is Futureal's most significant retail project currently under development. It is a 53,000 sq m shopping and entertainment center to be developed in the southwestern part of Budapest, Újbuda. Once finished it will provide the largest variety of shopping and entertainment facilities in its catchment area. One of the things that makes Etele Plaza outstanding is its location. It is strategically located at Budapest's newest and largest public transport hub, next to two major highways and six different public transport terminals. These will include national, international and regional train services, along with tram, metro, bicycle, and bus services, all of which support over 165,000 passengers per day.
ACROSS: What other key data can you give us on this project?
TATÁR: Detailed plans have already been drawn up and we are currently in negotiation with anchor stores and other retailers. Etele Plaza will be a seven-level building, with modern and efficient architecture and over 1,200 parking spaces, including transparent and VIP parking. It also benefits from being situated out of the congestion zone and will include a park-and-ride car park.
Etele Plaza will feature three retail floors, a food & beverage court, multiplex cinema, chill-out lounge, and a roof terrace. The mall's emphasis will be on affordable fashion and a varied mix of international and local brands, and will have an excess of space for fashion anchors. As it stands, the project is definitively set for development, with preliminary landscaping works in progress and a target opening of Q4 2019. We currently have a valid building permit in place, and main construction is due to start in Q2 2017.
ACROSS: Also in Budapest, Futureal is active in Corvin Quarter, a large urban regeneration project. What is the company's role within Corvin Quarter?
TATÁR: As one of the most experienced developers in Central Europe, Futureal has a wealth of experience around long-term, large-scale urban projects. Our projects involve the successful regeneration of local communities by providing improved infrastructure and public transport and establishing sustainable, transparent structures with public partners.
The Corvin City Regeneration, is the largest urban regeneration project in CEE, with over 22 hectares situated in the heart of Budapest. It has a gross value of €850 million private program and of €72 million public program. Corvin Promenade is Futureal's flagship project, and was selected for the 2011 Fiabci Prix d'Excellence in the specialized projects category and for the best mixed-used development project in Europe at the International Property Awards 2010. To name just a few of its features, it includes more than 2,000 residential properties, six office complexes, Corvin Plaza shopping center and two boutique hotels.
Further urban regeneration projects from Futureal include Kelenföld City Regeneration (36 hectares, more than 750,000 sq m of buildable area) and Mardárhegy Land Development (100,000 sq m).
ACROSS: In general, Futureal is specialized in developing large-scale mixed-use properties in Hungary. Could you please tell us about the challenges you have to meet in this sector?
TATÁR: The primary challenges that we face tend to revolve around the locations themselves. For example, navigating the line between designing modern structures that are efficient and fit-for-purpose in what may be a classical architectural environment.
Finding the right balance between a modern design and a traditional architectural setting can highlight all sorts of issues surrounding functionality, population density, and efficient communication with residents and retailers. On top of that, occasionally liaison with residents, municipalities, and non-government organizations can pose difficulties.
There are so many different interests at play, meaning that negotiating between these different parties can hinder the process of development. The primary concern is that we keep channels of communication open with all of these bodies to ensure that we are able to create a development that all parties are happy with.
ACROSS: In the retail segment you work with partners – like Caelum Development, Klépierre, and Immofinanz AG. Why?
TATÁR: In 2011 we launched a partnership program, aiming to invest €100 million of equity in order to kickstart stalled schemes in CEE, with the result that we've developed solid relationships with several partners across CEE countries. Following the economic crisis of 2009, we saw hundreds of struggling potential projects in existence, and often all that was lacking was equity or development capability.
We realized that we could help reenergize these projects with our expertise in leasing, design, engineering, and funding. With over 170 real estate professionals, we have one of the largest teams in the region. With their input we have already managed to complete over twenty projects in CEE, all of which had previously been in jeopardy following the economic downturn. Of Futureal's €600 million total completed developments, partnerships currently represent 60%.
We aim to continue expanding our partnership program, and upcoming projects include retail parks, shopping centers as well as office and residential projects across Poland, Czech Republic, Slovakia, Serbia, Romania, and Germany.
ACROSS: Could you tell us about Futureal's recruitment policy? How do you get the best staff for your company?
TATÁR: We generally use headhunters or recruitment specialists. Because of Futureal's well-known and widely acknowledged reputation amongst developers, a large number of professionals are extremely keen to work with us and we get applications on a daily basis.
ACROSS: How would you describe the current situation of the Hungarian shopping center market? Which trends do you see?
TATÁR: Following the global financial crisis of 2009, the Hungarian economy has started to recover strongly. Throughout 2015 the turnover of Budapest malls grew by 10% to 12%, and in Q1 2016 net salaries grew by 7.4%.
Hungarian purchasing power has increased exponentially thanks to the continuous GDP growth and the economy's greatly improved performance. Retailers have recorded double-digit turnover growth in the past three years, and as a result tenants are really enthusiastic about new schemes.
With the revitalization of the investment market, banks are also more proactive and keen to provide finance, so this is exactly the right time for Futureal to start developing Etele Plaza in Budapest. Furthermore, many new retailers have entered the market in the past three years and more are expected to come. Retailers are also expanding their horizons, and the countryside as well as major cities have become developers' and retailers' targets for expansion.
What Corvin City Regeneration project includes
Office schemes:
Corvin One (19,000 sq m GLA)
Corvin Crystal Tower (7,000 sq m GLA)
Corvin Panorama Tower (7,000 sq m GLA)
Corvin Garatiqa Tower (7,000 sq m GLA)
Corvin Corner (6,200 sq m GLA)
Corvin Technology and Science Park 1-2 phase (15,200 sq m GLA)
Nokia Tower (25,400 sq m GLA)
Residential schemes:
Approximately 2,000 residential units in seven condo buildings
Retail schemes:
Corvin Plaza Shopping Center (33,900 sq m GLA)
Corvin Street Retail (10,500 sq m GLA)