Ultragreens, the largest producer of micro plants and herbs in Romania, has invested 350,000 euros in the development of Green Hub Kaufland by Ultragreens.
The plant's entire operating cycle was taken into account in order to develop long-term sustainable production. The greenhouse was therefore built in close proximity to the Kaufland Ploiesti logistics center to streamline transportation and supply chain operations as well as reduce the impact on the environment.
"Green Hub Kaufland by Ultragreens is more than just a sustainable project for us. It is a new stage in our partnership with Ultragreens, where we are expanding the range of indoor greenhouses and fresh herbs in Kaufland hypermarkets. The large-scale greenhouse is equipped with the latest energy-efficient technologies and provides a model for responsible agriculture that meets international environmental standards. The production will be focused entirely on our 65 Romanian stores, "said Marco Hößl – CEO of Kaufland Romania and the Republic of Moldova.
"Two years ago, we installed the first indoor greenhouses in Kaufland stores in Bucharest, with plants grown directly in the hypermarkets – this was our first step towards urban, hyperlocal agriculture. We have always believed in vertical indoor farming solutions as a way to address some of the biggest issues faced today: demand for pesticide-free food, food instability, pollution, and waste of resources. Kaufland is therefore the ideal innovation partner for us. Together we can follow sustainable agriculture practices with the benefits of healthy food and a socially responsible future," said Cristian Tudor, founder of Ultragreens (Microgreens).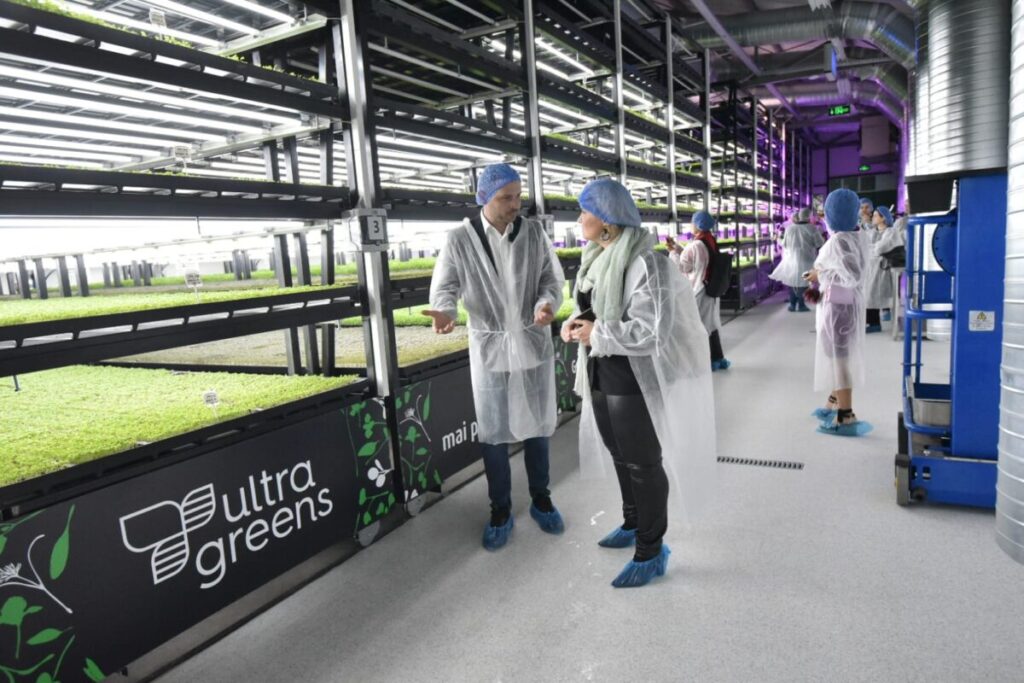 Kaufland Romania is a strong supporter of local producers, so the annual production of about 60 tonnes is distributed entirely within the Kaufland hypermarket network. To expand this partnership and ensure a constant supply of fresh plants throughout the 157 hypermarket network, Ultragreens will build a second Green Hub production unit in Turda.
The production unit is housed in a modern industrial building with 180 sq m of floor area and 1,250 sq m of cultivation area, arranged over seven vertical racks. The plants are grown efficiently throughout the year, using 95% less water compared to traditional growing methods. Production cycles vary from 10 to 20 days, with lettuce, radishes, broccoli, chives, and herbs grown hydroponically. 
Plants are also grown with the use of UV and energy-saving LED lighting, while the closed vertical cultivation system allows for sustainable agriculture methods that eliminate soil contamination from pesticides and fertilizers.
Ultragreens' partners contributed to the construction and fit-out of this hub: Signify – the world leader in lighting, Helukabel – a leading international cable manufacturer and supplier, Gnosis – part of the Ultragreens Group, specializing in advanced mechanical engineering, Combridge (Deutsche Telekom) – provided customized telecom and IT&C solutions, Amteh International – installation of HVAC-R and industrial sanitation systems.