The store opened by SPAR in Pogradec is the 58th for the largest international supermarket chain in Albania. With an area of ​​1,000 sq m2, inhabitants and tourists of Pogradec will find a safe environment, variety of choices and quality service.
SPAR customers in Pogradec will find over 3,000 items of the highest standards. SPAR supermarket, located in Neighborhood no. 1, in "Kristo Sotiri" street, marks an innovation as there will also be JUMBO products.
SPAR within this year will open the doors of a considerable number of other stores in Tirana.
The expansion of JUMBO in different cities of Albania continues as well through partner stores in Belsh, Shengjin, Bilisht and the aforementioned store in Pogradec, bringing the same prices and quality closer to customers.
Meanwhile, the JUMBO chain store in the city of Vlora has an area of ​​1,300 sq m and is the seventh in Albania. As in any other store, in Vlora, Jumbo will continue to operate maintaining high standards in service, European quality of products and the most competitive prices in the market.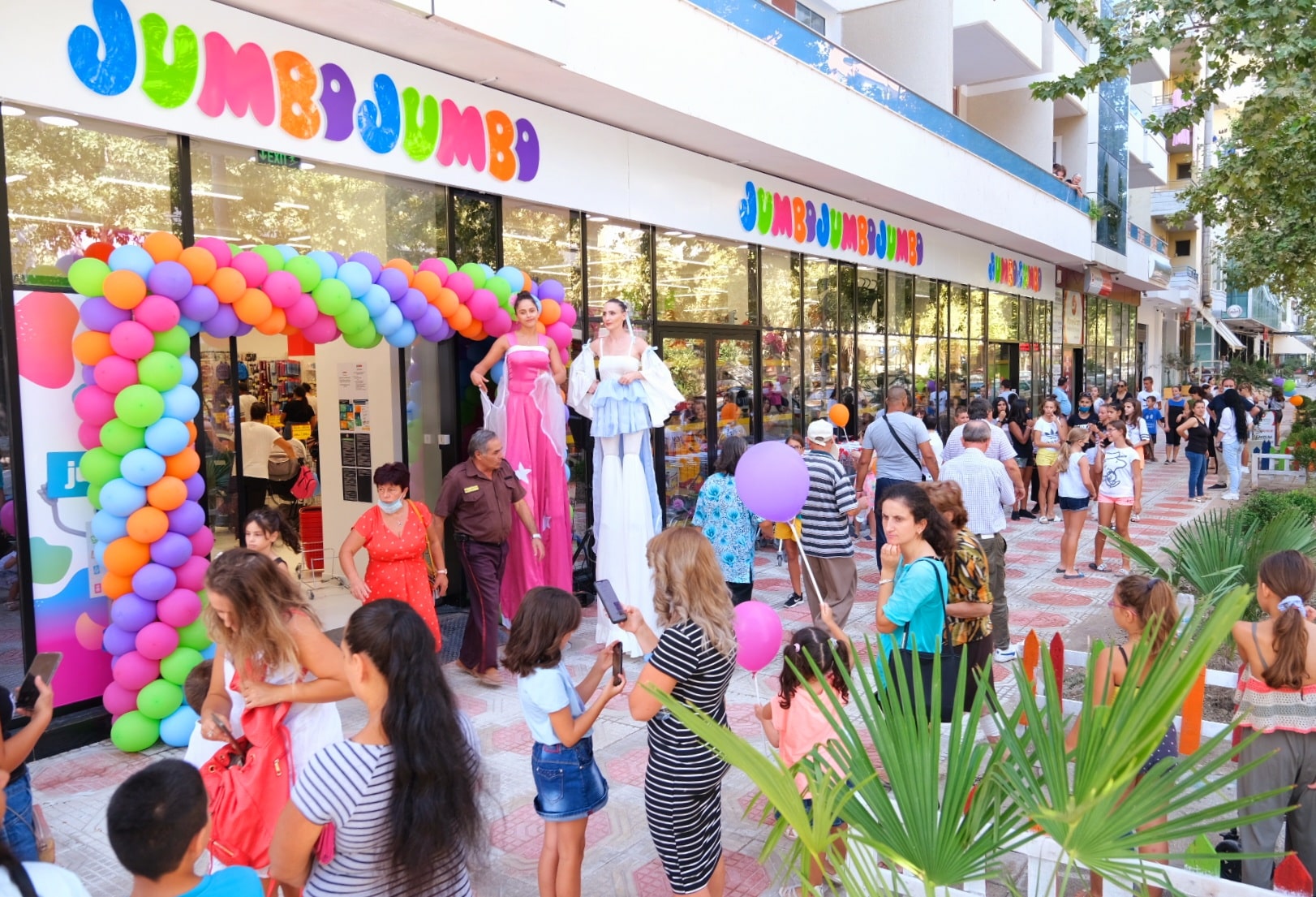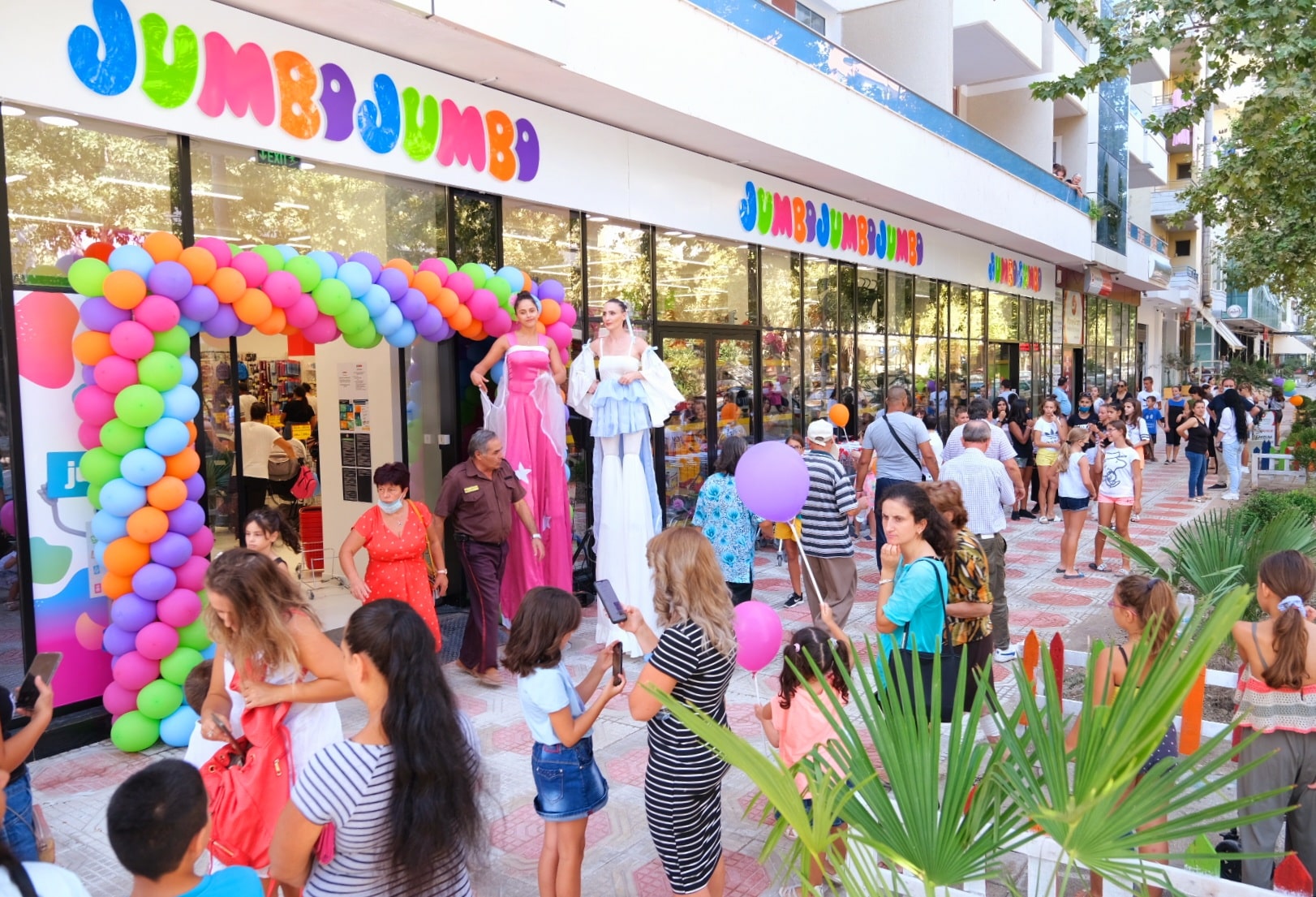 Located in the Independence neighborhood, "Gjergj Araniti" Street, Jumbo store will be open every day of the week. While for all those who want to buy from home, you can use the online store www.jumbo.al .
As with all other SPAR and JUMBO stores, loyalty is rewarded. With the Happy card, customers collect points that they can use for other purchases. The Happy Card can be used in Spar, Jumbo, Neptun and all Fashion Group Albania brand stores (Cortefiel, Springfield, Geox, Parfois, Women'Secret, Golden Point, Okaidi, Mango, Prenatal and Carpisa).
About JUMBO
The main activity of JUMBO is the trade of toys and children's items, books, stationery products, decorations and seasonal products. JUMBO is the most beloved brand for children, but also for adults, due to the wide range it has, with over 30'000 products, their variety, unique design and the best prices on the market.
In Albania, JUMBO has about 250 employees in all 7 of its stores. The company, as part of the BALFIN Group, operates in 4 different markets in the Balkan region, namely in: Albania, Kosovo, Bosnia and Herzegovina and Montenegro, with 19 stores.
About SPAR
SPAR serves an average of 19,500 customers per day. In Albania, SPAR is the only network that has 3 large hypermarkets, as well as the only network with two of these structures in Tirana. In Interspar hypermarkets, the consumer can find everything from delicacy products, organic products, flavors from around the world ,to textiles and kitchen utensils.
In these four years in the Albanian market, SPAR managed to expand its network of stores by expanding to the largest cities in the country, with the sole purpose of being ever closer to the customer.
In just four years in Albania, the company managed to open 58 markets and about 1,200 new jobs.
SPAR welcomes any request for partnership from any city in Albania, to cooperate. Anyone who has a supermarket business and wants to work with SPAR, or anyone who wants to invest in this industry, SPAR is ready to offer the best European expertise and the most successful model for this business.