Hines Ireland recently announced submission of planning application for significant expansion of one of Ireland's best-known shopping and leisure destinations at Liffey Valley in West Dublin. Planning permission is being sought for an additional 22,000 sq m of net retail space together with a mix of other uses. The application proposes building an Olympic-standard ice arena with capacity for 2,500 spectators capable of hosting international ice skating competitions, ice hockey matches, and ice entertainment performances. The plan proposes 1,800 additional parking spaces and transformation of center's civic spaces with addition of major new public space equivalent to typical European-scale urban plaza. Once expansion is completed, Liffey Valley will comprise over 60,000 sq m of retail and leisure space.
A strategic, forward-planning initiative
Commenting on the planning submission, Brian Moran, Senior Managing Director of Hines Ireland, stated: "This is a significant yet timely planning proposal underpinned by evidence of emerging demand for this scale of expansion in the future. We are submitting the application now as a strategic, forward-planning initiative aimed at the sustainable development of Liffey Valley in line with future market needs. Our research shows that if the planned expansions to all Dublin malls went ahead in the next five years, it would add 12% to the retail floor area in the city region. Customer spend and population growth will outstrip this, so we are making this application now as economic growth accelerates to avoid the kind of lack of supply we are currently seeing in office and residential markets."
In advance of this planning submission, an architectural competition was initiated to come up with a design for proposed new retail and leisure spaces. The US architects RTKL were selected, having devised a visionary design that envisages trans-formative new civic spaces being added to the existing building at Liffey Valley. The project, once initiated, has the potential to create up to 450 construction employment opportunities during development and approx. 1,500 full- and part-time jobs upon completion, bringing total number of people employed within the mall to over 3,700.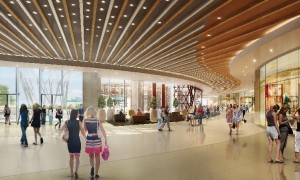 Images: Liffey Valley is owned by clients of HSBC Private Bank, Grosvenor Britain & Ireland, and Hines Ireland, who also act as asset and development managers. Credit: Hines