Expanded strategic joint venture partnership 
Changed ownership structure at Alegro Setúbal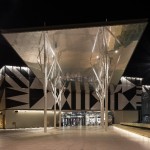 Immochan and the Alaska Permanent Fund Corporation (APFC) have expanded their strategic joint venture partnership through the acquisition of the Alegro Setúbal shopping center in Portugal. The transaction is the latest in a strategic joint venture between the two parties, which sees the APFC acquire a 50 percent stake in the mall from Immochan. In line with existing joint venture investments between the parties, Immochan will continue as property manager, while asset management will be shared between Immochan and CBRE Global Investors, which represents the APFC. Alegro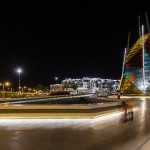 Setúbal, comprises 44,450 sq m of GLA over three floors. The center maintains an occupancy rate of 100%, including shops from leading international fashion brands such as Mango, H&M, Zara, Bershka, Stradivarius, and Pull & Bear. The mall also has a strong leisure and entertainment component, food court, and electronics offer from brands including Fnac, Sport Zone, Cinema City, Fitness Hut, as well as a medical clinic and a 16,560-sq-m Jumbo hypermarket (which is not part of the transaction). Alegro Setúbal is located on the main entrance to Setúbal, 40 km south of Lisbon, a city located in a strategic commercial corridor. Set between the country's three major highways connecting Lisbon with the Algarve and southern Spain, the center provides Portugal with the latest retail experience and destination shopping center. The first two transactions in the joint venture between the APFC and Immochan completed in 2014 and comprised Zenia Boulevard in Alicante, Spain and Alegro Alfragide in Lisbon. In total, the joint venture represents a portfolio of 165,250 sq m in the Iberian Peninsula, which received more than 29 million visitors during 2015. Angela Rodell, CEO and Executive Director of the APFC, commented: "We are excited about the opportunity to team up with Immochan on another high-quality retail acquisition in Portugal. We look forward to expanding this strategic partnership as we work to build our portfolio across Europe."
Project in the Romanian Capital 
Financing agreement for Veranda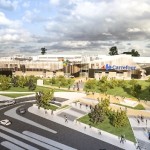 Veranda shopping center, situated in the Obor area in Bucharest, has attracted funding of €25.5 million from Raiffeisen Bank SA and Raiffeisen Bank International AG for the development of the next period of its project. "The signing of the financing agreement confirms the value of the project and its positioning among the top investments in the retail sector in Bucharest. We are very happy with the partnership with Raiffeisen Bank and with the expertise of their team in structuring such a transaction. Together, we have made possible the revitalization of an area with a tradition in the trade with a large number of residents and with a retail and entertainment offer tailored to their needs," said Andrei Pogonaru, representative of the owner of Veranda project. The loan agreement was signed to finance part of the total costs necessary to develop the project. According to the agreement, it provides the possibility to increase the funding up to €28.5 million. The project will benefit from a total investment worth €60 million. Veranda shopping center is developed by Prodplast Imobiliare in the Obor area and has an occupancy rate of 70% at the moment. It has a total leasable area of almost 30,000 sq m, having as main anchors a Carrefour hypermarket (with approximately 10,000 sq m) and an H&M (with over 2,000 sq m), alongside over 100 shops, a food area, 1,200 parking spaces, and a wide green space that totals over 15,000 sq m. The project, set to be delivered in the fourth quarter of this year, will be organized on two floors and it will offer the possibility to be extended in the future due to its modular structure.
Malls in Belgrade und Podgorica 
Delta in a selling mood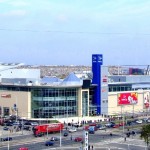 Delta Holding has sold its Delta City shopping centers in Belgrade and Podgorica to the South African investment fundHiprop, which specializes in the acquisition of modern and established shopping malls. With this transaction, Delta's revenues from the sale of companies has reached €1.8 billion. The company will invest the proceeds in further development of its real estate, agriculture, and distribution businesses. Delta is ready to invest €250 million in its major announced projects, namely in the Delta Planet shopping mall, hotel InterContinental, and a new office building in Belgrade immediately upon obtaining building permits, thus providing a new impulse to Serbian economy.
Nine shopping centers affected 
Deal on Sierra Portugal Fund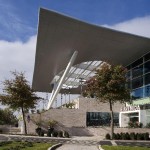 Madison International Realty has acquired a 25% stake in the Sierra Portugal Fund from Sonae Sierra. Following the transaction, Sonae Sierra retains a 22.501% stake in the Fund and will continue to manage both the Fund and the individual assets within it. The Fund was created in 2008 and owns interests in nine operating malls within Portugal, with the portfolio comprising 8ª Avenida (photo), AlbufeiraShopping, ArrábidaShopping, GaiaShopping, LeiriaShopping, LoureShopping, Centro Comercial Continente de Portimão, RioSul Shopping, and SerraShopping. All malls within the portfolio are dominant and well located within their respective submarkets and the portfolio is currently leased to a diversified mix of international and domestic retailers, with occupancy in excess of 96%. Fernando Guedes Oliveira, CEO of Sonae Sierra, commented: "The investment by this important international player in the Sierra Portugal Fund reflects the quality and positive performance of our retail portfolio. It underpins our ability to create value through managing shopping centers as well as reaffirming our ongoing confidence in the Portuguese market." Derek Jacobson, Managing Director at Madison International Realty, added: "The acquisition of a 25% stake in the Sierra Portugal Fund is illustrative not only of our confidence in the Portuguese retail market, but also our ability to diversify on behalf of our investors, acquiring partial ownership in prime markets in the US, UK, and both Southern and Western Europe. We look forward to working with Sonae Sierra as a fully-aligned co-owner and manager and sitting alongside a number of other blue-chip investors while continuing to create value in a rapidly improving market."