Springfields Outlet, a retail and leisure destination in the East of England, has marked the first anniversary since the opening of its expanded leisure offer, Adventure Land, with a +7% YoY increase in revenue. The boost in trading was recorded in the 12 months since its launch, compared with the same period the year before. Since its launch this time last year, Adventure Land has helped attract more visitors to the leading shopping and leisure destination in the East of England with total footfall increasing by +5% YoY.
Owned by the Triton Property Fund, managed by UBS, and asset managed by Sanderson Leisure and Retail (SLR), Adventure Land was designed to attract a broader customer base to the destination, providing more reasons for visitors to travel from further afield, stay for longer and visit more often. The result is a significant benefit for existing retailers at Springfields Outlet through greater dwell times and by attracting a wider spectrum of customers.
When compared with the trading and footfall stats for full-price retail-led destinations, published by the British Retail Consortium (BRC) and Springboard, the positive figures at Springfields demonstrate that outlet is bucking trends when compared to the full-price retail sector. According to the BRC and Springboard, footfall declined by -1.7% in the 12-months to June 2019 with footfall in the East Midlands down by -3.8% YoY and -2.4% in Q2 2019. Across the retail sector, June 2019 was described as the worst June on record for retail sales which declined by -1.6% like-for-like.
Ian Sanderson, Director at SLR, said: "The provision of the integrated leisure offer has really brought the scheme to life. Springfields has been doing exceptionally well, bucking retail trends when compared to full-price destinations, and Adventure Land has helped to really accelerate this. The destination is increasingly making a name for itself as a must-visit attraction in the region. With something that appeals to everyone, we are confident that the planned expansion will help to drive the destination forward, creating an even more dynamic and appealing offer to an even broader catchment."
Comparing key dates in the calendar in 2018 with the same dates in 2019 illustrates the positive impact the integrated leisure offer has provided to the destination. In the early May bank holiday YoY revenue increased by +26% and YoY footfall by +6%. Throughout December, total revenue increased by 15% YoY and footfall by +9%, with the destination's highest ever weekly sales volume taken that month. The August bank holiday in 2018, the first following the launch of Adventure Land, saw YoY revenue increase by +23% and footfall by +32%.
Additionally, further aspirational brands have been attracted to Springfields Outlet. In the past year, names such as Jack Wills, Joules, White Stuff and The Cosmetics Company Store have opened, appealing to a broader catchment and creating another reason to visit. Individual store revenue has increased by as much as 35% on a like-for-like basis. Notably, aspirational fashion brands increased by +9% across the past 12 months.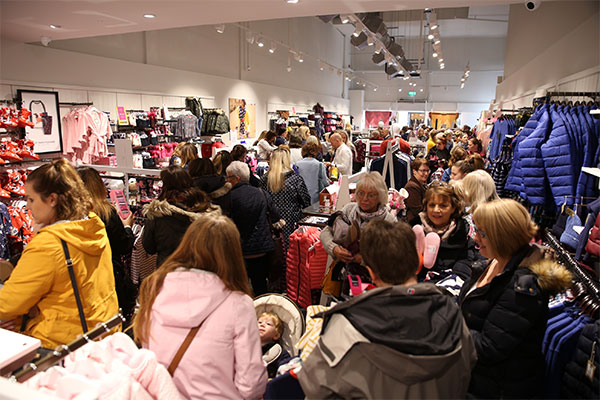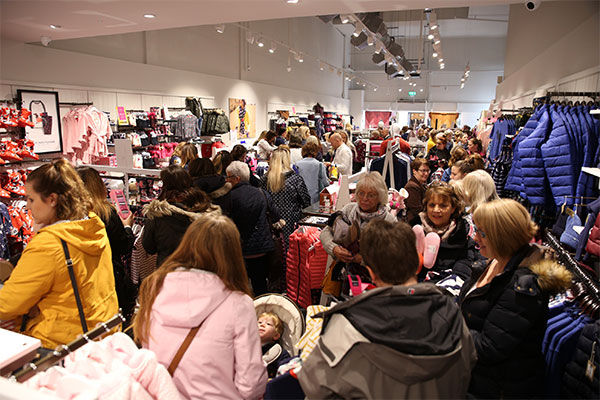 Springfields Outlet has experienced 14 consecutive years of turnover growth. Further demonstrating the success of the scheme, £18 million is being invested into a new extension at the center. The allocation of space and change of use has been agreed for the new phase, with final planning consent expected in the coming months. The proposed design will add an additional 50,000 sq ft of retail and casual dining space, and some 19 new units, attracting opportunity for further brands at the centre.
According to research by Savills, schemes need to offer something more than price point alone, with browsing and leisure elements key drivers for the overall experience. Indeed, some 33.6% of shoppers consider leisure facilities to be more important at outlet centres than other shopping locations, according to GlobalData. This is reflected at Springfields where Adventure Land has been a catalyst in helping to attract new retailers and new customers from within its wide principal catchment and is further increasing tourist number visiting. The destination and experiential appeal of outlet centers, such as Springfields, is what will continue to provide a key point of difference against the threat of online retail.
Agents for Springfields Outlet are Knight Frank and SPACE Retail Property Consultants.