In 14 buildings, southern Überseequartier will connect places to live and work with innovative retail and entertainment concepts as well as hotels and a cruise terminal.
Properties with comprehensive mixed-use approaches play essential roles in Unibail-Rodamco's portfolio as they increase the appeal of shopping centers and make them more attractive to visitors in the long term.
In Germany, one recent example is Riem Arcaden in Munich, which not only offers a number of various shopping facilities, but also integrates two hotels, offices, apartments, and various gastronomic offers.
With the development of the southern Überseequartier in Hamburg, the company has gone one step further, as Andreas Hohlmann, Managing Director Germany and member of the ACROSS Advisory Board, emphasizes: "The 14 buildings will create a lively and vibrant part of HafenCity and will provide spaces to live and work as well as cultural, leisure, and shopping offers – all with a fine-tuned functional concept and an innovative marketing strategy. Southern Überseequartier will also integrate a cutting-edge cruise ship terminal and three hotels and will, therefore, immediately attract residents, visitors from the surrounding areas of Hamburg, as well as national and international tourists. Resultingly, the project can be regarded as a prime example of the continuing importance of mixed-use developments at Unibail-Rodamco."
The building construction phase of the roughly one-billion-euro project, with a total area of 419,000 sq m, is scheduled to begin at the end of this year. The first openings of the various buildings will begin at the end of 2021.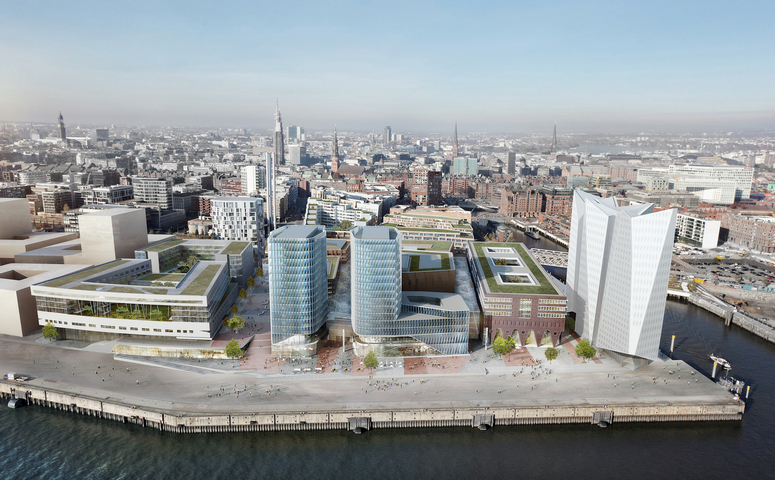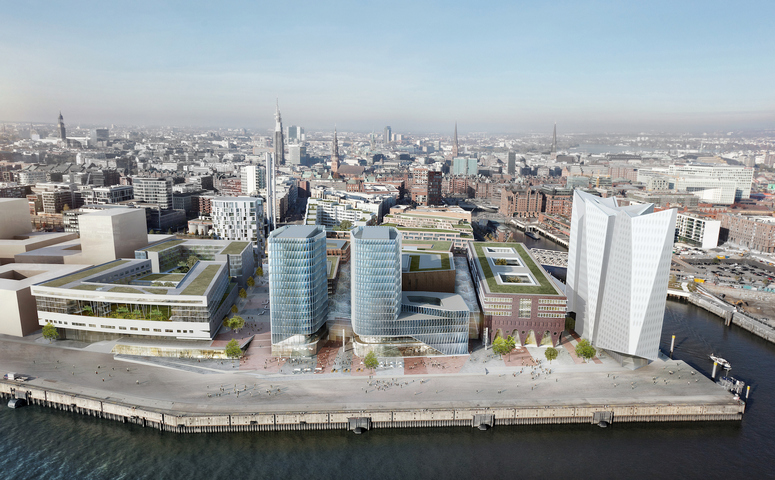 The southern Überseequartier, which is excellently connected to the public transport network, is embedded in HafenCity Hamburg. HafenCity Hamburg is the largest inner-city development area in Europe.
By the early 2030s, residential units for up to 14,000 people, up to 3,000 hotel rooms, and jobs for up to 45,000 people are scheduled to be built on the 157-hectare site. In addition, up to 10,000 school and university students and approximately 50,000 customers and tourists are anticipated, which means, after completion, more than 120,000 people will revitalize the district on a daily basis.
The project is located on historic grounds: HafenCity Hamburg is made up of the former harbor areas of the Großer Grasbrook and the Speicherstadt on the former islands of Kehrwieder and Wandrahm. It, thus, includes the separate areas of the neighboring districts of Altstadt, Rothenburgsort, and Klostertor. As a result, the southern Überseequartier builds a bridge between tradition and modernity.
Images: Saguez & Partners / Unibail-Rodamco (Click to enlarge)
Tailor-made areas for brands
In terms of retail, roughly 200 shops on 80,500 sq m will be offered. They will be characterized by a diversified mix, which is in line with the quarter's overall gastronomy and leisure offer on additional 21,000 sq m.
"We focus on a wide range of sectors. In addition to local favorites, customers will find premium international retailers and various flagship stores. Unibail-Rodamco will provide these brands with tailor-made areas, which have not been available in Hamburg until now. We want to make a significant contribution to the process of developing Hamburg into one of the most attractive European and international shopping destinations. In addition, due to the targeted acquisition of Westfield Corporation, Unibail-Rodamco has the best access to successful British and American brands and concepts that are not available in Germany yet. At this point in the project planning process, it is customary to conduct intensive negotiations with various potential rental partners", Hohlmann clarified.
As is true for the entire project, innovation is a top priority with regard to retail space. Unibail-Rodamco can make use of various in-house innovations: Visitors could be attracted, among others, by "Digital Dream", where they can plunge into an artificial digital installation via oversized indoor LED screens. "The Dining Experience" is a gastro experience with a mixture of local and regional restaurants, international dining concepts and culinary highlights from around the world. "Fresh!" is a market hall concept that combines popular main street concepts with tasting stands and local producers.
Images: Moka Studio / Unibail-Rodamco (Click to enlarge)
Transparent communication with residents
Given the size of the project – and, of course, the current construction site – Unibail-Rodamco has made the development of the southern Überseequartier extremely transparent.
Various information services, such as Whatsapp newsletters, have been created. In addition, there is an information pavilion on Osakallee, which is open Tuesday to Sunday from 1:00 PM to 6:00 PM and is staffed with employees who are capable of providing information. Furthermore, Unbail-Rodamco regularly organizes freely accessible information events.
Hohlmann is very pleased with the way offers are being accepted: "Our InfoPavillon is frequently visited by interested people from Hamburg and tourists alike. As activities at the building site proceed, awareness of and interest in the project has steadily increased. We have already had several events to discuss our project with neighbors, citizens, and stakeholders, and we are very grateful for the intense exchange. On this basis, we have also planned various workshops. But it is clear that this is just the start. We will intensify this exchange in the next years. Close cooperation with everyone involved is our number one priority – we are developing the district together with and for the benefit of Hamburg."
---
Distribution of area
80,500 sq m of retail space: approximately 200 shops on three levels, local brand offerings, flagship stores of international premium brands, iconic shop fronts, four-star labels
64,000 sq m of office space: approximately 2,400 office workplaces
Approximately 650 apartments
Three hotels (economy to premium class) with approximately 850 rooms
21,000 sq m of culture, entertainment, and gastronomy space: flagship movie theater with 10 screens, space for markets, cabaret, and events, "dining experience" with international and local restaurants, including themed gastronomy
10,000-square-meter cruise ship terminal
---
Sign up for our ACROSS Newsletter. Subscribe to ACROSS Magazine.