The top players in the industry are unveiling their current shopping center projects in Cannes again this year, as they have for many years now. The journey from stand to stand among the most outstanding developments presented at MAPIC promises excitement and variety. In addition to new malls, refurbishments and extensions will be presented at the International Commercial Property Exposition.
FOCUS ON US AND CHINA
On this, its 20th anniversary, MAPIC is focusing on two leading territories in the retail property sector: the United States and China – including with regard to project pipelines. Natahlie Depetro, the event's director, explains: "The United States has been represented at MAPIC since it first began and has been both a pace-setter and a leader in retail property and distribution for decades. Experts anticipate that there will be even greater opportunities in this country in the coming years. China, which began attending the event more recently, is growing at an exponential rate. It will be a focus of attention this year due to the rise of digital commerce and to the shopping center fever that has taken hold of Chinese developers."
The developer American Management will unveil its American Dream project. Billed as the world's largest shopping center, with a surface area of over 720,000 sq m, this site is expected to attract 40 million visitors a year (see page 42). China, itself a retail property market giant, will be represented at MAPIC 2014. One of the companies there will be Jihua, which will present its broad portfolio of preferred sites for shopping and leisure – including Jihua Park Changchung (see below).
BELGIUM | MALL OF EUROPE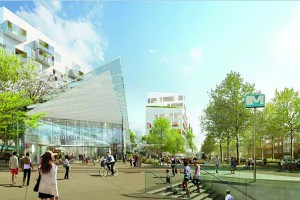 MALL OF EUROPE, IMAGE: UNIBAIL-RODAMCO
Unibail-Rodamco has been selected by the City of Brussels, with its partners CFE and BESIX, as the new co-developer of the NEO 1 project. This mixed-use project encompasses 590 housing units, two day nurseries, 3,500 sq m of offices, a retirement home and a 112,000-sq m area dedicated to leisure, restaurants, and retail to be called the Mall of Europe. Unibail-Rodamco will develop and operate the €550-million Mall of Europe, with 230 units, four-star services, iconic shopfronts, a 9,000-sq-m Dining Experience with 30 restaurants, the largest cinema in Belgium with 4,000 seats and the first indoor "Spirouland" in the world at the heart of a 15,000-sq-m leisure center. The project, expected to open in 2021, aims to attain a BREEAM Excellent certification.
RUSSIA | RIVIERA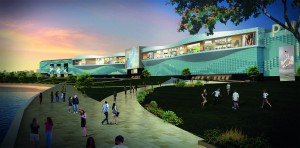 RIVIERA, IMAGE: PRAKTIKA DEVELOPMENT
Opening in the fourth quarter of 2015, the 97,000-sq-m Riviera center is situated on Moscow's Third Ring Road, giving it access to more than 3.7 million people within a 30-minute radius. Footfall is expected to reach 55,000 visitors per day. The three-story scheme will house more than 300 shops, cafes, and restaurants, as well as underground parking for 3,000 cars. Anchor tenants already in place include an O'KEY hypermarket and an Azbuka Vkusa supermarket. The tenant mix will encompass sports, products for children, electronics, and home appliances. In addition, there will be a multiplex cinema and kids' entertainment center.
TURKEY | FORUM ADANA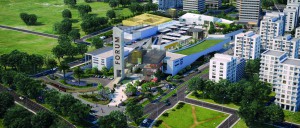 FORUM ADANA, IMAGE: ERA
Multi Development's Forum Adana in southern Turkey is an open-concept commercial center located in a hot and humid climate favorable for open spaces. The architectural and landscape concept has created playful and quality spaces enriched by the shadow and light effects inspired by the climate. The building is a candidate for a BREEAM Gold Certificate. With total a construction area of 108,000 sq m, the building is structured along two main east-west axes containing a supermarket, cinemas, cafes, and restaurants. Streets and squares allow a variety of performance and activity areas. Completion is scheduled for late 2014.
FRANCE | FORUM DES HALLES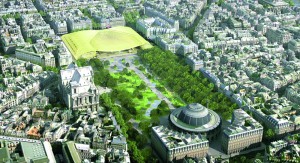 FORUM DES HALLES, IMAGE: UNIBAIL-RODAMCO
The district of Les Halles in Paris has always been exceptional: It is located in the hyper-center of the capital, including the biggest public transport hub in Europe, inspiring spectacular architectural projects. Le Forum des Halles is being reborn and will be opened in late 2015. With 75,300 sq m of floor space, the new Forum des Halles will offer visitors an accessible destination with cultural spaces, bars, restaurants, and four-star services. It will become a living place for shopping. The outstanding canopy designed by Patrick Berger and Jacques Anziutti will allow natural light to flood the spaces and create a unique atmosphere for leisure, culture and shopping.
CHINA | HAPPY MALL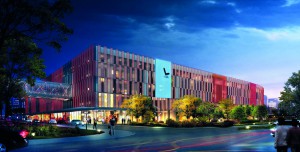 HAPPY MALL, IMAGE: ERA
Happy Mall in Yingkou in northeastern China is an open-concept shopping center on an 80,000-sq-m construction area. A Macalline store is located next to the mall, linked to the complex. The tenant mix will focus on furnishings and products for the home. ERA's conceptual theme is based on creating beautiful inner courtyards with landscape elements, reflecting pools and canopies. While breaking the horizontal nature of the mall, the vertical canopies also provide climate control for all seasons, including sun shading and blocking rain. The facade is designed as a single module, a box, with iterations to create a more complex effect.
POLAND | WROCLAW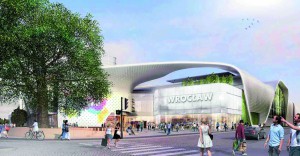 WROCLAW, IMAGE: UNIBAIL-RODAMCO
Unibail-Rodamco will invest €218m to create a 64,000-sq-m-GLA retail space with 210 stores, a prominent leisure component, and the biggest parking area in the center of Wrocaw, the city with the second-highest purchasing power in Poland. The opening of the project is scheduled for autumn 2017. Due to its innovative design, this new shopping center will be a landmark on Wroclaw's architectural map. It will also be a place for cutting-edge concepts and new entries to the market. Unibail-Rodamco has already welcomed premium retailers' first stores in Poland, such as Hollister, Gap, Vans, and Neo. The shopping center will benefit from unrivaled accessibility thanks to its location in the heart of the city. Moreover, the project will gather the best of Unibail-Rodamco's quality standards: the four-star shopping experience and the first Dining Experience in the city.
CHINA | JIHUA PARK CHANGCHUN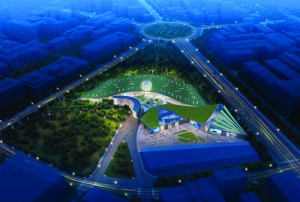 JIHUA PARK CHANGCHUN, IMAGE: JIHUA GROUP
Jihua Park Changchun will offer consumers a shopping experience that will combine quality brands at competitive pricing, sport hubs with modern equipment, hotels, restaurants, and wellness facilities. The sports facilities will be an important element of Jihua Park, with a special focus on indoor applications: skiing, free-falling, free climbing and surfing will be just some of the activities visitors will be able to take part in – at competitive prices and in complete safety. The shopping center in the 190,000-sq-m scheme will measure 40,000 sq m. Completion is scheduled for 2015. Changchun is located in Jilin Province in northeastern China.
CHINA | JIHUA PARK CHANGCHUN, IMAGE: JIHUA GROUP
SPAIN | PALMA SPRINGS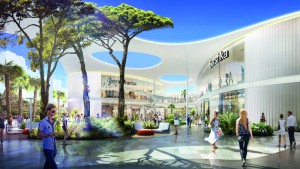 PALMA SPRINGS, IMAGE: UNIBAIL-RODAMCO
With 13 million visits per year, Mallorca is one of the most popular regions for tourism in Europe. Its 900,000 inhabitants enjoy above-average wealth, making it one of the richest Spanish regions. Palma Springs, one of the most modern and innovative retail projects in Europe, will rise in Playa de Palma. Providing a GLA of 75,000 sq m with a balanced retail and leisure offer, Palma Springs will be the largest mall on the island. Unibail Rodamco chose the Architects Vicens y Ramos who designed a spectacular landmark inspired by Miró with organic shapes and volumes, pure white tones, and spectacular storefronts. The promenades, designed by Saguez & Partners, will incorporate quality and comfortable materials in a Mallorquin spirit. More than 10 million visitors per year are expected to benefit from this unique retail place by the end of 2016, completed by a full leisure offer, including an open-air dinning plaza, a fresh food deli market, and a 6,000-sq-m 12-screen cinema.
ITALY | WESTFIELD MILAN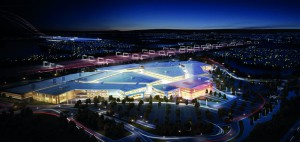 WESTFIELD MILAN, IMAGE: WESTFIELD
Developed by Westfield and Arcus Real Estate, the 175,000-sq-m Westfield Milan development will feature over 300 stores. It will be a luxury village with cinemas, leisure, entertainment, 50 restaurants, parking for 10,000 cars, and the latest in digital technology and signature shopping and tourism services. Westfield Milan has a compelling catchment with a market potential of €4.9 billion and a population of over seven million people. Milan has one of the highest per capita retail spends in Europe but suffers a major undersupply of shopping centers. The project will therefore create a significant opportunity for international and Italian retailers to capture spend in a key global shopping destination. It is expected to will deliver sales in excess of €1 bilion.
RUSSIA | YAROSLAVSKOE SHOSSE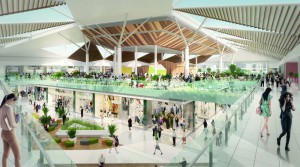 YAROSLAVSKOE SHOSSE, IMAGE: ESSENCE DEVELOPMENT
The Yaroslavskoe Shosse center is conveniently located 4.7 km from Moscow Ring Road close to the suburbs of Korolev and Mytishi. The 88,000-sq-m-GLA center will cater to one of the largest catchments in the north-eastern Moscow region. It will accommodate more than 200 retailers and serve a population of approximately 1.5 million residents. Designed by RTKL, the mall's strong anchors, fashion boutiques, and entertainment are expected to draw footfall in excess of 50,000 visitors per day. The opening is scheduled for early 2016.
FRANCE | OPEN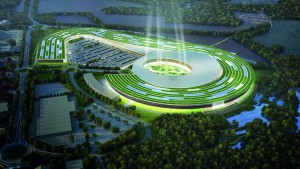 OPEN, IMAGE: CHAPMAN TAYLOR
Open is an innovative and animated place for shopping, leisure, sport, recreation, and work. The project is located in Saint-Genis-Pouilly in eastern France. Open's impressive design features remarkable architecture and an intelligent roof that blends into the landscape while providing a spectacular view of the Alps and Jura mountains. Beyond its aesthetics, the roof also has an environmental functions as it regulates temperature, filters light, collects rain water, and produces energy with its photovoltaic systems. The project is part of a High Environmental Quality scheme to reduce this development's impact on the environment. This zero-energy project is the first of this kind in its category in France.
USA | AMERICAN DREAM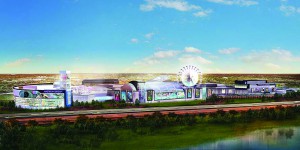 AMERICAN DREAM, IMAGE: TRIPLE FIVE
Triple Five is the owner and developer of the two largest mixed-use properties in the world – West Edmonton Mall and Mall of America. Now it is planning an unparalleled global destination just five miles from Manhattan. The 250,000-sq-m American Dream will feature over 400 retail, restaurant, and service locations including a DreamWorks theme park & water park; a Big Snow America indoor ski and snowboard park; the DreamView observation wheel; a walk-through aquarium; an indoor ice rink; luxury movie theaters; a Legoland discovery center; an FAO Schwartz flagship store; a $130 million (€102 million) Cirque du Soleil theater featuring 1,800 seats and a new show; stores for Saks Fifth Avenue and Lord & Taylor; 2,000 hotel rooms; and convention facilities.
UNITED KINGDOM | EDINBURGH ST JAMES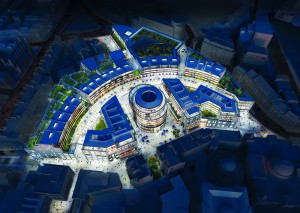 EDINBURGH ST JAMES, IMAGE: TIAA HENDERSON REAL ESTATE
TIAA Henderson Real Estate's £850 million (€1.06 billion) Edinburgh St James development is one of the biggest mixed-use regeneration projects currently underway in the UK. On completion, Edinburgh St James will comprise 93,000 sq m of prime retail, food, and leisure space and will be anchored by John Lewis. It will include one high-end hotel, up to 250 new homes, and will generate up to 3,000 permanent jobs. Edinburgh St James will strengthen Edinburgh's reputation as a vibrant and leading capital city, extend the city center's retail pitch, and help Edinburgh rise six places in the UK retail rankings to seventh overall. As a World Heritage site with solid transport links and a tourism trade second only to London (generating spend of £260 million each year), Edinburgh St James will put Edinburgh on the international map as a global retail and leisure destination. Cushman & Wakefield is advising the developer.
QATAR | PLACE VENDÔME


PLACE VENDÔME, IMAGE: UNITED DEVELOPERS
Place Vendôme is currently under development in Qatar's emerging Lusail City with a total construction area of close to 800,000 sq m. It will feature retail, leisure, entertainment, and luxury spaces packaged into a one-stop family destination by the sea. Situated eleven kilometers from the center of Doha, the mixed-use development will host two five-star hotels, serviced apartments, up to 400 different retail outlets and a central entertainment component. In addition, the retail portion of the development will boast an exclusive section dedicated to unrivaled luxury, featuring the most elite brands. Place Vendôme is set to become a new destination for the region, slated for opening in the third quarter of 2017.
RUSSIA | NAGATINSKAYA POYMA PARK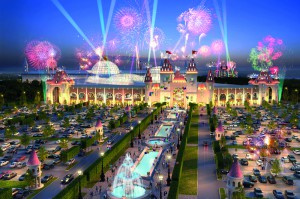 NAGATINSKAYA POYMA PARK, IMAGE: REGIONS GROUP
Located in Moscow's Southern Administrative District, Nagatinskaya Poyma Park will be a mixed-use complex featuring a year-round DreamWorks theme park, a concert hall, a yacht club, a themed retail area, movie theaters, cafes and restaurants, and a landscape park. The outdoor area will feature a Ferris wheel providing a panoramic view of the Moskva River. With convenient transport accessibility, daily visitor traffic at the complex is expected to reach 70,000 people.
UNITED KINGDOM | WATERMARK WESTQUAY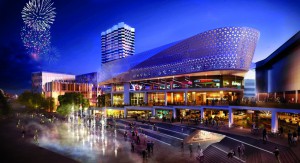 WATERMARK WESTQUAY, IMAGE: HAMMERSON
Hammerson has started assembling the leisure line-up for Watermark WestQuay, its £70 million (€87 million) development in Southampton. It has already secured National Amusements' luxury cinema brand Showcase Cinema de Lux for a proposed 10-screen digital cinema. The project will also include 20 new restaurants and an exceptional new piazza for the city. Work on Watermark WestQuay started on site in autumn 2014 with the development opening in autumn 2016.
FRANCE | JEU DE PAUME JEU DE PAUME, IMAGE: HAMMERSON
With a GLA of 24,000 sq m, 86 shops and restaurants, and 830 parking spaces, Hammerson's new Jeu de Paume shopping center will open its doors in Beauvais in September 2015. This new mall in northern France will be exceptionally accessible, as it is located at the heart of a region with 250,000 inhabitants. Among other brands, it will welcome Carrefour Market, H&M, Sephora, and Le Furet du Nord.