The number of visitors at Immofinanz retail properties grew strongly in 2018: More than 142 million customers visited the STOP SHOP retail parks and VIVO! shopping centers with its over 800,000 sqm of rentable space. That represents an increase of roughly 20 million visitors, or 16.7%, over the previous year. On a like-for-like basis, i.e. after an adjustment for acquisitions, sales and completions, the number of visitors rose by 4.8% to approximately 128 million. The retailers operating in the Immofinanz retail parks and shopping centers generated a year-on-year increase of gross sales revenues by nearly 5.0%.
"These outstanding frequency and revenue indicators confirm the success of our customer-oriented brand policy for the retail sector. The 142 million visitors recorded in 2018 represent nearly the total population of four of our core markets: Austria, Germany, Poland and the Czech Republic," explained Dietmar Reindl, COO of Immofinanz. "Based on average revenues per square meter, the retailers in our Stop Shops and VIVO!s generated solid retail revenues of approximately EUR 1.6 billion over the past year."
This positive development is also reflected in Immofinanz's like-for-like rental income from the retail business which, after an adjustment for acquisitions, sales and completions, rose by 4.1% in 2018.
"Our tenants value the standardized and decentralized shopping formats that we have developed for the Stop Shop and VIVO! properties. These concepts stand for good value for money, as well as high quality and recognition value–at locations in nine countries," commented Gerald Grüll, Head of Asset Management Retail at Immofinanz. The largest tenants in the retail sector include international top brands like H&M, C&A, Deichmann, KiK, dm, Takko, JYSK, LPP, the Inditex Group, CCC, Pepco and NewYorker.
The advantages of having a brand
How can I establish a brand? Moreover: What are the advantages of having a brand in the retail real estate industry? Bernhard Klein, Head of Group international Marketing and Brand Management at Immofinanz, about the brand development and brand strategy in case of Stop Shop, "Our Stop Shops always look the same, always have the same catchment area, are always located in secondary or tertiary cities, are always L-, I-, or U-shaped, always have the same kind of roof, and always include the same tenant mix." The resulting advantages are numerous. "We are, therefore, more flexible, leaner, and more cost-effective. When a new Stop Shop is opened, we don't have to worry about what the property will look like. A uniform corporate and architectural design is already in place. We know what the walls and the ceilings will look like, what flooring will be used, and what light fixtures will be installed. In short: The plans are kept on file and can be implemented immediately."
Why People Visit Retail Parks
Currently, the Immofinanz brand concept for retail parks is unique in Europe. This is not likely to change in the near future. In the past, mainly individual investors established retail parks for investment purposes. Bernhard Klein, "They are never advertised either. Customers usually find them on their own due to the fact that they provide daily essentials, such as toilet paper, detergent, and dog food. In our case, retail parks are brands. However, a brand is not just a name."
Stop Shop's former communication model: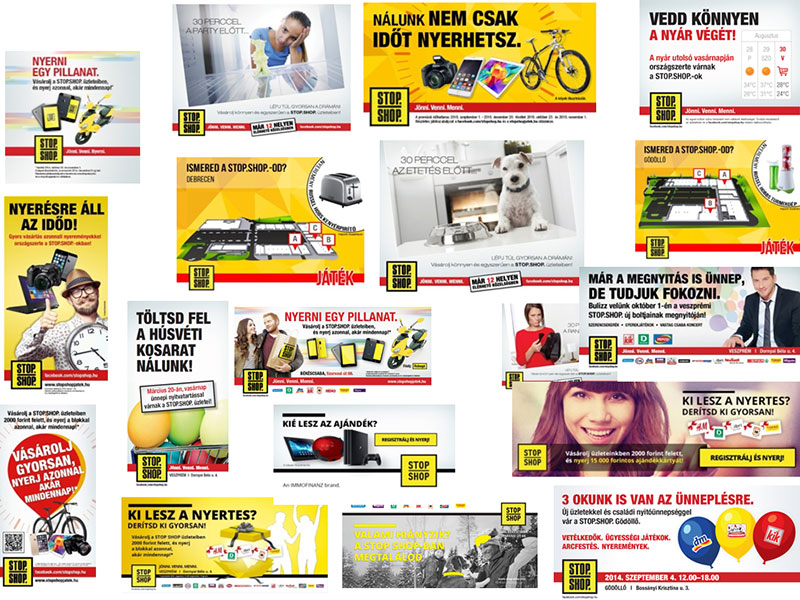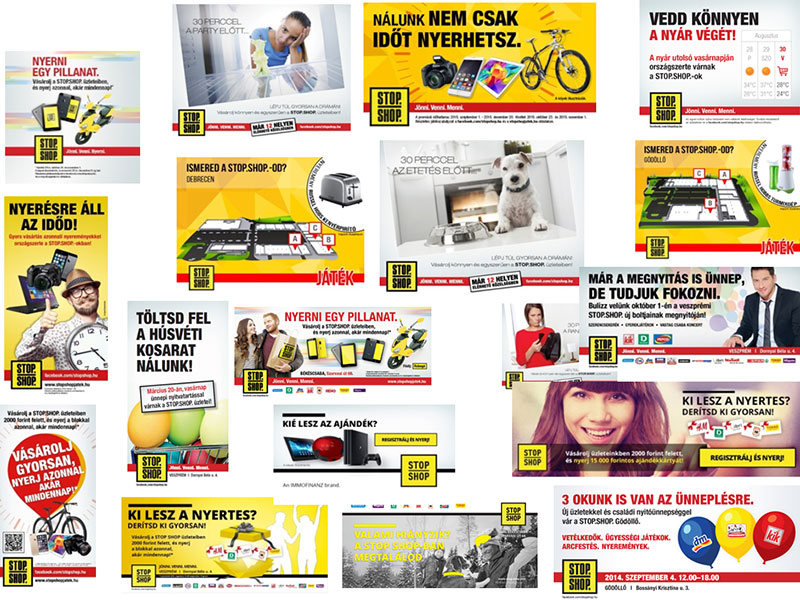 The new, centralized retail campaigns that were launched in autumn 2017:
Credit: Immofinanz

Credit: Immofinanz
What, then, is a brand? Basically, brands serve as nothing more than positive preconceptions. The positive preconception associated with the Volvo automobile brand, for example, is safety. The marketing experts at Immofinanz have attempted to find out why people choose certain brands or, more specifically, why they shop at Stop Shop. "The results: Customers don't visit Stop Shop locations primarily to use the free Wi-Fi signal, diaper-changing rooms, or playgrounds – although this are important ingredients to increase the quality of stay. The top three reasons they visit our Stop Shop locations are, in fact, quite trivial. Accessibility is good, the offers are affordable, and the tenant mix is special at all of our retail parks. Accordingly, the advertising campaigns in all "Stop Shop countries" have also been modified and standardized. Before the brand was launched, the national managers were primarily responsible for their marketing campaigns in the respective country. As a result, a uniform public image was virtually impossible to achieve. Today, campaigns are managed by the Immofinanz headquarters in Vienna. "We have thereby created a uniform brand identity at significantly reduced and manageable marketing costs," said Bernhard Klein. Immofinanz is currently targeting the top three Stop Shop brand drivers in its campaigns.
"We are just around the corner" (easily accessible), "With us, your pockets will never be empty" (affordable prices), and retailers' logos (best tenant mix) can now be found on Stop Shop advertising displays. The brand psychology behind: "The more I give customers what they expect by way of marketing and advertising, the more likely it is that an economic effect will be generated. In addition, the more a customer trusts me, the less I have to advertise my brand".
Advertising Across All Channels
However, Stop Shop does not completely dispense with advertising and marketing. All traditional advertising channels, such as posters, direct mail, TV and radio, regional newspapers, street promotion, as well as many other formats are used. The Immofinanz team spent several months working on the social media strategy. Bernhard Klein, "We are one of the few retail park operators in southern and southeastern Europe to invest in advertising at all. In doing so, we have created a massive competitive advantage for ourselves. We have increased awareness for our business and have deliberately made ourselves relevant." It is an investment that appears to be paying off.
About Stop Shop
Stop Shop currently operates at 80 locations in nine countries across Europe. Stop Shop's business structure is based on a uniform appearance. As a result, every location in every country is highly recognizable. Stop Shop's approach is distinctly customer-oriented. Defined architecture and special services, such as green areas and children's playgrounds, gain the retail parks even more popularity within its target group. The gastronomy segment offers trendy street food concepts and engages regional producers as well.