Shopping centers serve a variety of needs. In addition to shopping, a congenial atmosphere in a pleasant, relaxing environment is increasingly important. People don't just come to shop; they are looking for a special leisure experience. "Customers today are mobile, get information on location worldwide, and buy over the internet from other countries. They therefore know the current quality standards and features that shopping centers offer their customers," stresses Karl Reinitzhuber, CEO of mfi AG. "Certain features that were previously available only in metropolitan areas are now demanded in centers in medium-sized towns, so-called secondary cities."
Minto in Mönchengladbach is a new center that meets such visitor preferences. The medium-sized industrial town on the Lower Rhine has excellent transport links. 1.3 million people live and work within a radius of 30 minutes travel time. There are also around 300,000 inhabitants in the Dutch border area. "They can all benefit from Minto's offer because there are no comparable retail concepts in the surrounding area," Reinitzhuber explains.
Feel at home, relax, pursue various recreational activities, meet friends, and stimulate all the senses. This multi-sensory experience makes shopping centers a "third space." "Third spaces" are open to the public, unlike private apartments and workplaces. They allow visitors to spend their time there in a stimulating atmosphere in accordance with their own wishes and ideas. They act as a sort of outsourced living room. Shopping there is only one of several options. The feel-good factor is a very high priority in Minto.
4-STAR LABEL AWARDED
"Minto is the first center in which all the Unibail-Rodamco Group's innovations were introduced. Visitors find multisensory shop facades and a variety of dining establishments. At the same time, it is the first shopping center in Germany that was awarded our 4-star label from the very beginning," says Reinitzhuber. This label, which Unibail-Rodamco developed together with the certification company SGS, is oriented around the service and amenity features of the hospitality industry. The initiative represents the highest level of quality, service, and shopping experience. In order to obtain the 4-star label, a shopping center has to meet an extensive set of conditions. These are verified by SGS as part of a detailed, two-day inspection of all the criteria. Minto is the second center in Germany to meet these quality standards after Pasing Arcaden in Munich.
"The 4-star label highlights the interpersonal and interactive side of shopping in the center," mfi's CEO describes mfi/Unibail-Rodamc's motivations. "We wanted to create a place for relaxing, enjoying, and experiencing – for multisensory experiences." 104 shops are located on 41,864 sq m spread over four levels, including 22 different dining and gourmet offers (10.5% of the GLA). Events like cooking demonstrations take place in both the shopping concourse and in the dining area "Mintos Deli." Highlights for fashion seekers include international labels like Forever 21, Reserved, Liebeskind, and Desigual. A novelty is the Mönchengladbach menswear brand Fynch-Hatton's first store of its own.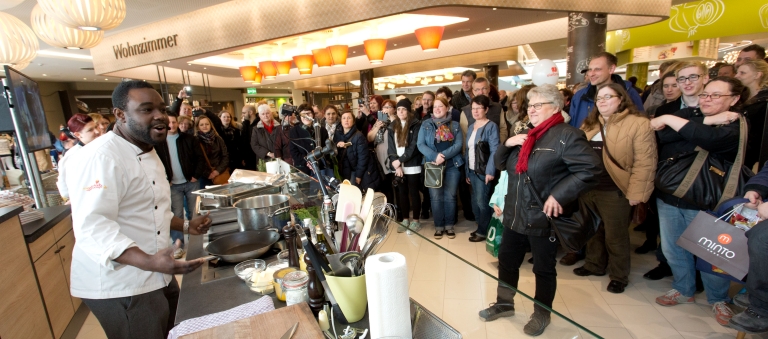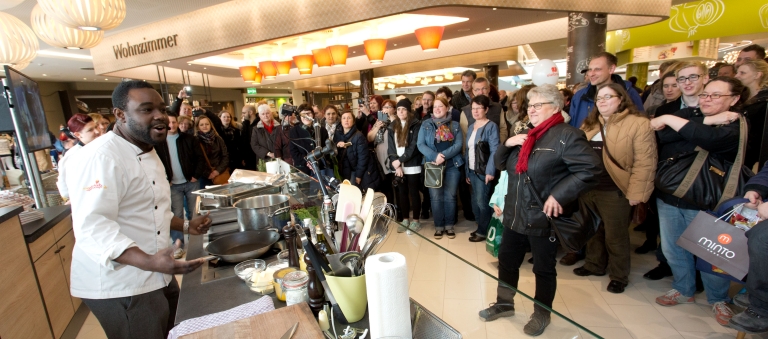 It took two and a half years before the building was finished, with its characteristic wavy exterior facades of ceramic in warm earth tones. The curved slats on the outer facade attract the attention of passers-by to the mall's entrances. "Minto increases the attractiveness of Mönchengladbach's city center and strengthens the city's profile," Reinitzhuber asserts. "This results in positive effects for traditional Mönchengladbach retail, for example in the neighboring Hindenburgstraße."
MULTISENSORY HIGHLIGHT SHOP FACADES
The facade design plays a crucial role not only on the outer walls, but also inside. It centers on a multi-aesthetic approach to visitors. "We implemented a special architectural and design concept," says Reinitzhuber. "The Highlight and centerpiece of the concept are our multisensory highlight shop facades, which extend over several floors." They are made of different materials and form different shape, color, sound, and fragrance worlds. "The five facades transport the visitor through a synesthetic combination of materials, sound, and scent design into different moods," explains Martina Fecke, Head of Interior Design at mfi.
The "Green Point" facade, for example, consists entirely of real plants. Its fresh aroma of mint and lime and recorded natural sounds like wind and birdsong awaken associations with summer wildflowers and embody energy and spirituality. The metal sequins of the "Glamour Walk" façade symbolize the modern, fashion-conscious lifestyle. The "Fluid Flow" facade is characterized by colorful, organic forms that exude peace and relaxation, much like a lava lamp. The fine leather of the "Noble Sensation" facade in turn stands for nobility. The "Frame Yourself" animated façade encourages customers to interact with it. These facades, too, entail matching scents and sounds.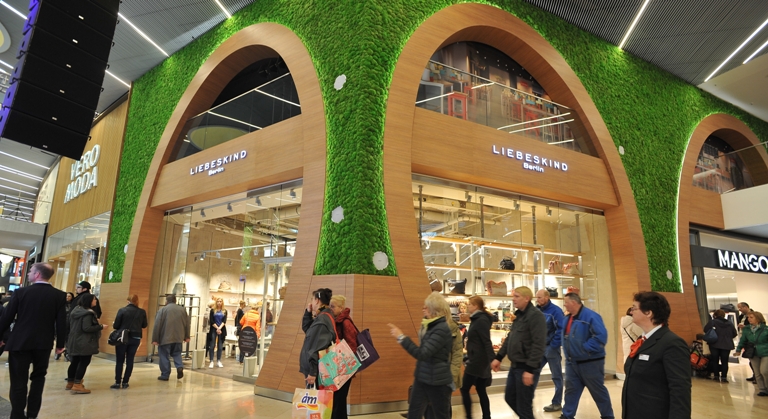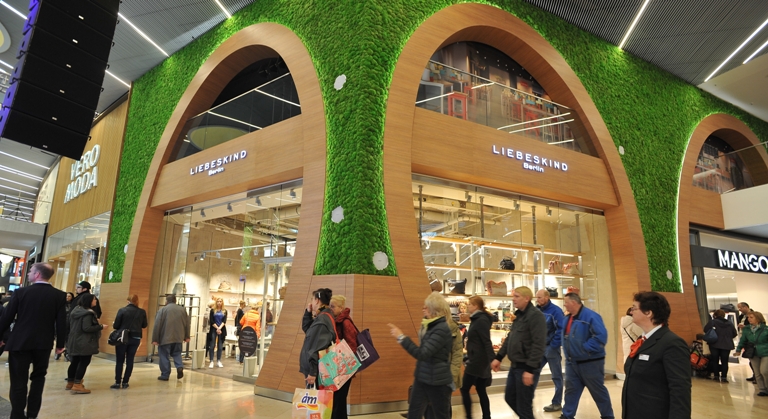 The interior work on Minto was completed predominantly with regional, eco-friendly materials. Already during the construction phase, the German Sustainable Building Council (DGNB) therefore awarded the shopping center with its pre-certificate in gold. In addition, mfi/Unibail-Rodamco are aiming for a "very good" BREEAM certification for Minto. "I'm sure we'll write a real success story with this shopping center, which is in many respects groundbreaking. The response from customers has been consistently positive," says Reinitzhuber. More than 1 million visitors enjoyed Minto's amenities in the first four weeks after its opening in March 2015.