HMSHost has developed five outstanding food & beverage concepts for the 'Stadskamer'; a new building that is being constructed by Klépierre, the European specialist in shopping centre properties. An area entirely focused on eating and drinking.
The wide range of food and beverages will create an inviting atmosphere that will attract all kind of customers. They can relax and sit down or order refreshments to take away.
The opening of five restaurants in the city centre of Utrecht will take place in two phases.
In October 2017 HMSHost will open LEON, the naturally fast food chain from London, a brand that HMSHost introduced to the Netherlands in 2016.
It is also the first opening of Comptoir Libanais in the Netherlands. This humble and fun Lebanese canteen serves healthy, simple Lebanese home style cooking in an authentic, friendly and colourful design. It comes with a souk where you can buy typical Lebanese & Middle Eastern ingredients that are usually hard to find on the high streets. Comptoir Libanais was founded in London in 2008 and now has 17 restaurants in the UK.
The third concept that will open during the first phase is Burger Federation, an HMSHost proprietary concept, which is operating already in Designer Outlet Roermond. Burger Federation responds to the customer's growing demand of high quality meat, serving both locally and internationally inspired burgers made from local and sustainable ingredients.
At the beginning of 2019 the second phase will be finished, including Two Tigers offering an outstanding mix of new and classic Pan Asian cuisine and Bistrot Bakery with a variety and richness of authentic flavours that makes this concept the right concept for people who really care about quality.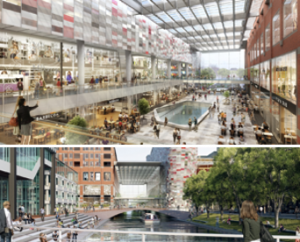 Walter Seib, CEO of HMSHost International: "The new Hoog Catharijne shopping mall with the Stadskamer as home of the food and beverage will be the lifeblood of Utrecht and shopping people in The Netherlands. We're proud to work closely with Klépierre that gives us the opportunity of entering the downtown channel. This offers us many opportunities to show our capability of being the perfect host everywhere where people are on the move. Together with our strategic partners and brand partners, we will create places where people want to be."
Hoog Catharijne is not only the geographic axis between the old city centre and Utrecht's Central Station; it is the place to go for good old-fashioned Dutch shopping. With more than 26 million visitors a year, Hoog Catharijne is the most frequently visited shopping centre in the Netherlands. Its central location – next to Utrecht's Central Station and bus station and with extensive parking facilities within walking distance – makes Hoog Catharijne the shopping heart of the Netherlands.
Starting in 2017, Hoog Catharijne's shopping experience will become even more special thanks to the extension and refurbishment project. Movie theatres, 600,000 sq m of offices (meaning 33,000 jobs), a hotel and a casino will further enhance this shopping destination. This project is part of a vast urban renewal plan that also calls for an expansion of the train station that will accommodate the 90 million passengers a year.
Follow ACROSS on