Anyone who is keen to start the new year with some new ideas, updated knowledge, a selection of products that are bang-on trend, and some positive business contacts, will find a supply of all these things at the international trade fair for seasonal and festive decoration.
Christmasworld in Frankfurt am Main, from January 27 to 31, 2017, with over 900 international exhibitors, will provide inspiration for new product lines, shop layouts, and window displays. In addition, the event's program will contain expertise and practical know-how with suggestions that individual trade buyers can use to attract customers.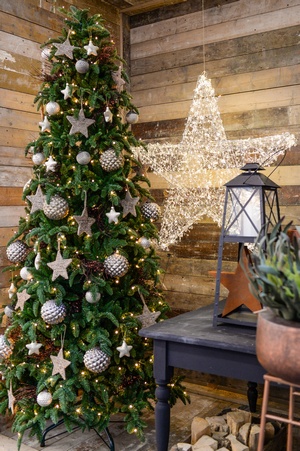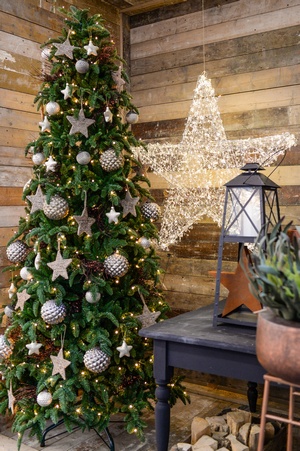 "We expect all participants from the wholesale, retail, and decoration-sector markets to take away some stimulating new ideas for a lucrative and successful festive season from our program of events," says Eva Olbrich, Director of Christmasworld at Messe Frankfurt Exhibition GmbH.
For the high-street retail trade, Christmas remains the top-selling time of the year. "Things that are particularly effective during this period—like the beautiful, emotive staging of products and storytelling—can definitely be transferred to the rest of the year, as our special shows and lectures demonstrate," adds Olbrich.
As a result, the extensive complementary program bank on new growth potential—both for Christmas and for every other occasion and festival throughout the year. Here is a summary of the highlights:
Premium Business Program with new Premium Lounge
This networking and lecture program is aimed at top international decision-makers involved in interior and exterior decorations in shopping centers, companies in the wholesale and retail trades, municipal authorities in towns and villages, operators of Christmas markets and leisure parks, innovative designers, and decoration consultants.
The agenda includes lectures on best practice by well-known experts from the sector. They will cover, for instance, the question of how retailers can best use light to create a scenario at the point of sale that will increase customer footfall.
Christmasworld is organizing the Premium Program jointly with the German Council of Shopping Centers (GCSC) and the German Association of City and Town Marketing. The next event will also have a new concept, over several days of the show—the Christmasworld Premium Lounge, Hall 11.0. Registration is free of charge and is available from end of October onwards at: www.christmasworld.messefrankfurt.com/premium
 "Surprise, Surprise"
The clue is in the name of the new Special Show by 2Dezign. Trade buyers will be transported to a new world and overwhelmed by this setting of seasonal and festive decoration in sugar-and-candy colors. Buying is set to become an emotional experience—and not only at Christmastime.
Rudi Tuinman and Pascal Koeleman from 2Dezign have now designed special displays, unique in both their size and impact, for six years. As a result, they have been inspiring the trade to create extravagant displays for large-scale public areas, shop windows, and sales floors that magically attract customers through the completely unexpected effects they present.
It is the perfect stage setting for appropriate decorative elements from our international exhibitors, which, of course, can then also be combined with lots of fresh flowers and plants. Here too, all materials and products used bear the name of the exhibitor and the number of their stand—right down to the fresh flowers that can be ordered in Hall 11.1.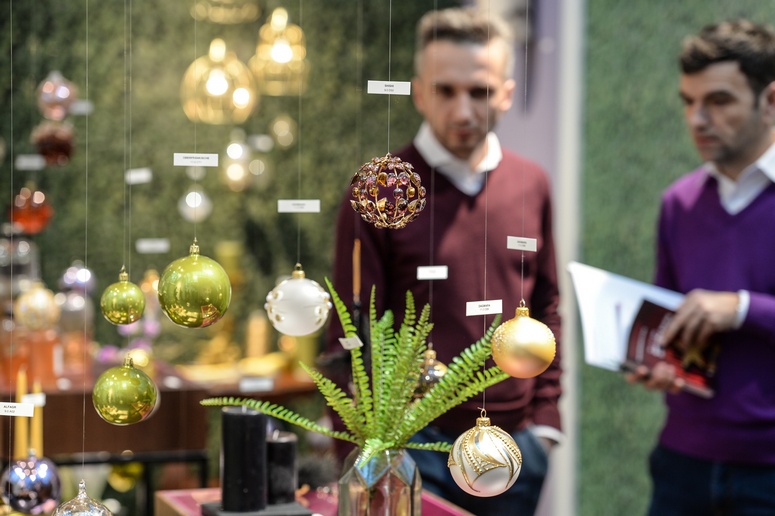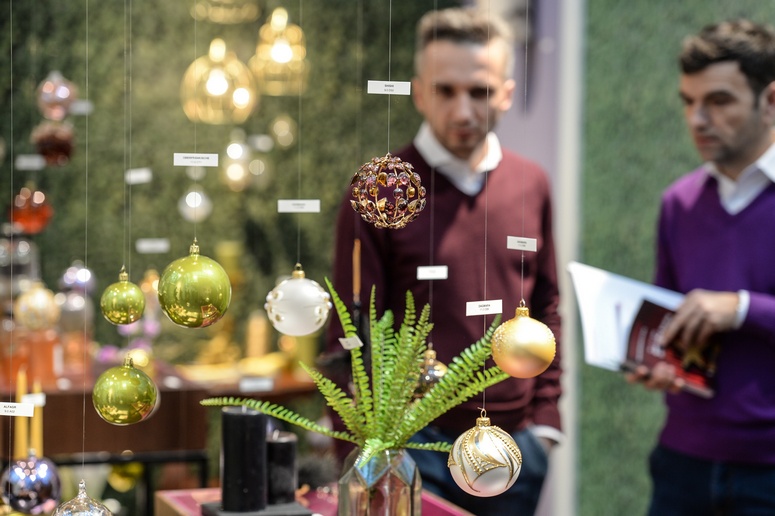 Trend Show "Delightful moment"
Derived from currents in society and in interior design, the Bora.Herke.Palmisano Trend Bureau will provide helpful suggestions for putting together retail product selections in the Christmasworld Trend Show. They have called their new leitmotif for the 17/18 festive season "Delightful moment."
They are staging four scenarios using the exhibitors' products, which conjure up a particular festive moment in each case—"a fanciful celebration of joy," "a valuable handling with tradition," "a gentle touch of nature," and "a distinctive figure of modernity."
All buyers need to do is choose the highlights for their own individual collections from this carefully pre-selected range of the up-coming themes, colors, designs, and materials. All the products used in the scenarios are identified with the name and stand number of the relevant exhibitor.
There will be lectures and guided tours on the trends every day—at 11:00 a.m. and 1:00 p.m. from January 27 to 30, 2017, and at 12:00 noon on January 31, 2017. The Trend Book to go with them is available free of charge at the new location in the Foyer of Hall 11.0.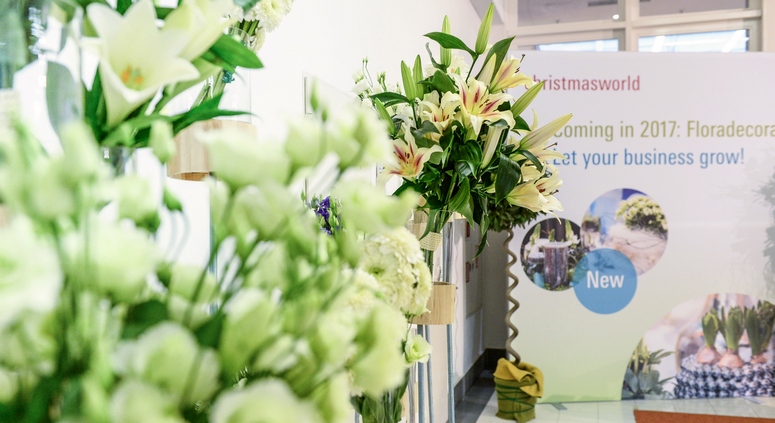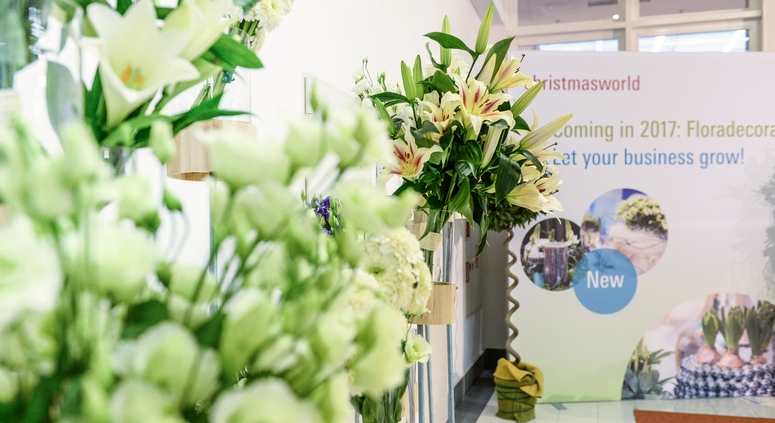 New: Floradecora
Be it for Valentine's Day, Easter, Mother's Day, weddings, or garden parties—the year offers many happy moments beyond Christmas, all of which cry out for decoration. There is no excuse for not including fresh flowers, decorative plants, and effective flower arrangements.
From 2017, Floradecora will offer precisely such products at Christmasworld so that, in the future, buyers will not only be able to order "hard" decorative goods in Frankfurt, but also fresh flowers and plants for their selections of seasonal and festive decorations.
This innovative trade-fair concept, designed for immediately-available flowers and plants, will be launched with a staged display area and its own program of workshops and lectures in Hall 11.1.
About Christmasworld
Christmasworld is an important order venue for the international decoration and festive articles sector. Held annually in Frankfurt, it presents the latest products and trends for all festivities of the year and provides innovative concept ideas for decorating large-scale and outdoor areas for the wholesale and retail trades, shopping centers, home improvement warehouses, and the green sector.
The last event was attended by 953 exhibitors from 45 countries and over 39,000 visitors from 115 countries. Christmasworld is characterized by the complete spectrum of festive decorations, while a wide-ranging complementary program with Trend Show, special exhibitions, events, and expert lectures is a valuable and informative source of supplementary inspiration for everyday business life in the sector. The 2017 fair takes place from January 27 to 31.