Eight km of hornbeam hedges and more than 30,000 plants characterize Europe's largest green facade, which is an essential component of the redesigned Kö-Bogen II commercial and office building in the center of Düsseldorf. It is seen as a possible urban response to climate change, according to Ingenhoven Architects, who are responsible for the project.
This is also to be reflected in the store concept tailored to the location: Thus, in the flagship store on Schadowstrasse, a real moss logo meets green plants, sustainable furniture made from recycled materials, full LED lighting and flooring without epoxy resin. Back walls wallpapered entirely with nature scenes and sporadically placed large-format water motifs also convey the building's fundamental idea.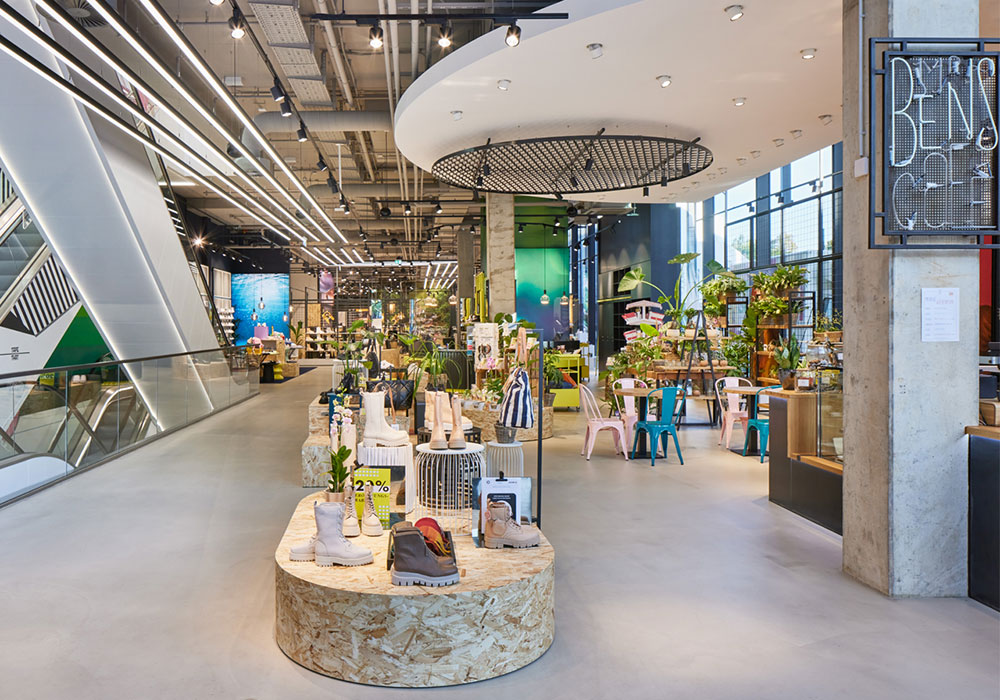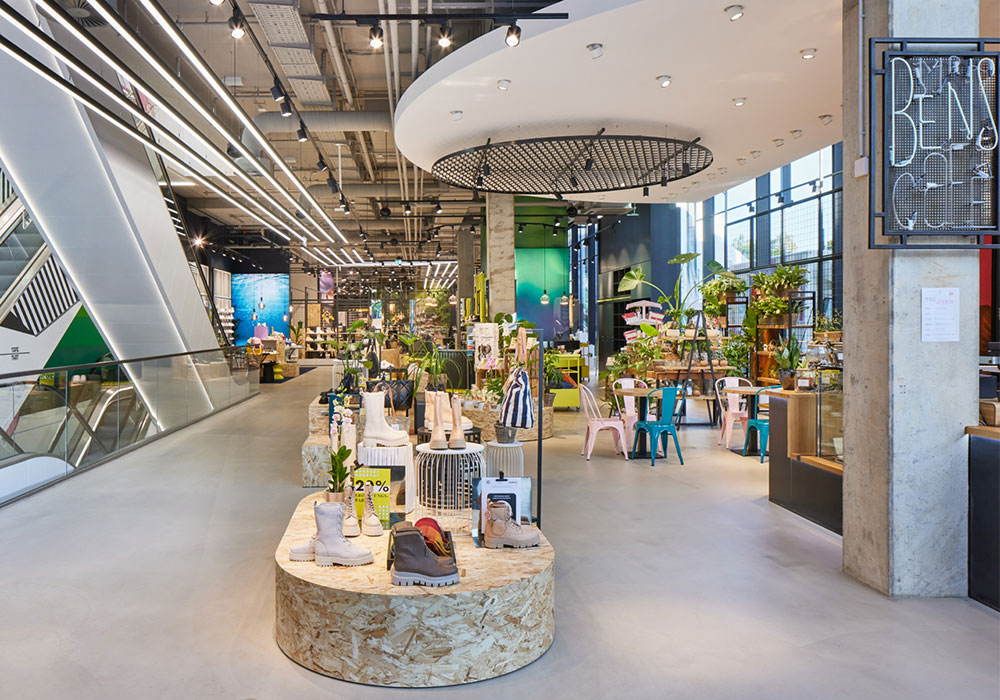 One of the visual highlights is the color-intensive tape art piece designed by Berlin-based artist collective Tape That in the entrance area of the store, which connects the ground and upper floors around the escalators. "The shoe itself is more of a small product and not space-filling. The environment has to offer more than a black and white interior," Görtz CEO Frank Revermann is convinced.
Character of a marketplace
It is not only visually that the omnichannel retailer from Hamburg is showing a new, trend-oriented side: In the entrance area–"in one of the store's best areas," according to Revermann–the local café Mr. Ben welcomes customers with coffee specialties and snacks such as sandwiches, bowls, and wraps, followed by a pop-up area by Düsseldorf-based florist Fiori, and Lübeck-based marzipan manufacturer Niederegger. In the basement, customers can also look forward to second-hand fashion from the label Vintage Revivals, while on the upper floor, the retail-as-a-service provider Freiraum from Berlin is helping urban online brands to establish a brick-and-mortar presence.
"Presenting shoes exclusively on a sales floor as large as this is no longer enough. Our basic idea was to create something new and interesting to offer visitors more," says Revermann. For store partners, the concept offers a stationary presence in high-traffic areas for short rental periods. The pop-up space on the first floor has already been leased for several months in advance. "What we show is what we like and what fits the overall concept," adds Revermann.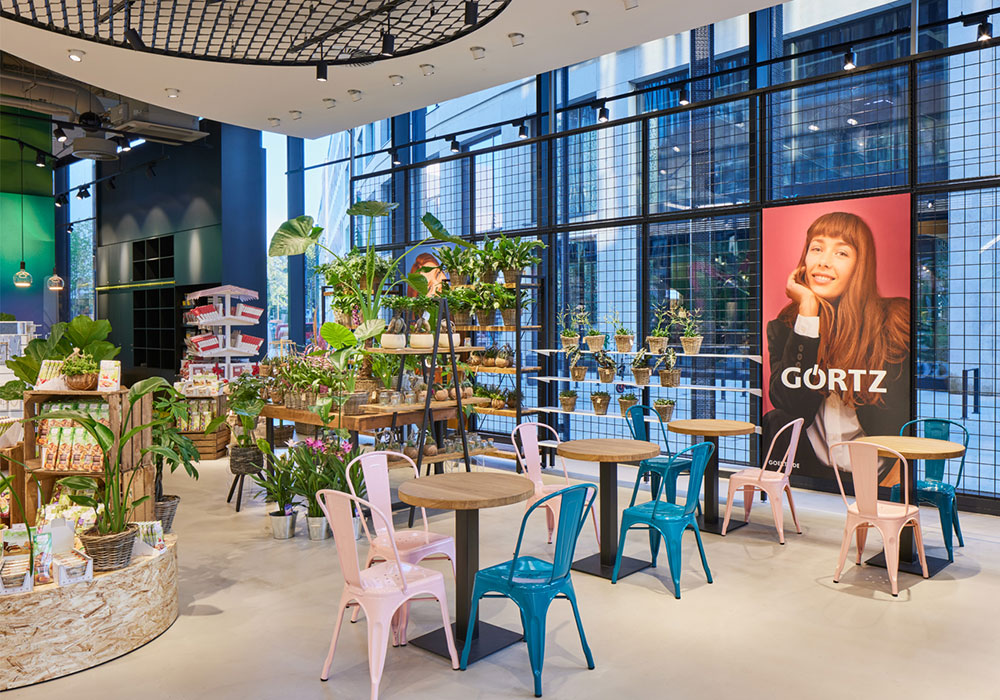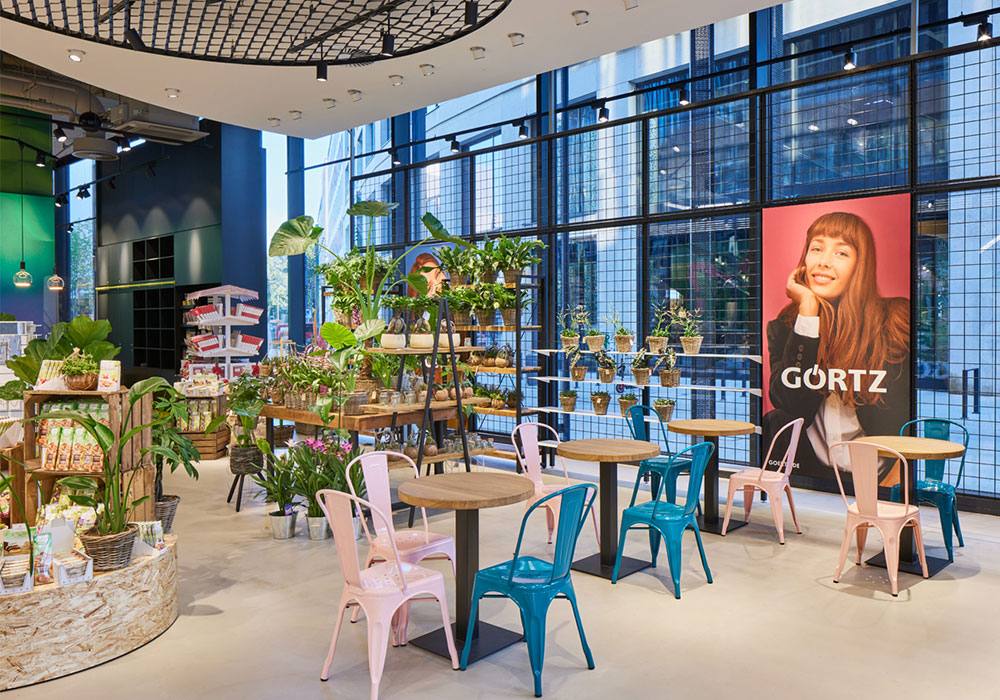 "This type of partnership is new. We are clearly committed to brick-and-mortar retail and would also like to primarily strengthen our brand and display shoes there, but we also want to say 'We are the largest omnichannel lifestyle retailer in Germany.'" They remain flexible in terms of design and platform approach, which means that new themes and elements are regularly tested with the clientele and the sales area is consistently adjusted to suit the future.
Digital tools are deliberately moved to the background at this flagship store
Click & Collect as well as Click & Reserve services are available to customers but are currently integrated into the checkout zone. "We are noticing right now that people want to shop locally again after the Corona-related lockdowns. At the checkout on the first floor–the info point that we highlight visually–we want to meet our customers and let them know that we are there for them on site," says Revermann. Digital screens, for example to receive further product information or order items online, are deliberately avoided. Instead, Görtz relies on advice from employees. "Digital shelf extension is of course also an issue for us. In the future, however, we will focus on QR codes rather than the digital screens. After all, we always have our smartphones with us. We have learned how to handle QR codes, at the very latest since the Corona pandemic."
Number of displayed products is quality-, not quantity-based
Görtz stages items more than ever before in lifestyle worlds to meet the wishes of its customers. Lounges and differently colored seating create a feel-good atmosphere. On the upper floor, bar tables with stools encourage customers to watch people strolling on Schadowstrasse.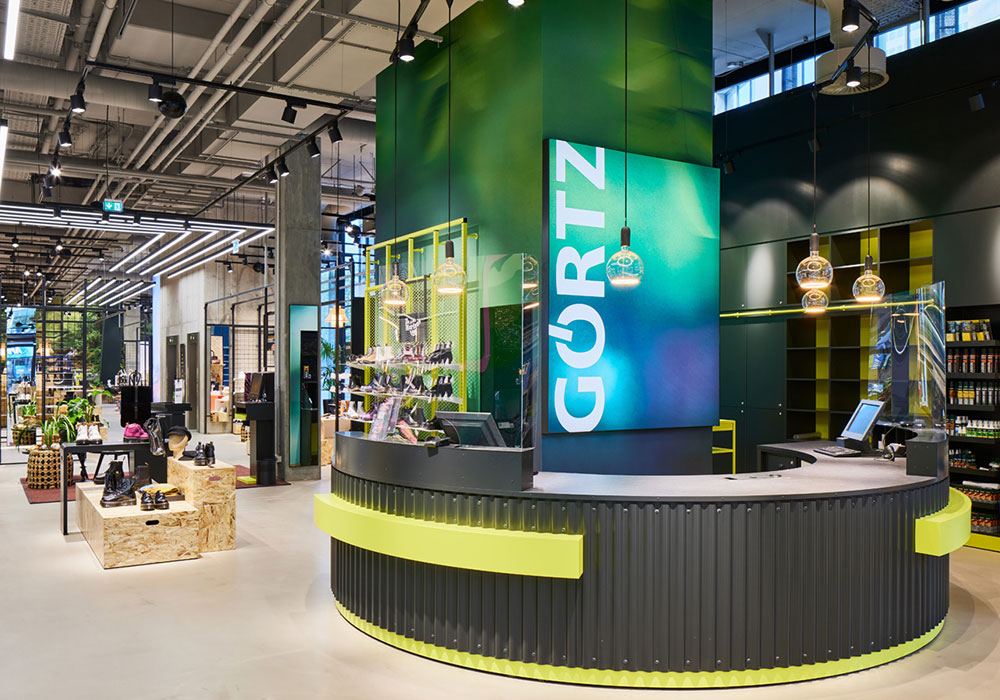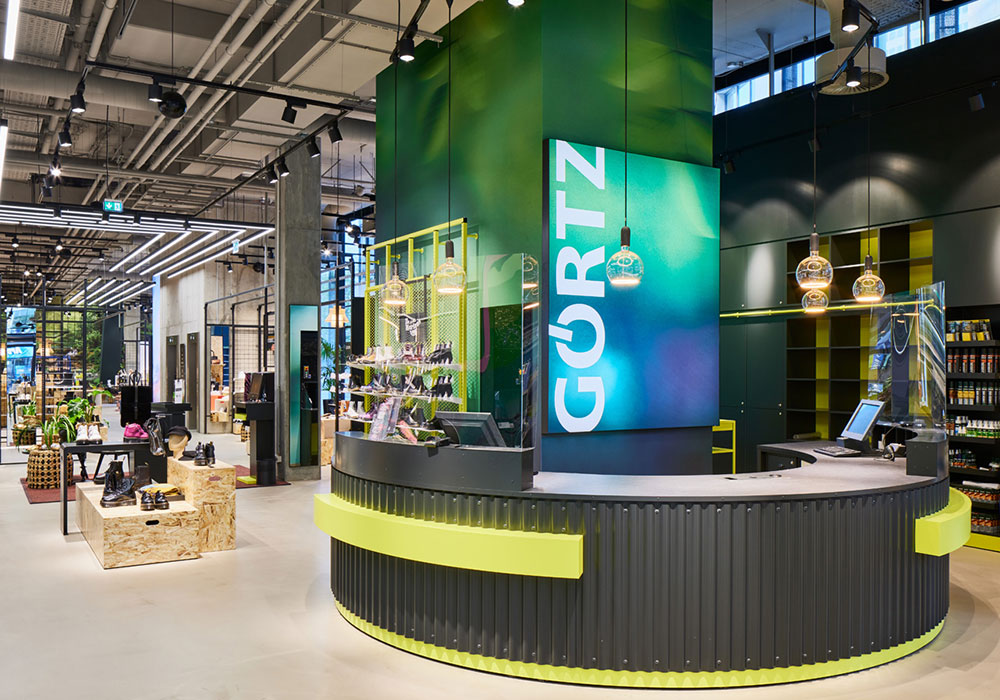 "The Kö-Bogen II concept is future-oriented and innovative. Thus, this location offers us an ideal environment to implement and test new ideas. This includes, for example, the integration of fresh shopping concepts with synergy effects under one roof," Frank Revermann summarizes the store concept which is not planned to be multiplied at the moment.