That represents an almost doubling in investment volume compared with the just €9.2-billion figure for 2014. A new record in the German retail investment market was thus achieved in 2015, when the volume slightly exceeded the previous all-time high of €18 billion in 2006. The particularly strong second quarter contributed most to this outstanding overall result of the last 12 months.
Proportion of international investors at 56%
The German market for retail properties continues to benefit from strong inflows of foreign capital. A variety of international actors have great confidence in the stability of the German retail market. In addition, investors from North America, in particular, are benefiting from the euro's recent weakness. With investments totaling over €10.1 billion, international investors accounted for 56% of the investments in the past 12 months, a significantly higher proportion of the total than that of the previous year, which hit around €4.5 billion, or 49%. The strongest group was investors from Canada, who invested €3.5 billion, thus contributing 19% of the total transaction volume. In second place and third place came investors from the US and France, with transaction volumes of just under €1.6 billion, or a share of nine percent each.
In addition to direct investment, 2015 was marked by large-volume real estate acquisitions in the context of corporate transactions. Worth mentioning is the acquisition of the 43 German department stores owned by Galeria Kaufhof and Sportarena through a joint venture between the Hudson's Bay Company and the US company Simon Property Group in the second quarter of 2015. The 43 properties were transferred to HBS Global Properties' real estate portfolio, in which Ivanhoé Cambridge, Madison International, and a US pension fund acquired shares in the fourth quarter. In the shopping center segment, meanwhile, the French company Klépierre acquired its competitor Corio and its five German shopping centers in the first half of the year, while the Canadian pension fund Canada Pension Plan Investment Board (CPPIB) acquired 46.1% of the shares in the shopping center developer and operator of mfi from Unibail-Rodamco in a high-volume transaction.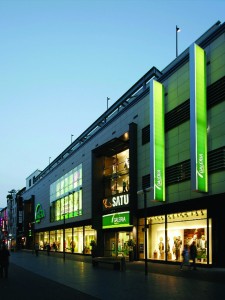 Rising investor risk appetites
Trading of city-center retail buildings achieved significant growth compared with the previous year. Overall, around 33% of total retail investment volume, or just under €6 billion, was invested in this asset class. Compared to the previous year, the volume invested thus increased considerably—by €4.4 billion or 274%. In addition to the significant takeover of the Kaufhof properties in the second quarter, diverse portfolio transactions contributed to the high transaction volume. The prime retail properties traded in these packages largely lay outside of the top 5 German cities—Berlin, Dusseldorf, Frankfurt, Hamburg, and Munich—where properties worth a total of around €1.2 billion were acquired. The majority of the investments went into prosperous regional cities and B locations, as was the case with the Corestate High Street portfolio and its 35 retail properties in medium-sized German cities or the package acquired by Sistema Capital Partners in the fourth quarter, which consisted of 21 business houses in medium-sized German cities. In addition to the significantly restricted supply of properties, this reflects a sharp increase in risk appetites among investors, leading them to increase investments in markets outside the five major investment centers. The German retail market provides an excellent basis for a risk-adjusted portfolio diversification due to its large number of well-functioning retail sites.
 Shopping center segment in third place
The shopping center segment had a total transaction volume of €5.4 billion or 30%, placing it third. This was caused on the one hand by the aforementioned corporate takeovers. It was also the result of various large-volume individual transactions like Ivanhoe Cambridge's sale of Zwickau Arcaden to ECE and the sale of Düsseldorf Arcaden to Hines, both assisted by CBRE in the last three months of the year.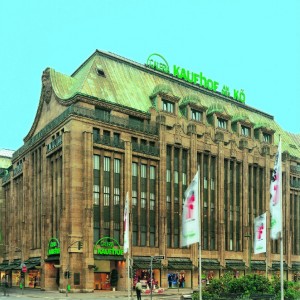 Real estate companies and REITs the largest buyer group
The largest group of buyers in 2015 were real estate companies and REITs, with an investment volume of around €5.2 billion. In second and third place were asset and fund managers as well as the group of open-ended property funds and special funds that each invested around €4.8 billion in German retail properties. On the seller side, too, asset and fund managers were very active last year. They sold retail properties worth about €4.4 billion, or a share of 24%. In second place on the seller side was a group of Corporates, who sold objects worth €3.5 billion, corresponding to a share of 20%. In addition to the Kaufhof acquisition, sales by various retail partners contributed significantly to this high proportion. Some examples are Edeka's sale of its Greenman portfolio or Metro's sale of its Socrates portfolio. The third largest group was real estate companies and REITs, making up €3.2 billion, or nearly 18%.
The portfolio share rose considerably last year. A total of around €10.4 billion, or nearly 58%, of the retail transaction volume was invested in the context of package purchases. The number the year before was just under €4 billion, or 44%. International investors, in particular, purchased packages of German retail properties.
 Prime yields continue to decline
The high demand for a dwindling supply has ensured a further increase in pressure on initial yields, particularly in the large-scale retail segment. This is currently 4.10% for first-class shopping centers in top markets, 20 basis points below the previous quarter. Similar products in prosperous regional centers come in at 4.80%, which is also 20 basis points below the previous quarter. The prime yield for modern retail parks fell by 15 basis points and now stands at 5.25%. In contrast, the prime yield for big boxes and supermarkets remained stable at 6.25%, while that of hypermarkets held at 5.70% compared to the previous quarter. Even business houses in prime downtown locations in the top 6 cities maintained stable yields for time being, with an average net initial yield of 3.87%. The prime yield for urban business premises in prime locations ranges between 3.50% (Munich) and 4.00% (Dusseldorf and Cologne).