Recently, the group of tenants of Galeria Wiślanka has been expanded by other well-known key brands, including Rossmann and Smyk. The potential of this investment was also noticed by the LPP Group, which will open the Reserved and House shops as well as the home furnishings industry leader – the Home & You brand. According to Wiślanka S.A, the Gallery's investor, the stage of selecting the general contractor was completed and Strabag sp. z o.o. was appointed, which will soon commence construction works on the investment site.
A strong tenant-mix of Galeria Wiślanka
Mallson Polska is responsible for the commercial concept and rental of space, thanks to which more network companies join the group of tenants. The LPP Group decided to introduce two clothing brands – Reserved and House – to Galeria Wiślanka. The total area of ​​rental of these shops will be nearly 3 thousand sq m and individual shops will occupy the area: Reserved 2.2 thousand sq m and House 700 sq m. A lease agreement for an area of approximately 400 sq m also signed a chain of shops with interior furnishings – Home & You.
"These will be the only shops in Żory from the LPP Group's portfolio – Reserved and House. We make sure that tenants will find brands that are extremely popular among clients of commercial facilities. It is the LPP brands that are the link and generate a high level of visibility of the facility", said Teresa Jonas, President of Wiślanka S.A.
"We already have rental agreements with brands guaranteeing the success of the facility, among others: Lidl, Helios, Reserved, House, Home & You, Pepco, Rossmann, RTV Euro AGD or Smyk. We are currently finalizing the arrangements with other interesting retail chains", said Ewa Ściubidło, Vice President of the Management Board of Mallson Polska, a company responsible for the commercialization of the facility.
Galeria Wiślanka will offer 80 shops and service outlets
The lease area will include around 80 Polish and foreign brands, service points as well as a professional playground for children. Among the tenants of the facility will include Helios – the only multi-screen cinema in the city and the latest concept of the Lidl market. Customers will have at their disposal parking for over 600 parking spaces.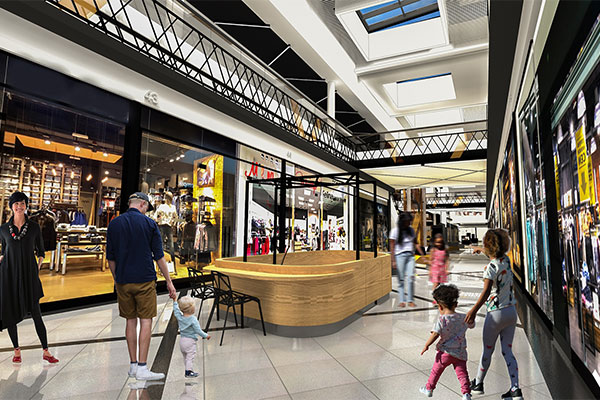 Thanks to the location of the gallery at the intersection of the most important express roads in the region (national road No. 81 with the 935 provincial road, part of the Żory ring-road, reaching the A1 motorway), the center will have about 750 thousand potential customers within 30 min. An additional advantage of the project is the location in the zone known to residents as a shopping destination. Auchan, Leroy Merlin and Decathlon hypermarkets as well as McDonald's and KFC restaurants are located in close proximity to the property.
The investor of the facility is Wiślanka S.A., and the company Mallson Polska is responsible for the commercialization.