Forum Rotterdam is centrally located between Rotterdam's top shopping streets: Coolsingel, Binnenwegplein, Lijnbaan and Beurstraverse. The Forum is a joint project of a.s.r. real estate, Syntrus Achmea Real Estate & Finance and Multi Netherlands. The multi-functional project has 64,000 sq.m of space for retail, food and beverage outlets and offices and consists of a renovated listed building, and 103 liberalised sector apartments in an office block that has undergone a major transformation. The project also includes the modernisation of the section of the Lijnbaan between Van Oldebarneveltplaats and the Binnenwegplein.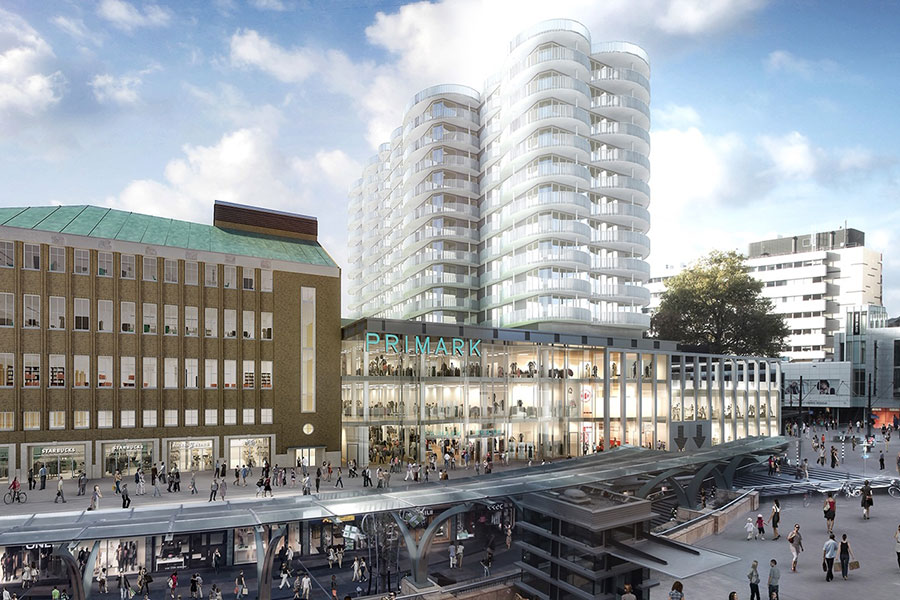 In the past week, Costes signed a lease for a new flagship store of more than 1,600 sq.m, while Seven Sisters signed for its first Dutch store in combination with fashion label Melting Stockholm in a 1,300-sq.m unit, both on the ground and first floors. The new stores will open to the public in early to mid-2020.
Rotterdam-based Nieuw Holland Vastgoed managed the leasing on behalf of Multi Netherlands and investors Syntrus Achmea Real Estate & Finance and a.s.r. real estate. The two fashion labels opted for FORUM Rotterdam because of the cosmopolitan image of the Lijnbaan location. The new stores are more spacious, chic and modern and have all been fitted with wide, transparent facades designed by OMA architects. The listed status of the buildings means it is impossible to realise such an ambiance elsewhere along the Lijnbaan. Only one shopping unit covering approximately 400 m2, distributed over three floors, is still available.
Thanks to the new leases, Forum Rotterdam is guaranteed to have a varied mix of stores, including some real crowd pullers. Fashion giant Primark will be at the heart of the project, with entrances on both sides of the complex. Hollister, G-Star, Fit for Free and ICI Paris XL are already located on the Lijnbaan.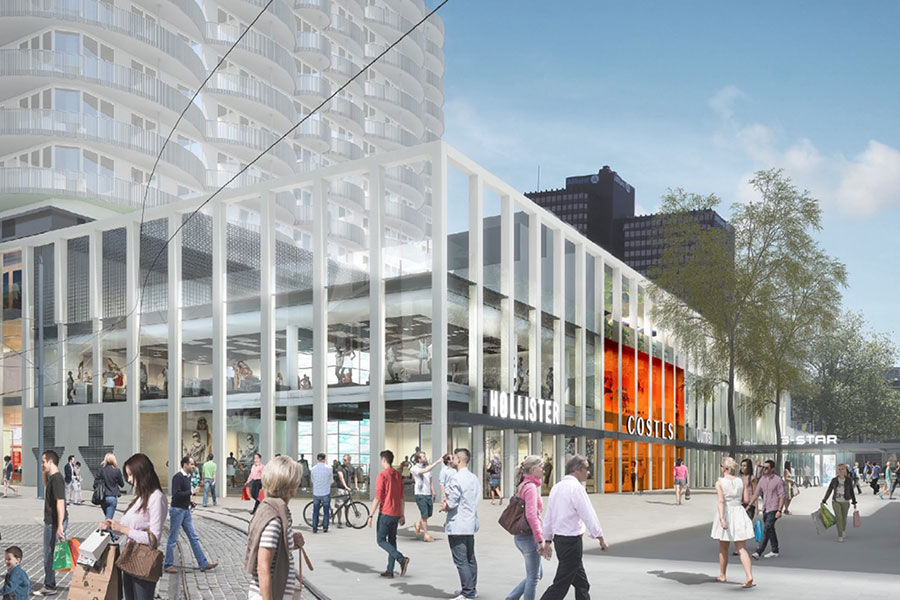 The listed building on Coolsingel, which has been restored to its former glory, will be home to ABN AMRO, with a bank shop and office, together with Happy Italy, Starbucks and Bagels & Beans. Famous Rotterdam bookshop Donner, which also boasts two lunchrooms, is already open for business. Deka Immobilien recently acquired the listed building.

Clear example of Multi's full-service approach
With a mix of living, working, shopping, sports and food & beverage outlets, Multi is transforming a previously inward-looking office space into a relevant and dynamic focal point in the port city. The development of FORUM Rotterdam is highly complex due to its location and the multitude of components and parties involved. Armed with its decades of experience in complex projects, Multi is making major headway as a full-service retail asset manager.
"Multi differentiates itself because we have all the necessary disciplines in-house. From architectural design to redevelopment, and from leasing to finance and management," said Hubert Stech, Managing Director Multi Germany & Benelux.
"We manage some 110 assets in Europe, 15 of which are in the Netherlands, with a total investment value of around €8 billion. Our international retail service platform is one of the most versatile in the market and we are growing rapidly. In the past 18 months, Multi has won 12 tenders for new management mandates for shopping centres in various European countries. By analysing, reinterpreting and renewing assets, we create value for the future. Forum Rotterdam is an excellent example of this in the Netherlands."  
In Dublin, Multi is currently realising a multi-million euro redevelopment and expansion of its flagship project Blanchardstown Centre, while in September 2019 the company unveiled a large-scale expansion of the Alfa shopping centre in the Latvian capital Riga.