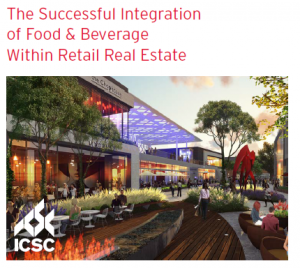 The foodservice industry is expanding at an exponential rate with the amount of space dedicated to food growing from five percent a decade ago to 15 percent today. This trend is expected to increase to 20 percent by 2025, according to a global study "The Successful Integration of Food & Beverage within Retail Real Estate" from the International Council of Shopping Centers (ICSC). The study, unveiled at ICSC's inaugural Food for Thought Conference, explores foodservice's impact on retail real estate and strategies to seamlessly integrate restaurants to complement and enhance offerings with the overall retail real estate experience.
For the first time ever in 2016, U.S. restaurant sales eclipsed grocery store sales, a signal of the growing popularity of foodservice. Europe is tracking in the same direction and Asia was the leader in this trend.
"The increasing popularity of dining out is revitalizing retail real estate around the globe by creating a true sense of community where people can go out to dinner, take in a movie and shop, all in one place," said Tom McGee, President and CEO of ICSC. "Centers that are strategic and innovative when incorporating foodservices are sure to reap benefits such as increases in foot traffic, dwell time and number of visitors."
Experience and Technology Changing the Game
The two biggest drivers of change in the industry are technology advancements and the rise of an experience economy, which was fueled by millennials and adopted by all generations:
Serving Up Tech – Previously considered immune to the effects of technology, foodservice has found that technology touches every aspect of the dining experience. From improving operational efficiency, ensuring guest retention or easing the ordering process, technology serves both as an enabler and disruptor to foodservice. Consumers are adopting technology services at fast rates and restaurants need to keep up with the pace and ensure they are offering the most advanced ways to order and deliver food.
Eating Out Over New Sneakers – Today's younger consumers are making it clear that experiences are far more important than the newest product, and the foodservice industry is one of the greatest recipients of their dollars. Restaurants are also seeing this as a rising trend with all generations, as dining out is considered one of the most popular experiences.
Choosing the Right Menu
The expectations of diners, especially millennials, are high as they seek out sophisticated, unique and high-quality dining concepts. In order to meet the varied demands of consumers, shopping centers should provide a mix of local, national and international offerings.
In the U.S. and many other countries, chain restaurants are seeing challenges in maintaining foot traffic and are focusing on delivering decor and excitement that modern diners expect. Retailers and shopping centers need to be ahead of the latest gourmet trends, to deliver food concepts that encourage consumers to return.
Location Matters
Details matter – especially when it comes to location of foodservice operators, as it is critical to attracting major foot traffic. The study recommends looking at two main factors when determining location strategy, the quantity of the surrounding foodservice and the category of foodservice.
Typically, 20 percent of foodservice space should be dispersed across an entire shopping center and feature food service categories such as "refuel and relax" (i.e., coffee shop) or "impulse" stores (i.e., ice cream or candy). The other 80 percent that should be clustered together and include fast casual, fast food and casual dining stores. Gourmet and finer dining establishments located at entry and exit points can draw in and retain maximum foot traffic.
Avoiding a Restaurant Bubble
This rate of rapid expansion coupled with an increase in money invested and oversaturation in the market creates the perfect environment for a restaurant bubble. The potential rising costs of operations and minimum wage in the U.S. further exacerbate the situation.
"To be successful, businesses must support smart expansion and understand how demographic behavior and regional preferences impact which foodservice providers they choose," said McGee. "The future for foodservice is bright, and with the right approach, a shopping center can build the type of experience that consumers desire."
To see the full report, please visit this site.
Follow ACROSS on