The European version of food halls is based on traditional street food hawkers in Asia. The first operators in Europe, like Lisbon's Time Out Market or Amsterdam's Foodhallen were run by merchants who organized street food vendors in a professional manner. John Gabrovic, Founder and Managing Director of Inspire Real Estate Advisory, has spent 25 years in the gastronomy business as well as 10 years in the real estate industry, and he is now shaping the food hall landscape in Poland. In 2016, he started his "Food Hall Revolution" in Gdansk with the premier of Stacja Food Hall.
What makes the food hall concept so appealing is the variety of different cuisines and alcoholic beverages in one location. The strategic location, often in historic buildings adds to the consumer experience and builds on the idea of creating community hubs – making it more than just an F&B offering. Gabrovic explains that food halls run counter to the traditional real estate model, which is all about finding a tenant with a high credit score, such as McDonald's or KFC. Instead, success in a food hall is about finding chefs and bakers who produce high-quality food and are passionate about their work, and creating an ecosystem in which multiple creative minds can co-exist.
Food halls enjoy enormous popularity; however, a certain risk with regard to tenant turnover remains. Ideally, food halls are populated with tenants signing short-term lease contracts (1-3 years), which serve as a means of testing the collaboration between asset owners or managers and restaurant owners. Despite the beneficial exposure, high visitor footfall and income are not guaranteed, so food operators are under pressure to prove that their quality of service is able to compete within the tenant group, which is comprised of both colleagues and competitors. In Warsaw, there are currently five food halls that offer 66 street food concepts, all of which differ in terms of service offering, asset management, size, legal structure, and marketing models.
Global Pandemic and the Typical Consumer
One of the first surprises Gabrovic encountered while developing his concepts was the fact that a "typical consumer" does not exist. One example can be found in the development of the Stacja Food Hall in the Metropolia shopping center. When John joined the project, it was a failed shopping center with significant vacancy on the +2 level. The expected customer base was that of young, modern hipsters. However, from the very first day, the place was filled not only with hungry hipsters, but also with families, students, and seniors. Everyone wants to dine socially and get together again, especially given the fact that such activities were prohibited or restricted at previous points during the pandemic.
Famous locations, such as Foodhallen in Amsterdam and El Nacionel in Barcelona, have served as benchmarks and inspirations in Poland's development. The outbreak of the coronavirus has acted as an accelerator with regard to the execution of new projects. As a result of the pandemic, Central European shopping centers have experienced a regress in footfall of between 10% and 15%. F&B is seen, by some, as the solution to bringing people back again and toward creating a higher sense of 'community' within the real estate assets. For Poland, that definitely seems to be true as we are set to present five successful food halls in Warsaw – no other European city matches that number of modern food halls as part of mixed-use projects. Together, they include 66 street food concepts, each of which has a slightly different lease and operating strategy, tailored to the location and its needs.
Hala Koszyki
Hala Koszyki launched in 2016 and offers eight F&B units in addition to eight restaurants. JEMS Architekci is responsible for the design, which was inspired by La Boqueria in Barcelona, which features the visible usage of steel and glass within the market hall structure. The gastronomic offer ranges from Indian, Caribbean, and Spanish to Polish and Italian cuisines – and more.
Tenants had to finance their fit-outs on their own, thus, presenting a considerable investment challenge. The hall operates under a standard lease structure: All premises are charged a base rent, and other service charges are comparably low since there is no central kitchen or storage area.
What makes it stand out is the history and tradition of the building, namely, the mercantile market hall, which now serves as a meeting point with cult personality. In addition, emphasis is put on cultural and entertainment programs to complement and celebrate its heritage.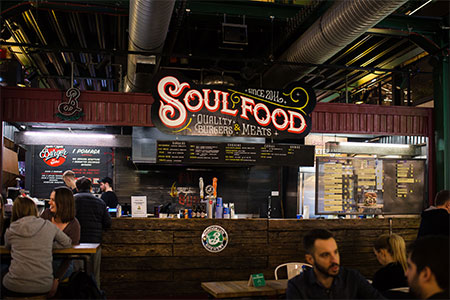 Hala Gwardii
In 2017, Hala Gwardii opened inside a protected 3,300-square-meter monument that was built in 1900. As a neighbor of one of Warsaw's largest food markets, Hala Mirowska, the food hall is strategically situated, attracting all kinds of consumers. The offering consists of 21 retail units, 15 restaurants, and 3 bars.
Tenants pay fixed monthly rents, with initial leases signed for a period of three-years, which includes a cancellation option after 18 months. With a strong focus on high-quality gastronomy, Hala Gwardii prides itself on its diverse culinary collection.
Events such as food festivals and art exhibitions are offered on a regular basis, thereby building a strong sense of community.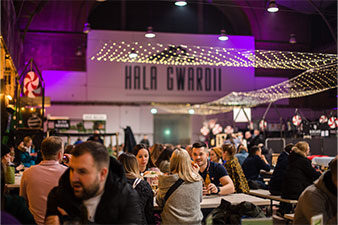 Elektrownia Powisle Food Hall
Elektrownia Powisle is part of a 10,000-square-meter retail complex that consists of mixed-use developments as well as additional residential and office spaces. Profiting from its summertime location and neighboring attractions, such as museums, it attracts large numbers of families, tourists, and visitors.
The food hall was the first to embrace long-term investments in the form of extensive fit-out implementations. Examples include centralized cooling and break rooms, among other things, which also results in higher turnover rent percentages and service charges. Food hall operators often benefit from the exposure and prestige of a given location, while simultaneously experiencing pressure to perform.
The tenants make up 16 units in total and consist of international and diverse culinary offerings, as well as bars. Due to its riverside location, an additional investment was made in 2021 to expand the outside experience for customers by adding 250 seats.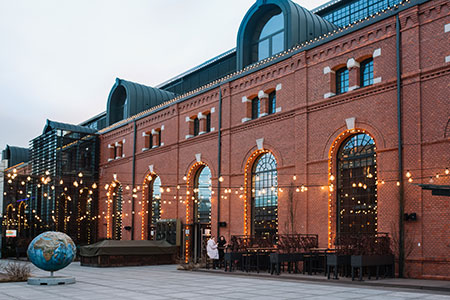 Browary Food Hall
As part of the Browary Warszawskie mixed-use project, the food hall is embedded in a network of gastro and leisure offerings in the Wola district of Warsaw. The eye-catching characteristic is its location in half-submerged cellars, which were originally used to store aging beer. In contrast to other food halls in Warsaw, which have a post-industrial ambience, Browary has chosen a minimalistic and more sophisticated design, thereby creating a special atmosphere.
Their offer includes 19 restaurants, 2 bars, and 1 night club. Due to the higher price range, the customer base is usually more upper-class. To ensure profitable returns for each brand, efforts are made to encourage visitors to taste test and explore via promotions, events, and workshops.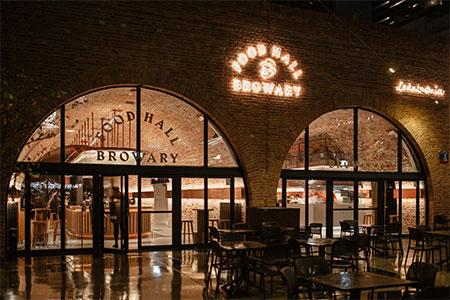 Norblin Factory Food Town
The food hall opened in 2021 and is actually comprised of five halls within the historic Fabryka Norblin in the Wola district. At 3,000 sq m, Norblin Factory is the largest food hall in Warsaw and includes 20 food stalls and 5 bars, and it has the capacity for almost 600 guests. Each of the five halls has its own focus: two halls for Asian cuisine, one for traditional food, one for breakfast and lunch, and one that has a stage and an entertainment area.
What is unique about the logistics is the inclusion of a restaurant support kitchen, which allows the restaurants to be structured in small "boxes" that measure 9-12 sq m each. Future expansions will see the addition of more restaurants, a night club, and more entertainment areas.
Tenants pay a flat base rent and are offered a metal frame, a kitchen hood, and access to utilities, but they have to invest in walls, floors, ceilings, etc. for their respective units. The key factor that drives turnover at the food hall is the unmatched entertainment offering.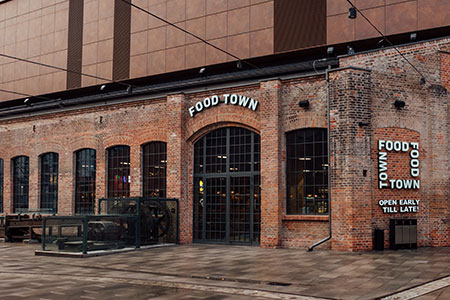 About Inspire Real Estate Advisory
With clients throughout the CEE region, Inspire has been creating original restaurants, bars, food halls, and leisure brands for over 25 years. Their expertise lies in identifying trends and executing original concepts, as well as in re-positioning retail and mixed-use assets, with a clear focus on location-tailored solutions.