ACROSS: New Nivy is currently the largest construction site in the European Union, transforming a former industrial brownfield into a modern city center. Not only is the size of the project exceptional, but the mix of functions it will offer is as well. Can you tell us more?
RENÉ POPIK: We are building a district the size of a small city, which will change the face of Bratislava, and we are well aware of that. We look at the New Nivy zone in a comprehensive way and see it as one ecosystem in which people work, live, and spend their free time. Within the zone, we look for synergy between hardware, meaning buildings and their surroundings, and software, in other words, services, events, and community life. Simply stated, New Nivy is not a collection of individual projects, but it is an entire neighborhood designed as a single, functioning zone that covers a range of demands and opportunities. The New Nivy zone is the first district worldwide to be accepted into the new assessment of BREEAM Communities International certification. It serves as the best "proof of concept" that the New Nivy zone offers obvious urbanism benefits for the city and direct socio-economic benefits for citizens, all under strict environmental and sustainability regulations.
ACROSS: Nivy Station is the only retail scheme in the zone. Can you give us more information about the concept?
POPIK: The Nivy Station that is due to replace the old bus station is our flagship retail scheme and will become the heart of the zone, introducing a necessary mix of functions. It is a new generation shopping mall, which introduces yet another new benchmark to the regional market – just like we did with Aupark Bratislava. With this project, we are focusing on experience and lifestyle, because we know that those are the driving forces of retail today. Nivy Station will be a strong transportation hub for the city. It will offer top-quality gastro services, including a fresh produce market, it will center around leisure and lifestyle by offering large public spaces on the green roof and the exterior atrium, and, of course, we will introduce e-commerce solutions to support the business of the 250 plus retailers there. Simply put, Nivy Station will connect the international bus terminal to a market offering local farmers' products and a shopping destination featuring an active green roof and atrium, creating a commercial and public space that has been lacking, to date, in Bratislava.
ACROSS: Who designed the project?
POPIK: The design of the project was created by the London-based Benoy studio, experts in shopping mall concepts. You may be familiar with some of their designs, such as Bluewater in Kent and Westfield in London. The thoughtful design supports the natural movement of customers. We did not want to build artificial barriers. Where you are and where you can go should be clear from every point. Wandering around lost in a project like this is not an option for the 55,000 daily visitors. That is why we have asked studios such as Space Syntax and Space Agency to collaborate on navigation systems and wayfinding for both the exterior and interior.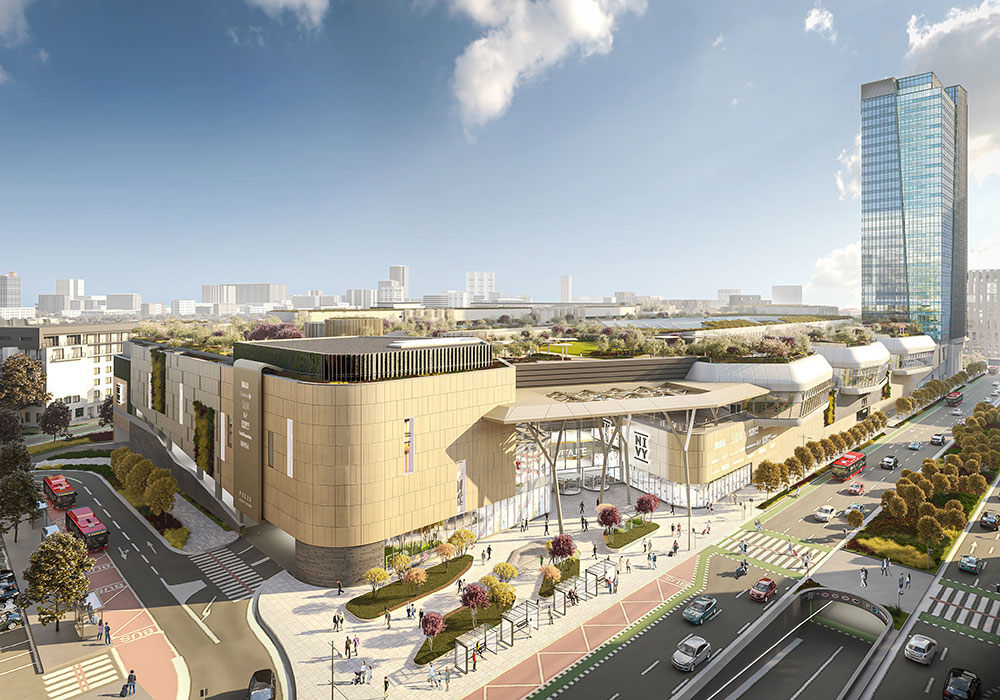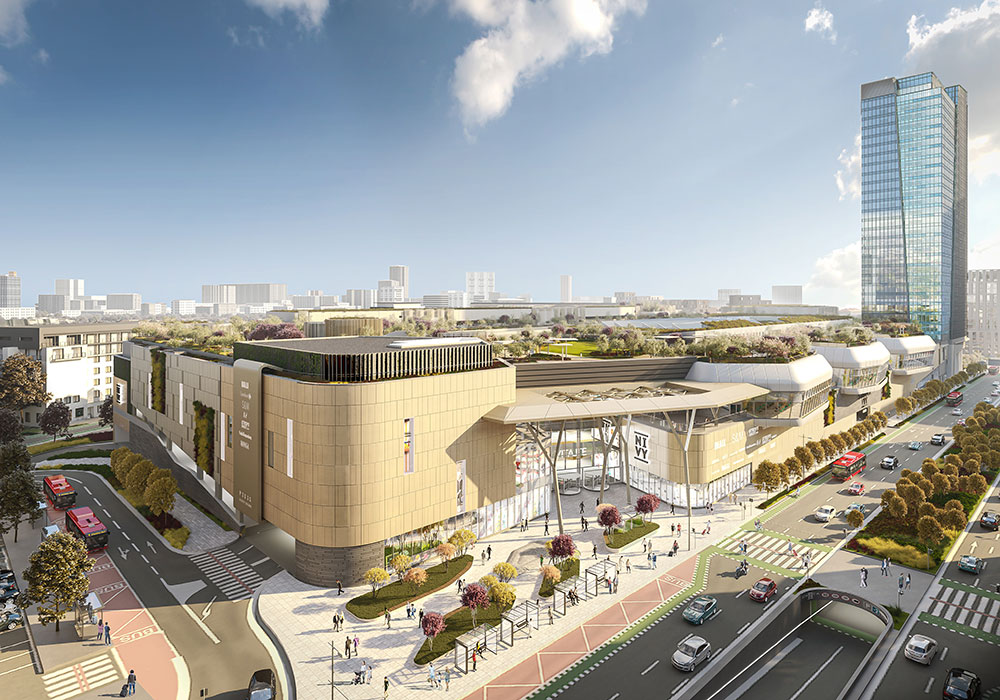 ACROSS: The Bratislava retail market is quite saturated. Can you guarantee the success of another shopping mall?
POPIK: Let me stress that Nivy Station will be a new generation shopping center. It will serve as a hub that links all kinds of transportation and accessibility means, green community spaces, shopping opportunities, and, of course, an extraordinary food experience. We are confident that the project will be a success. There will be over 40,000 people working within a 15-minute walking distance. Nivy Station is also directly linked to the most innovative office building in Bratislava. The New Nivy zone is already home to multiple international company headquarters, such as Amazon, Swiss Re, AT&T, SAP, Sygic, or Exponea. More than 40 nationalities meet here, and the salaries of the employees here are two times higher than average. In addition, new housing projects are being developed in close vicinity. All that represents a huge customer potential.
Keeping this in mind, we know that the offer provided by Nivy Station must naturally cover the needs of all target groups. For example, we have already signed contracts with two big Slovak supermarkets that cater to two very different customer spending categories. It will be the only shopping destination in Bratislava that offers two different supermarket brands. Another example can be found in the largest online consumer electronics retailer in CEE. It is an online operator with a specific need for a brick-and-mortar space, bringing together the e-commerce digital world and the world of traditional shopping. To give you an example from another area, we will also be introducing a new restaurant concept to the Slovak market. Nivy Station is a special project and, as such, requires special retail solutions.
ACROSS: What is the project status of Nivy Station?
POPIK: Nivy Station is well under construction. The works are going according to plan, and the opening is scheduled for autumn 2020. We are completing reinforced concrete structures, and the installation of huge steel roof structures is in progress. The laying of the roof membrane has begun and we can also see the first areas of the facade being covered. All the while, works on the surrounding infrastructure for pedestrians, cyclists, and vehicles is well underway, including the works on the first underground roundabout in the country.
ACROSS: Does that mean the traditional shopping mall offer will not be the main feature?
POPIK: It will be one of them. Let us not forget the bus station, the large atrium and green roof of the project, which will be accessible to the public, and, of course, the fresh food market. What makes the project unique is the fact that all of these components under one roof. The market will serve as a symbiosis between fresh produce sellers and ready-made food sellers. The flexible atrium will be an integral part of it, as it will be a space for various seasonal offers, from Christmas and summer vegetable sales to autumn wine tastings. In addition we will continue to work closely with various communities, supporting local heroes as well as local design and connecting communities via the events offered by HubHub, our coworking platform.
The works on Nivy Station are going according to plan, and the grand opening is scheduled for autumn 2020. Credit: HB Reavis
ACROSS: What do you see as your biggest challenge?
POPIK: There are two challenging areas. The first revolves around tailoring an attractive space with a unique spirit to serve the different needs of a very diverse target group. We are aware of the fact that Nivy Station will be welcoming residents from the neighborhood, bus station visitors and public transport commuters, office employees from the New Nivy zone, gastro fans, and, last but not least, shopping fans. The other challenge is even more complex. We want to offer digital solutions that will help us better understand both offline and online customer behavior, help us increase footfall and revenue, and help us meet the needs of customers in a fast-changing market.
Finally, we want to create an environment that is attractive by syncing physical and digital omnichannel retail experiences, at the same time leveraging the strength of both the offline and online worlds.
ACROSS: What does linking the offline and online worlds mean?
POPIK: Through the use of new technologies, we want to be able to help our retailers be more attractive and more profitable. Based on the data we collect, we will be able to offer consultations that will be useful, especially to smaller retailers. In order for them to be successful, they will have to be able to react to a fast-changing environment as quickly as their competition.
ACROSS: What is your favorite thing about Nivy Station?
POPIK: The project itself is my favorite thing. I believe that it is a unique product in a great city with great potential.