ACROSS: WISAG Facility Service has managed the last few years quite well. What is your concept when it comes to dealing with crisis?
Joaquin Jimenez Zabala: Overall, we've come through the last few years of crises quite well. The service division Catering has, naturally, suffered greatly as a result of the coronavirus[1]related lockdowns, but overall, including my division, retail real estate, we have been able to overcome the challenges. In my opinion, dealing with crises must always be based on partnership, especially in the service sector. In times of crisis, we are very accommodating to our customers. We are currently benefiting from taking such an approach.
ACROSS: What does that look like in a more literal sense?
ZABALA: While local suppliers and retail markets have come through the crisis quite well, we have had to make many more concessions in the area of shopping centers. For example, we have had to make cutbacks in cleaning services and maintenance. However, understanding our partners' situation has always been much more important. After all, we are not talking about an isolated crisis that began three years ago, nor are we talking about today's issues. When we talk about crises, we have to start long before the outbreak of COVID-19. Transformation has been an issue for years, brick-and-mortar retail has been in a consumption crisis for quite some time: brick[1]and-mortar versus online retail, declining footfall at high street locations, shorter lengths of stay at shopping centers, etc. The list of challenges was long even before the arrival of the corona[1]virus. Only those who had already begun to respond to these transformative elements made it through the coronavirus-related closures in good shape. One such example is Douglas. The chain had already significantly expanded its online business before the crisis and was able to compensate for the major losses in its stationary business during the crisis through its online sales.
ACROSS: Where did you have to provide the most support?
ZABALA: The shopping centers definitely needed the most support. With the exception of those centers with anchor tenants in the care market sector, operations were paralyzed for nearly two years. The textile companies needed massive support. One shopping center can generate sales of 1.2 million euros a year. Of course, we felt the impact of that as a lot of money was at stake. We are convinced that FM service providers, in particular, can only be successful in the long term and be part of the solution if they do not insist on fulfilling contracts in the short and medium term, but stand by their customers, thereby making themselves part of the crisis team as well. That is a very important factor – one that has helped us move forward. It has enabled us to ensure that contracts are renewed. In addition to partnership, consultancy is also crucial, and the key question is: How do we position properties for the post-crisis period? We have taken the time to work with our customers to question the property operations concept and to develop more sustainable solutions.
ACROSS: What lessons have you learned from those challenges?
ZABALA: Everyone understands that our industry needs to become more resilient. Passivity is dangerous. Only those who take matters into their own hands can be resilient. When it comes to the issues of the future, whether sustainability, digitalization, neighborhood development, or the cities of tomorrow, an active attitude is essential. The fundamental question to be asked is: How will we consume in the future? That question begs another: How does the industry need to transform? As elementary as these questions sound, they have not been asked for a long time. The biggest lesson that I have learned from the years of crisis is that we need to understand that, as an industry, we have to be proactive. We have to take charge and not wait for another crisis to hit us, bringing about a host of new questions. As a service provider, we have to create synergies together with all of the players in the industry in order to support retailers, in particular, in their efforts to successfully shape this transformation.
ACROSS: That goes far beyond your role as an FM Sercive provider.
ZABALA: Yes, it does. We have a new role to play. We are no longer seen as a traditional FM service provider in the market – those days are long gone. We, in cooperation with our partners, are involved in all the basic industry issues. Of course, our core business lies in the operation of properties. However, when it comes to sustainability issues, in particular, you cannot be a pure service provider if you want to do it well. I see us as future partners and advisors to our customers.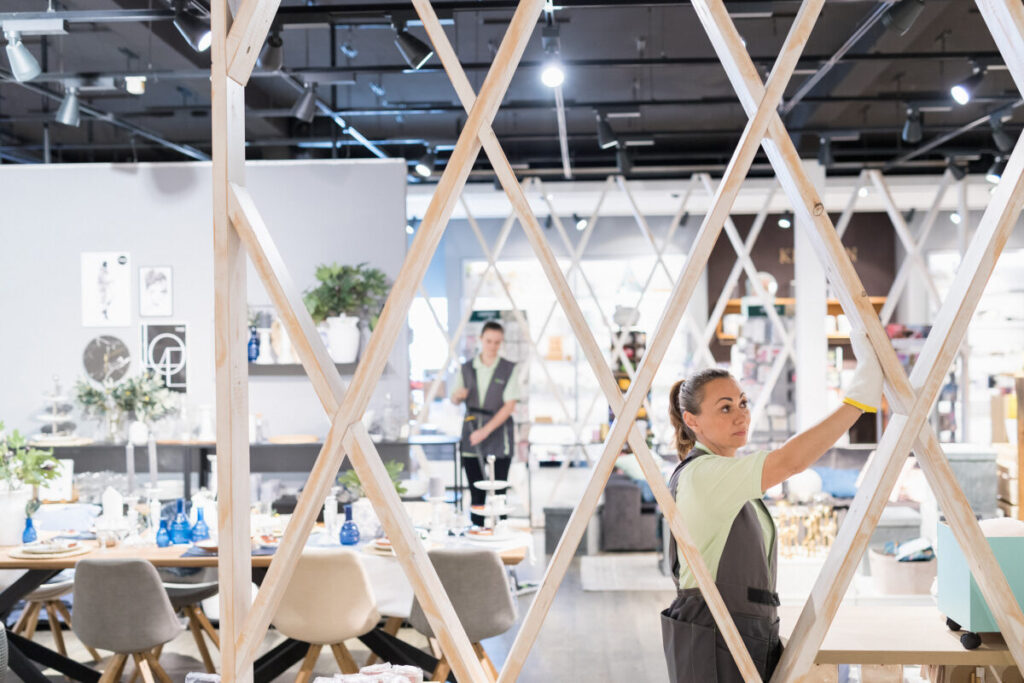 ACROSS: How have the demands of your customers changed in general?
ZABALA: It should go without saying that we should be able to ensure the smooth operation of real estate Our customers expect us to look far beyond the traditionally drawn lines. As a result, we deal with future-oriented topics, but we also keep our customers' customers, in other words, the consumers, in mind. WISAG offers specialized service packages for different sectors in order to be able to serve such customer needs. In addition to retail real estate, these sectors also include healthcare services, logistics real estate and data centers. These specializations allow us to be close to our customers and to act as a thematic partner. As I mentioned before, this thematic partnership goes far beyond FM services. Now, of course, we recognize the value of embarking on such a path early on. That makes us much more resilient during times of crisis.
ACROSS: You have made ESG one of your core topics.
ZABALA: ESG is an issue that will keep us all intensively and permanently occupied. It is a fundamental and important principle for action, not a short-term problem to be solved. ESG affects every company in its entirety: from management and social impact to investments and financing. We cannot approach an issue like sustainability solely under the old definition of facility management. At the very least, we have to take on a partnership role, and better yet, be an innovation driver for our customers. Furthermore, there is a substantial need for consulting services.
ACROSS: What responsibility does WISAG attribute to itself when it comes to this topic?
ZABALA: Of course, we have our own ESG-team that is dedicated to dealing exclusively with this issue. Sustainable success is what matters to WISAG as a family company that prizes itself on its values: acting in a responsible, carefully considered fashion to protect and create jobs, fulfil clients' requirements and operate sustainably. For WISAG, corporate social responsibility also means taking action to protect the environment. we've set ourselves the goal of predominantly using eco-friendly products and process[1]es and serving as a model of environmental protection in our markets. This target is firmly embedded in our company vision. This currently includes e. g. also the goal of supplying all WISAG offices with photovoltaics.
ACROSS: How do you position yourself in relation to your customers?
ZABALA: I see the FM industry as a driver when it comes to ESG. We do not want to react – we want to clearly shape ESG. We already have a lot of experience, we are familiar with the technologies, and we know how to deal with them. Therefore, for our partners, we are initiators, idea providers, creative partners and, of course, those who turn the gears on-site at a given property.
ACROSS: From your point of view, where does retail real estate stand in terms of ESG, compared to other real estate classes?
ZABALA: We must be very self-critical here: Retail real estate has not come very far yet. Individual players have set a lot in motion and have invested in the issue. A good example is the Hahn Group and MEC. As an industry, we must ask ourselves – and I personally think this is also very important – why we first had to be regulated in order to take action on such an important issue. The main problem lies in the fact that not all players in the industry are working together to find a solution.
ACROSS: Where do you think something is lacking?
ZABALA: In reality, it is often the case that a shopping center operator wants to invest in sustainability and install a photovoltaic system, for example. The investor then agrees that the idea is a good one, but is not prepared to give up his profits. There are a number of things that allow us to act on a small scale here and there, but prevent us from pursuing a truly pervasive sustainability strategy. Shopping center operators and managers tell me that they feel as though the process is jinxed, that they simply cannot get through to the investors. The commitment to ESG exists, but it is far from being put into practice. As a result, everyone is currently waiting to see who makes the first move. Clearly, one problem with the overall perception of sustainability strategies is that it is not understood that ESG is a driver of growth and not a cost per se. Only ESG-compliant properties will be able to survive in the medium and long term. All of the others are driving into the wall. Investors need to realize that the little bit of extra return today will not be worth much if the property becomes worthless in the future. The fact that many people still underestimate the speed at which sustainability has taken off is certainly another factor.
ACROSS: What are the quantifiable arguments for ESG? Where can ESG create value at existing properties?
ZABALA: A key issue is energy. In terms of energy monitoring and energy efficiency measures, there is a whole range of measures that can be implemented quickly and that do not always cost the same amount of money. If we take a look at a shopping center that was built in 1975, for example: There have certainly been a number of revitalizations, and various systems have been replaced and renewed. However, the air-conditioning system is 25 years old. That, of course, can no longer meet the latest standards. While the replacement of the system is not a big investment, it results in an immediate upgrade of the property. In addition, there is a whole range of measures that make the property cheaper to run and that also lead to the tenants being required to pay less.
ACROSS: What approach do you advise your customers to take?
ZABALA: It is a matter of picking one topic and asking yourself: What can I do to make my property ESG-compliant in this one area? Associated questions include: What impact does this have on the property investor, that is, the owner? What impact does it have on the consumer? The latter, in particular, is a very significant factor. Consumers now demand that retailers address the issue of sustainability. During times of inflation, that is not always immediately observable, but surveys clearly show that the group of consumers who prefer to shop at a center that is run in a green manner is steadily growing. That brings me back to a very fundamental point, especially with respect to my consulting work: Very clear decisions need to be made in order to consistently pursue the issue of ESG. The technolo[1]gies are there, and the strategies can be quickly put in place. We have everything we need to start this transformation process. The decisions simply need to be made on a consistent basis.
ACROSS: Beyond ESG, where do you see a particular need for consulting?
ZABALA: Shopping center space, or mixed-use space, is a central topic at present. Tenant mixes will have to change, and there will be a shift toward services as well as office offerings at traditional shopping centers. The topic of local supply will also be expanded upon. Current vacancies are causing headaches for the industry. Spaces are no longer being leased as easily, and some of them can no longer be leased at all, even at well-known centers. That, however, is not an issue with respect to retail markets. Their structure is much clearer.
ACROSS: In your opinion, what determines whether a center or retail market survives?
ZABALA: Every issue always leads us back to the consumer and one specific question: What does the consumer want to experience at a particular place? What and why does he want to shop there? Answering such questions is more difficult for shopping centers, but, when it comes to the tenant mix and the design, things are elementary. The issue of consumption follows us wherever we go these days because of inflation. Initially, customers returned following the coronavirus; now, they are massively curbing their spending. In my opinion, the determining factor is not where a center stands, but how transformative it is and how well it knows its customers and anticipates their changing needs. More than ever before, shopping centers, in particular, are tasked with inspiring their customers and arousing their curiosity about new offers.