A 25th anniversary celebration, rebranding to Westfield Centro, big plans for the leisure segment, and exciting new openings: Westfield Centro is constantly on the move. Unibail-Rodamco-Westfield's Constantin Wiesmann (Director of Leasing Austria & Germany) and Katharina Zeiler (Deputy Director of Leasing Austria & Germany) tell us what it takes to keep growing and level-up, constantly pushing the envelope and adapting to ever-growing consumer expectations.
ACROSS: WHAT ARE THE MAIN ACHIEVEMENTS AFTER 25 YEARS ON THE MARKET?
CONSTANTIN WIESMANN: Westfield Centro is an icon in our industry – it is known far beyond the Ruhr region and North Rhine-Westphalia. Of course, many visitors come from Oberhausen and the surrounding area, but a lot of them also come from neighboring regions and even from abroad. For example, bus tours start in the Netherlands with Westfield Centro as their destination. Along with the center, the entire surroundings have flourished over the years. New leisure and cultural facilities, offices, and hotels have been added. With Centro as a central focal point, a lively, pulsating district has emerged. We celebrated the entire success story on the 25th anniversary of the shopping center in mid-September.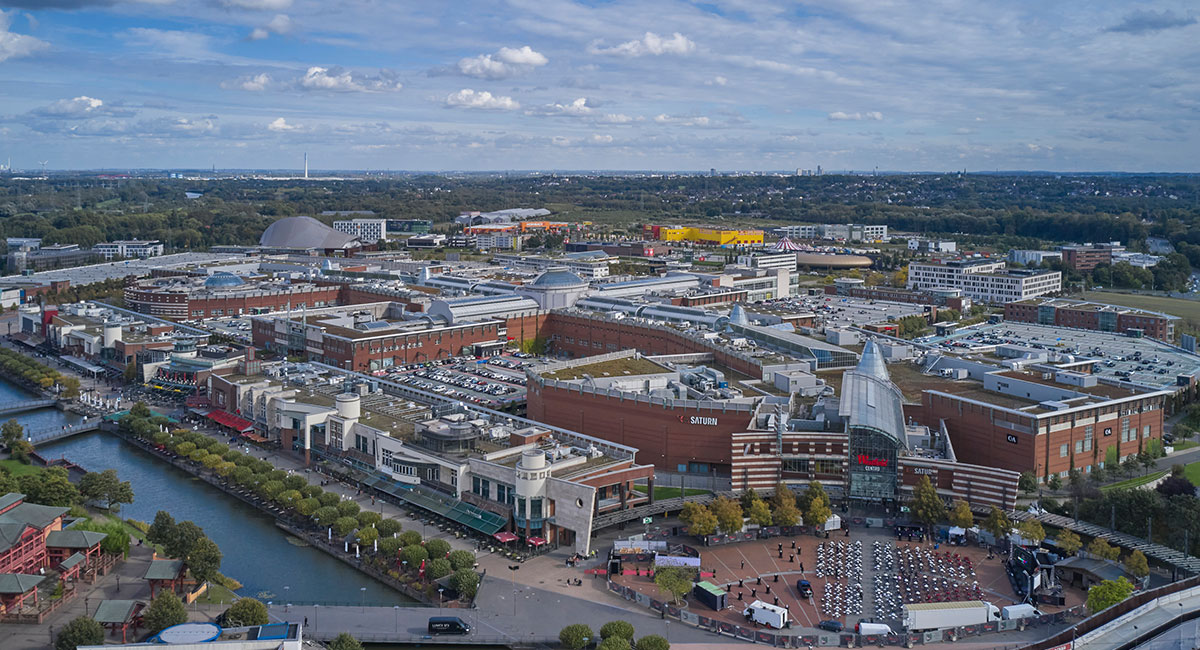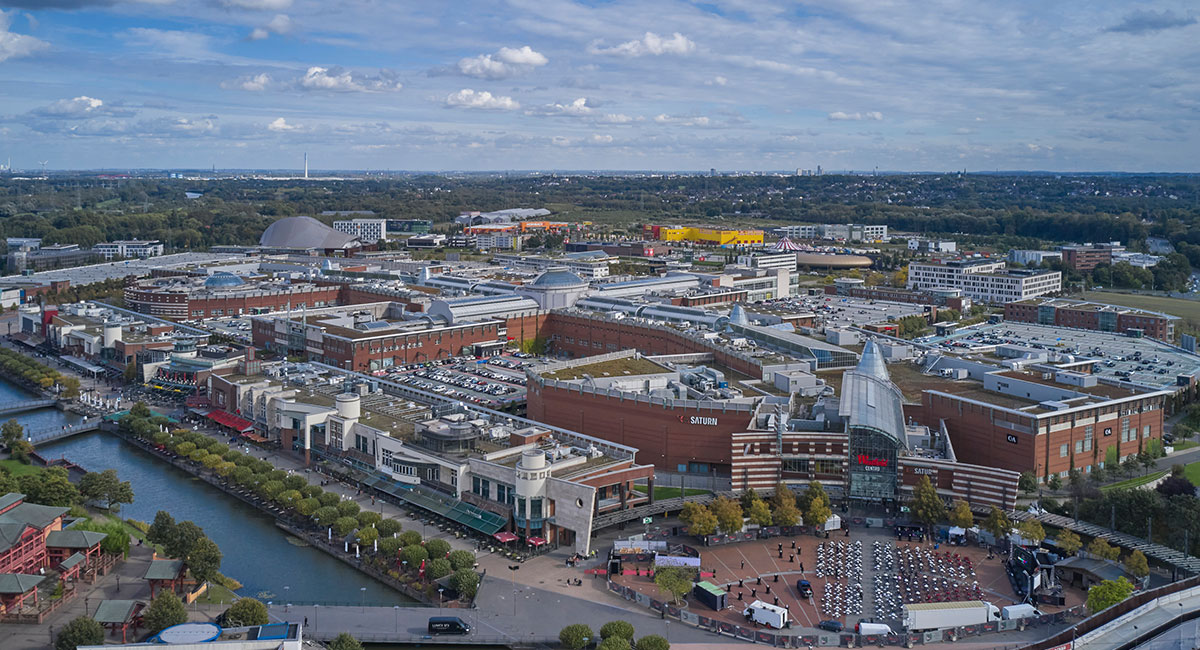 KATHARINA ZEILER: In addition, we have crowned this 25-year success story by making Centro the first flagship destination in Germany for the Westfield brand. In doing so, we have once again sent out a strong signal in the current market situation and have underscored the center's role as a beacon for the industry. By the way, the center's leading position is also reflected in the footfall and sales figures. In terms of footfall, we are gradually approaching the level of 2019, and in terms of retailer sales, we have been back at that level since summer.
ACROSS: WHY UNDERGO A REBRANDING AT THIS POINT?
ZEILER: Westfield Centro became part of a network of flagship destinations in Europe and the U.S., reaching a total of more than one billion customers per year. This puts it on par with other well-known Westfield locations in London, Paris, New York, and Los Angeles. As part of URW, the Westfield brand is the global reference for high standards in the retail, lifestyle, leisure, entertainment, and gastronomy sectors. What makes the rebranding special is that it combines the international appeal of the brand with the local heritage – the locally grown tradition.
ACROSS: WHAT MAKES A WESTFIELD DESTINATION SPECIAL?
WIESMANN: The destinations are eminently important retail and leisure centers in their respective markets and have high footfall figures. In addition, they provide efficient transport links and comprehensive mobility services. Distinctive architectural and design features make them stand out even further. They offer exciting events, road shows, and 360-degree platforms. The destinations draw on a digitally networked infrastructure and enable multichannel shopping experiences. They also take an industry-leading approach to social responsibility and sustainability. In Oberhausen, these include, for example, job and training fairs, cooperation with local clubs and social institutions, and a dedicated Community Day.
ACROSS: WHAT INDUSTRY-FIRST CONCEPTS ARE NOW PART OF WESTFIELD CENTRO?
ZEILER: The asset has always been known for having one of the most differentiated brand, concept, and branch mixes – across 230,000 sq m of total area and 240 stores. Recently, for example, we announced the upcoming arrival of Gamestate, an arcade gaming operator from the Netherlands, which will open its first outlet in Germany. In addition, months ago, Huawei opened its first store at a German shopping center, and Boardriders opened its first store in Germany. Some time ago, Swarovski inaugurated its first Crystal Studio nationwide, and Guess opened its first Active Wear Store. Urban Outfitters and Five Guys, a member of the food sector, were also among the first in the country. A Hugo Boss store is due to be added at the end of the year – the first in our portfolio in Germany.
ACROSS: WHAT SECTORS HAVE THE MOST GROWTH POTENTIAL?
WIESMANN: The crucial factors for us at URW are megatrends: How and where do people want to spend their free time? We have three areas of focus: eventful gastronomy, the entire field of fitness, wellness, beauty, and health, and exceptional leisure, cultural, and experience concepts. With respect to food and beverage, the "Coca-Cola Oase", is currently the largest food environment within a shopping center in Europe: 7,500 sq m of total space, two floors, a total of 1,300 seats, and 20 food and beverage tenants. Nevertheless, we invested an additional 20 million in the center, a large part of which was spent on the refurbishment of the food and beverage area to raise it to yet another level, all of which was completed two years ago. More restaurants and bars can also be found outside along the promenade. They place even more emphasis on atmosphere and ambience, and guests sometimes stay there for a couple of hours. A few more exciting concepts will be added in the upcoming months.
ACROSS: WHAT ABOUT FITNESS, BEAUTY, AND HEALTH?
ZEILER: We would like to strengthen our position in those areas in the future. Of course, we have a very broad selection of perfumeries, cosmetics, and beauty suppliers, but the fitness segment, in combination with sports courses and corresponding retail, is interesting. We will continue to expand in that respect. For the sake of comparison, at Westfield Hamburg-Überseequartier, Germany's second future Westfield destination, we are planning a separate cluster with sports courses and fitness boutique offerings, corresponding retail and gastronomy units, and several medical practices within a higher-level medical center.
ACROSS: CAN YOU STILL LEVEL-UP YOUR LEISURE SEGMENTS?
WIESMANN: The leisure, entertainment, and culture segments are important components for the asset. Westfield Centro already offers, among other things, a restaurant promenade, a cinema, and a multifunctional arena. In addition to the more than 15 million shopping center visitors, the promenade alone attracts 4 million visitors per year. However, we intend to raise the bar again in the next few years. A "Karls Erlebnis-Dorf" will be built directly in front of the center, on an area measuring some 70,000 sq m, which corresponds to roughly ten soccer fields. The children's and family park will include adventure worlds, attractions, rides, stores, and numerous manufactories. The cooperation with 'Karls' represents an absolute highlight throughout the industry and will further illustrate the significance of Westfield Centro as a flagship destination.