The study offers an overview of the most important indicators for European retail in 2018.
This includes an analysis of purchasing power and store-based turnover as well as their respective shares of private consumption. The study additionally illuminates trends in consumer prices and sales area provision.
The European economy faces major changes
All European countries experienced economic growth in 2017
Most EU-28 countries experienced an increase in retail turnover
Our study also examines the development of key retail indicators for 32 European countries
For the first time, we include a section on Europe's fashion retail segment
Hungary is our focus country this year
We would like to give you the opportunity to download the GfK study "European Retail in 2018" for free.
We encourage you to use this study as support for your strategic retail decisions, whether you're an investor, retailer or project developer.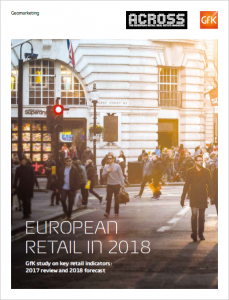 Sign up for our ACROSS Newsletter. Subscribe to ACROSS Magazine.