By Jessica Berney
Detailed research will pinpoint likely shopping habits to help asset managers to determine the right tenant mix, ensuring customers are delighted every time they visit. That is important, and always will be. But let's not forget the local workers too.
The transformation of Bracknell, in the south of the UK, turned a previously run-down town center into a contemporary, vibrant and appealing, 93,000 sq m retail destination. The centrepiece of the district's rebirth was the regenerated town center, one of the country's largest urban regeneration schemes at the time. An on-going investment of €875m is still being called upon to regenerate Bracknell Forest Borough, with proposed and completed projects in education, healthcare, transport infrastructure and more.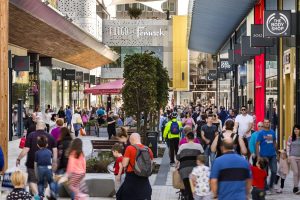 As well as a rapidly growing local population, Bracknell is a key part of the thriving Thames Valley economy, known as the UK's Silicon Valley. It is only 30 miles west of central London, has more foreign-owned firms than any other UK borough, and contains 13 of the world's top $30bn+ corporations. This includes great names like Dell, Panasonic, 3M, HP, Waitrose, Vodafone and Fujitsu. The 15,000 workers within walking distance mostly ignored the previously uninspiring shopping area.
Because of the high-tech nature of the town, many of these workers are well paid, giving a welcome source of revenue for retailers and a boost to the local economy. Their needs remained front-of-mind when we planned and scoped the proposed works, since we wanted the town center to provide something for everyone.
The wide choice of restaurants, bars and cafés provides an initial draw. For a lunchtime sandwich and shopping, business meeting in a casual dining restaurant, hot-desking in a coffee shop with a laptop and free wifi, or an after-work drink with colleagues, the opportunity for frequent and regular footfall is considerable.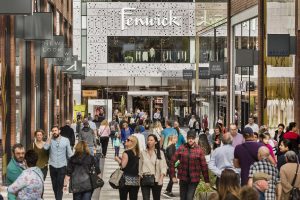 Once in the town center, the wide spectrum of shops will appeal, whether to buy business suits, cosmetics, gifts, pharmacy or a variety of other products. Bracknell has attracted top brands such as Next, Joules, Superdry, River Island, H&M, Timberland, Cath Kidston, Jack Wills, Boots, L'Occitane, Pandora, and Marks & Spencer. One of the anchor stores is the first, new-build, full-line Fenwick to open in 14 years.
Attracting local workers during the week days, and providing them with choice, brings other benefits. Since, by definition, they live within easy travel time of Bracknell, they are likely to return during the evenings and weekends with their families, for example to the 12-screen Cineworld, featuring the only 4DX screen in the Thames Valley.
The circle continues further. Employee-oriented corporations looking to relocate or expand will consider local facilities and attractions in making their decisions. Hines UK recently announced one of the Thames Valley's largest lettings with a new Panasonic UK headquarters.
Raj Rajput, Managing Director of Hines UK, commented on the "real buzz" around Bracknell, describing The Lexicon as a "game-changer, breathing new life into the town". The overriding vision before construction work began was to create a welcoming and engaging town centre with residents and customers at the heart. That meant the interests and needs of 15,000 workers within walking distance were important for The Lexicon Bracknell.
---
Follow @across_magazine on Twitter and @across.magazine.europe on Facebook, sign up for our ACROSS newsletter and subscribe to ACROSS Magazine.
---