These are some of the main results of the EHI study "The Store in the Omni-Channel Age."
 To better position themselves against competition from internet, many bricks-and-mortar retailers are investing in things online retailers cannot offer: Namely in attractive store concepts that make shopping an experience. This was one of the results of the study "The Store in the Omni-Channel Age" by the EHI Retail Institute in Cologne, Germany. Over 80% of the surveyed retail and shopfitting companies confirmed this. Shopfitting is becoming ever more individual. More than half of surveyed retail companies (52.6%) increasingly use individual design elements. Nearly two-thirds also expect a reduction in renovation cycles—at the same time as investors remain ready to invest in retail. Over 70% of retailers plan to increase investment in their shops by up to 10%.
Online is becoming stationary and is bringing additional revenue
Customers want both online and stationary retail, according to the EHI study. That is why even today, one in two of the 1,000 largest online stores also operates stationary shops. 86% of the retailers surveyed expected online traders to open further physical stores. Skillful integration is necessary in order to offer customers a positive shopping experience with smooth transitions between the individual channels. Of the omni-channel services, in-store order and -return and "click & collect" have already been implemented by more than 40% of the retailers and further on, about a third plan to join them. Click & collect has led many companies to sometimes significant sales growth. 41.7% of retailers have noted an increase in turnover of at least 10% of the value of the goods ordered online. Another 25% reported an increase of almost 20% in impulse buying when customers came to pick up the goods.
New challenges for store planning
Responsibility for implementing omni-channel services at the point of sale so far rarely lies with retail companies' construction and fitting departments. To avoid losing out on this issue in the future, planning departments need to strengthen their position as trend-setters rather than just service providers and further promote interdisciplinary planning, the experts at EHI conclude.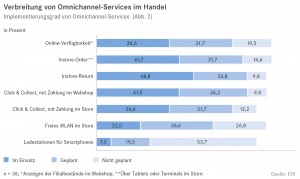 Margin
About the study
The results of the study relate to responses from 41 retail planning managers and 50 shopfitting companies and consultants from Germany, Austria, and Switzerland (D-A-CH Region). All the results are summarized in the (German) white paper "Der Store im Omnichannel-Zeitalter," available as a free download from www.ehi-shop.de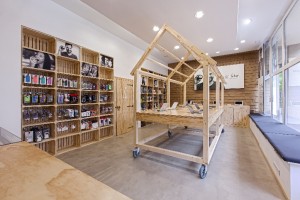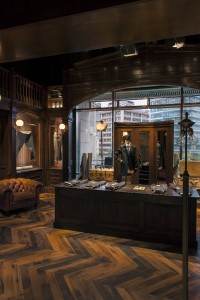 Image: "Replay" and  "Jablka Adama": Many stationary retailers are investing in what online retailers cannot offer – Namely in attractive store concepts that make shopping into an experience. Credit: EHI