ACROSS: There is a lot of talk in the industry about "storytelling" and "experiences" as part of the design for newly or re-developed shopping center projects. How and when did you become interested in storytelling?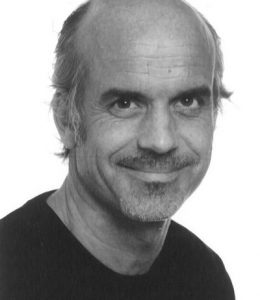 TONI T. JÖRGENS: I was lucky to have grown up in the leisure industry, since our family business has always been involved in designing entertainment attractions. Many years ago, during a two-year stay in Las Vegas to support the design and development process of our entertainment projects, storytelling was already paramount in my daily work. Later on, when we started designing our first shopping centers at ESP., we always had the idea to implement the same design approach and process in the shopping center industry as well. The market may not have been ready at that time, but it's certainly ready for it today. We can benefit from that experience, which has become an integral part of our daily work, by combining the architectural, interior, and brand design into one "integrated design" process through storytelling, with the customer experience at its core.
ACROSS: Why is storytelling important and what are its benefits?
JÖRGENS: The story is important to feel at home and it represents something personal – like this is the place where I belong. The story is also important to be integrated into the community and become part of the neighborhood. There are many, many soft factors to consider. If done right, you have the opportunity to create an environment far beyond the building itself – a true "lifestyle brand" that blurs the lines between the physical and the online world, between commercial and public spaces, between pure shopping and going out with friends. It all becomes one experience.
ACROSS: But let's start at the beginning, what constitutes a good story?
JÖRGENS: A good story should be simple, easy to understand, and connect people to the respective place. Since life itself writes the best stories, a good story should be inspired by the location while being open to something new at the same time. For example, we are currently working on the design to transform a historical movie theater into a modern shopping, dining, and leisure environment. By using real movie scenes as design motives, we are blurring the lines between film and reality. The end product feels natural, like it was always there, but at the same time it's a fresh environment with room for new stories to be told. A place where the magic of movies lives on.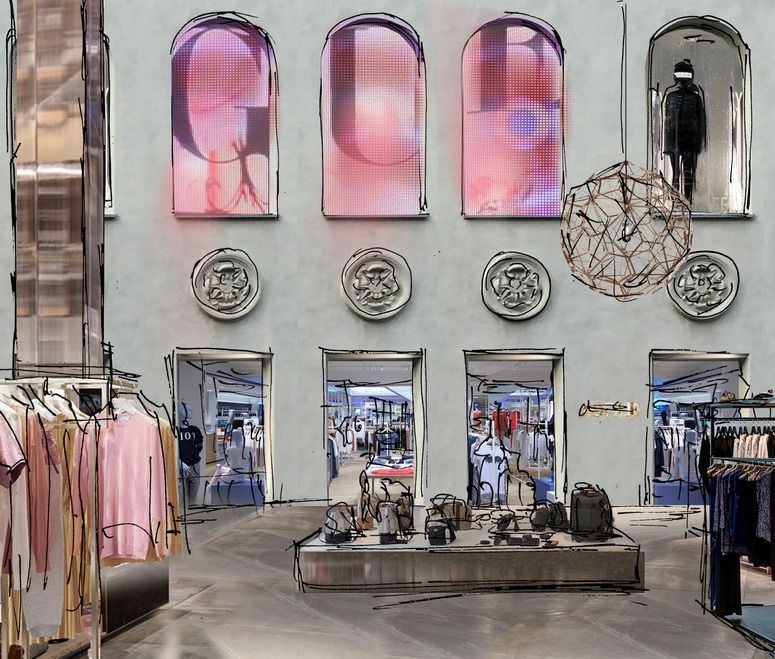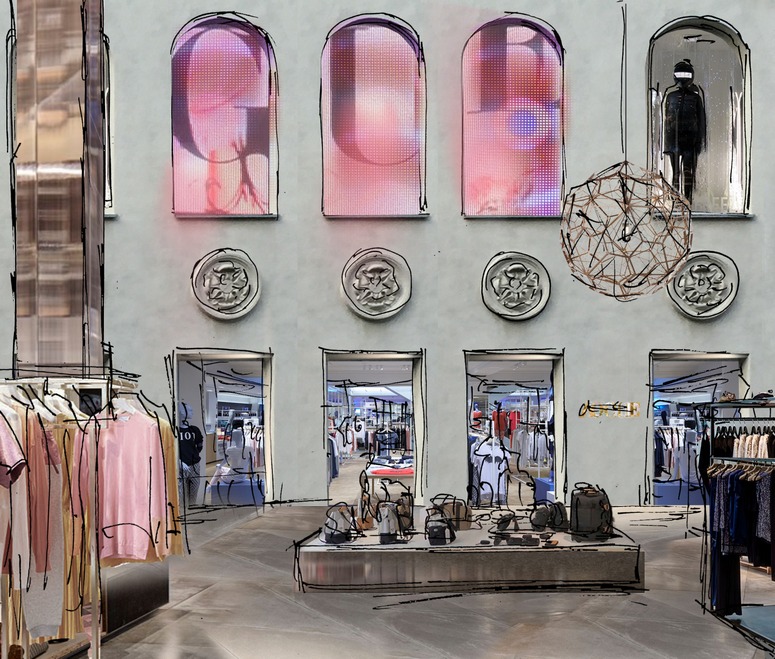 ACROSS: How does the storytelling aspect influence the design process and can you describe how this approach differs from the traditional architectural process?
JÖRGENS: The story is everything. It's the blueprint, written even before the project has started and binds all project members to the story, not just to the project. Known as "experience design" in the entertainment industry, we at ESP. Design Studios approach the architectural, interior, and brand design as one "integrated design" process. The difference in this process is simple but vital: "Experience design" follows the idea and not the individual disciplines. It's an integrated design process bundled by storytelling.
ACROSS: What are the challenges of that approach?
JÖRGENS: The developer, team members, city administration, tenants etc., they all need to be fully committed to the story. It's very hard and challenging in the beginning, but when all participants are united behind the same idea and story, the project becomes "personal" in a positive sense, with everybody following a common goal, or even better, a common "dream".
ACROSS: And how does the story become a reality?
JÖRGENS: The process can be very much compared to a movie production, for example. Having the story or script in place, there is the set (the shopping center) which has to be designed so rich in detail, with all its ambiance and charm, to create that special atmosphere to transport the guests right into the story. Large spaces have to feel small and intimate at the same time. The design has to be truly integrated, whether it's the architecture, interior, or lighting. Everything has to be united as the "picture perfect" backdrop. And if it is done well, your guests will appreciate the shopping center as a stage to create their own stories with their personalities and imagination, to be shared on social media each and every day. Therefore, branding and marketing is also important to translate the story to the guests early on. There are already very good ideas out there but only a few are communicated consistently, since many of the great work done to present a project sometimes never leaves the boardroom.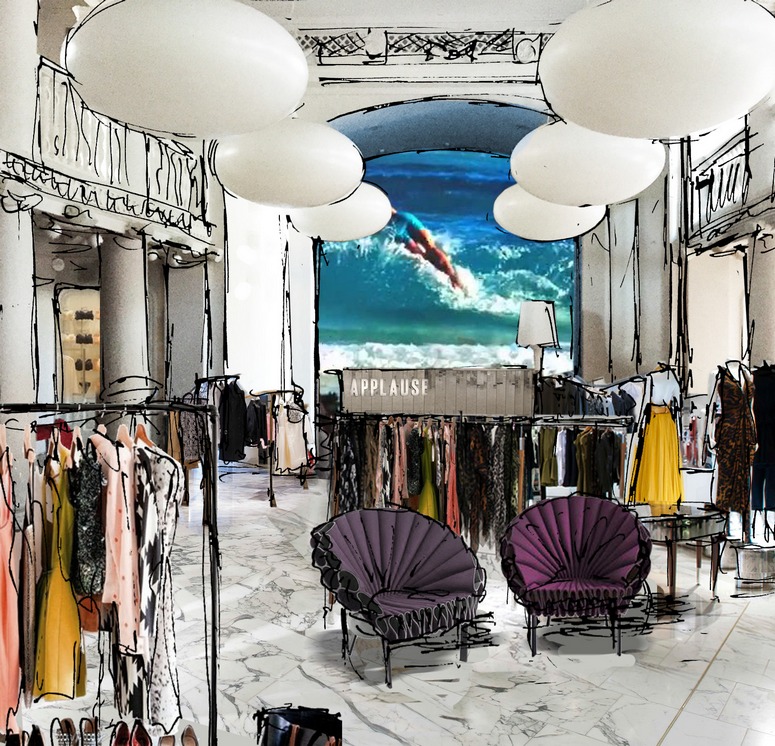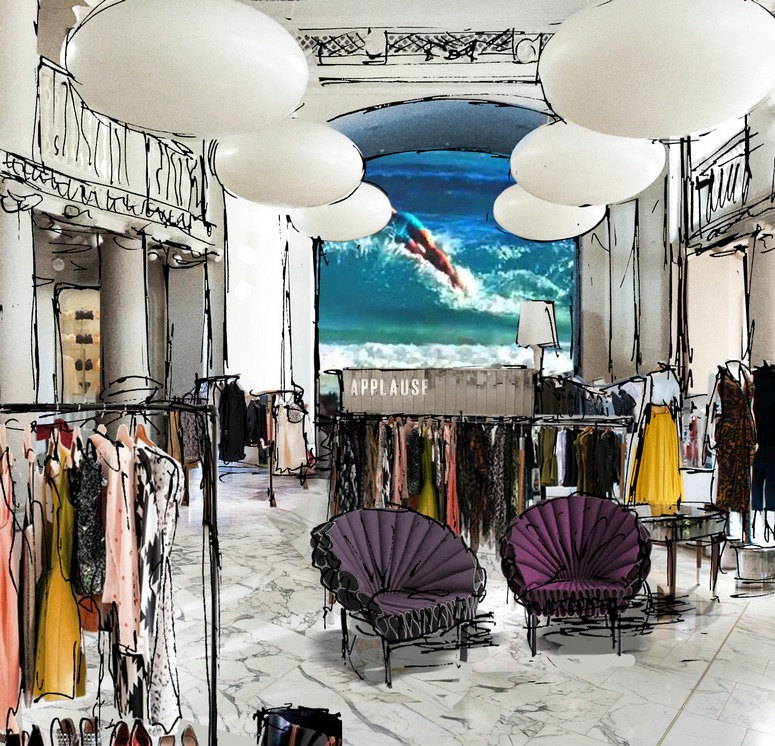 ACROSS: What are the common mistakes that are best avoided?
JÖRGENS: First of all, there is a fine line in the experience design process, especially in Europe. The obvious ones to avoid are "Venice in Vegas" themes, which are neither sustainable nor recommendable outside any distinctive tourist location. Try to be true to the location and lifestyle, but with your own idea and story in mind. Storytelling should be more than a superficial or artificial idea. It has to come from the heart in every single aspect and should be deeply integrated into the project's design. The people will feel the difference between a superficial marketing campaign and something truly unique and substantial.
ACROSS: With so many more challenging tasks to consider in the development process, how can you keep that spirit alive in your daily work?
JÖRGENS: Since we typically provide the architectural, interior, and brand design as one integrated design package, without barriers between the individual disciplines or different offices, we are able to completely interlink the design process to create a very plausible design concept from the materials of facades to the design of the website from a single source. Thus, changes can be adapted early on in all disciplines in parallel, which is not only a much smoother process for the client, but also leads to substantial time and cost savings during the design as well as the construction process.
ACROSS: So, what needs to be done next?
JÖRGENS: Many really good things are already happening and continue to happen as new projects are being implemented. But that might be not enough as we live in an era that will fundamentally change everything we have learned and done over the last 100 years. The task for the future is to create a sense of place and not a shopping center. We need to break barriers, feel less commercial and focus more on people. This can be achieved best when we totally open up to new ideas and leave old patterns behind us. A new integrated design approach with storytelling at its core might be a good start to create that sense of place.
ACROSS: And finally, what are your future goals as a design company?
JÖRGENS: Simply connecting people. Provide great spaces and brands as a platform for opportunities and experiences – both physical and digital. All we do know is that people like to connect with other people. And that's exaclty what we are trying to do – connecting people. Wherever, whenever, however, but probably best in a place you really love.