ACROSS: PLEASE GIVE US A SHORT INTRODUCTION TO CITYFIT.
NICHOLAS MOSES: CityFit introduces a business concept into the Polish market that has been enormously successful and popular – not only in Europe. We focus on core fitness, without additional features like wellness or swimming pools, and we rely on new technologies, e.g. virtual trainers and fingerprint identification in order to enter the club. These allow us to operate the clubs 24 hours a day, seven days a week. CityFit sells membership online and, unlike a majority of gyms and fitness clubs in Poland, does no require a fixed, long-term contract for membership. We are able to lower the cost of services and offer the clients state-of-the-art fitness equipment for a significantly lower fee than the current average price on the Polish market.
ACROSS: WHY ARE YOU FOCUSED ON THE POLISH MARKET? YOU INTEND TO OPEN 50 FITNESS CLUBS IN THE COUNTRY.
MOSES: CityFit made this investment decision based on its research and assessment of the prevailing market conditions. Poland was identified as being on a strong growth trajectory with respect to exercise and interest in personal health. In-dependent research confirmed that the Polish market was undergoing some of the strongest growth in the EU. In addition, the current market is largely fragmented; a few established brands, along with many small owner-operated businesses, work on the old model of a gym business – a model that we strongly believe does not represent good value for the customer. Both formal and informal research have revealed that customers are very dissatisfied with the offers available. High prices, restrictive contracts, inconvenient opening hours, and sub-standard equipment and customer service were, and still are, endemic. CityFit's offer of low-cost, no contract, 24-hour gyms equipped with a large selection of the latest gym equipment addresses these issues. The response from the market shows that it strongly supports our offer.
ACROSS: HOW DO YOU PLAN TO PROCEED WITH THESE OPENINGS?
MOSES: CityFit currently has one gym in Plaza Rzeszow, signed leases two further locations (Warsaw and Walbrzych), and is in final negotiations on another four locations, all to be opened within the next six months. In addition to the seven locations mentioned above, CityFit plans to open a further 15 locations during 2015, if we find premises that meet all of our requirements. Feedback from landlords is that they prefer to deal with CityFit due to the value of its agreements, as well as its fairness and speed in lease negotiations.
ACROSS: THE FIRST POLISH CITYFIT STARTED AS MENTIONED IN PLAZA RZESZOW SHOPPING CENTER IN SOUTHEASTERN POLAND. ARE YOU SATISFIED WITH ITS PERFORMANCE SO FAR?
MOSES: We are extremely pleased with the performance of CityFit Rzeszow to date. The market responded with a strong vote of confidence in our offer. Pre-opening sales exceeded expectations impressively. New membership sales after opening have continued with double-digit growth as our marketing efforts and word-of-mouth reach new customers daily. Our customer survey shows some interesting results: A large percentage of new members are switching to CityFit from their previous gyms as their current contracts expire. Many people plan on becoming members of CityFit in the near future, as soon as they are released from their restrictive contracts. At the same time, a large percentage of our members were not members of a gym prior to joining CityFit.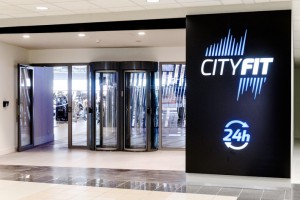 IMAGE: CITYFIT
ACROSS: WHAT ROLE DO SHOPPING CENTERS PLAY IN YOUR BUSINESS STRATEGY? HOW MANY OF THE PLANNED 50 FITNESS CLUBS WILL BE LOCATED IN SHOPPING CENTERS?
MOSES: CityFit has certain requirements that must be met for any potential gym location – among these are: visibility, accessibility, 24-hour access, proximity to population centers, and sufficient space of between 1,300 to 2,500 sq m. Many shopping centers tick all of these boxes and we encourage these center owners and agents to contact our expansion manager to initiate talks. Successful shopping centers will enjoy solid agreements as well as a footfall of 40,000 to 50,000 per month in one of our average-size gyms. CityFit is also interested in non-shopping center sites, such as retail parks and stand-alone buildings – or any other type of location that meets our criteria.
ACROSS: CITYFIT FITNESS CLUBS WILL BE AVAILABLE 24/7 FOR CUSTOMERS AS MENTIONED. WILL THIS AVAILABILITY CAUSE PROBLEMS IN SHOPPING CENTERS?
MOSES: Possibly, however we are prepared to work with center owners to find creative solutions for 24-hour access when they are not immediately apparent.
ACROSS: WHAT REQUIREMENTS MUST A SHOPPING CENTER FULFILL IN ORDER TO BE INTERESTING FOR ONE OF CITYFIT'S FITNESS CLUBS? CONVERSELY, WHAT ARE EXCLUSION CRITERIA?
MOSES: Every CityFit location should have the right mix of visibility, accessibility, 24-hour access, and proximity to population centers. In addition, depending on the size of the 30-minute catchment area, a CityFit gym needs to be in the range of 1,300 to 2,500 sq m in size. CityFit also has certain technical requirements, but we invite landlords and agents to discuss these with our expansion manager, Piotr Szymonski, or download them from our website.
ACROSS: IN YOUR OPINION, HOW IMPORTANT ARE SPORT FACILITIES FOR THE SUCCESS OF SHOPPING CENTERS NOWADAYS IN GENERAL AND ESPECIALLY IN POLAND?
MOSES: The centralization of shops into centers is a feature of the modern market. Different shopping centers will appeal to different market segments, but I think it is fair to say that a well-diversified center will find itself in a stronger position. Many shopping centers are attracted to gyms as tenants for this reason, and for the high footfall that a good gym operation can attract.
ACROSS: IN A FURTHER STEP, DO YOU ALSO INTEND TO ENTER OTHER EUROPEAN COUNTRIES?
MOSES: CityFit is focusing its expansion efforts within Poland at this point. There is much evidence within Poland, and in other countries, for what happens when gym chains expand into different regions; resources get spread too thinly, with a resultant decrease in what they can offer at home. While we believe it is prudent to keep track of market conditions in other countries, CityFit is dedicated to changing the landscape of the Polish gym market by focusing on world-class, low-cost, 24-hour gyms within its borders.