Paul Sargent, CEO of the British Property specialist Queensberry, can't believe his luck. "My team has been focused for the last 18 months on winning this major instruction. It is a dream come true." Sargent's elation is understandable. After all, the Sheffield City Council chose the company Queensberry Real Estate as the exclusive partner for the development of the new Sheffield Retail Quarter—a £480 million (€610 million) investment in the heart of the city. A growing Sheffield demands a modern environment for retailers. Currently, demand for good-quality, modern retail space outstrips supply in the city center. Many of the UK's largest retail brands, such as H&M, Next, New Look, and Topshop, trade from stores that are over 60% smaller than their average-sized stores in UK cities with similar populations to Sheffield. Any disruption will be kept to a minimum by building the new shopping area in phases and by careful management of the surrounding area. A top priority is to ensure building work has as little impact as possible on existing shops and businesses in the surrounding area. The specific construction plans will be confirmed in 2016, but work is already underway to ensure that everyone who lives, works or visits the city center is kept informed and provided with advanced notice of any works beginning.
Although Sheffield, in the English county of South Yorkshire, can hardly be referred to as a hub of the world, the city of 500,000 is following a trend with such a project. District and neighborhood developments are currently all the rage in large European cities. In many places, mayors and councilors have committed themselves to making their cities more attractive and have declared war on the forces pushing retail to the cities' outskirts. This is no easy task due to the varied difficulties inherent in such projects. Open spaces and room for parking are often lacking, various groups and stakeholders have different interests, and there are architectural challenges like conservation. In addition, the requirements for sustainable urban planning and the high economic risks of such mammoth projects often quickly push political leaders and project planners to their limits—and that's not even considering the long planning horizons involved.
In the heart of Brussels
One of the most exciting current neighborhood development projects is located in the Belgian capital Brussels. With the mixed-use NEO urban plan, the City of Brussels wishes to exploit the huge potential of the Heyzel plateau for new housing, economic, and tourism opportunities. The tourist appeal of the world-famous Atomium and the business tourism linked to Brussels' biggest exhibition center and the Trade Mart, help underpin this development opportunity. These already attract over 1.5 million people annually. This inspiring, mixed-use project development plan includes the building of an international-scale convention center, a concert hall, a shopping center, a hotel, housing, and leisure facilities on an estimated area of 18 hectares out of the 68 hectares that make up the Heyzel Plateau. All of this will also feature exemplary public transportation. On-road parking is set to be eliminated, with the space freed up for broad bike paths and pedestrian boulevards. Europe's largest listed property company, Unibail-Rodamco, has been selected by the City of Brussels as the new co-developer of the NEO 1 project, with the 112,000 sq m "Mall of Europe" as its centerpiece.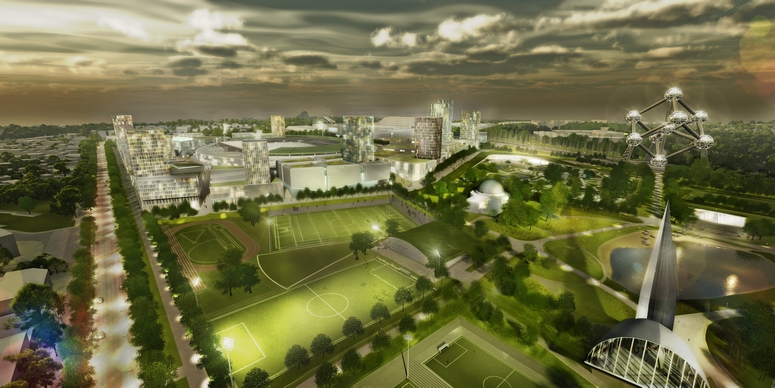 The Franco-Dutch retail giant will develop and operate the Mall of Europe, representing a €550 million investment, while its partners CFE and Besix will develop the residential element. Unibail-Rodamco said that the 230-unit shopping center will feature a "complete set of 4-star services, iconic shop fronts, a 9,000-sq-m 'Dining Experience' element with 30 restaurants, the largest cinema in Belgium with 4,000 seats, and the first indoor 'Spirouland' in the world at the heart of a 15,000-sq-m leisure center."
The shopping center specialist Unibail-Rodamco is not just active in Brussels, however. The Group's most important current development project is located in HafenCity Hamburg. The shopping center giant developed the southern Überseequartier together with HafenCity Hamburg GmbH. At 260,000 sq m, this has created a new center of life in the Hanseatic City, including around 80,500 sq m of retail, about 55,000 sq m of housing, and approximately 65,000 sq m of offices. Around 12,000 sq m are planned for culture and entertainment facilities and approximately 8,000 sq m for catering. Hotels will take up around 40,000 sq m (all figures in Gross Floor Area or GFA). Overall, Unibail-Rodamco is planning an investment of €860 million in HafenCity.
Grand project in Helsinki
How retail is working to benefit from the "neighborhood development" trend can also be seen Finland. In autumn 2013, Helsinki launched the Smart Kalasatama project, which aims to make Kalasatama a model district for intelligent city development—Helsinki's very own Smart City district. The area is being developed flexibly and through piloting in close co-operation with residents, companies, city officials, and other stakeholders. Kalasatama will house 20,000 residents and offer work to 8,000 people. The district will be completed in the early 2030s, but it already has 2000 inhabitants. The Redi Shopping Center is planned to open well before that. The REDI shopping and experience center's café and restaurant premises, which will open at Kalasatama, Helsinki in 2018, have found tenants very quickly. The shopping center's 38 restaurants, cafés, bars, and take-away points, representing a total of 3,500 customer places, have already been reserved.
According to REDI Leasing Manager Jonna Majanen, companies particularly value the shopping center's central location, good transport links, and large customer streams. "Experiences will be important in REDI. That's why we wanted to include quality, trendy, even surprising restaurants. No two places will be the same. Enthusiastic and bold restaurant entrepreneurs with great ideas are coming to REDI. Among them are restaurateurs with experience of the cuisines of different countries," explains Majanen.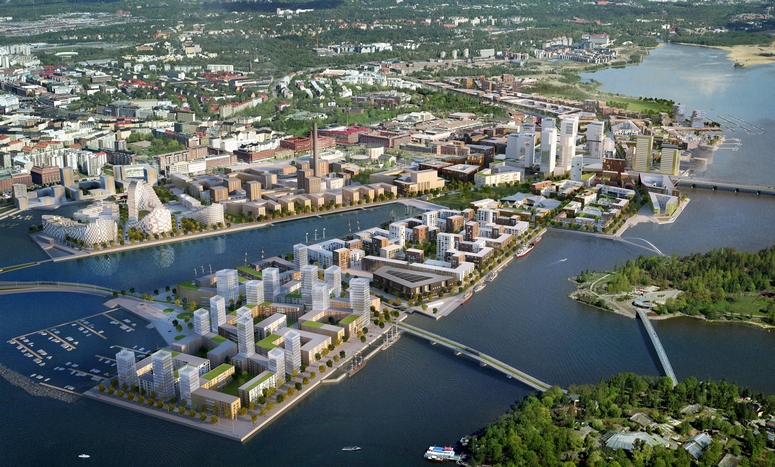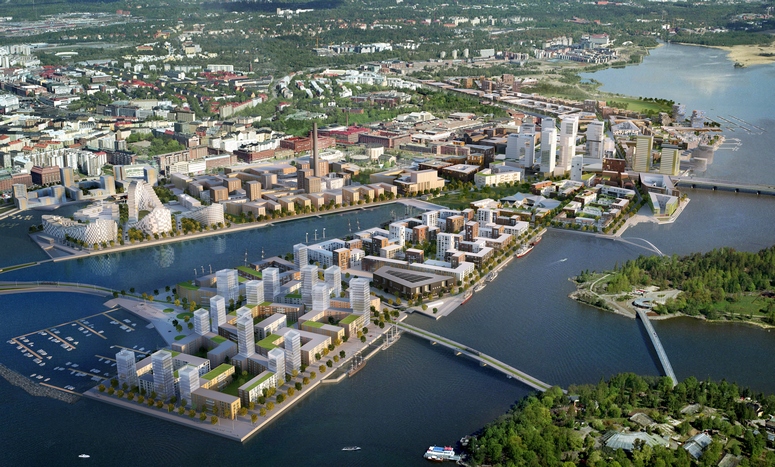 REDI, scheduled to open in 2018 next to Finland's most densely populated area, will have around 60,000 people living in its direct proximity and its catchment area will have over 500,000 people, a third of the residents of Greater Helsinki. REDI is located at the intersection of three large highways and the metro will stop 500 times a day on the third floor of the shopping center. There are 45,000 jobs within a 10-minute walk of the center.
An innovative feature of REDI's restaurant provision is a "fast-casual dining area": 10 restaurants side-by-side, offering dishes to suit all tastes. Each restaurant in the area will have at its disposal around 100 sq m of dining and kitchen facilities. The restaurants will have a strong emphasis on street food. REDI's normal restaurant and entertainment world, open until late in the evening, will operate on three floors linked to each other by elevators and escalators.
 Significant pre-letting
Of the REDI shopping center's leasable commercial floor area, nearly 40% has a final or preliminary lease agreement. Including final and preliminary agreements, active negotiations are under way on 85% of the leasable commercial floor area. The shopping center will have around 200 stores, including experiential and restaurant services. In its first full year of operation, the shopping center is expected to receive 12 million visitors.
REDI, implemented by SRV at Kalasatama, Helsinki, will consist of the inner city's largest shopping and experience center, six residential towers, and hotel and office towers. Kalasatama metro station will be located on the shopping center's third floor, in addition to which there will be bus stops next to REDI. Below the center will be a 2,000-space parking facility, usable by both the towers' residents and the shopping center's customers. REDI's popularity is not restricted to its restaurant facilities. Of the first residential tower Majakka's 283 apartments, more than 200 apartments have already been reserved during the first pre-marketing period. Construction work at REDI, Finland's largest urban construction project, was launched in spring 2015 and is expected to continue until 2023.
 Centrally-managed shopping street
Seestadt Aspern in the Austrian capital Vienna shows that multifunctional district developments are also quite sensible on the outskirts of a city and that retail enterprises can benefit from them there as well. Covering an area of 340 football fields, a 21st-century city is being built in several stages over the next 20 years with high-quality housing for some 20,000 people and twice as many jobs. The first "Seestädter" moved into their homes back in 2014. This year, another 2,600 residential units for approximately 6,100 people will be added. The Seestadt (lakeside town) takes its name from the 50,000-sq-m lake in the middle of the development project. The shopping center specialist SES took over the central management of the shopping street located there—a novelty in Europe.